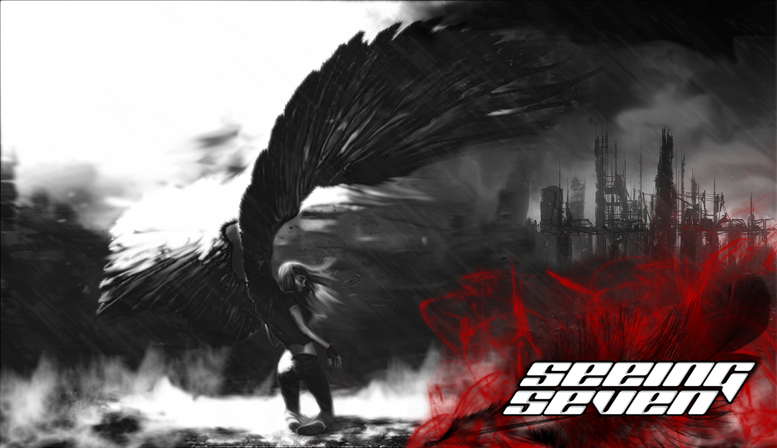 Play

Play Next

Add to queue
Play

Play Next

Add to queue

408 plays

Play

Play Next

Add to queue

2,792 plays

Play

Play Next

Add to queue

2,930 plays

Play

Play Next

Add to queue

2,678 plays

Play

Play Next

Add to queue

2,456 plays
Genre: Alternative / Experimental / Rock

Location Saint Louis, Un

Profile Views: 45902

Last Login: 12/12/2011

Member Since 6/30/2004

Website seeingseven.com

Record Label reverb'd records

Type of Label Indie

Bio

.. ....Seeing Seven ..was formed by Thomas Walton, Frank Walton. Jim Draper, and Joe Gan. The band united accepted a mission in which led them to where they are now. They write and create a form of music they call their own. With influences ranging widely from A Perfect Circle, Pink Floyd, Led Zepplin, and Coheed & Cambria, to Allman Brothers, Lynyrd Skynyrd, and Staind. Their music is has been vastly described as passionate, meaningful, and creative. Like a well oiled machine. .. .. They released their debut album entitled "Flow Like Water", recorded with Jason McEntire @ Sawhorse Recordings, on 07.07.07 (July 7th, 2007) to the world and have sold copies in Australia, Canada, France, Germany, Italy, Japan, and the United States of America. They have been featured in media outlets throughout the U.S. for their efforts of not only creativity but also their willingness to achieve a positive change in the world. Seeing Seven has been an active member of charity organizations such as The American Cancer Society (Relay for Life) and St. Judes Children's Hospital and always lend a helping hand to those in need when they can. .. .. Best described as an "Epic", from the emotional verses and hooks to the driven guitars and rhythmatic patterns, the music created by this band will grab ahold of the soul and take it for an inspiring journey through different stages of one's life. There is so much still to learn and there is so much more still to come from them. Take a listen and feel it for yourself. .. ........ MEDIA REVIEWS.... .... ..-Review of "The Clown" by Revolt Productions.. .. With an open mind and ear I sat down to listen to and review the song entitled "The Clown" by the band Seeing Seven. Seeing Seven is a local group from the Union area featuring Thomas Walton on vocals and guitar, Jim Draper on guitar, Frank Walton on bass and vocals and Joseph Gan on drums. The band list's such artists as Glassjaw, Coheed and Cambria, Incubus, Pink Floyd and Led Zepplin as influences, and I could detect something from all these great groups in this one dynamic song. The first thing I noticed while listening was how smooth and professional the band sounds. Thomas' voice is one of the best I've heard in local music and he doesn't shy away from showing his range is this track. The guitars, at first, almost lure you into a dream like atmosphere before kicking in and driving your heartbeat right up alongside the soaring vocals. It's bands like this that show St.Louis has something to offer the national music scene and remind us of a time when "alternative" music meant something unique and exciting. Seeing Seven show that you don't have to sacrifice song writing for acceptance. Focus on what you are playing, not what you are wearing. A fan base built through honesty and creativity will never abandon you. .. ..

Members

.. Thomas Walton.. Vocals/Guitars/Ebow/Piano.. .. Frank Walton.. Bass/Vocals .. .. Dan Crocker .. Guitars .. .. Kerry LaChance.. Drums/Percussion..

Influences

Our friends and family... Without them we would be nothing..... .. .... .. .. .. .. .. .. .. .. .. .. .. .. .. .. ...... .. ............ .......... .. .. The Clown Live @ Pop's 07.07.07 OUR CD RELEASE PARTY.. .. .. .. .. ....

Sounds Like

music
Bio:


Seeing Seven was formed by Thomas Walton, Frank Walton. Jim Draper, and Joe Gan. The band united accepted a mission in which led them to where they are now. They write and create a form of music they call their own. With influences ranging widely from A Perfect Circle, Pink Floyd, Led Zepplin, and Coheed & Cambria, to Allman Brothers, Lynyrd Skynyrd, and Staind. Their music is has been vastly described as passionate, meaningful, and creative. Like a well oiled machine.

They released their debut album entitled "Flow Like Water", recorded with Jason McEntire @ Sawhorse Recordings, on 07.07.07 (July 7th, 2007) to the world and have sold copies in Australia, Canada, France, Germany, Italy, Japan, and the United States of America. They have been featured in media outlets throughout the U.S. for their efforts of not only creativity but also their willingness to achieve a positive change in the world. Seeing Seven has been an active member of charity organizations such as The American Cancer Society (Relay for Life) and St. Judes Children's Hospital and always lend a helping hand to those in need when they can.

Best described as an "Epic", from the emotional verses and hooks to the driven guitars and rhythmatic patterns, the music created by this band will grab ahold of the soul and take it for an inspiring journey through different stages of one's life. There is so much still to learn and there is so much more still to come from them. Take a listen and feel it for yourself.


In 2009 the band went on a hiatus in order to achieve its own personal goals and follow each one's own journey. In 2011, Thomas and Frank found that they would continue on with the music and recruited Kerry LaChance and Dan Crocker from the band Soul For Silver. Thomas was a part of the Soul For Silver music project and after the loss of their Bass player Keith Johnson who died of Cancer, Kerry and Dan closed that chapter and moved over to Seeing Seven full time with Thomas and Frank to write and record a new album entitled "Memento Mori." Memento Mori is the continuation of the Flow Like Water album that was created in 2007. The new tracks bring forth some light on the stories from the Flow Like Water album and when played together in the correct order there is one full storyline which is to be continued...

MEDIA REVIEWS

.... -Review of "The Clown" by Revolt Productions
With an open mind and ear I sat down to listen to and review the song entitled "The Clown" by the band Seeing Seven. Seeing Seven is a local group from the Union area featuring Thomas Walton on vocals and guitar, Jim Draper on guitar, Frank Walton on bass and vocals and Joseph Gan on drums. The band list's such artists as Glassjaw, Coheed and Cambria, Incubus, Pink Floyd and Led Zepplin as influences, and I could detect something from all these great groups in this one dynamic song. The first thing I noticed while listening was how smooth and professional the band sounds. Thomas' voice is one of the best I've heard in local music and he doesn't shy away from showing his range is this track. The guitars, at first, almost lure you into a dream like atmosphere before kicking in and driving your heartbeat right up alongside the soaring vocals. It's bands like this that show St.Louis has something to offer the national music scene and remind us of a time when "alternative" music meant something unique and exciting. Seeing Seven show that you don't have to sacrifice song writing for acceptance. Focus on what you are playing, not what you are wearing. A fan base built through honesty and creativity will never abandon you.