Play

Play Next

Add to queue
Play

Play Next

Add to queue

192 plays

Play

Play Next

Add to queue

579 plays

Play

Play Next

Add to queue

357 plays

Play

Play Next

Add to queue

234 plays
BOOKING INFO / AGENCIAMENTO

Pedro Gomes / Filho Único
pedro(at)filhounico(.)com


New duo album with guitar player Pedro Gomes just out - 'Turbina Anthem' on NoBusiness Records / Novo álbum em duo com o guitarrista Pedro Gomes acabado de sair - 'Turbina Anthem' na NoBusiness Records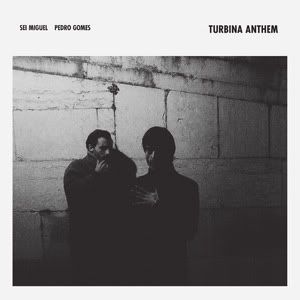 "This is music without compromise, yet its vision is clear, its voice is unique, a listening experience that is not always pleasant, but extremely rewarding. Great art." ***** at Free Jazz - http://freejazz-stef.blogspot.com/

"A curiously engaging and singular experience." John Sharpe at All About Jazz - http://www.allaboutjazz.com/

"This beautiful set (...) sees Gomes on guitar and Miguel on pocket trumpet for a series of duets that run the gamut of straightforwardly gorgeous through no wave cranking. Miguel has a beautiful buttery tone that isn't a million miles away from Dave Douglas and at their most lyrical the duo approach Douglas's classic Charms Of The Night Sky in terms of bittersweet vision. But they bring a lot more firepower to the table and Gomes electric guitar is particularly feral, at points sounding like something from Richard Youngs and Matthew Bower's epochal Site/Realm face-off with a metal bar applied to taut strings ala Masayuki Takayanagi. Crucially, Miguel is never drawn into mere tonal/textural mimicry, preferring to fly in great gorgeous loops above the melee while occasionally Gomes will make with a single crunching Ray Russell/Gary Smith-ism that will re-orientate the track completely. A dazzling set of improvisations and compositions from two players who *know*. Recommended!" Volcanic Tongue - http://www.volcanictongue.com/

"Um álbum globalmente fascinante, assombroso, incomparável. Pelo choque brusco e pela inesperada candura, esta música é demasiado intensa na sua paradoxal beleza para deixar alguém indiferente." 5/5 no Ípsilon/Público, por Nuno Catarino

"Uma comunhão inesquecível e rara (...). Entre a melodia e o som, o improviso e a memória. Chama-se a isso uma bela aventura." 5/5 na TimeOut Lisboa, por José Marmeleira

"'Turbina Anthem' é um disco que estravasa o jazz, que paira sobre os blues, a folk ou o rock, revelando-se uma obra maior sem igual.' 5/5 na NS Magazine/Diário de Notícias, por João Moço

"Sem uma conjectura objectiva que sustente algum tipo de comparação, Turbina Anthem é daqueles tratados de comunhão bicéfala que se encontram em happenings tão especiais como o concerto do Don Cherry com o Ed Blackwell no Moers Jazz Festival, o Mass Projection do Kaoru Abe com o Masayuki Takaynagi ou os encontros do Evan Parker com o Derek Bailey. Meras directrizes espirituais para um disco libertário que não é de jazz, como seria tentador apelidar (erro crasso para tudo aquilo que tem sopros), nem de bluegrass como a editora proclamou em surdina. Mesmo que a folk/country/blues/gospel o assombrem. Toda a música pura, isto é. (...) um disco notável que se revela a si próprio, sem forçar qualquer auto-indulgência alienante na sua intransigência apaixonante. Chegue-se-lhe vazio e o deslumbramento (ou a repulsa de um mindframe mais frágil) será o mesmo." em bodyspace.net, por Bruno Silva



Sei Miguel (ENG) - a short biography

Born in 1961 in Paris, Sei Miguel lived in Brazil and in France before moving to Lisbon, Portugal in the 1980's, where he has stayed since. Early on he chose to take on the pocket trumpet as his instrument, which he plays with the knowledge of all the history of jazz. As a composer, arranger, producer and player, he uses forward thinking and unique solutions of tone, phrasing, space and silence, which he has been perfecting for decades. He is one of the rare contemporary musicians who looks at and deals with jazz as a universe of artistic and human progression with a seemingly infinite potential.
After several years confined to being applauded by circuits of musicians and specialized journalism of jazz vanguards and some contemporary composition, the time has come for him to become recognized for his unparalleled work in a wider manner, following the appraisal of worldwide press, which follows the evergrowing maturation and refinement of his music, as well as the support of the Clean Feed label, that has recently released "Esfíngico - Suite for a Jazz Combo", a quintet with Fala Mariam, Rafael Toral, Pedro Lourenço and César Burago.

Sei Miguel is probably the individual who has had the biggest influence in Portugal on national musicians that are more advanced in the creative fields of jazz, electronics, electroacoustics, the oftently named improvised music and the fringes of rock music. Rafael Toral, Manuel Mota, Rodrigo Amado, Luis Desirat, Rui Fingers, Luis San-Payo, Margarida Garcia, Adriana Sá, Pedro Gomes or João Castro Pinto, a highly heterogeneous group of names that have worked with him often refer the enormous influence that he had or that he continues to have in their artistic evolution.
Miguel has collaborated in several occasions with a number of foreign names of extreme importance in contemporary vanguards, always contemplating full integration - like in all of his works - of the musicians that play in his formations. Using this approach he's performed shows with guitar player Joe Morris, tape manipulator Aki Onda and historical piano player Dave Burrell.
Sei Miguel can present different pieces in various band configurations (from solo to tentet), according to the acoustic and logistic contexts in question.



Sei Miguel (PT) - uma biografia curta

Nascido em 1961, Paris, viveu no Brasil e em França até radicar-se em Portugal nos anos oitenta. Cedo escolheu o trompete pocket, instrumento que toca com consciência plena de toda a história do jazz. Director, arranjador e instrumentista utiliza no seu trabalho soluções avançadas e singulares de timbre, fraseado, espaço e silêncio, que vem aperfeiçoando há décadas. É dos raros músicos da contemporaneidade que encara e manuseia o jazz como um universo de progressão artística e humana de potencial aparentemente infinito.
Após largos anos confinado a ser celebrado principalmente em circuitos de músicos e do jornalismo especializado nas vanguardas do jazz e de alguma composição contemporânea, começa finalmente a receber os créditos devidos de forma mais generalizada pelo seu ímpar trabalho, com rasgados elogios na imprensa nacional e internacional, a que não é alheia a crescente maturação e refinamento da sua música.

Sei Miguel será provavelmente a figura que maior influência teve em Portugal nos músicos nacionais mais avançados nos campos criativos do jazz, da chamada música improvisada, electrónica, electroacústica e das franjas do rock. Rafael Toral, Manuel Mota, Rodrigo Amado, Luís Desirat, Rui Fingers, Luís San-Payo, Margarida Garcia, Adriana Sá, Pedro Gomes ou João Castro Pinto, um conjunto altamente heterogéneo de nomes que passaram em vários pontos do tempo por formações de Sei Miguel, referem regularmente a enorme influência que o mesmo teve ou continua a ter na sua evolução artística.
Miguel colaborou em diversas instâncias com nomes extremamente importantes das vanguardas contemporâneas, sempre numa óptica de integração total, como sempre em todas as suas peças, dos músicos que tocam nas suas formações. Utilizando esta abordagem realizou concertos com o guitarrista Joe Morris, o manipulador de fita sonora Aki Onda e o histórico pianista Dave Burrell.
Paralelo ao seu percurso em nome próprio, Sei Miguel fundou o trio de noise-rock Moeda Noise, inicialmente constituído por Fala Mariam em baixo eléctrico e Bruno Parrinha em bateria, que teve a sua breve existência entre 1984 e 1986, dando vários concertos pelo pais com a companhia dos Ocaso Épico e não deixando qualquer registo discográfico. Foi colaborador dos Pop Dell'Arte de 1992 até meados da primeira década do século XXI. Compôs e apresentou várias peças para teatro em Portugal, Brasil e Alemanha.
Já apresentou o seu trabalho em espaços e eventos como a Fundação de Serralves, Culturgest Lisboa, Festival Transmediale (Berlim, Alemanha), Festival Atlantic Waves (Londres, Inglaterra), Centro Cultural de Belém, Teatro São Luiz ou o Ritz Club, tendo tocado várias datas em Itália e Brasil.
Sei Miguel pode apresentar diferentes peças em várias configurações de banda (de solo a decateto), consoante o contexto acústico e logístico em questão.
Está neste momento particularmente imersos nos seguintes trabalhos, que estão prontos para serem apresentados ao vivo em 2011-início de 2012:

Sei Miguel Quarteto (c/ Fala Mariam, Pedro Gomes e César Burago), nos espectáculos 'Casa Grande' e 'Show-Off'

e O Carro de Fogo de Sei Miguel (c/ Pedro Gomes, Rafael Toral, André Gonçalves, John Klima, César Burago e Luís Desirat)

///////////////////////////////////////////////////////////////////////////////////////////////////////////////



DISCOGRAPHY

Breaker (Ama Romanta, 1988)

Songs Against Love and Terrorism (Ama Romanta, 1989)

The Blue Record (Ama Romanta, 1990)

The Portuguese Man Of War (Ed. Autor/Self-Released, 1993)

Showtime (Fábrica de Sons1996)

Token (AnAnAnA, 1999)

Still Alive in Bairro Alto (Headlights, 2001)

Ra Clock (Headlights, 2002)

The Tone Gardens (Creative Sources, 2006)

Esfíngico (Clean Feed, 2010)

Turbina Anthem w/ Pedro Gomes (NoBusiness, 2011)



PRESS

"Portuguese New Music's best kept secret."
Dan Warburton, The Wire

"Que a história chegará a Sei Miguel, não há dúvidas. Que nós lhe cheguemos no seu tempo, em número condizente do feito, é uma questão cuja resolução é de total urgência."
Pedro Gomes, Público

"Trumpeter Sei Miguel lives in a sonic world that's all his own. Like the music of Thelonious Monk or Joe Maneri, Miguel's style is obviously a deliberate construction that begins with the weeding out of the conventional and trite, continues with a rethinking of musical essentials, and results something utterly personal and with very little precedent. The eccentric rhythms, the very deliberate use of silence as a part of the music, and the coordination of sounds in the ensemble are totally individual. (...) The music is, of course, not random, but the product of artfulness, the hardest kind of all – the art that doesn't sound like art. This is brilliant, idiosyncratic music from an independent minded composerinstrumentalist."
Ed Hazzell, Point of Departure

"Sei Miguel who plays pocket trumpet, is one of the most interesting improvising musicians on the scene today. (…) Somehow Miguel has found that space where melody, rhythm, and a delicate balance of sound and silence bridges that gap between what is high art music and what is pure folk music.
Miguel who is Brazilian, lives in Lisbon Portugal. He and Fala Mariam are two of the deepest artists I have ever known. They are committed to making music and making art. Fala Mariam besides being one of the most original voices to play trombone, is a fantastic painter as well. They operate in a kind of familial way with their ensemble and that closeness is obvious in all of their playing. They play with a vocal quality that is beyond anything called microtonal, with them it's just more personal than that. (…) Miguel is very much committed to the idea that Jazz is still viable and indeed necessary as a platform for his music. Listening to him and performing with him—as I have done on two occasions, makes it easy to understand why that is. Miguel and his tight crew are speaking through their instruments, telling stories to each other and to listeners and always reaching for that rarefied space where music functions on so many levels that it defies description yet still reminds us of our humanity. To me, any good original music that declares itself to be jazz, actually needs to ignore the tired old jazz dogma that says that good, original music has no place in jazz. Miguel and company play by those terms. They admire depth of intent, pure sound, close interaction and the sense of adventure that makes the great musicians associated with jazz truly beyond any category. Once again, like so many times before, new jazz has emerged in an unexpected place. This time Lisbon is where it's at."
Joe Morris

"Una obra muy interesante y digna de todo elogio."
José Francisco Tapiz, Tomajazz

"Sei Miguel e o seu trompete de bolso navegam num oceano de ondas revoltas. (...) Reteve do jazz o parâmetro existencial e da música contemporânea a inteligência e a disciplina. Não é um improvisador dos instantes irrepetíveis, mas um construtor de mundos instáveis. Executante possuído por um fogo gelado é impossível não descortinar na sua aproximação ao silêncio e no fraseado de recorte rápido e fragmentário a sombra de Miles Davis. Vanguarda é, no seu caso, algo que passa pela recusa e pelo desejo de instauração de uma nova ordem, capaz de a cada momento se desmoronar para dar lugar a novas situações de susto e precariedade. Equilibrista, torturado e sistemático, é talvez o músico português que melhor soube interiorizar a essência do paradoxo."
Fernando Magalhães, Público

"From Sei Miguel one can only, now, expect a thing: the surprise... his music challenges, like never before, catalogations and prejudice."
Rui Eduardo Paes, Erratum Musical

"Um testemunho da sobrevivência criativa em Portugal."
Carlos Lourenço, All Jazz



MÚSICOS

Fala Mariam. Trombonista natural de Lisboa. Em 80, durante uma viagem pelo norte da Índia, intuiu o fogo sagrado da verdadeira música, que reencontra no jazz mais iniciático e na gratificante descoberta de diversos trombonistas. Sidewoman de Sei Miguel desde 83, participa em todos os trabalhos deste. Cultora de uma frase sem brilhos fáceis, capaz do expressionismo mas também da maior delicadeza, Fala Mariam é uma referência nos actuais desenvolvimentos de um dialecto livre arquitectado nas estruturas do bop.

César Burago. Percussionista nascido em Angola, dedica-se inteiramente às músicas do jazz. Presença regular nas orquestrações de Sei Miguel, tem dimensionado com o trompetista, desde 97, um plano de possibilidades e impossibilidades métricas, ambas expressas em trabalhos onde a percussão (principalmente a pequena percussão) ganha um enigmático valor melódico.

Pedro Gomes. Guitarrista (em formato eléctrico e acústico) natural de Lisboa, trabalha um vocabulário assente numa leitura transversal à história do blues, do rock e do jazz, dos seus expoentes planetários até às franjas e margens destes ecossistemas. Co-fundador dos CAVEIRA e de formações defuntas como os Manta Rota ou Braço, trabalha com Sei Miguel desde 2009.




Genre: Jazz

Location Lisboa, Po

Profile Views: 11616

Last Login: 9/3/2011

Member Since 6/8/2010

Website rt2.planetaclix.pt/seimiguel/enter.html

Record Label Headlights / NoBusiness / Clean Feed / Creative Sources / Ama Romanta

Type of Label Major

Bio

Members

Influences

Sounds Like