No recent updates in this category.
Why not...
Seth Rudetsky hasn't earned any badges yet... have you?
General

Violin, french, dogs, reading

Music

Movies

Television

Books

Anything William Goldman, most by Stephen King, Nelson DeMille, Judy Blume, John Irving, Elenor Lippman, Stephen Macauly, also Bridge to Terebithia, The Great Gilly Hopkins, His Dark Materials, The Girl's Guide to Hunting and Fishing

Heroes

Martin Short, Andrea Martin, Lucille Ball, Leonard Bernstein,
About me:
Hi! I can't tell if I'm cutting edge for doing this, or reliving my tween-hood.
Anyhoo, BROADWAY 101 went great!!!


..
A full orchestra, full ensemble and Andrea McArdle, Andrea Burns, Pam Myers, Norm Lewis, Lillias White, Julia Murney and Jonathan Groff and me! And you can watch clips of it at-
SETH'S BROADWAY 101 on YouTube
And you can check out the photos at-
www.BroadwayWorld.com
More video footage (of the rehearsals) is at- www.BroadwayWorld.com
Here's clips from last year's performance-
SETH'S BROADWAY 101 (2007) on YouTube
The big news is that my second book (first novel), BROADWAY NIGHTS, is in bookstores now!
AND...I just found out that it's been nominated for a Lambda Literary award!!!! The ceremony is in L.A. so if I win, maybe they'll pick me up via satelitte a la Amy Winehouse at the Grammys.
You can order it online by clicking the link below-

I can't believe it! I bought a Mac laptop and my friend Phil taught me how to use it and I've actually started posting video blogs!
Click the link below to see my latest entry!


I also have a weekly column on Playbill.com called ONSTAGE & BACKSTAGE.
Check it out!-

The Chatterbox is going on TV! I got a public access show (I know it sounds like porn, but it's not)
Every Tuesday at 12:30 in the afternoon on channel 56.
You can also watch it online by clicking on the link below!-

If you want more info on the Chatterbox, go to my website by clicking the link below-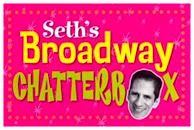 Everyday you can hear me deejay on SIRIUS Satelitte radio!
In the afternoon, I'm on Broadway's Best 77 and every night (except Sunday) I'm on THE BEAT 36.
p.s. For a free three day trial go to-

My first book, THE Q GUIDE TO BROADWAY, just went into it's third printing, and is available at bookstores and online-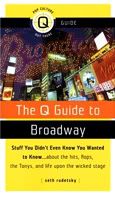 As a child, I was obsessed with ANNIE...or as I called it, "The Red Album." So I got Andrea McArdle to reprise her role on the Rosie cruise! And I got to narrate and fulfill my lifelong dream - to play one of the orphans! Click below to see highlights-


I'm still depressed that TORCH SONG TRILOGY has closed. To live in the past, like me, look at these photos from the show-
TORCH SONG TRILOGY
Oh, yeah...my DECONSTRUCTING BARBRA and BEA ARTHUR is posted on YouTube-
BARBRA & BEA
Also, me playing for Jennifer Hudson on GOOD MORNING AMERCIA...she's literally belting a G at 8:30 AM!-
JENNIFER HUDSON
Head's up performers! My friend (TV/Film actor Jack Plotnick) has an amazing acting website that is a huge help in dealing with your coo-coo bird nerves. Fans of his approach include Sutton Foster, Alyson Hanigan, Jerry Stiller & Anne Meara and Andrea Martin! You can read his free online book "New Thoughts For Actors" by clicking below-


......
Who I'd like to meet:
Status:

In a Relationship

Here for:

Friends

Zodiac Sign:

Pisces

Children:

Someday

Occupation:

Musician/Deejay/Performer/Writer