Play

Play Next

Add to queue
Play

Play Next

Add to queue

1,783 plays

Play

Play Next

Add to queue

8,547 plays

Play

Play Next

Add to queue

176 plays
Genre: Other / Progressive / Rock

Location Please select your region, Si

Profile Views: 110126

Last Login: 8/23/2011

Member Since 7/17/2007

Record Label Unsigned

Type of Label Unsigned

Bio

Officially formed in 2007,SILHOUETTE;.....the outline of a featureless interior..... .. SILHOUETTE's sound is constantly changing and they have cited a diverse and wide range of influences; because of this, categorization is difficult.The band's sound has,however,always been rooted in the modern rock/alternative scene... .. There's also a greater number of influences,which includes genres outside modern rock and alternative.Eclectic musical styles,a combination in a single work of elements from post-hardcore,progressive,strange noises,non-traditional song-structures mixed with more experimental ideas... .. Innovative,Expressive and Atmospheric.Powerful and Aggressive.Creating a unique dynamic.Its a collage of what this band is all about.The band has also started to incorporate jazz,ambient influences & spoken-word-like yelling... .. .. Silhouette is currently back in the studios working on their debut album with top studio engineer Leonard Soosay.(Snakeweed Studios).. .. .. ..Selected Performance Highlights.... .. ..2007.... Hollies Fest Competition Winners @ Boys Town.. Confessions of a rock junkie W/ Vertical Rush,March Twelve & Amateur Takes Control @ Scape Lab.. WeekendTRIP 07/08 W/ Fishtank,One Eighty & Monofone @ Scape Youth Park.. .. .. ..2008.... Hear music. Talk W/ West Grand Boulevard & more! @ Home Club.. Acoustic Rojak W/ Vertical Rush,Giants Must Fall & more! @ Scape Youth Centre.. Keynotes W/ Caracal,Trella & more! @ Loof Rooftop Bar.. Electrico We Sattelites Tour W/ The Fire Fight,Allura & Electrico! @ Scape Youth Park.. Baybeats 2008 @ The Esplanade.. Trella's The Orion Single Launch @ Home Club.. .. .. ..2009.... Power 98FM Acoustic Lounge Live On Air!.. Silhouette Discover EP Launch W/ Caracal,Trella & Abject Poetry @ Scape Lab.. WeekendTRIP 09 W/ Sandwich(Philippines), Caracal & more! @ Scape Youth Park.. Rock The Sub W/ Urbandub(Philippines) & The best of local music @ The Substation.. Electric Ballroom W/ Caracal @ Home Club.. Confessions UPSIZED! W/ Urbandub & Angulo(Phillipines),Caracal,March Twelve & West Grand Boulevard @ Scape Lab.. .. .. ..2010.... WeekendTRIP 2010 W/ Barricade,City Escape(Aus),The Mission In Motion(Aus) & more! @ Scape The Warehouse.. Tessellation:One W/ Typecast(PHIL), A Vacant Affair & more! @ The Substation.. Ignite Fest 2010 @ Kuala Terengganu,Malaysia.. .. You Know,You Care W/ Amateur Takes Control & Lunar Node @ *Scape Lab.. ..Ruins & Remains EP Launch W/ Caracal,Lunar Node & more @ *Scape Lab ..CONTACT US!.... ..silhouettesg@gmail.com.. .. ..

Members

..Shah Rizal ..- Vocals.. ..Ahmad Khaliq ..- Guitars.. ..Mahfuz ..- Bass.. ..Muhammad Hafiz ..- Drums..

Influences

...... .. .. ........ ..

Sounds Like

avant-garde rock/alternative
No recent updates in this category.
Why not...
Bio: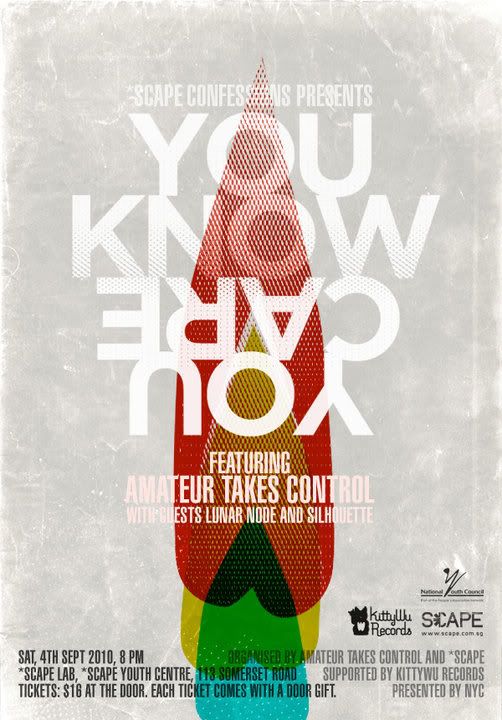 Officially formed in 2007,SILHOUETTE;
...the outline of a featureless interior
.
SILHOUETTE's sound is constantly changing and they have cited a diverse and wide range of influences; because of this, categorization is difficult.The band's sound has,however,always been rooted in the modern rock/alternative scene.
There's also a greater number of influences,which includes genres outside modern rock and alternative.Eclectic musical styles,a combination in a single work of elements from post-hardcore,progressive,strange noises,non-traditional song-structures mixed with more experimental ideas.
Innovative,Expressive and Atmospheric.Powerful and Aggressive.Creating a unique dynamic.Its a collage of what this band is all about.The band has also started to incorporate jazz,ambient influences & spoken-word-like yelling.
Silhouette is currently back in the studios working on their debut album with top studio engineer Leonard Soosay.(Snakeweed Studios)
Selected Performance Highlights
2007
Hollies Fest Competition Winners @ Boys Town
Confessions of a rock junkie W/ Vertical Rush,March Twelve & Amateur Takes Control @ Scape Lab
WeekendTRIP 07/08 W/ Fishtank,One Eighty & Monofone @ Scape Youth Park
2008
Hear music. Talk W/ West Grand Boulevard & more! @ Home Club
Acoustic Rojak W/ Vertical Rush,Giants Must Fall & more! @ Scape Youth Centre
Keynotes W/ Caracal,Trella & more! @ Loof Rooftop Bar
Electrico We Sattelites Tour W/ The Fire Fight,Allura & Electrico! @ Scape Youth Park
Baybeats 2008 @ The Esplanade
Trella's The Orion Single Launch @ Home Club
2009
Power 98FM Acoustic Lounge Live On Air!
Silhouette Discover EP Launch W/ Caracal,Trella & Abject Poetry @ Scape Lab
WeekendTRIP 09 W/ Sandwich(Philippines), Caracal & more! @ Scape Youth Park
Rock The Sub W/ Urbandub(Philippines) & The best of local music @ The Substation
Electric Ballroom W/ Caracal @ Home Club
Confessions UPSIZED! W/ Urbandub & Angulo(Phillipines),Caracal,March Twelve & West Grand Boulevard @ Scape Lab
2010
WeekendTRIP 2010 W/ Barricade,City Escape(Aus),The Mission In Motion(Aus) & more! @ Scape The Warehouse
Tessellation:One W/ Typecast(PHIL), A Vacant Affair & more! @ The Substation
Ignite Fest 2010 @ Kuala Terengganu,Malaysia
CONTACT US!
silhouettesg@gmail.com
Member Since:
July 17, 2007
Members:
Shah Rizal - Vocals
Ahmad Khaliq - Guitars
Mahfuz - Bass
Muhammad Hafiz - Drums

Sounds Like:
avant-garde rock/alternative
Record Label:
Unsigned