Play

Play Next

Add to queue
Play

Play Next

Add to queue

5,307 plays

Play

Play Next

Add to queue

389 plays
Genre: Blues / Folk / Funk

Location Vancouver, CA

Profile Views: 48125

Last Login: 2/11/2011

Member Since 6/10/2006

Website SHAKTIHAYES.COM

Record Label Shakti Hayes Music

Type of Label Unsigned

Bio

............ ......TOUCHWOOD HILLS' receives 'BEST FOLK ALBUM' NOMINATION @ 2007 NATIVE AMERICAN MUSIC AWARDS!!!......'BEST FOLK ALBUM' NOMINATION @ 2007 INDIAN SUMMER MUSIC AWARDS!!!.......... .. ...... In 2006, Shakti went from back up musician to a multi-award nominated solo artist. A position she is clearly comfortable with upon hearing her debut album 'Touchwood Hills'. Her debut album weaves her influences together with a long-standing oral tradition, setting her own personal stories to powerful music. On the title track, she sings about the journey back to the reserve where her mother was born and raised, and her discovery there of a family and history she didn't know she had. 'Touchwood Hills' received nominations for 'Best Folk Album' at both the 2007 Native American Music Awards & the 2007 Indian Summer Music Awards. 'Touchwood Hills' also received a nomination at the 2006's First People's Choice Music Awards in the Best Producer category....... Her most notable performances in 2010 include 3 shows at the Aboriginal Pavilion during the march winter olympics in Vancouver B.C. & opening up for Ivan Neville's Dumpstaphunk at Smithsonian's National Museum of the American Indian in Washington, D.C., Performing on Stage 49 at Gathering of Nations Pow Wow in Albuquerque, NM. In 2009, The Dreaming Festival in Woodford, Australia, performing at the Smithsonian NMAI and The Kennedy Center Millennium Stage in Washington, D.C. with The Rez Bluez All Starz, filming 3 episodes of Rez Tunez, that aired on APTN (Canada) in the Spring 2010, as an artist and as a backup musician. In 2008, Shakti has been featured on 'The Mix' & 'Rez Blues 2'on the APTN channel (Canada) & Interviewed on Native American 'Live' w/ Albert. R. Cata (U.S.national radio), a number of tv and radio appearances in previous years....... Shakti Hayes has been a professional musician, songwriter and performer for over 17 years. She has toured and performed with over a dozen musical groups providing backup vocals, bass and/ or rhythm guitar. Some of her most notable contributions are playing, performing & touring with George Leach, Gary Farmer and the Troublemakers, The Rez Bluez All Starz, singing and recording with Juno nominated & C.A.M.A. award winning vocal ensemble Nitsiwakun (w/Sandy Scofield and Lisa Sazama), singing a duet and backing vocals on Wayne Lavallee's Juno nominated and multi award winning album 'Green Dress' while providing bass and backup vocals during his live performances....... Shakti writes songs that are as evocative as they are unpredictable...songs that get into the listener's head and heart, and stay there. Joy, raw pain, healing memory...when Shakti Hayes sings, she bears her soul ~ and people listen. ........ .. .......... .... ....

Members

........This is a recent video w/ Shakti Hayes, Beaver Thomas, Arvel Bird & Rakesh Tewari performing on stage 49 April 24th, 2010 Gathering Nations Pow Wow in Albuquerque, NM...... .. .. .. .. .. .. .. ......Player's on my DEBUT album: SHAKTI HAYES* WAYNE LAVALLEE* JESSIE ZUBOT* BEAVER THOMAS* ANDY 'BADD DOG' KOCH DAVID PAYNE* ERIK V* & RENAE MORRISEAU *Played on more than one song....... ..Some of my performance photo's:.... .. .. .. .. .. .. .. .. ............ Some of my friends and more photo's: .. .. .. .. .. .. .. .. ..

Influences

........I am a lover of all kinds of music... To buy my cd: www.cdbaby.com/shaktihayes; itunes or Rhapsody ....

Sounds Like
No recent updates in this category.
Why not...
Bio: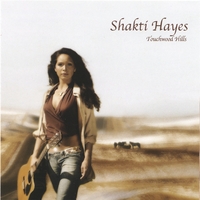 TOUCHWOOD HILLS' receives 'BEST FOLK ALBUM' NOMINATION @ 2007 NATIVE AMERICAN MUSIC AWARDS!!!


'BEST FOLK ALBUM' NOMINATION @ 2007 INDIAN SUMMER MUSIC AWARDS!!!





In 2006, Shakti went from back up musician to a multi-award nominated solo artist. A position she is clearly comfortable with upon hearing her debut album 'Touchwood Hills'. Her debut album weaves her influences together with a long-standing oral tradition, setting her own personal stories to powerful music. On the title track, she sings about the journey back to the reserve where her mother was born and raised, and her discovery there of a family and history she didn't know she had. 'Touchwood Hills' received nominations for 'Best Folk Album' at both the 2007 Native American Music Awards & the 2007 Indian Summer Music Awards. 'Touchwood Hills' also received a nomination at the 2006's First People's Choice Music Awards in the Best Producer category.


Her most notable performances in 2010 include 3 shows at the Aboriginal Pavilion during the march winter olympics in Vancouver B.C. & opening up for Ivan Neville's Dumpstaphunk at Smithsonian's National Museum of the American Indian in Washington, D.C., Performing on Stage 49 at Gathering of Nations Pow Wow in Albuquerque, NM. In 2009, The Dreaming Festival in Woodford, Australia, performing at the Smithsonian NMAI and The Kennedy Center Millennium Stage in Washington, D.C. with The Rez Bluez All Starz, filming 3 episodes of Rez Tunez, that aired on APTN (Canada) in the Spring 2010, as an artist and as a backup musician. In 2008, Shakti has been featured on 'The Mix' & 'Rez Blues 2'on the APTN channel (Canada) & Interviewed on Native American 'Live' w/ Albert. R. Cata (U.S.national radio), a number of tv and radio appearances in previous years.


Shakti Hayes has been a professional musician, songwriter and performer for over 17 years. She has toured and performed with over a dozen musical groups providing backup vocals, bass and/ or rhythm guitar. Some of her most notable contributions are playing, performing & touring with George Leach, Gary Farmer and the Troublemakers, The Rez Bluez All Starz, singing and recording with Juno nominated & C.A.M.A. award winning vocal ensemble Nitsiwakun (w/Sandy Scofield and Lisa Sazama), singing a duet and backing vocals on Wayne Lavallee's Juno nominated and multi award winning album 'Green Dress' while providing bass and backup vocals during his live performances.


Shakti writes songs that are as evocative as they are unpredictable...songs that get into the listener's head and heart, and stay there. Joy, raw pain, healing memory...when Shakti Hayes sings, she bears her soul ~ and people listen.
Member Since:
June 10, 2006
Members:
This is a recent video w/ Shakti Hayes, Beaver Thomas, Arvel Bird & Rakesh Tewari performing on stage 49 April 24th, 2010 Gathering Nations Pow Wow in Albuquerque, NM





Player's on my DEBUT album: SHAKTI HAYES* WAYNE LAVALLEE* JESSIE ZUBOT* BEAVER THOMAS* ANDY 'BADD DOG' KOCH DAVID PAYNE* ERIK V* & RENAE MORRISEAU *Played on more than one song...


Some of my performance photo's:

..
Some of my friends and more photo's:
Record Label:
Shakti Hayes Music