Play

Play Next

Add to queue
Play

Play Next

Add to queue

49 plays

Play

Play Next

Add to queue

107 plays

Play

Play Next

Add to queue

92 plays

Play

Play Next

Add to queue

243 plays

Play

Play Next

Add to queue

94 plays
Genre: Americana / Folk Rock / Roots Music

Location NASHVILLE, Tennessee, Un

Profile Views: 21929

Last Login: 5/22/2011

Member Since 9/13/2005

Website www.shastamusic.com

Record Label Mountain Thunder Music (BMI)

Type of Label Indie

Bio

............Myspace Layouts...... ........ ............ Musictogousa Songwriter's Network is now playing Shasta.. ..*Tune In here*....Live Show Saturdays 6P.M to 11P.M EST. ..Make ..Bert.. your requests online or stop into the chat room on Sat nights and request Shasta. Come check out my songs on ..Musictogousa.com .. .. ........Shasta's "NO MORE SMOKING!" .. Great Review in, "Unsigned, The Magazine"- Read here: ..Unsigned, The Magazine......Request it in Austin on KVRX! & WRVU Nashville!..Hear Shasta on ..Cracklin' Radio.. ............ Radio Goes Wild Plays Shasta! Check them out! ...... ...... To hear more Songs click here:........Shasta's Showcase.. ........ Press Release!.. ........ New CD, "THE OUTSIDER" Here now: .. ....THE OUTSIDER.. .... "NO MORE SMOKING!" .. "NOW ON SALE!" @ CDBABY.COM/SHASTA3 - CDBABY LINK for SHASTA:"No More Smoking!"(Remastered Bonus Edition) Sample & .............. Downloads: ......A&R Select.. ....ITunes.. Check it out! .............................. ........................Genre: Americana.............. ......Secondary Genre: Bard Rock.............. .... ........ ......A Bard Rock singer/songwriter with a love for poetry & a stylistic blend of philosophy, history, mystery, politics & lonesome love ballads.............Biography:............ ...... ...................... ...... Shasta describes the music he performs as "bard rock." It's a seamless fusion of straight rock, folk rock and country-fried blues. This genre-bending sound is lush and rich with melodies and texture. .. ....Transportation ............ ...... ...... The musical power toward which Shasta gravitates is music's ability to pick the listener up and take him away to another place. "Some music can just transport me into another realm," he says. Shasta sets out to write the kind of music he'd like to listen to and emotive potency is vital. "Music can make me cry from pure joy or total sadness, depending on the song or my mood at the time." Music is truly a source of elevation for Shasta. On a move from New England to California he chronicled his journeys in song. There, he also became known as, "Shasta", after a soul-searching quest upon the mountain of that same name. Spending years out west he returned east during what he refers to as emotional weather. He then released his CD, "No More Smoking!", (the title cut a hilarious rant on smoking bans) in 2006-2007. .. .... Lift You, Shake You, Twist You ............ ...... ...... .. Shasta prides himself on writing music that reaches right inside the listener's chest and grab a hold of his heart. His songs can get a (welcome) death grip on you and keep you riveted till the last tune's over with. "I like to write songs that tend to lift you, shake you, twist you – insist that you listen (or make you do a double take)," Shasta reveals. His songs will do any combination of the above and, frequently, all of the above. .. .... Fire............ ...... ...... .. Shasta draws fuel from all around for songwriting fire as he taps into ideas and thoughts that ring with familiarity but which are presented in original fashion. On the title track of his release, ("No More Smoking!"), Shasta tackled in hilarious but cutting fashion the recent slew of smoking bans around the country. "I'm inspired by life, nature, people, driving, new towns, ironic circumstances or an interesting story – whatever is happening around me or in the world at the time that makes me happy, mad, sad or sparks my interest." Drawing his inspiration from such direction, he never fails to write songs that spark the audience's interest, delivering sharp lyrical observations. .. .... The Artist at Work ............ ...... ...... .. Shasta has shared the stage with Joe Bouchard (Blue Oyster Cult); Bouchard has performed "No More Smoking!" with him several times (it's one of Bouchard's favorite Shasta songs). This song was a TOP 20 FINALIST for Unisong International 11th Annual Songwriting Contest in the Specialty Novelty category. West Coast Bob Dylan Imitation Contests handed Shasta first place victory twice and the World of Poetry has awarded him both Golden Poet and Silver Poet honors. He is a BMI writer/publisher (Mountain Thunder Music). .. ..Shasta moved to Nashville late in 2007 and now releases, "THE OUTSIDER", (Download 5 songs on player at left only .89!) which came together in, "Music City", after meeting up with Tim Shean of Herringbone Records, who got top Nashville cats ( Tim Calhoun, Shane Keister, Dave Santos, William Ellis, Larry Crew, Joe Spivy, Dave McCormic, Joe First & Jim Kirby) to create the lush open sound of this tapestry of Americana. The songs are blends of sarcasm, philosophy, mystery and lonesome love ballads. The CD brings together musicians that fit his style adding the final touches that keep you listening... Paul van Kuik of Country Express Radio said of "No More Smoking!", that: "...the album stands like a mountain … your lyrics remind me of Dylan: rough and clear." Australia's 100.7 FM described Shasta's music has having a "rootsy sound that simply oozes social conscience ... an album that epitomises modern living!" .." According to Keith "MuzikMan" Hannaleck, Shasta's music is "chock full of poetic justice, tongue-in-cheek lyrics, rollicking acoustic guitar parts and, at times, some biting electric riffs provided by select guests." ..Shasta is currently working with A&R Select, a leading A&R firm in Hollywood, CA. .. ..From "Ballad of the Bard": "Oh, the Air Force doesn't know a thing, the government is mute! - Maybe we're just ruled by Reptilians in suits!" - Then from , "Hair Much Shorter Than Mine": "Yea, I really dug her dress, those long smooth legs showing more than less, but when she took off her hair extensions - I just got too depressed...!" .. .. Review: ............ ...... ...... "Shasta's music bubbles over with an over abundance of genre-defying musical skill." – A&R Select .. .......... .... ...... ........ ..Discography...... Album CD's - "The Outsider" @ http://cdbaby.com/cd/Shasta1.. & "No More Smoking!" @ http://cdbaby.com/cd/shasta3..1 45 rpm single on vinyl - Little Fugitive ..1 song (Stronger Than The Storm) on Rodell Record's,"Sounds From The Undergound", .. (A Various Artist compilation CD)..1 Album CD -"Stronger than the Storm"..1 Album, "Modern Fixations" on vinyl & CD or Download!" @ ..http://cdbaby.com/cd/shasta2.... Also Download at ..http://payplay.fm/shasta2.... ....http://www.shasta-music.com.. .. Download "No More Smoking!" here @..ITunes..

Members

Shasta - Singer/songwriter/producer/ 6 & 12 String Guitar with Harmonica. Occasional sidemen on guitar, bass or drums etc. Direct from the artist high bit mp3's now! Click Here: .. ........</center

Influences

Bob Dylan, Johnny Cash, Warren Zevon, John Hiatt, Steve Earl, Neil Young, Bruce Cockburn, & The Doors. Also inspired by Maria McKee, Fiona Apple, Sheryl Crow, Jewel.

Sounds Like

Bob Dylan, Jim Morrison, Warren Zevon, Steve Earl & Willie Nelson. SHASTA: THE OUTSIDER Now on CD Baby! http://www.cdbaby.com/cd/Shasta1 .. .. .. .. .. .. .. .. .. .. .. .. .. .. .. .. .. ..DOWNLOAD DIRECT ..5 NEW SHASTA SONGS!.. .. .. .. ........A&R Select................CD Register - Promotion To Radio DJs and More!................Indie 360 - Music Promotion!........ License this music for commercial use through here .. Licensing
No recent updates in this category.
Why not...
03:37 | 46 plays | Feb 15 2011
Musictogousa Songwriter's Network is now playing Shasta *Tune In here*Live Show Saturdays 6P.M to 11P.M EST.
Make Bert your requests online or stop into the chat room on Sat nights and request Shasta. Come check out my songs on Musictogousa.com

Shasta's "NO MORE SMOKING!"
Great Review in, "Unsigned, The Magazine"- Read here: Unsigned, The Magazine

Request it in Austin on KVRX! & WRVU Nashville!
Hear Shasta on Cracklin' Radio ....

Radio Goes Wild Plays Shasta! Check them out!

  To hear more Songs click here:

Shasta's Showcase


Press Release!

Latest CD, Here now: THE OUTSIDER

"NO MORE SMOKING!"
"NOW ON SALE!" @ CDBABY.COM/SHASTA3 "No More Smoking!"(Remastered Bonus Edition)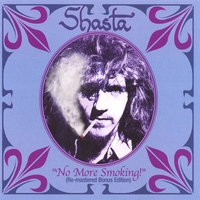 Downloads: A&R Select ITunes Check it out!


Genre: Americana....

Secondary Genre: Bard Rock....

 ....

A Bard Rock singer/songwriter with a love for poetry & a stylistic blend of philosophy, history, mystery, politics & lonesome love ballads.


Biography:....

 
....

Shasta describes the music he performs as "bard rock." It's a seamless fusion of straight rock, folk rock and country-fried blues. This genre-bending sound is lush and rich with melodies and texture.

Transportation ....

  The musical power toward which Shasta gravitates is music's ability to pick the listener up and take him away to another place. "Some music can just transport me into another realm," he says. Shasta sets out to write the kind of music he'd like to listen to and emotive potency is vital. "Music can make me cry from pure joy or total sadness, depending on the song or my mood at the time." Music is truly a source of elevation for Shasta. On a move from New England to California he chronicled his journeys in song. There, he also became known as, "Shasta", after a soul-searching quest upon the mountain of that same name. Spending years out west he returned east during what he refers to as emotional weather. He then released his CD, "No More Smoking!", (the title cut a hilarious rant on smoking bans) in 2006-2007.

Lift You, Shake You, Twist You ....

 
Shasta prides himself on writing music that reaches right inside the listener's chest and grab a hold of his heart. His songs can get a (welcome) death grip on you and keep you riveted till the last tune's over with. "I like to write songs that tend to lift you, shake you, twist you – insist that you listen (or make you do a double take)," Shasta reveals. His songs will do any combination of the above and, frequently, all of the above.

Fire....

 
Shasta draws fuel from all around for songwriting fire as he taps into ideas and thoughts that ring with familiarity but which are presented in original fashion. On the title track of his release, ("No More Smoking!"), Shasta tackled in hilarious but cutting fashion the recent slew of smoking bans around the country. "I'm inspired by life, nature, people, driving, new towns, ironic circumstances or an interesting story – whatever is happening around me or in the world at the time that makes me happy, mad, sad or sparks my interest." Drawing his inspiration from such direction, he never fails to write songs that spark the audience's interest, delivering sharp lyrical observations.

The Artist at Work ....

 
Shasta has shared the stage with Joe Bouchard (Blue Oyster Cult); Bouchard has performed "No More Smoking!" with him several times (it's one of Bouchard's favorite Shasta songs). This song was a TOP 20 FINALIST for Unisong International 11th Annual Songwriting Contest in the Specialty Novelty category. West Coast Bob Dylan Imitation Contests handed Shasta first place victory twice and the World of Poetry has awarded him both Golden Poet and Silver Poet honors. He is a BMI writer/publisher (Mountain Thunder Music).

Shasta moved to Nashville late in 2007 and now releases, "THE OUTSIDER", (Download 5 songs on player at left only .89!) which came together in, "Music City", after meeting up with Tim Shean of Herringbone Records, who got top Nashville cats ( Tim Calhoun, Shane Keister, Dave Santos, William Ellis, Larry Crew, Joe Spivy, Dave McCormic, Joe First & Jim Kirby) to create the lush open sound of this tapestry of Americana. The songs are blends of sarcasm, philosophy, mystery and lonesome love ballads. The CD brings together musicians that fit his style adding the final touches that keep you listening.
Paul van Kuik of Country Express Radio said of "No More Smoking!", that: "...the album stands like a mountain … your lyrics remind me of Dylan: rough and clear." Australia's 100.7 FM described Shasta's music has having a "rootsy sound that simply oozes social conscience ... an album that epitomises modern living!"
" According to Keith "MuzikMan" Hannaleck, Shasta's music is "chock full of poetic justice, tongue-in-cheek lyrics, rollicking acoustic guitar parts and, at times, some biting electric riffs provided by select guests."
Shasta is currently working with A&R Select, a leading A&R firm in Hollywood, CA.

From "Ballad of the Bard": "Oh, the Air Force doesn't know a thing, the government is mute! - Maybe we're just ruled by Reptilians in suits!" - Then from , "Hair Much Shorter Than Mine": "Yea, I really dug her dress, those long smooth legs showing more than less, but when she took off her hair extensions - I just got too depressed...!"
Review: ....

  "Shasta's music bubbles over with an over abundance of genre-defying musical skill." – A&R Select
....

  ....

Discography
Album CD's - "The Outsider" &nbsp@ http://cdbaby.com/cd/Shasta1
& "No More Smoking!"  @ http://cdbaby.com/cd/shasta3
1 45 rpm single on  vinyl - Little Fugitive
1 song (Stronger Than The Storm) on Rodell Record's,"Sounds From The Undergound",
  (A Various Artist compilation CD)
1 Album CD -"Stronger than the Storm"
1 Album, "Modern Fixations" on vinyl & CD or Download!"  @ http://cdbaby.com/cd/shasta2
Also Download at http://payplay.fm/shasta2



http://www.shasta-music.com


Download "No More Smoking!" here @ITunes ..
Member Since:
September 13, 2005
Members:
Shasta - Singer/songwriter/producer/ 6 & 12 String Guitar with Harmonica. Occasional sidemen on guitar, bass or drums etc. Direct from the artist high bit mp3's now! Click Here:
Influences:
Bob Dylan, Johnny Cash, Warren Zevon, John Hiatt, Steve Earl, Neil Young, Bruce Cockburn, & The Doors. Also inspired by Maria McKee, Fiona Apple, Sheryl Crow, Jewel.
Record Label:
Mountain Thunder Music (BMI)