Play

Play Next

Add to queue
Play

Play Next

Add to queue

159 plays

Play

Play Next

Add to queue

128 plays

Play

Play Next

Add to queue

87 plays

Play

Play Next

Add to queue

408 plays

Play

Play Next

Add to queue

1,453 plays
Short Lived Affair brings the party!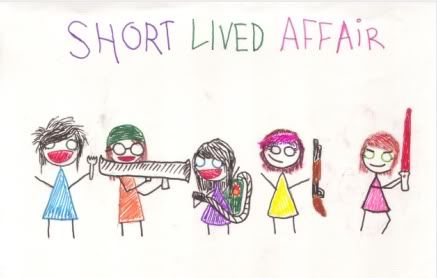 Short Lived Affair was a group formed a little over a year ago to prepare for the zombie apocalypse. The name was given as a warning to zombies to their demise. We were disheartened to hear that this epic battle has been postponed, and decided to become a rockband. Until the zombies attack, we are playing shows all around the area and having fun with our best friends.
Come say hi and chat.
If you wish to book us for any gig or event, feel free to message us
Other Sites
Facebook.
//
Twitter
//
PureVolume
//
Buzznet
//
Youtube
Genre: Alternative / Pop Punk / Rock

Location MARLTON, New Jersey, Un

Profile Views: 18785

Last Login: 2/18/2012

Member Since 4/2/2010

Website facebook.com/shortlivedaffair

Type of Label Unsigned

Bio

.. .. .... .. .. .. .. Short Lived Affair was a group formed a little over a year ago to prepare for the zombie apocalypse. The name was given as a warning to zombies to their demise. We were disheartened to hear that this epic battle has been postponed, and decided to become a rockband. Until the zombies attack, we are playing shows all around the area and having fun with our best friends. .. Come say hi and chat. ...... If you wish to book us for any gig or event, feel free to message us.. .. .. Short Lived Affair Videos: .... .. .. .. this is an acoustic cover of CrushCrushCrush performed at The Spot in the Echelon Mall .. .. .. .. .. .. .. .. .. .... The Short Lived Tour. We decided to head out to some parks around town. Short Lived Affair comin to a park near you! .. .. .. .. .. .. .. .. .. .. Performing Your Love Is My Drug with The Fold at Hangar 84: .... .. .. .. .. .. .. .. .. .. .. .. .. .. .. .. .. Other Sites .. .. .. Facebook. .. // .. Twitter .. // .. PureVolume .. // .. Buzznet .. // .. Youtube .. ..

Members

.. .. Monica: Vocals .. .. .. Taylor: Bass .. .. .. Rachel: Drums .. .. .. Kaitlyn: Guitar

Influences

Sounds Like