No recent updates in this category.
Why not...
Shot By Both Sides hasn't earned any badges yet... have you?
Music

WE PLAY:
The Sonics; Can; Faust; Captain Beefheart; Magazine; The Temptations; Josef K; Syd Barrett; Joy Division; The Beach Boys; Teardrop Explodes; 13th Floor Elevators; Television; (early) Pink Floyd...

BANDS WHO HAVE GRACED OUR STAGE INCLUDE:
Hatcham Social; The Bookhouse Boys; Lupen Crook & The Murderbirds; An Experiment On A Bird In The Air Pump; The Lea Shores; O Children; Electricity In Our Homes; David Cronenberg's Wife; Connan Mockasin; The Mules; The Tamborines; The Lodger; Morton Valence; La Shark; Filthy Pedro & The Carthaginians; One More Grain; Captain Black & many more...
About me:
.. ..
Shot By Both Sides
are London's premier purveyors of arcane, outlandish and fantastical musical delights.
After wreaking havoc at such ruinous hives as Islington's Old Queen's Head and New Cross' Amersham Arms, the night has spent several long months roaming the wilderness - the reanimated corpse shambling back into life for sporadic events.
Disregarding the patronising idiocy of bargain-bin indie nights, SBBS offers a ramshackle assortment of music, poetry, performance, spoken-word and strange men leering. Influenced by everything from the Antifolk scene to C86, from beat-poetry through to Rick Wakeman's 'Journey to the Centre of the Earth', it is a heady, kaleidoscopic and keck-soiling experience. Doubtlessly topped-off with some silly haircuts.
Expect a thrilling soundtrack of wonky psych, gritty '60s garage, gnarled folk, freakout jazz, rockabilly, C86 indie and Northern Soul, poetry, stories, free 'zines, various handouts, literature/tape exchange, some peculiar visual treats, cakes, a few out-of-the-hat surprises and some sensational live sets...
-----------------------------------------------------------
SHOT BY BOTH SIDES
– FRIDAY 26TH MARCH 2010
LIVE
: THE HELMHOLTZ RESONATORS + SPEAK & THE SPELLS + FILTHY BOY + RORY + THE BOYCOTT COCA-COLA EXPERIENCE
DJs
: Uptight Tonight
Brixton Windmill, 22 Blenheim Gardens, Brixton, SW2 5BZ
8pm-1am. £5/£3.50 Adv
Advance tickets from:
www.wegottickets.com/event/75505
-----------------------------------------------------------
Click the image to see the Facebook event page!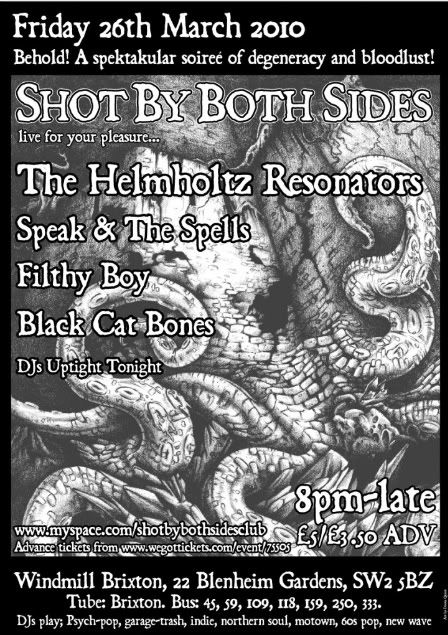 -----------------------------------------------------------
NOTE TO BANDS
: If you would like to grace the ShotByBothSides stage, feel free to message this MySpace. However, we still recommend the rather quaint and old-fashioned manner of coming along to a gig and giving us some music in-person. Rather archaic, we know...
To book the ShotByBothSides DJs simply message us here. Alternatively, we're available on shotbybothsidesclub@yahoo.co.uk
Who I'd like to meet:
Status:

Swinger

Here for:

Networking, Dating, Serious Relationships, Friends

Hometown:

New Cross, London

Height:

3' 0"

Zodiac Sign:

Cancer

Occupation:

Exponent of Arcane Delites