No recent updates in this category.
Why not...
SIlVer scream SPook show hasn't earned any badges yet... have you?
General

Music

Movies

SHOW LIST

1. FRANKENSTEIN 2. THE TINGLER 3. IT CAME FROM OUTERSPACE IN 3D 4. ABBOTT AND COSTELLO MEET FRANKENSTEIN 5. 20 MILLION MILES TO EARTH 6. MOTHRA 7. RETURN OF THE VAMPIRE 8. CREATURE FROM THE BLACK LAGOON IN 3D 9. THE BRAIN THAT WOULDN'T DIE 10. ZOMBIES OF MORA TAU 11. JASON AND THE ARGONAUTS 12. INFRAMAN 13. PLAN 9 FROM OUTER SPACE 14. EARTH VS. THE FLYING SAUCERS 15. HOUSE OF WAX IN 3D 16. KING KONG 17. MAD LOVE 18. GODZILLA VS. THE SEA MONSTER 19. 13 GHOSTS 20. FORBIDDEN PLANET 21. IT CAME FROM BENEATH THE SEA 22. CURSE OF THE DEMON 23. INVADERS FROM MARS 24. BRIDE OF THE MONSTER 25. THE CRAWLING EYE 26. MAD MONSTER PARTY 27.GODZILLA,

MOTHRA

, KING GHIDORAH 28.SHE-DEMONS 29. THE 7TH VOYAGE OF SINBAD 30. INVASION OF THE SAUCER MEN 31. CREATURE FROM THE BLACK LAGOON IN 3D 32.THE HIDEOUS SUN DEMON 33. MYSTERIOUS ISLAND. 34. I WAS A TEENAGE WEREWOLF 35. RODAN 36.WHITE ZOMBIE
Play

Play Next

Add to queue
About me:
Next at THE SILVER SCREAM SPOOK SHOW

The Bela Lugosi classic WHITE ZOMBIE!

HALLOWEEN NIGHT Oct.31st! with a 1:00pm kiddie matinee price of $7 and 10:00pm late show price of $10.

..

..Professor Morte has been performing for most of his afterlife in various parts of the world. He originally hails from Transylvania but was chased out of town after an "incident". What exactly happened is unknown as there were no survivors.He entertained throughout the late 1930's and 50's becoming the world's first horror host. While he may have spawned several imitations, there was only one true Spook Show. These imitations were laughable at first but soon the public grew tired of their half-rate performances and before long the spook show was sadly buried. Leaving only fond memories for those who were lucky enough to see a "real spook, live on stage!!" Until now there had only been Coney Island , one would think that a place synonymous with freaks would welcome the likes of Morte and his band of creeps but their hearts simply could not take it and he was run out of town yet again. Years past as he searched for the perfect venue for his theater of the macabre, thats when he stumbled upon THE PLAZA THEATER in Atlanta. Never before had he seen such a place begging for his particular brand of creepertainment. So after digging up (quite literally) a fresh troop of ghouls THE SILVER SCREAM SPOOK SHOW was resurrected. You never know quite what to expect at a S.S.S.S. Morte could summon ghastly ghosts that swarm over the audience,s heads, Pregnant Women could get sawed in half(2 4 1), hot ghoul on ghoul action from Blast Off Blast Off Burlesque and people have been know to win their very own and very real DEAD BODY. More than likely those who used to stay up into the wee hours of the morning, just to catch a glimpse of their favorite monsters now have children of their own. Morte knows the little ones'hearts are very fragile and puts on a special kid's matinee. So hold on to the seat of your pants and buy a ticket or three to THE SILVER SCREAM SPOOK SHOW! ..
Join the Morte Minions SILVERSCREAMSPOOKSHOW
Get your own Poll!
Who I'd like to meet:
Bela Lugosi, Boris Karloff, James Whale, Vincent Price, Ed Wood, Tor Johson, Janet Leigh, Lon Chaney, Herschell Gordon Lewis, Criswell, David F. Friedman, Rod Serling
See magic, monsters, mayhem, girls and ghouls live on stage! Don't miss it at the historic haunted Plaza Theatre!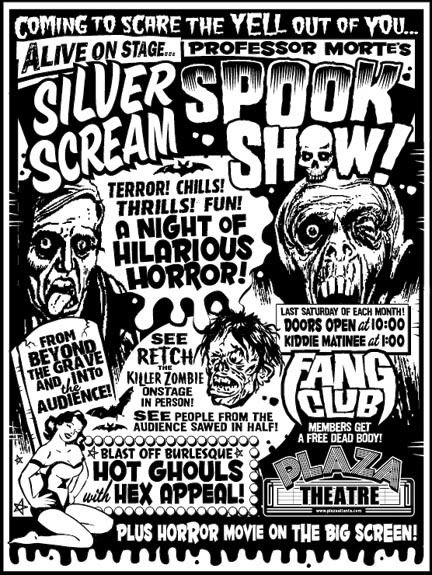 Status:

Single

Here for:

Networking

Hometown:

Atlanta

Zodiac Sign:

Gemini

Occupation:

Horror Hosts