Play

Play Next

Add to queue
Genre: Hardcore / Metal

Location CT

Profile Views: 84205

Last Login: 11/6/2012

Member Since 12/3/2006

Record Label Unsigned

Bio

.............. .. .. .. .. ..Skepsis Positive.. is a metal band from Pula, Croatia. I deliberately say just ''metal'', because genre classifications have lost all meaning and I feel I would be cutting our music short if I was to force it into any predefined frame. .... We were formed in the beginning of the year 2001 under the name ''Nailed''. Recently we changed our name to ''Skepsis Positive'' because of some legal issues. Along the years we had some line-up changes, but now the line-up is strong and it's not changing anytime soon. .... Every member of the band has a somewhat different musical taste, but we try to incorporate all of them into our songs. Sometimes it's hard, but we feel that the outcome is always great because ..we are our own toughest critics... .... We have recorded 3 demo CD's. The first one was recorded in 2003 and is called "..World Collapse 2003..". We have also recorded a video supporting that demo album, for the track "Redrum".The second demo EP was recorded in 2004-05 and is called "..A moment of clarity..". The last demo, ''..Scream Your Scars..'' is the first one "released" under the new name, and it includes 8 songs. .... We held approximately 100 live performances. It's quite a few considering that Croatia's metal community is fairly small, and is segregated from the European metal world. We had the honour of opening for three big bands when they played in Croatia. These were ..SEPULTURA.. in Zagreb (29.06.03.), ..SOULFLY.., Zagreb (13.06.04.) and ..ANTHRAX.. (25.06.05) also in Zagreb. .... I would dare to say that our live performances are energetic to say the least, as we really feel our music, we don't "just play". If you can relate to our music "the right way", our concert is a place to blow-off steam, let the aggression out in a "safe" way, and walk out feeling calm like you've just spent the afternoon in a Jacuzzi. This last bit sounded a bit "hippie", no? Anyway, I think we are a band worth giving a listen, so check us out! .... ..Cheers!!.... .. __________________________________________________________ .... This is the cover of our latest CD. If you like it, check out our graphics designer's myspace .. HERE .. .... ...... ..SKEPSIS+.. - "Scream Your Scars" ..tracklist..:.... 1. ReDRuM .. 2. Clarity .. 3. Unprotected .. 4. Obey.Consume. .. 5. Promised Land .. 6. In Vain .. 7. Empty .. 8. Blank ...... .. DOWNLOAD THE ENTIRE DEMO HERE .. ...... Some of these songs were previously recorded and released on various demo EP's, so some of you might have heard them before, but these are ..all new versions.., re-recorded, redone and rearanged. Enjoy! ...... __________________________________________________________ ...... ....Copy and Paste this codes on your profile!.. Your support will surely make us rich and famous! :) ...... .... .... .. .. .. __________________________________________________________ ............ ..Cover art by:...... ...... .... .... ____________________________________________________________ .... ..

Members

..Marko - Guitar, vocals.... .. ...... ..Perica - Drums.... .. ...... ..Mare - Bass.... .. ...... ..BunnyMan - Guitar.... ..

Influences

Skepsis Positive, Sepultura, Machine Head, Snot, Tool, Meshuggah...

Sounds Like

Skepsis Positive
No recent updates in this category.
Why not...
Bio:
Skepsis Positive is a metal band from Pula, Croatia. I deliberately say just ''metal'', because genre classifications have lost all meaning and I feel I would be cutting our music short if I was to force it into any predefined frame.

We were formed in the beginning of the year 2001 under the name ''Nailed''. Recently we changed our name to ''Skepsis Positive'' because of some legal issues. Along the years we had some line-up changes, but now the line-up is strong and it's not changing anytime soon.

Every member of the band has a somewhat different musical taste, but we try to incorporate all of them into our songs. Sometimes it's hard, but we feel that the outcome is always great because we are our own toughest critics.

We have recorded 3 demo CD's. The first one was recorded in 2003 and is called "World Collapse 2003". We have also recorded a video supporting that demo album, for the track "Redrum".The second demo EP was recorded in 2004-05 and is called "A moment of clarity". The last demo, ''Scream Your Scars'' is the first one "released" under the new name, and it includes 8 songs.

We held approximately 100 live performances. It's quite a few considering that Croatia's metal community is fairly small, and is segregated from the European metal world. We had the honour of opening for three big bands when they played in Croatia. These were SEPULTURA in Zagreb (29.06.03.), SOULFLY, Zagreb (13.06.04.) and ANTHRAX (25.06.05) also in Zagreb.

I would dare to say that our live performances are energetic to say the least, as we really feel our music, we don't "just play". If you can relate to our music "the right way", our concert is a place to blow-off steam, let the aggression out in a "safe" way, and walk out feeling calm like you've just spent the afternoon in a Jacuzzi. This last bit sounded a bit "hippie", no? Anyway, I think we are a band worth giving a listen, so check us out!

Cheers!!


__________________________________________________________

This is the cover of our latest CD. If you like it, check out our graphics designer's myspace

HERE
SKEPSIS+
- "Scream Your Scars"
tracklist
:
1. ReDRuM
2. Clarity
3. Unprotected
4. Obey.Consume.
5. Promised Land
6. In Vain
7. Empty
8. Blank
DOWNLOAD THE ENTIRE DEMO HERE
Some of these songs were previously recorded and released on various demo EP's, so some of you might have heard them before, but these are
all new versions
, re-recorded, redone and rearanged. Enjoy! ..
__________________________________________________________
Copy and Paste this codes on your profile!
Your support will surely make us rich and famous! :)
__________________________________________________________
Cover art by:
____________________________________________________________

..
Member Since:
December 03, 2006
Members:
Marko - Guitar, vocals
Perica - Drums
Mare - Bass
BunnyMan - Guitar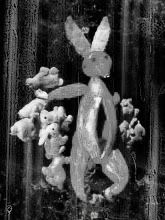 Influences:
Skepsis Positive, Sepultura, Machine Head, Snot, Tool, Meshuggah...
Sounds Like:
Skepsis Positive
Record Label:
Unsigned