Play

Play Next

Add to queue
Play

Play Next

Add to queue

329 plays

Play

Play Next

Add to queue

72 plays

Play

Play Next

Add to queue

80 plays

Play

Play Next

Add to queue

36 plays

Play

Play Next

Add to queue

30 plays
Genre: A'cappella / Alternative / Hip Hop

Location Olathe, Kansas, Un

Profile Views: 10147

Last Login: 12/3/2010

Member Since 9/15/2008

Website milkdrop.bandcamp.com

Record Label Datura Records

Type of Label Indie

Bio

Known for his honest, blue-collar, and soulful rhymes Milk's verses are easily relatable to all listeners. Matching his ease with the pen is a passionate quest to spread his name. Matching that passion is a tireless work ethic, and the reason to most that Milk has been called, 'The Hardest Working Emcee'. MilkDrop has been blessed to share the stage and/or open for such regional and national acts as: The Cool Kids, Blueprint, Chiddy Bang, Doomtree, Killah Priest, Approach, Reach, Steddy P, Stik Figa, D/Will, Les Izmore, , Irv Da Phenom, Heet Mob, and Dj Joc Max. The latest ripples in the plan of attack for Milk were the release of his debut album "Falling Back To Earth" in August of 2009, and the release of his mixtape "Vacation Leave", which was hosted by Kansas City's own Reach and Goodbutta Radio, and was released in November of the same year. Both garnered praise and reviews from the press, as well as "Vacation Leave" was downloaded over 1500 times within the first week. 2010 was spent with Milk putting his efforts into his first solo release as a member of Datura Records, an album entitled "Poet At Heart", which will be available in the Winter. With no plans of slowing, Milk has a multitude of releases slated for 2011, as well as shows booked for a regional tour set to commence in the Spring. ...."Falling Back To Earth" (Produced by D/Will) Available on iTunes here: http://itunes.apple.com/us/album/falling-back-to-earth/id330109335....

Members

..Starring: MilkDrop as Himself ....

Influences

The Soul Providers .. KRS-ONE.. Rakim.. Kool G Rap .. Erick Sermon .. Prodigy .. Common.. Talib Kweli .. Mos Def .. Evidence .. Phontae of Little Brother .. Joell Ortiz .. Sean Price .. Saigon.. Joe Scudda .. Skyzoo .. Termanology .. Sha Stimuli .. Emilio Rojas .. REKS.. 9th Wonder .. Alchemist .. Pete Rock .. Dj Premier .. Large Professor .. Statik Selecktah....

Sounds Like
03:30 | 30 plays | May 6 2009
Bio:
Crammed into the Midwest is a place where hip hop still lives and breathes. If you listen close enough you can hear the thumping of each heart beat. If you listen even closer you can hear the soul behind it. In between the scribbling of thoughts to paper, and the resonance of percussion you'll find a constant movement. There are a few at the forefront who challenge not only each other, but the consistent lack of quality musical content put out to the masses on a daily basis. There are those that Provide Soul, and those that live to only to gain. In a time when work ethic is described as a grind, and passions are belittled into hobbies there are few who consistently attempt to push for more. Disregarding all the attention placed on money and fame, there are those left that create for the love of the artform. Creating not for the self gratification or recognition, but to put forth a message that will connect people through each word rhymed and each beat that pulses through the speakers. Understanding that the ministry of music is the most therapuetic and enlightening force among common people. In the march to elevate the souls of those who choose to listen there is often only a few who standout. MilkDrop and his music are the last answer to the void that has been slowly filled in hip hop. Known for his honest, blue-collar, and soulful rhymes Milk's verses are easily relatable to all listeners. Matching his ease with the pen is a passionate quest to spread his name. Spending countless hours writing and recording, as well as playing over 35 shows in 2008, is only part of the evidence of his drive. His first release of 2009 was "Falling Back To Earth." His second effort is as mentioned the "Falling Back To Earth LP." A collaborative effort with Kansas City super Producer D/Will, which was released August 26th, has garnered praise to date and is available as of September 13th. Next up for Milk will be "Vacation Leave" The Mixtape, which will be hosted by Kansas City's own Reach and Goodbutta Radio.


Contact Information:
Personal Email: soulofmycity@yahoo.com
Booking/Collabs: firstcityreps@gmail.com



LATEST PROJECTS:



AVAILABLE ON DATPIFF.COM!





..
"Vacation Leave" The Mixtape here: http://www.sendspace.com/file/klk1kb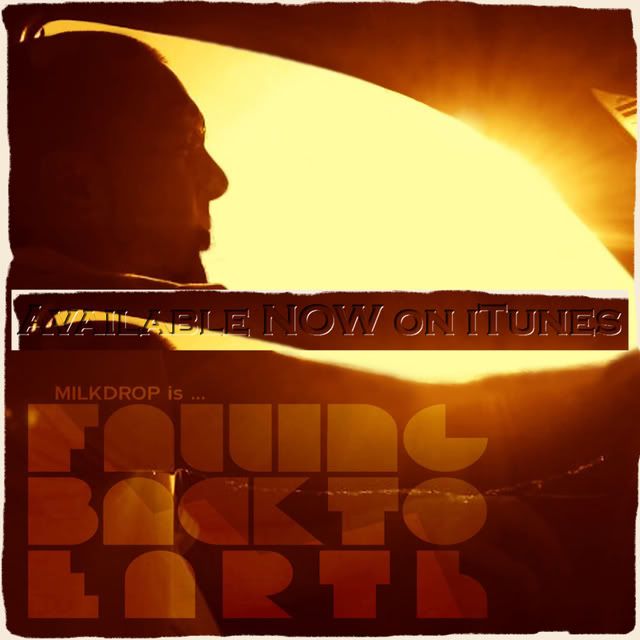 "Falling Back To Earth" (Produced by D/Will) Available on iTunes here: http://itunes.apple.com/us/album/falling-back-to-earth/id330109335




Member Since:
September 15, 2008
Members:
Starring: MilkDrop as Himself

Influences:
My seed's Growth.
Bills and Bill Collectors.
My Dead End Job.
This Year's Election.
The Welfare Trap.

The Soul Providers
KRS-ONE
Rakim
Kool G Rap
Erick Sermon
Prodigy
Common
Talib Kweli
Mos Def
Evidence
Phontae of Little Brother
Joell Ortiz
Sean Price
Saigon
Joe Scudda
Skyzoo
Termanology
Sha Stimuli
Emilio Rojas
REKS
9th Wonder
Alchemist
Pete Rock
Dj Premier
Large Professor
Statik Selecktah

Record Label:
Datura Records