Play

Play Next

Add to queue
Play

Play Next

Add to queue

2,491 plays

Play

Play Next

Add to queue

1,737 plays

Play

Play Next

Add to queue

49 plays

Play

Play Next

Add to queue

849 plays

Play

Play Next

Add to queue

909 plays
Genre: Electro / Gothic / Industrial

Location Hobart, Tasmania, AU

Profile Views: 23618

Last Login: 8/5/2011

Member Since 5/3/2006

Website http://www.mp3.com.au/spreckenstein

Type of Label Major

Bio

.. .. .. .. ...... Spreckenstein: DEFORMAT. The first full length CD is out now! .... 13 Tracks of digitally mangled synths, cranium-caving beats seething in disillusionment and hatred. ....DEFORMAT will be available for sale internationally from this profile. Message us for further details .. .. .. .. Since 1999 Duncan Brown has been constructing his ADHD style dark electronic musical ideas into tunes and accompaning them with his perspectives on society, love and religion and from that Spreckenstein was born. From those beginnings, many tracks have been generated, evolving in style and theme from the early glitchcore insanity to synthpop and EBM. In the metal and indie rock dominated landscape of the Tasmanian music scene, Spreckenstein has always stood alone as a goth/industrial/electro outfit. ............ ....2001 Spreckenstein was included on the first En Masse goth Fringe event, showcasing talent from all artistic disciplines. In 2004 Spreckenstein made it out of the bedroom, beginning peforming live shows at such venues as The Trout and Hobart Fringe festival Bedroom Producers showcase. Sometimes joined onstage with indie noise/synthpop producer Lobe Boy, this incarnation brought the music directly to the audience with dancefloor sets at Hobart goth nightclub, The Coven. Despite work being 80% completed on the work in progress album "Audio Narcissus", a hard-drive crash all but destroyed the outfit. Going back to basics and reinventing himself once more, 2007 saw the rebirth of Spreckenstein, playing with US Glitchpop virtuosos Captain Ahab. Since then Duncan worked on crafting the album DEFORMAT. In 2008 Spreckenstein peformed once more, this time with an all new stage lineup. Chrissy and Josh from Hobart experimental metal band Solar Thorn joined the stage to include Death/Black Metal vocals and live synths. Spreckenstein shared the stage with Australian goth industrial juggernaut Angelspit on their recent Australian tour at The Brisbane Hotel and with SNOG at the same venue as part of The Coven's Gothtober 2009 celebrations .. .. .. SPRECKENSTEIN is back to being a one man wrecking machine. Look forward to new tracks and hopefully a new release late 2010 .... .. .. .... ........ ....Put a banner on your page: Use this Code - Just Copy and Paste - White Logo.. .. .. .. ........ ....Put a banner on your page: Use this Code - Just Copy and Paste - Red Logo.. .. .. .. ................

Members

Recorded: ..Spreckenstein: everything .. ..Live Members- ..Spreckenstein: vocals ..Joshwa : keyboards ..Backing Traxx: everything else .. ..high tech .. .... .. .... .. .. .. .. .. .. .. .. ..Spreckenstein - The Harbinger - Live at DEFORMAT Album Launch @ The Brisbane Hotel, Hobart - 9-1-9.... ..Spreckenstein - Extermination (live @ Curly's, 30th March 2007)........ .. .. .. .. .. .. ........Add to My Profile.. | .. More Videos.... .. .. .. .. ..Conform - Live @ Trout...... .. .. .. .. .. .. ......Add to My Profile.. | .. More Videos.... .... Spreckenstein Live @ Trout. 29th Nov. Sample of CONFORM (low light).. ...... ...... ....Spreckenstein Live, 30th March 07.. ............ ...... ....Spreckenstein Live, 29th Nov 06..

Influences

Icon of Coil, Depeche Mode, New Order, VNV Nation, Razed in Black, Ministry, lots of lame synthpop, Japanese Rock,

Sounds Like

overstimulation and subsequently falling into a hypoglycaemic coma
No recent updates in this category.
Why not...
01:37 | 238 plays | Dec 20 2006
Bio:
Spreckenstein: DEFORMAT. The first full length CD is out now!
13 Tracks of digitally mangled synths, cranium-caving beats seething in disillusionment and hatred.
DEFORMAT will be available for sale internationally from this profile. Message us for further details
Since 1999 Duncan Brown has been constructing his ADHD style dark electronic musical ideas into tunes and accompaning them with his perspectives on society, love and religion and from that Spreckenstein was born. From those beginnings, many tracks have been generated, evolving in style and theme from the early glitchcore insanity to synthpop and EBM. In the metal and indie rock dominated landscape of the Tasmanian music scene, Spreckenstein has always stood alone as a goth/industrial/electro outfit.
2001 Spreckenstein was included on the first En Masse goth Fringe event, showcasing talent from all artistic disciplines. In 2004 Spreckenstein made it out of the bedroom, beginning peforming live shows at such venues as The Trout and Hobart Fringe festival Bedroom Producers showcase. Sometimes joined onstage with indie noise/synthpop producer Lobe Boy, this incarnation brought the music directly to the audience with dancefloor sets at Hobart goth nightclub, The Coven. Despite work being 80% completed on the work in progress album "Audio Narcissus", a hard-drive crash all but destroyed the outfit. Going back to basics and reinventing himself once more, 2007 saw the rebirth of Spreckenstein, playing with US Glitchpop virtuosos Captain Ahab. Since then Duncan worked on crafting the album DEFORMAT. In 2008 Spreckenstein peformed once more, this time with an all new stage lineup. Chrissy and Josh from Hobart experimental metal band Solar Thorn joined the stage to include Death/Black Metal vocals and live synths. Spreckenstein shared the stage with Australian goth industrial juggernaut Angelspit on their recent Australian tour at The Brisbane Hotel and with SNOG at the same venue as part of The Coven's Gothtober 2009 celebrations
SPRECKENSTEIN is back to being a one man wrecking machine. Look forward to new tracks and hopefully a new release late 2010

Put a banner on your page: Use this Code - Just Copy and Paste - White Logo

Put a banner on your page: Use this Code - Just Copy and Paste - Red Logo
....
..
..
Member Since:
May 03, 2006
Members:
Recorded:
Spreckenstein: everything
Live Members-
Spreckenstein: vocals
Joshwa : keyboards
Backing Traxx: everything else
high tech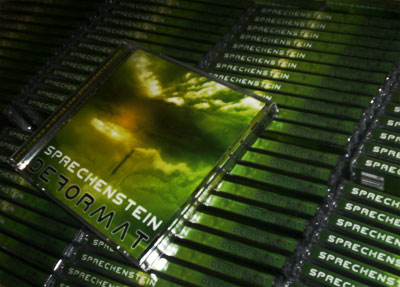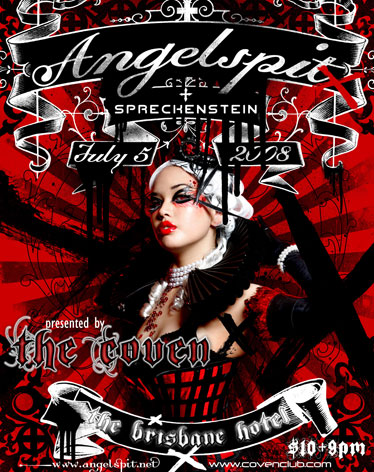 Spreckenstein Live @ Trout. 29th Nov. Sample of CONFORM (low light)
Spreckenstein Live, 30th March 07
Spreckenstein Live, 29th Nov 06
Influences:
Icon of Coil, Depeche Mode, New Order, VNV Nation, Razed in Black, Ministry, lots of lame synthpop, Japanese Rock,
Sounds Like:
overstimulation and subsequently falling into a hypoglycaemic coma