Play

Play Next

Add to queue
Play

Play Next

Add to queue

321,218 plays

Play

Play Next

Add to queue

1,862 plays

Play

Play Next

Add to queue

1,150 plays

Play

Play Next

Add to queue

1,262 plays
Genre: Alternative / Rock

Location Los Angeles, California, US

Profile Views: 1813646

Last Login: 5/4/2012

Member Since 10/2/2007

Website lukasrossi.com

Type of Label Major

Bio

.. .. .. .. .. ........ ........ ........ ........ ........ .. .. .. .. .. .. .. .. .. .. .. Let's just throw away the typical "put four cool people in a room and see what happens" bio. Stars Down has fun, and brings a creative mixture of personalities and sound that serves as the impenetrable foundation of a great rock show... .. Stars Down is comprised of an internationally acclaimed singer (Rossi) who sounds like a bastard music child of Freddie Mercury and Jeff Buckley (and is as compelling on stage as David Bowie and Iggy Pop), an enigmatic guitar player that will hold your attention with his stage presence and make your ass move, a drummer who hits the percussion with the determination of a marathon runner, and a bass player who will rock your socks off... .. The band's influences collectively range everywhere from Jeff Buckley to The Cure to Queen, however Stars Down's music is very fresh, very new, and very much their own. Layered with melodic harmonies, and a stellar (no pun intended) ability to grab the crowd by the balls, the Stars Down sound is emotive and tortured, yet inspiring and hopeful, and in the unforgettable soaring vocals of Lukas Rossi, the listener ultimately finds redemption... .. The creation of Stars Down is the most recent brainchild of Lukas Rossi (vocals, guitar) whose songwriting career has spanned a fruitful seventeen years (Cleavage, Rise Electric, Rock Star Supernova). While on two major acoustic tours of the United States and Canada, Lukas worked with keyboardist Lou Dawson, who faithfully endured 36 sold out shows across Canada. The stunning Lou Dawson will make occasional guest appearances with the gentlemen of Stars Down... .. Lukas Rossi, native of Toronto, Ontario now transplanted to the US, shares with his former Cleavage band mates the accolade of winning the Best Unsigned Band contest at NXNE in 2000. Since that time, Lukas has been involved in projects that have brought him major media attention, and has been very successful—and prolific—as a songwriter through his publishing deal with EMI Music Publishing. In addition, Lukas is carving for himself a lucrative career as a producer... .. No stranger to the stage and television, Lukas performed live at the 2006 Gemini awards, appeared on (and won) the CBS television series Rock Star: Supernova (9 million viewers in the US, another 9 million worldwide), as well as appearing on Ellen, Regis & Kelly, The Jimmy Kimmel Show, Entertainment Tonight, and numerous appearances on ET Canada. Lukas has performed in arenas spanning the United States, Canada, Australia and New Zealand... .. Lukas Rossi and Stars Down are ready to bring their collective alternative rock talents--from heart-wrenching ballads to balls out rock n' roll—to the hungry eyes and ears of music fans everywhere. ....... ......

Members

Influences

Sounds Like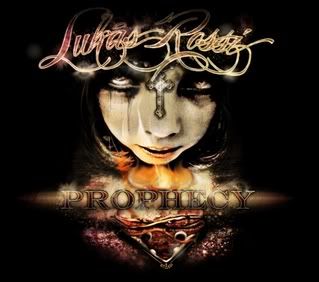 Released November 2011
Tracks (Preview the album HERE)
Intro (NREM)
The Garden
Caves
Mountains To Move (Runaway)
California Is Dying
Magnificent
Ignite
Beautiful (Bless The Children)
Dead Man Walking
The Only One
Prophecy
Confession (REM)
Plus a HIDDEN BONUS TRACK
Go HERE to place your order today!

Album art by Vaughn of v6studiosonline.com
The Rock Fest Fall 2011 DVDs are now available! Get your personal copies of the Friday and Saturday Night performances and experience this incredible weekend with Lukas!
This is the next best thing to being there! There is also a special offer exclusively available to Rock Fest Attendees.
For information and to order these special performances, please visit HERE!!
Announcing the release of 'Bless The Children' from Lukas' upcoming album 'Prophecy'!
This track is available NOW exclusively here at LRO.  Make a 'Swag' or 'Music Download' purchase from the website of $20 or more (before shipping) and you will be eligible to receive an advance copy of the song!
For more details go HERE
Thanks for your support. Enjoy the music!
One Love
Album art v6studiosonline
**Note: This offer excludes any item purchased from another website (such as Cafe Press)
Stars Down has 7699 friends.