Play

Play Next

Add to queue
Play

Play Next

Add to queue

4,140 plays

Play

Play Next

Add to queue

11,760 plays

Play

Play Next

Add to queue

10,803 plays

Play

Play Next

Add to queue

3,089 plays

Play

Play Next

Add to queue

2,719 plays
Genre: Acoustic / Alternative / Folk

Location London via Edinburgh, UK

Profile Views: 84930

Last Login: 8/6/2011

Member Since 7/2/2007

Website starsofsundayleague.co.uk

Record Label EP out on Jellyfish Records

Type of Label Indie

Bio

....................real..editor....best profile tools........................................................ STARS OF SUNDAY LEAGUE are the constituent parts of Euan Robinson, Sarah Triggs and increasingly Max Jones. Liberated by a lack of real musicianship, Euan writes simple uncluttered songs about how the biggest things are wrapped up in the smallest. .. Our debut EP 'The Boy's Got Prospects' IS OUT NOW on Jellyfish Records. It was recorded the old fashioned way, reel to reel tape and has the hiss and the buzz to prove it. You can order the EP by clinking on the link below. .. We are currently writing and recording new material for the first feature full-length record. The shows we play will all be listed here if you would like to come and hear us play our music and exchange witticisms. Alright, just the music. .. Full SOSL biog available by contacting euan@starsofsundayleague.co.uk .. ...... .. .. .. .. .. .. .. .. .. .. .. .. .. .. .. .. .. .. .. .. .. .. .. .. .. .. .. ........> ..

Members

..Euan Robinson.. and ..Sarah Triggs.. with accordion from ..Max Jones.. and sometime backing vocals from ..Emmy the Great.. .. .. Contact the following people about the following things. They are as good as they are good looking. .. For label questions please contact roy@platformslive.co.uk .. For press please contact alison@hermana.co.uk .. For bookings please contact euan@starsofsundayleague.co.uk ..

Influences

...... .. ...... .. ...... .. ...... .. ...... .. ...... .. ...... .. .. .. .. ..If you would like to be in the loop with Stars of Sunday League updates then put your email address in here. No spam. Ever... .. .. ...... ...... .. .. .. .. .. .. "With his Scottish twang and heart attached to plaid sleeves you'll shed a beer glass full of tears to his beautifully crafted songs." Plan B .. "gentle and uncluttered, but entirely self-assured folkish songcraft with a narrative, confessional bent." Time Out .. "Adopting the best one-man band name since Badly Drawn Boy then, his particular brand of folk music is one rich in charm and lyrical finesse." Ragged Words ..

Sounds Like

a bird.. ........ eating a worm
No recent updates in this category.
Why not...
Bio:
..
real

editor

best profile tools
..
..
STARS OF SUNDAY LEAGUE are the constituent parts of Euan Robinson, Sarah Triggs and increasingly Max Jones. Liberated by a lack of real musicianship, Euan writes simple uncluttered songs about how the biggest things are wrapped up in the smallest.
Our debut EP 'The Boy's Got Prospects' IS OUT NOW on Jellyfish Records. It was recorded the old fashioned way, reel to reel tape and has the hiss and the buzz to prove it. You can order the EP by clinking on the link below.
We are currently writing and recording new material for the first feature full-length record. The shows we play will all be listed here if you would like to come and hear us play our music and exchange witticisms. Alright, just the music.
Full SOSL biog available by contacting euan@starsofsundayleague.co.uk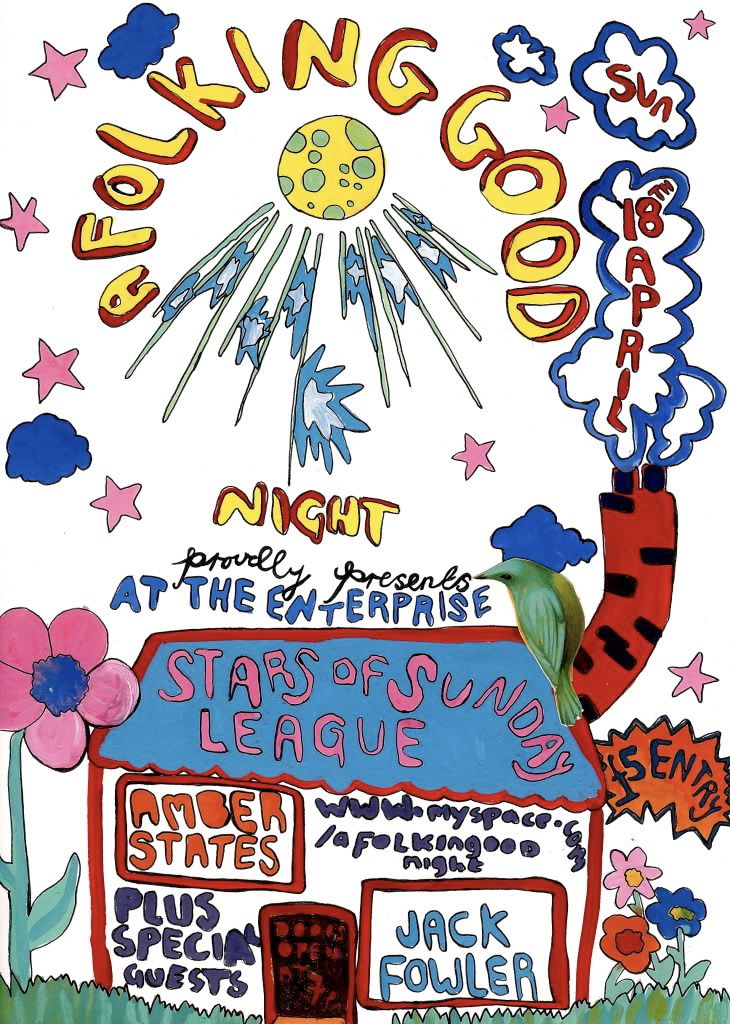 >
Member Since:
July 02, 2007
Members:
Euan Robinson
and
Sarah Triggs
with accordion from
Max Jones
and sometime backing vocals from
Emmy the Great
Contact the following people about the following things. They are as good as they are good looking.
For label questions please contact roy@platformslive.co.uk
For press please contact alison@hermana.co.uk
For bookings please contact euan@starsofsundayleague.co.uk
Influences:
..
If you would like to be in the loop with Stars of Sunday League updates then put your email address in here. No spam. Ever.
..
..
.. ..
"With his Scottish twang and heart attached to plaid sleeves you'll shed a beer glass full of tears to his beautifully crafted songs." Plan B
"gentle and uncluttered, but entirely self-assured folkish songcraft with a narrative, confessional bent." Time Out
"Adopting the best one-man band name since Badly Drawn Boy then, his particular brand of folk music is one rich in charm and lyrical finesse." Ragged Words
Record Label:
EP out on Jellyfish Records