Who I'd like to meet:
Here at Stay Sick! we love sticking on live bands but we don't want no squares or prima donna patter asses. THINK IGGY, THINK MUMMIES, THINK CRAMPS, THINK SONICS, THINK SAINTS THINK GARAGE PUNK TRASH TEAR IT UP ROCKABILLY, ROCK n ROLL!!! If this ain't you save ya-self disappointment n please don't ask us for a gig. NO pop NO cock rock NO metal NO indie NO FUCKIN' PROG ROCK SHIT!!! Who'd ya think you are, Phil Collins or summink? Ya dig? It just ain't our bag.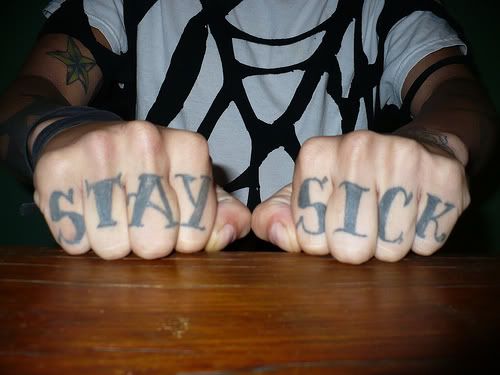 Come on you Rockers, Rollers, 50's throwbacks, 60's Garage Zombies, Poison Ivys, Hatchet Faces, the Black Leather Jacket clad, Punks, Pool Sharks, Iggys, Sonic Smiths, Russ Meyer lovers
Status:

Swinger

Here for:

Dating

Hometown:

Clash City Rockers

Orientation:

Not Sure

Ethnicity:

Pacific Islander

Religion:

Other

Zodiac Sign:

Virgo

Smoke / Drink:

Yes / Yes

Education:

High school

Occupation:

Gettin drunk, playing records motherfuckers!
Tomorrow night (Thurs 24th) at the Saint James A night of '50s and '60s JUMP Blues, swingin' R&B, SLEAZY tittytwisters, Buttshakers & Soul
General

Gettin Drunk, Playing Records Mutherfockers!!!!!! Woah yeah!!! Surfin' Limos, Falling Over, Dancin', Rockin & having a God Damn Balll!!!

Music

Images and Photos" />

The Sonics,

Iggy

,

The Stooges

,

The Wailers

,

The Testimonial MC5!

,

Silver Bullit

,

The Mummies

,

The Gun Club

,

Hasil Adkins

,

[D-66]

,

Grinderman

,

The Ramones

,

The Clash

,

The Haunted

,

The Detroit Cobras

,

The Gentrys

,

Winnebago Deal

,

The Melvins

,

Patti Smith

,

Richard Hell & The Voidoids

,

Television

,

The Corsairs

,

Crime

,

The Damned

,

The Dirtbombs

,

The 13th Floor Elevators

,

The Sex Pistols

,

The Ruts

,

The Dead Boys

,

The Fall

,

Fugazi

,

Bobby Fuller

,

Nek-Romantics

,

The Stray Cats

,

Elvis

,

Howlin Wolf

,

John Lee Hooker

,

Johnny Otis

,

Black Flag

,

The Saints

,

The Readymen

,

Discharge

,

The Guillotines

,

The Riddles

,

The Kingsmen

,

The Mustangs

,

Tyme

,

The Spiders

,

The Travel Agency

,

Babes In Toyland

,

L7

,

The Jaguars

,

The Hentchmen

,

The New Bomb Turks

,

The Vestells

,

The Shandells

,

Treytones

,

Blondie

,

X-Ray Spex

,

David Bowie

,

The Ruts

,

Sham 69

,

Emergency

,

Send More Paramedics

,

Billy Childish

,

Bad Brains

,

The Bronx

,

The Kills

,

At The Drive-In

,

Refused

,

The Misfits

,

The Nazz

,

The Birthday Party

,

Gaunt

,

The Von Bondies

,

The Lunachicks

,

Captain Beefheart

,

Screaming Lord Sutch

,

Samhain

,

Danzig

,

The Percells

,

Dead Kennedys

,

999

,

Johnathan Richman

,

The Modern Lovers

,

John Cooper Clarke

,

The Velvet Underground

,

New York Dolls

,

Mudhoney

,

Nirvana

,

The Periscopes

,

Thane Russal

,

Purple Hearts

,

The Meteors

,

Guana Batz

,

Radio City Riot

,

Abandoned

,

Beach Combers and a shit load more of that Bad Mofo Music 4 Bad Mofo People

, Woah fuckin A!!!!!!!

Movies

Books

What Ever Happened to the Neutron Bomb?, Our Band Could Be Your Life, Rip It Up and Start Again, No One Gets Out of Here Alive.

Heroes
Play

Play Next

Add to queue

Play

Play Next

Add to queue

Play

Play Next

Add to queue

Play

Play Next

Add to queue

Play

Play Next

Add to queue