Play

Play Next

Add to queue
Genre: Country / Folk / Pop

Location Victoria, British Columbia, CA

Profile Views: 20716

Last Login: 12/2/2012

Member Since 4/26/2006

Website www.katesteele.ca

Type of Label Unsigned

Bio

........ ................ .. .. "Kate Steele has a truly beautiful voice and a real natural way with a song." .. -- Ron Sexsmith .. .. "Kate's new record is a beautiful mix of Margo Timmins-esque vocals and barefoot, rootsy imagery." .. -- Leeroy Stagger .. .. "With a field as full as the female singer songwriter genre, it takes something really special to differentiate itself. Not only does it take a person of exceptional talent, but often it will even take these lucky few a couple of albums to really find their niche. Not so with Kate Steele on this, her debut album. First, Steele shows tremendous maturity in her lyrics. They are earnest and poignant and, more importantly, devoid of any pretentious wordplay that often mars other entries in this genre. These refreshingly honest lyrics are wrapped in Steele's beautiful voice. Her control over this, her most valuable instrument, again belies this being her first full length album. Her arrangements tread a fine line between country and folk, throwing in dobro and mandolin from time to time as accents. The result is one of the finest first outings I have ever heard, and I already look forward to the next." .. .. --Matt Chomistek of Beatroute Magazine, Calgary .. .. "Following the best in the singer-song writer tradition, Steele's music presents honest and playful, if somewhat melancholy, reflections on life. The track "Trouble," for example, empathises with an unnamed protagonist who is subject to constant scrutiny from the narrow-minded, lest he exhibit what they think are signs of a mental disorder. And "First to Lose" laments the silence that greets the evidence of domestic violence on a fellow student's face. But sandwiched between the two tracks is "Talking to Him," in which Steele wraps a voice as clear as the Saskatchewan sky around the zydeco styling of an accordion and an offbeat ska rhythm. The song, in which a woman informs a past lover that she was thinking of Bob Dylan when she said she loved him, snaps along with gentle authority." .. .. --Mark Vardy, Monday Magazine, Victoria .. .. "The Rolling Stones were right: sometimes it's the singer, not the song. Folk singer Kate Steele has a brave, proud voice, the kind you imagine ringing out over amber waves of grain as she packs her bags and heads out west. Like Hem's Sally Ellyson, there's a richness and clarity in Steele's instrument that's both undeniable and undeniably well-suited to its owner's chosen genre. Curve of the Earth Steele's debut album, is a set of roots music as serious as She & Him's similarly vintage recent set is campy, twelve songs crackling into flame and billowing up into the prairie air." .. .. -- David Greenwald, Cokemachineglow.com .. .. .. Kate Steele lives in Victoria, BC. She spent her childhood in a handful of small towns in Saskatchewan. She has also lived, worked and performed in the U.S. midwest, an island off the south coast of Japan and the Middle East. .. .. It's possible to see all of these places and the people Kate's met in the songs of her debut album, Curve of the Earth. .. .. Saskatchewan's landscape plays powerfully in Kate's lyrics and music and she maintains close ties with her family there. In BC, reviewers and fans have picked up on her small town roots, noting a warmth and a lack of pretension in both her music and in her shows. .. .. Kate's musical influences include Gillian Welch, Joni Mitchell, Ron Sexsmith, Sarah Harmer and Bob Dylan. .. .. Her attention to lyrics developed in part through her appreciation of these songwriters and through her study of writing in university.

Members

On album: Kate Steele- vocals, guitar, piano Gordie Pendleton- gretsch, dobro, electric guitar, acoustic guitar, vocals Jeff Scotney- bass Paul Gillespie- electric guitar Rose Birney- mandolin, harmonica Jonty Jervis-Parker- violin Bill Winter- accordion Tommy Gogo- organ .. .. .. .. ..

Influences

Gillian Welch, Bonnie Raitt, Joni Mitchell, Sarah Harmer, Bob Dylan, Karen Dalton, Martha Wainwright, Steve Earle, Ron Sexsmith, Rickie Lee Jones, Aimee Mann, Laura Cantrell, Tom Waits, Lucinda Williams, John Prine, Van Morrison, Howe Gelb, Richard Buckner, M. Ward, Neko Case, Harry Nilsson, Gordon Downie, Billy Bragg

Sounds Like

Gillian Welch, Joni Mitchell, Natalie Merchant
No recent updates in this category.
Why not...
02:48 | 103 plays | Sep 10 2008
Bio: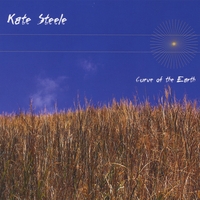 "Kate Steele has a truly beautiful voice and a real natural way with a song."
-- Ron Sexsmith
"Kate's new record is a beautiful mix of Margo Timmins-esque vocals and barefoot, rootsy imagery."
-- Leeroy Stagger
"With a field as full as the female singer songwriter genre, it takes something really special to differentiate itself. Not only does it take a person of exceptional talent, but often it will even take these lucky few a couple of albums to really find their niche. Not so with Kate Steele on this, her debut album. First, Steele shows tremendous maturity in her lyrics. They are earnest and poignant and, more importantly, devoid of any pretentious wordplay that often mars other entries in this genre. These refreshingly honest lyrics are wrapped in Steele's beautiful voice. Her control over this, her most valuable instrument, again belies this being her first full length album. Her arrangements tread a fine line between country and folk, throwing in dobro and mandolin from time to time as accents. The result is one of the finest first outings I have ever heard, and I already look forward to the next."
--Matt Chomistek of Beatroute Magazine, Calgary
"Following the best in the singer-song writer tradition, Steele's music presents honest and playful, if somewhat melancholy, reflections on life. The track "Trouble," for example, empathises with an unnamed protagonist who is subject to constant scrutiny from the narrow-minded, lest he exhibit what they think are signs of a mental disorder. And "First to Lose" laments the silence that greets the evidence of domestic violence on a fellow student's face. But sandwiched between the two tracks is "Talking to Him," in which Steele wraps a voice as clear as the Saskatchewan sky around the zydeco styling of an accordion and an offbeat ska rhythm. The song, in which a woman informs a past lover that she was thinking of Bob Dylan when she said she loved him, snaps along with gentle authority."
--Mark Vardy, Monday Magazine, Victoria
"The Rolling Stones were right: sometimes it's the singer, not the song. Folk singer Kate Steele has a brave, proud voice, the kind you imagine ringing out over amber waves of grain as she packs her bags and heads out west. Like Hem's Sally Ellyson, there's a richness and clarity in Steele's instrument that's both undeniable and undeniably well-suited to its owner's chosen genre. Curve of the Earth Steele's debut album, is a set of roots music as serious as She & Him's similarly vintage recent set is campy, twelve songs crackling into flame and billowing up into the prairie air."
-- David Greenwald,
Cokemachineglow.com
Kate Steele lives in Victoria, BC. She spent her childhood in a handful of small towns in Saskatchewan. She has also lived, worked and performed in the U.S. midwest, an island off the south coast of Japan and the Middle East.
It's possible to see all of these places and the people Kate's met in the songs of her debut album, Curve of the Earth.
Saskatchewan's landscape plays powerfully in Kate's lyrics and music and she maintains close ties with her family there. In BC, reviewers and fans have picked up on her small town roots, noting a warmth and a lack of pretension in both her music and in her shows.
Kate's musical influences include Gillian Welch, Joni Mitchell, Ron Sexsmith, Sarah Harmer and Bob Dylan.
Her attention to lyrics developed in part through her appreciation of these songwriters and through her study of writing in university.
Member Since:
April 26, 2006
Members:
On album: Kate Steele- vocals, guitar, piano Gordie Pendleton- gretsch, dobro, electric guitar, acoustic guitar, vocals Jeff Scotney- bass Paul Gillespie- electric guitar Rose Birney- mandolin, harmonica Jonty Jervis-Parker- violin Bill Winter- accordion Tommy Gogo- organ
Influences:
Gillian Welch, Bonnie Raitt, Joni Mitchell, Sarah Harmer, Bob Dylan, Karen Dalton, Martha Wainwright, Steve Earle, Ron Sexsmith, Rickie Lee Jones, Aimee Mann, Laura Cantrell, Tom Waits, Lucinda Williams, John Prine, Van Morrison, Howe Gelb, Richard Buckner, M. Ward, Neko Case, Harry Nilsson, Gordon Downie, Billy Bragg
Sounds Like:
Gillian Welch, Joni Mitchell, Natalie Merchant