Steve Brownlee hasn't earned any badges yet... have you?
General

Get More at COMMENTYOU.com

This pic is from 1987. The beautiful gal up front is one of my bestest friends EVER, Stephanie Whipple! Friends for over 25 years!My other amigos worked with me at Chameleon Records: Ajay Stimmel(L) and Seth Friedman (R)

This is a photo taken in 1985 backstage at a Great White concert with two of my favorite budettes....all for one and one for all!! We're all still the greatest of friends to this day.(L-R) The delightful and lovely Dona Olsen, me (whatever), and the wild one herself, Miss Colleen Daley.

My daughter Audrianna Bella in 1994 at age 4 1/2.....more like Audrianna Bellarina!

This is me at 16 (December 1977) playing Ralph the porno director in our school's production of "Butterflies Are Free."

My son Stephen, age 21, hanging out at Hermosa Beach watching the sunset! Good times....

This is my daughter Audrianna, age 19, in the now obligatory "photo in the mirror" shot that seems to be the rage with the youngins these days.

Glitter Graphics & Comments

Music

Some of my favorite groups include

,

but are not limited to: Led Zeppelin

,

Pink Floyd

,

Grand Funk Railroad

,

Rush

,

Iron Maiden

,

Judas Priest

,

The Ramones

,

The Sex Pistols

,

Scorpions

,

Rolling Stones

,

Tom Petty and the Heartbreakers

,

Gin Blossoms

,

Queen

,

Deep Purple

,

Jethro Tull

,

Roy Orbison

,

Johnny Cash

,

Yardbirds

,

Eric Clapton

,

Stevie Ray Vaughn

,

Joshua Perahia

,

Silent Rage

,

Don Henley (solo)

, The Eagles.....

I guess my favorite bands have singers who can SING...powerfully! Ian Gillan,

Bruce Dickinson

,

David Coverdale

,

Robert Plant

,

Rob Halford

,

and Mark Farner are just some of my faves. But nobody but nobody has a more beautiful

, angelic voice than Roy Orbison...he is the King of Sing!

I'm also a big fan of early power pop. Band like The Plimsouls,

20/20

,

The Salvation Army

,

The Records

,

The Jam....and yeah

,

even The Knack!

Believe it or not

, I LOVE country music too. Not the city slicker kind like Garth Brooks. But down-home shit-kickin' real country. My fave of the modern era is no doubt Dwight Yoakam...man,

that twang! Mark Collie is very cool too! I'm more of a fan of Johnny Cash

,

Conway Twitty

,

Hank Williams

,

Hank Snow and the like. I will admit

,

though

,

that I do love two songs by Faith Hill

,

and a couple by Clint Black

,

one by Rebecca Lynn Howard...and even one by Lonestar. And Gretchen Wilson

, well she just plain rocks my socks of! But that's about as far as I go with "modern" country.

And I love classical guitar. As a descendant of both Franz Schubert and Richard Wagner,

it's in the blood! I'm also a huge fan of flamenco. In fact

,

to me the best guitarist EVER is Paco de Lucia! Such passion in his playing

,

let alone his dexterity!

Movies

All time fave

,

hands down is the mockumentary This is Spinal Tap. Dazed and Confused

,

Goodfellas

,

The Usual Suspects

,

Almost Famous

,

The Wall

,

Das Boot

,

Passion of the Christ

,

Franco Zefferelli's Romeo & Juliet

,

Young Frankenstein

,

Rock n Roll High School

,

Breakfast Club

,

Jesus Christ Superstar

,

Fast Times at Ridgemont High

,

Ferris Beuller's Day Off

,

The Warriors

,

The Road Warrior

,

Apocalypse Now

,

Pee Wee's Big Adventure

,

Pulp Fiction

,

Resevoir Dogs

,

What's Up Tigerlily

,

Duel

,

The Hitcher

,

Forrest Gump

,

The Godfather 1 & 2 .....too many to mention here.

Television

Books

What's a book?

Heroes

Musically: Mark Farner of Grand Funk......bloodwise, my grandfather (may he rest in peace).......educationaly, my high school theater/English teacher Chuck Slater.....business wise, my mentor and former boss Alan Niven (manager of Great White and Guns n Roses)...
Play

Play Next

Add to queue

Play

Play Next

Add to queue

Play

Play Next

Add to queue

Play

Play Next

Add to queue

Play

Play Next

Add to queue
About me:
..
make custom gifts
at
Zazzle
Music is my life.....I love music and music has been good to me. I have worked in the music industry for over 27 years....and although I am not a professional musician, I do play guitar and perform with my dearest lifelong friend and music partner Dana Hayes we play out and sit in with other friends from time to time.
This is Dana Hayes, me, Marco Mariani, and Dino Maddalone performing a rare song by Heart (only appears on a live album)
Dana Hayes and me....one of the finest voices these ears have been blessed to hear. It is an honor to play music beside her.

I have spent my career in the business of music.......A&R, distribution, marketing, promotion, management, press, writer, and I've worn a few other hats.
I have been fortunate over the years to have worked with some of the biggest bands around including:
Motley Crue, Great White, Ratt, Poison, Berlin, Queensryche, Spinal Tap, Red Hot Chili Peppers, Stryper, Dokken, The Goo Goo Dolls, W.A.S.P., The Max Weinberg 7, Social Distortion, Slayer, Allan Holdsworth, Mojo Nixon, Wall of Voodoo, Tom Petersson of Cheap Trick, The Surf Punks, Hurricane, Devo, Susanah Hoffs (Bangles), Motorhead, Fastway, Girlschool
......okay, you get the idea...literally hundreds of bands over the years.
This is my good friend Joshua Perahia, Dana Hayes, me, and Dino Maddalone performing a Joshua Perahia original live on the air at
KNAC.com
This is E.J. Curse, yours truly, and Jesse Damon at KNAC studios May 2009. They're two of the members of Silent Rage. I signed them for their first album deal in '87. Great band, nicest guys you'll ever meet.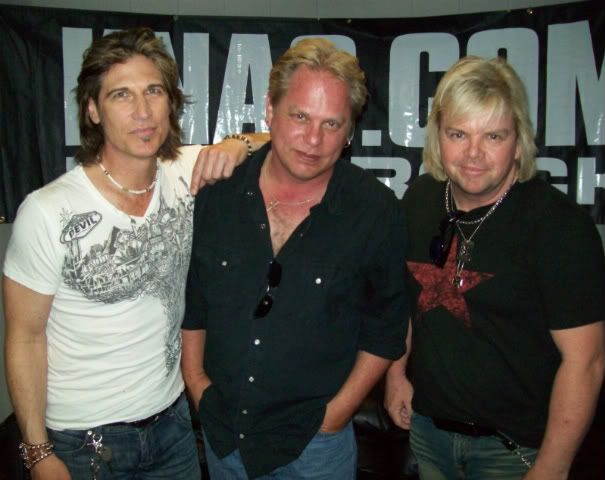 The latest video I've produced for Joshua Perahia, "One Night is Not Enough" (See my blog, "The Greatest Gift")
Joshua Perahia One Night is Not Enough
Always mindful of current trends and the dismal state of the music industry, my assessment of the internet and the sponsored-search advertising industry led me to the decision to reevaluate my career path and for the past three years I have immersed myself in this very lucrative and rewarding field.
One of my fairly recent hobbies is digital photography and rendering photos in PhotoShop to make them look like paintings and other artsy effects.
A collection of some of my more recent art projects:
My deepest passion will always be music however, and I still keep my feet wet by managing the world-renowned guitarist Joshua Perahia and periodically contribute to several international music publications, produce and edit music videos, and consult new fledgling artists.
This was filmed at an event I organized by Keyboardist Eric Ragno. This is "Let Your Love Shine Down" with Joshua Perahia on lead guitar (and who also wrote the song), Dana Hayes on lead vocals, Jerry Gabriel on lead vocals, me on rhythm guitar, Rodney Pino of Silent Rage on drums, Chuck Turner on keyboards.
More importantly, however, is that I'm also the proud father of a 21 year old son who's an aspiring film-maker and a sweet and beautiful daughter who'll be 20 sooner than you know it. They are my reason.............
And now a word from our sponsor (that would be me). We'll return to you momentarily...
I monetize websites by way of sponsored search. As I'm partnered with most of the top ad agencies, I have the tools for web publishers and publisher networks in all business models (corporate, entertainment, news, search engines, etc) with absolutely no investment. While I work with all business models I specialize in the music vertical. If you are a webmaster or website owner, please contact me via SoundSearch. Click the SoundSearch logo above to be redirected to my corporate website.
www.soundsearch.com
Now, where was I? Ah! I remember ......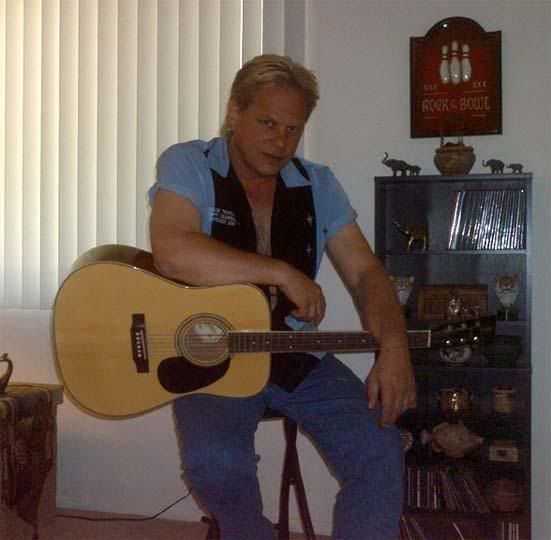 I'm a very laid-back, mellow kind of guy who enjoys the company of cool people. Friends mean the world to me and I have been lucky to know many of buddies and buddettes for most of my life.
Most of the people in my top friends list are people I've known long before there was a MySpace...hell, before there was an internet. Many of them I've known 10, 20, 30 even 40 years!. We've rocked together, worked together, imbibed together and learned together.....and more times than not, all at the same time......and then some. I love my friends dearly.
I am an avid supporter of Autism Awareness and Research. I urge everyone, whether you know someone with this condition or not, to get involved....donate, volunteer, spread the word! 1 in 150 children are born with Autism or another form of the condition including Aspergers Syndrome, Rett Syndrome, and others. There are some very special kids and adults that need our help! Please join me!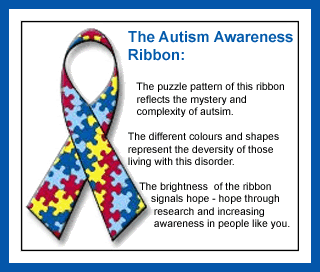 This photo is from 1984. To my right is Jack Russell, lead singer of Great White, being interviewed by John Strednansky of Metal Rendezvous Magazine. The photo was taken and recently discovered by by good mate Bill Hale, chief photographer for Metal Rendezvous. As you can see by the tools of the trade in my hands, I did my job well, keeping my bands well oiled and lubricated.
This from 1984 0r 1985 at Jezebels Nightclub for a show with London and The Kneetremblers (Foghat drummer's band). Me on the left, Debie Rogers (one of my dearest friends), Jennifer Drake (my roomate at the time), and John Strednansky (another longtime dear friend, editor of Metal Rendezvous Magazine) Photo was taken by MR Magazine's one and only Bill Hale (another one one my longtinme dear friends). I have a lot of dear friends, don't I? I am a lucky guy!
Here's another pic from 1984 at a party with some of my Greenworld / Enigma Records friends. L-R Paul Radabaugh, (short girl in white I did not know), me, Steev Ricardo, Jennifer Drake, and Paul Marotta.
Here are a few music videos I did the artwork for and produced for the artist I manage, Joshua Perahia
Joshua Perahia One Night is Not Enough
Joshua Perahia Something to Say
Add to My Profile
|
More Videos
November is Going Away
Add to My Profile
|
More Videos
Dzogchen Punks
http://www.imeem.com/powerbawl/music/snc2RAH8/stev...
Who I'd like to meet:
"God grant me the serenity to accept the people I cannot change, the courage to change the one I can, and the wisdom to know it's me."
Status:

Single

Here for:

Networking, Friends

Hometown:

Torrance, CA

Orientation:

Straight

Body type:

5' 11" / Average

Ethnicity:

White / Caucasian

Religion:

Christian - other

Zodiac Sign:

Cancer

Children:

Proud parent

Education:

Some college

Occupation:

Internet Marketing / Music Publicist
El Camino College

Torrance,California

Graduated:

N/A

Student status:

Alumni

Major:

Theater Arts

Minor:

Business

1979 to 1981

Torrance High

Torrance,California

Graduated:

1979

Student status:

Alumni

Degree:

High School Diploma

1975 to 1979
Enigma Records

Culver City, CA US

International Sales Manager / A&R

1988-1990

Greenworld Records/Enigma Records

Torrance, CA US

Sales & Marketing Manager / A&R

1981-1986

Sounds Good / Chameleon Records

El Segundo, CA US

A&R / Senior Sales

1986-1988

Phantom Sound & Vision

Costa Mesa, CA US

Senior Sales

1990-1996

Drive Entertainment

Culver City, CA US

Director of Sales & Marketing

1997-2001

M&K Sound Entertainment

Chatsworth, CA US

Director of Sales & Marketing / A&R

2001-2003

Front Row Seat Media

Bakersfield, CA US

Owner / President / A&R

2003-2005

SoundSearch.

Los Angeles, CA US

Director of Publisher Development

May 2008- Present