Chuck Wagon hasn't earned any badges yet... have you?
General

The newest and best place to be..Formerly Jezzabelles and Fridays, now owned and operated by Robbie Hodge. We have the biggest band stand and DANCE FLOOR IN ALL OF SUMTER. OPEN 7 DAYS A WEEK..HOURS OF OPERATION: Monday thru Friday 4pm-until; Saturday4:pm-2am; Sundays: we open at 1:00pm. The Chuckwagon Bar is located in the old Fridays and JezzaBelle's building,behind the old Jays' which is located at 1090 B Broad Street, Sumter, SC across from the Sonic. Phone number: 803-774-4477 WE HAVE PLENTY OF ROOM FOR BIRTHDAY PARTIES..IF YOU COME CELEBRATE YOUR BIRTHDAY WITH US, YOU WILL RECEIVE A FREE DRINK ON THE WAGON... Band Nights $5.00 admission, except special events SPECIAL EACH AND EVERY DAY, PIZZAS $4.00, WINGS $5.50 DRINK SPECIALS DAILY
Play

Play Next

Add to queue

Play

Play Next

Add to queue
About me:
Come join us at The Chuckwagon. We are working hard to provide you with some of the best live entertainment and service in town. Please checkout our new weekly specials! We have the BIGGEST BANDSTAND AND DANCE FLOOR IN ALL OF SUMTER, SC
BOURBON CREEK RECORDING ARTIST " GREG KNIGHT " AND DOUBLESHOT TONIGHT AT THE WAGON!!MASON DRIVE IS BACK!!!
THESE GUYS ROCKED THE WAGON AND WE BRINGIN' EM BACK!!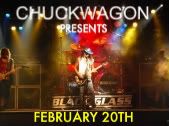 " BLACK GLASS " IS ROCKIN' THE WAGON..FEB.20TH!!!
Who I'd like to meet:
Sundays - Pool Tournaments - $5 entry fee w/ 100% payback and a $20 Bar Tab to the winner.8:00 Karoke with TJ Monday - Monday Night Football on the TV's, APA Pool League $2 Domestic Beer All Night Tuesday - Shag Night, $3 Margaritas Woednesday - Karaoke, $3 House Drinks Thursday - Football on the TV's and Free Pool all night! Friday - Live Entertainment starting around 9 pm Saturday - Sports Day with $2 Domestic Beer till 7 pm, Open at Noon ( Football, Racing, Golf, etc. on the TV's)
Status:

Swinger

Here for:

Friends

Hometown:

Sumter

Orientation:

Not Sure

Zodiac Sign:

Sagittarius

Smoke / Drink:

Yes / Yes