No recent updates in this category.
Why not...
super*MARKET hasn't earned any badges yet... have you?
General

Comics.

Books

With pictures in them.

Heroes

Super and Sappy.
Play

Play Next

Add to queue
About me:
Ok, LA... we're back!
Vegas was super sexy fun times and now we're back in LA.
The next show is Sunday, March 30, 2008, at Meltdown from 12noon-6pm. The focus is on artists who have a dual life in animation, but -as always- all are welcome. Let's do this!

Exhibitors for March:

Javier Hernandez
Ted Seko
Michael Aushenker
Jose Cabrera
Jerrell Conner
Tom Neely
Levon Jihanian
Sherm Cohen
Stuart Ng Books
Louie Del Carmen
Dan Goodsell
Paul Harmon
Pete Von Sholly
Robert Goodin
Bernyce Talley
Sketch Theatre (featuring Mari Inukai, Jim Wirt, and TBA)
Dangerkatt Creative Studio

super*MARKET is a quarterly independent comics event based in Los Angeles. We aim to provide a regular salon for comic makers, lovers, and haters alike so that the gap between creators and readers shrinks down to an uncomfortable closeness. Though it's focused locally on Los Angeles, everyone is welcome (listen, we're not going to kick an out-of-stater out of bed, we're just sayin'). By determining a focus or theme for each event, we are able to cover varied genres within indie comics from goth to cry-baby.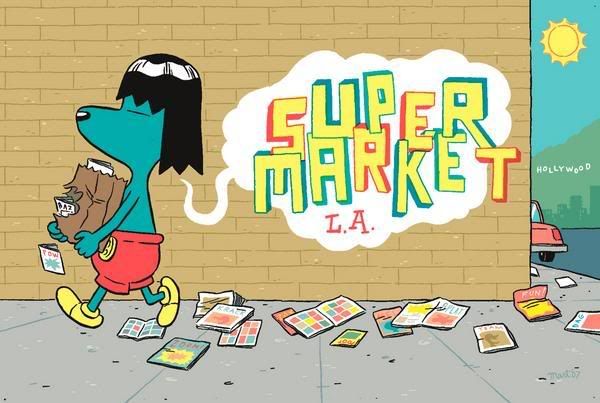 THE NEXT SHOW IS SUNDAY, MARCH 30, 2008, AT MELTDOWN COMICS AND COLLECTIBLES IN HOLLYWOOD.
7522 Sunset Blvd
Los Angeles, CA 90046
12noon-6pm
IF YOU WOULD LIKE TO EXHIBIT ("hawk your shit" the kids call it) AT SUPER*MARKET, PLEASE MSG US FOR INFO.
If you weren't in the know, super*MARKET was originally born in 2003 and took place over 3 days at UCLA. It was supposed to continue annually, but took a few years off to "find itself."
Who I'd like to meet:
Anyone remotely interested in comics.
Status:

Single

Here for:

Networking, Dating, Serious Relationships, Friends

Zodiac Sign:

Scorpio

Occupation:

HOT SHIT EVENTS