Play

Play Next

Add to queue
Play

Play Next

Add to queue

6 plays

Play

Play Next

Add to queue

3 plays

Play

Play Next

Add to queue

3 plays

Play

Play Next

Add to queue

2 plays

Play

Play Next

Add to queue

3 plays
Genre: Trance

Location TRANCE ATLANTA, Un

Profile Views: 19540

Last Login: 7/10/2011

Member Since 1/18/2007

Website http://www.msplinks.com/MDFodHRwOi8vd3d3LnNvdW5kY2xvdWQuY29tL2Rqc3ludHJvbmlr

Record Label STILL SHOPPING

Type of Label Unsigned

Bio

YOU CAN HEAR ALL OF DJ SYNTRONIK'S MIXES AND REMIXES ON SOUNDCLOUD.COM AT http://www.soundcloud.com/djsyntronik AND DOWNLOAD THEM FOR FREE. YOU CAN NOW HEAR SOME OF DJ SYNTRONIK'S 1 HOUR TRANCE ATLANTA LIVE SETS AND DOWNLOAD THEM STRAIGHT INTO YOUR ITUNES FOR FREE AT http://djsyntronik.podomatic.com BECOME A FAN AND CONNECT WITH DJ SYNTRONIK ON FACEBOOK AT http://www.facebook.com/djsyntronik EACH TRACK ON THE 4 PAGES OF SOUNDCLOUD IS A FREE DOWNLOAD, JUST CLICK ON THE DOWNWARD ARROW IN THE SMALL BOX ABOVE EACH TRACK. DANNY LANNING IS DJ SYNTRONIK... THE WORLD FAMOUS REMIX ARTIST / DJ / MUSICIAN / PRODUCER FROM ATLANTA. ATLANTA BASED DJ SYNTRONIK IS CONSTANTLY WORKING ON NEW MIXES AND REMIXES AND WILLING TO SHARE THEM FOR FREE WITH THE WORLD, AND OTHER DJ'S ARE WELCOME TO USE THEM IN THEIR SETS. AS ALWAYS YOU CAN DOWNLOAD RECENT MIXES FOR FREE ON HIS SOUNDCLOUD.COM LINK. YOU CAN ALSO CHECK OUT SOME LIVE FOOTAGE OF HIS TRANCE ATLANTA LIVE SHOWS AND SOME OF HIS OTHER SHOWS AT THE NEW DJ SYNTRONIK CHANNEL ON YOUTUBE.COM AT http://www.youtube.com/user/syntronik09 . BIO: AFTER NEARLY A DECADE OF CREATING, PERFORMING AND PRODUCING THE MULTITUDES OF TRACKS FROM HIS OTHER PROJECTS AS THE MUSICIAN "SYNTRONIK", DANNY TOOK TO THE DJ SIDE WITH IMMEDIATE KNOWLEDGE AND SKILL... DJ SYNTRONIK WAS BORN! THE TOUCH THAT DANNY POSSESSES MUST HAVE BEEN MEANT TO BE. IN THE LAST FEW YEARS DJ SYNTRONIK'S STYLE HAS MADE A STAMP IN THE TRANCE DJ COMMUNITY BY PERFORMING WITH ONLY HIS OWN COMPLEX REMIXES AND MASH UP'S OF THE BEST OF TRANCE MUSIC. WITH HIS ENERGETIC LIVE PERFORMANCES AND FLAWLESS BLENDING MIXES, DJ SYNTRONIK HAS GAINED A FAN BASE THAT SPANS THE GLOBE. DJ SYNTRONIK HAS A STYLE ALL OF HIS OWN THAT IS NEVER PREDICTABLE AND CONSTANTLY EVOLVING. DJ SYNTRONIK HAS BEEN EXPLOSIVE IN THE ATLANTA TRANCE SCENE HEADLINING EVENTS AT VENUES INCLUDING OPERA, THE MASQUERADE (HEAVEN), AND THE SHELTER, AND AS A RESIDENT DJ AT TRANCE TUESDAYS BACK IN 2008.

Members

DJ SYNTRONIK IS DANNY LANNING FROM ATLANTA, GEORGIA U.S.A.

Influences

<object width='440' height='85'><param name='movie' value='http://djsyntronik.podomatic.com/swf/joeplayer_v18b.swf'></param><param name='flashvars' value='minicast=false&jsonLocation=http%3A%2F%2Fdjsyntronik.podomatic.com%2Fentry%2Fembed_params%2F2011-07-04T19_22_20-07_00%26color%3D43bee7%26autoPlay%3Dfalse%26width%3D440%26height%3D85'></param><param name='allowFullScreen' value='true'></param><param name='allowscriptaccess' value='always'></param><embed src='http://djsyntronik.podomatic.com/swf/joeplayer_v18b.swf' flashvars='minicast=false&jsonLocation=http%3A%2F%2Fdjsyntronik.podomatic.com%2Fentry%2Fembed_params%2F2011-07-04T19_22_20-07_00%26color%3D43bee7%26autoPlay%3Dfalse%26width%3D440%26height%3D85' type='application/x-shockwave-flash' allowscriptaccess='always' allowfullscreen='true' width='440' height='85'></embed></object>

Sounds Like

<object height="81" width="100%"> <param name="movie" value="http://player.soundcloud.com/player.swf?url=http%3A%2F%2Fapi.soundcloud.com%2Ftracks%2F5786605"></param> <param name="allowscriptaccess" value="always"></param> <embed allowscriptaccess="always" height="81" src="http://player.soundcloud.com/player.swf?url=http%3A%2F%2Fapi.soundcloud.com%2Ftracks%2F5786605" type="application/x-shockwave-flash" width="100%"></embed> </object> <span><a href="http://soundcloud.com/djsyntronik/having-fun-with-techno-trance-mini-mix-set">HAVING FUN WITH TECHNO TRANCE MINI MIX SET</a> by <a href="http://soundcloud.com/djsyntronik">DJSYNTRONIK</a></span>
Bio:
..
....
Myspace Layout Generator
by
LayoutGeneratorMyspace.com
..
DANNY LANNING IS: DJ SYNTRONIK CREATOR OF TRANCE ATLANTA syntronik07@yahoo.com DJ SYNTRONIK BIO: DJ SYNTRONIK IS DANNY LANNING. AFTER NEARLY A DECADE OF CREATING, PERFORMING AND PRODUCING THE MULTITUDES OF TRACKS FROM HIS OTHER PROJECTS AS THE MUSICIAN "SYNTRONIK", DANNY TOOK TO THE DJ SIDE WITH IMMEDIATE KNOWLEDGE AND SKILL... DJ SYNTRONIK WAS BORN! THE TOUCH THAT DANNY POSSESSES MUST HAVE BEEN MEANT TO BE. IN THE LAST FEW YEARS DJ SYNTRONIK'S STYLE HAS MADE A STAMP IN THE TRANCE DJ COMMUNITY BY PERFORMING WITH ONLY HIS OWN COMPLEX REMIXES AND MASH UP'S OF THE BEST OF TRANCE MUSIC. WITH HIS ENERGETIC LIVE PERFORMANCES AND FLAWLESS BLENDING MIXES, DJ SYNTRONIK HAS GAINED A FAN BASE THAT SPANS THE GLOBE. DJ SYNTRONIK HAS A STYLE ALL OF HIS OWN THAT IS NEVER PREDICTABLE AND CONSTANTLY EVOLVING. RIGHT NOW DJ SYNTRONIK IS EXPLODING IN THE ATLANTA TRANCE SCENE WITH 6 BIG LIVE PERFORMACES SO FAR THIS YEAR INCLUDING HEADLINING IN HEAVEN AT THE MASQUERADE FOR "TRANCE ATLANTA" EVENT; AND 2 MORE LIVE TRANCE ATLANTA SHOWS AT OPERA AND THE SHELTER. DJ SYNTRONIK'S LIVE PERFORMANCE HISTORY:: TRANCE ATLANTA MONTHLY PODCASTS ON
SOUNDCLOUD.COM
: APRIL, MAY, JUNE 2010..... TRANCE ATLANTA EVENT (HEADLINER) - THE SHELTER - APRIL 21, 2010..... TRANCE ATLANTA EVENT (HEADLINER) - OPERA, APRIL 9, 2010..... TRANCE ATLANTA EVENT (HEADLINER) - MASQUERADE (HEAVEN) - MARCH 25, 2010..... DEFLO'S "TW'S DIRTY THIRTY" PARTY - MARCH 2010..... TRANCE ATLANTA PARTY (HEADLINER) - MASQUERADE (PURGATORY) FEB. 12, 2010..... BEYOND ATLANTA - JAN. 23, 2010..... RESIDENT DJ FOR TRANCE TUESDAYS - 2008..... RED LIGHT CAFE - SEPT. 30, 2008..... SIXTH SENSE FESTIVAL / ATLANTA - APRIL 14, 2010..... BEYOND ATLANTA - MARCH 31, 2007 DANNY IS ALSO THE SOLE MEMBER OF SYNTRONIK. SYNTRONIK IS AN EDGY MIX BETWEEN TRANCE / INDUSTRIAL / EBM MUSIC. ALL OF THE SYNTRONIK MATERIAL IS CREATED, PERFORMED AND RECORDED LIVE IN REAL TIME BY DANNY LANNING. DANNY IS ALSO A CO - CONSPIRATOR IN THE SIDE PROJECT CALLED SYNTRONIK VS MYRIAMETER WITH LONG TIME FRIEND AND MUSICIAN DAVE "DA FEVA" GUNTER. THE ONE OF A KIND SVM STYLE INCORPORATES A GRITTY AND EXPERIMENTAL SOUND, BUT EXPLODES WITH INTENSE SOUNDSCAPES AND ORGANIC MUSICAL STRUCTURES THAT WILL DEFINATELY STRETCH YOUR IMAGINATION...PLEASE COME AND VISIT THOSE PAGES IN MY TOP FRIENDS AND GET A SAMPLE OF HOW MUCH DJ SYNTRONIK / DANNY LOVES TO CREATE AND MANIPULATE MUSIC TO MAKE IT INTO SOMETHING NEW...AND SOMETHING TO BE PROUD OF...
Member Since:
January 18, 2007
Members:
CONTACT DJ SYNTRONIK AT syntronik07@yahoo.com, OR ADAM OF LIGHTLINE PRODUCTIONS AT lightline69@gmail.com .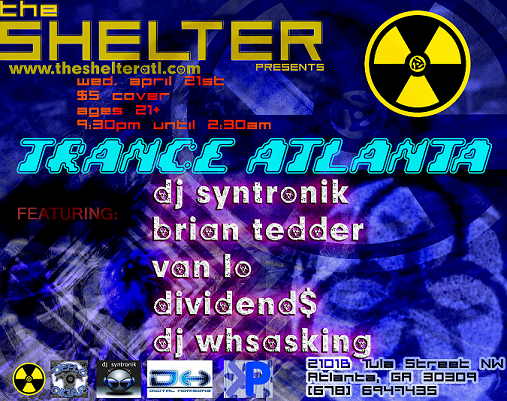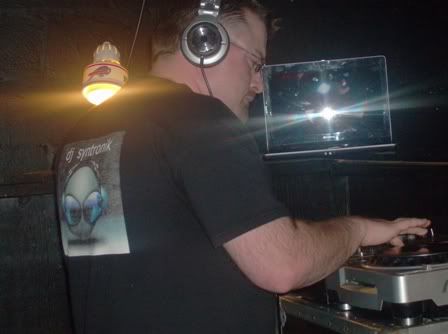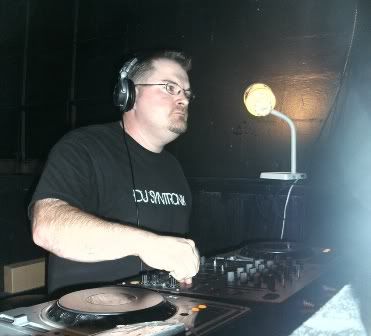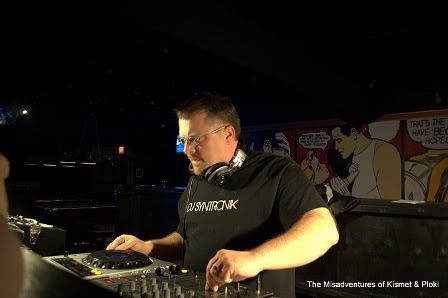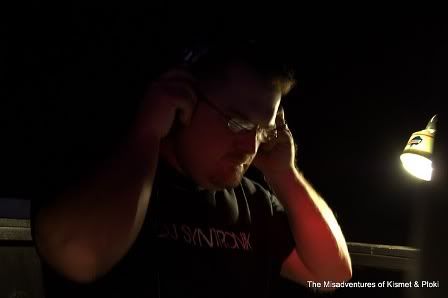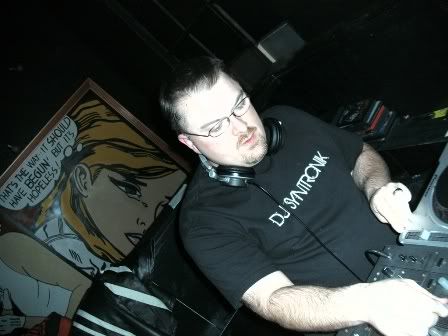 TRANCE ATLANTA AT THE MASQUERADE MARCH 25TH, 2010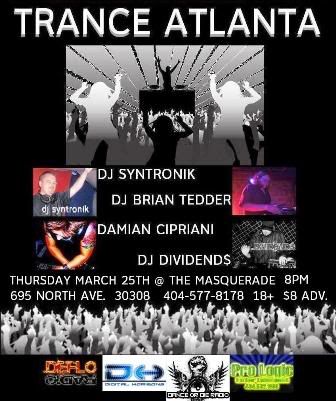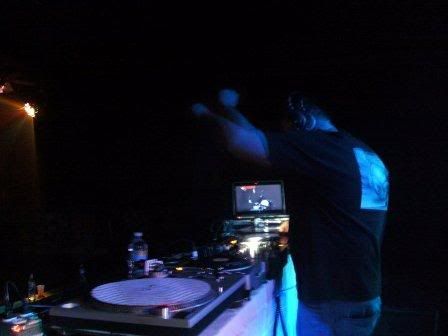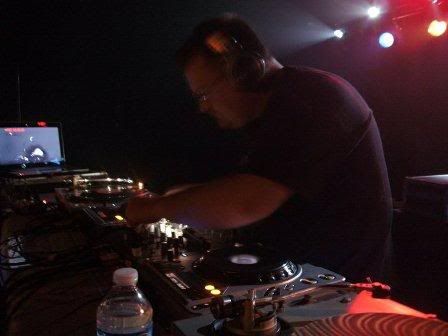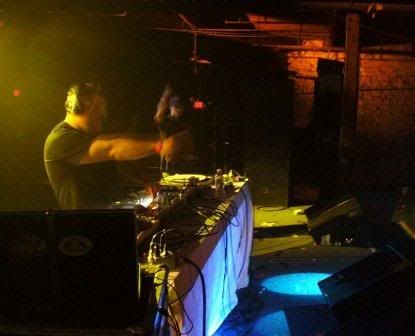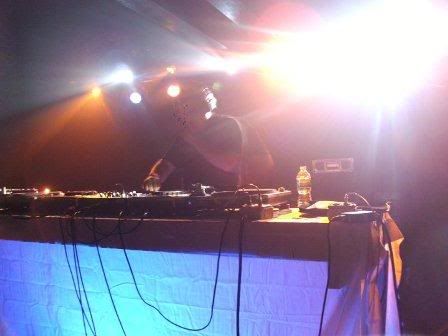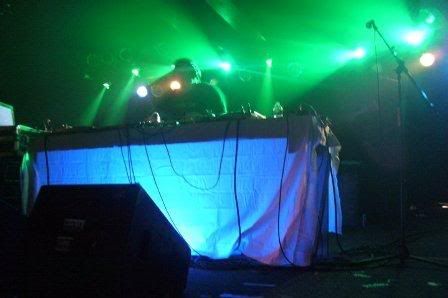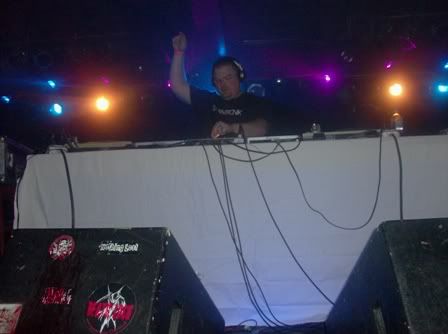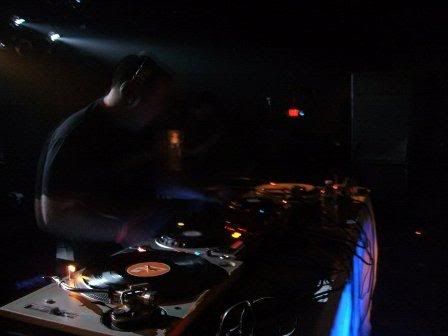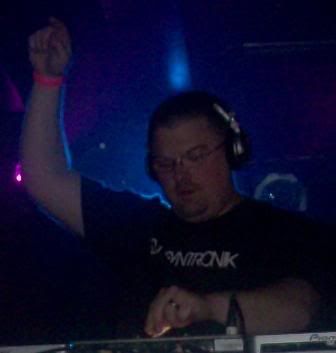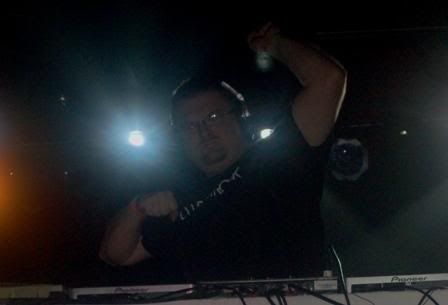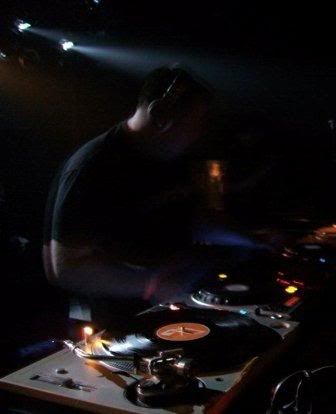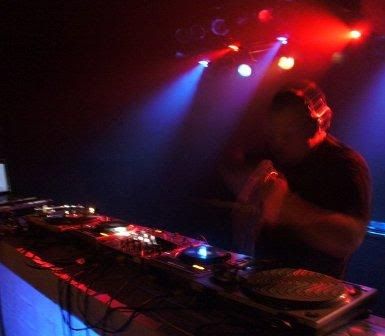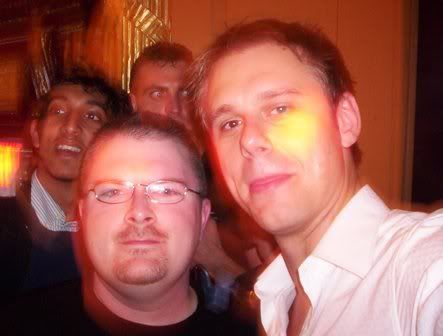 DJ SYNTRONIK WITH THE WORLD NUMBER ONE TRANCE DJ ARMIN VAN BUUREN...
Influences:
DJ SYNTRONIK AND KRISTY THIRSK OF DELERIUM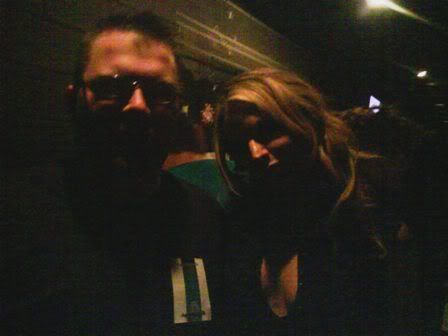 DJ SYNTRONIK WITH BILL LEEB OF DELERIUM AND FRONT LINE ASSEMBLY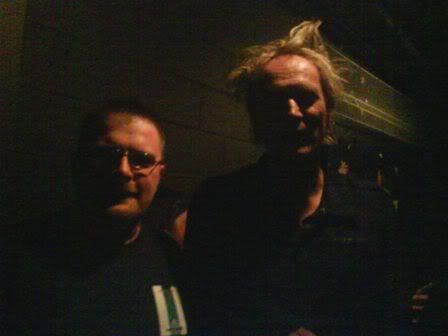 Record Label:
STILL SHOPPING