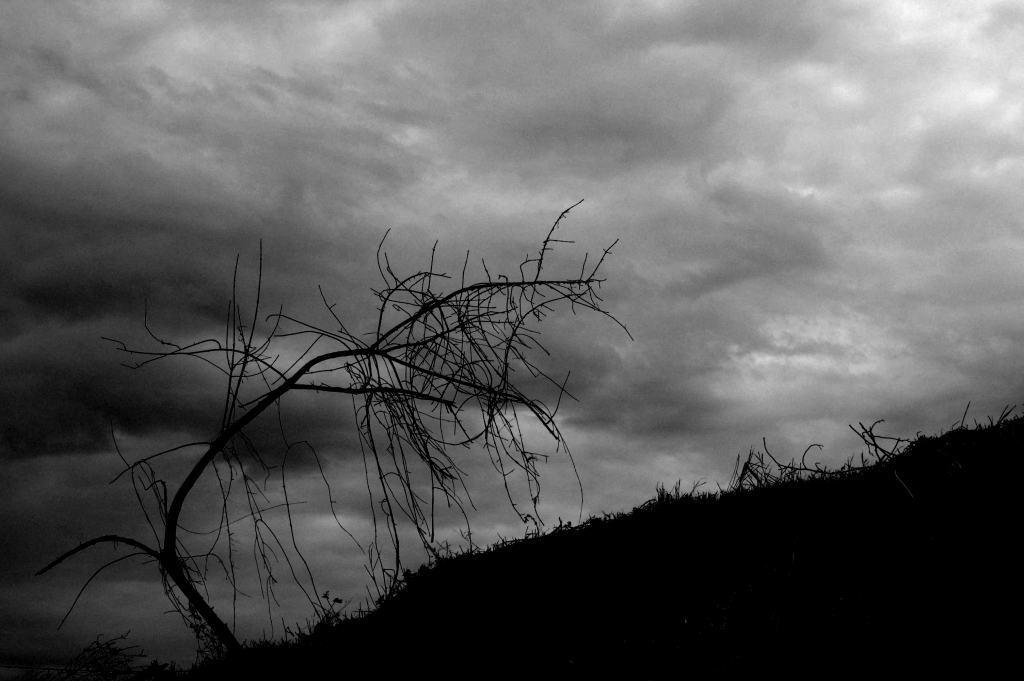 Play

Play Next

Add to queue
Play

Play Next

Add to queue

144 plays

Play

Play Next

Add to queue

4,527 plays

Play

Play Next

Add to queue

4,076 plays

Play

Play Next

Add to queue

1,388 plays
Voice & Drums.
Talweg is a duet that seeks to explore the darkest side of sound and music. Talweg tries to create links with the most creative aspects of our archaic past.
The path to the deepest valley.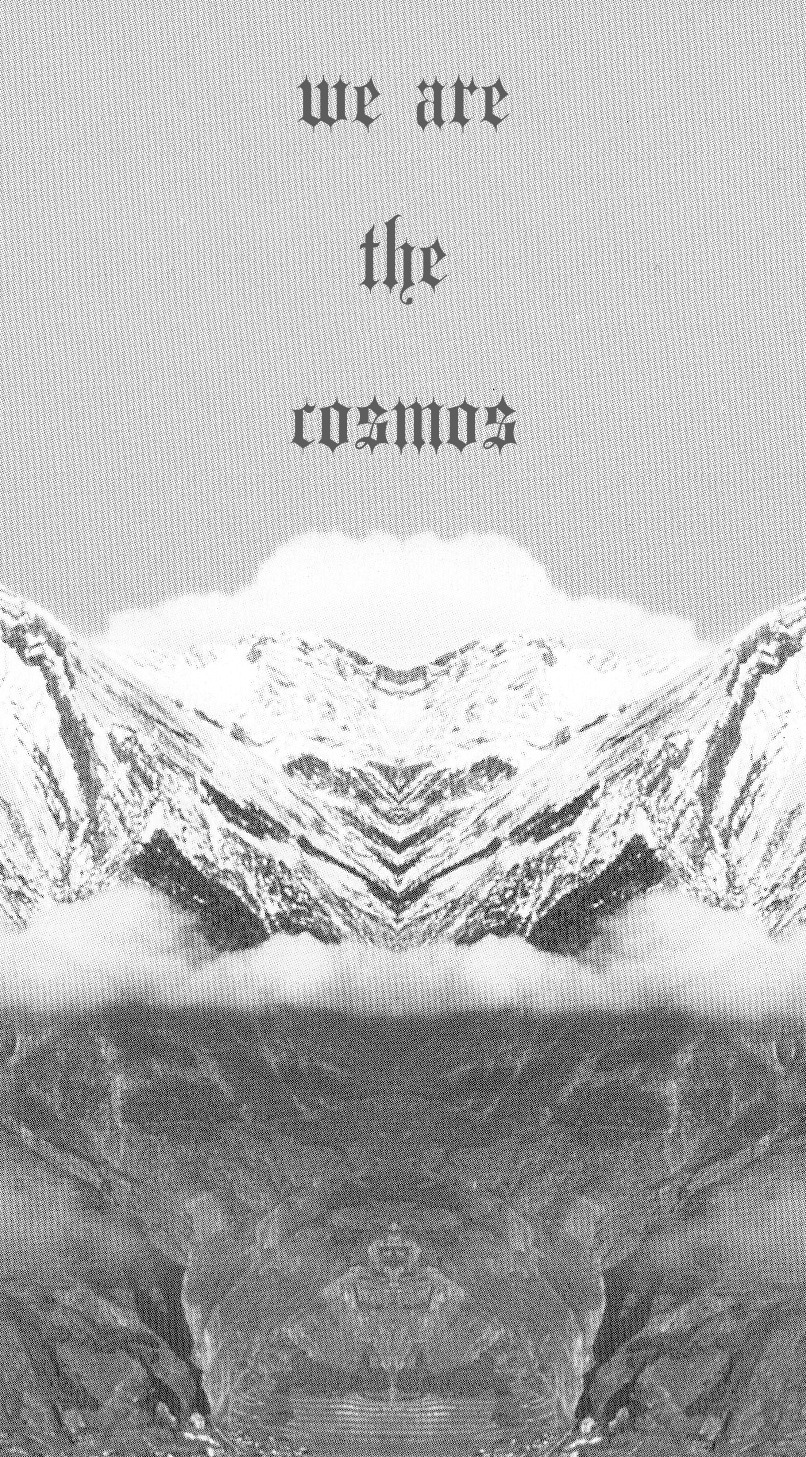 ---

MEMBERS:
Joëlle V. aka Erle (voices)

Eric L. aka Fels (drums)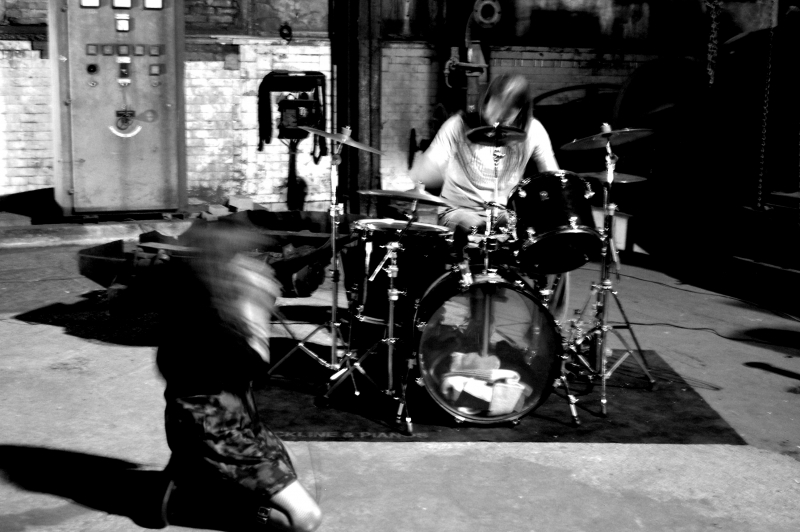 Contact: e_lombaert AT yahoo DOT com
Talweg's blog: talweg-wolves.tumblr.com


---
PRESS & NEXT SHOWS: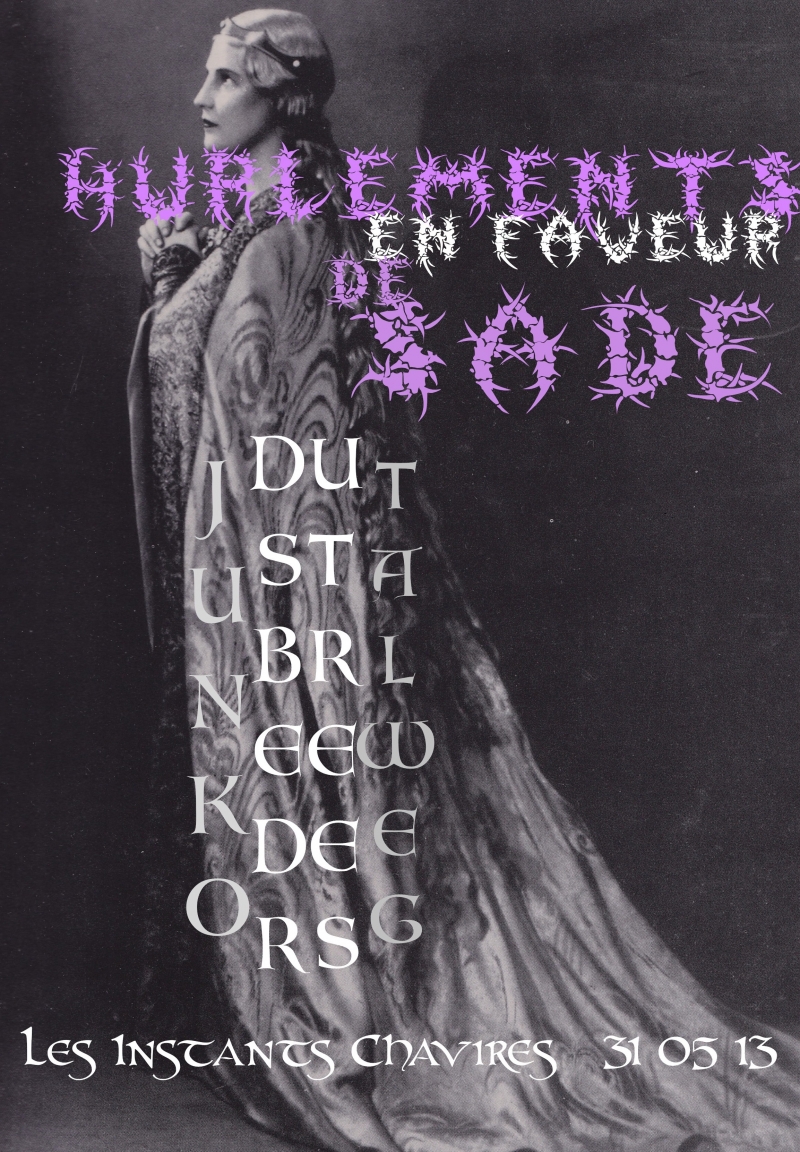 "En matière d'expressivité, le duo Talweg s'y connaît également, mais il œuvre dans un registre post-doom-metal plus apocalyptique. L'histoire du rock a toujours été marquée par des associations homme/femme conjuguant noirceur et candeur. Mazzy Star, Mecca Normal, Royal Trux, ou plus récemment Nadja et surtout Menace Ruine, ont chacun exprimé à leur manière cette ambivalence que Talweg traduit avec des élans chamaniques, liant les hurlements possédés de Joëlle V., ses nappes de synthés toutes en contrastes, ses frottements de basse à même l'ampli, avec les assauts de batterie, évoquant autant Jon Mueller que Dave Lombardo, d'Eric L. « L'idée d'improvisation peut être transférée dans le champ du métal en s'inspirant du free jazz, assène Joëlle. Avec Eric, on a juste remplacé le saxophone par la voix », conclut la jeune femme, qui a collaboré par le passé avec Jean-Marc Montera dans le cadre du projet « Magic Band Of Gypsys & Jean-Marc Montera supposent que Le Jazz Non ».
Tour à tour – ou simultanément – brutale, nerveuse et sensuelle, la musique de Talweg se déploie durant 25 minutes d'abstraction ténébreuse avant de s'achever dans un silence sublimé – un silence « cagien », pourrait-on dire."
Laurent Catala – mouvement.net – 03/01/2013
http://www.mouvement.net/critiques/critiques/le-continu-desir-de-linconnu

"Talweg : Nos doubles errent dans la nuit duelle (Up against the wall, motherfuckers!, Meatmkine, 2012)
« Définitifs et jubilatoires », disait Pierre Cécile des « cris » que l'on trouvait en Substance Mort et Hate Supreme, les deux précédents disques de Talweg. Avec Nos doubles errent dans la nuit duelle, le mystère s'épaissit : Erle et Fels – doubles fugitifs de Joëlle V. (voix) et Eric L. (batterie) – poursuivent à la brune leurs travaux d'expiation.
Qu'on les entende : tendre d'abord l'oreille, soupçonner derrière un fin rideau de cymbales et l'appel lointain d'une corne de brumes (le pluriel est voulu) le chapelet de râles qui attendent comme autant de terribles surprises le noctambule égaré. Ainsi des coups sur toms, lents et réguliers, provoquent-ils le départ d'une nuée d'harpies que l'on a dérangées ; ainsi le dernier de ces coups, c'est-à-dire le coup de trop, déclenche-t-il la furie de leur maître, minotaure pourquoi pas, vierge folle sinon qu'un époux infernal ne cesse de tourmenter.
L'évocation d'Une saison en Enfer n'est pas gratuite : la voix et les tambours de Talweg agissent avec la même puissance que le poète mais en miroir : dans leurs errements eux se passent de mots et de rythme s'il n'est pas celui du battement de cœurs qu'ils ont à vif et qu'ils exposent aux quatre vents ; qu'ils vous offrent même sur un plateau. C'est pourquoi, malgré l'appréhension, il faut aller à Nos doubles errent dans la nuit duelle. La seule chose que l'on y risque vraiment est aussi la plus belle qui puisse nous arriver : qui est de les croiser."
Guillaume Belhomme – Le son du grisli – 17/12/2012
http://grisli.canalblog.com/archives/2012/12/17/25936004.html

"Le Myspace de Talweg est une boutique obscure où l'on trouve de quoi souffler en quelques secondes un immeuble de treize étages. Un petit bout de femme (Erle, à la voix) et un gaillard (Fels, à la batterie) l'animent de leurs échanges corsés. De temps en temps, ils proposent au visiteur d'assister à une représentation de telle ou telle pièce de leur théâtre de la cruauté. Ca peut-être Substance Mort ou Hate Supreme.
Comme Coltrane a chanté l'amour, Talweg crache la haine – c'est bien ce qu'il faut comprendre ? Les disques du duo paraissent sous étiquette « Up Against the Wall, Motherfuckers! » : on est en plein dans le sujet. Dans son micro Erle crie cinq minutes pendant que Fels martèle sa batterie. Ce mur du son est impressionnant et remplace l'immeuble dont je parlais plus haut – c'est un terrible Ground Zero rebaptisé (si je puis dire) Hate Supreme.
Substance Mort, c'est encore autre chose. On assiste à un combat sans merci entre un minotaure enchaîné et un bourreau qui au bout de ses baguettes a disposé des tisons. Au début, le minotaure semble en appeler à son père mais trouve finalement les ressources qui lui vaudront d'être délivré. La bête se fait séductrice (Erle, qui en endosse le rôle, tire des notes aigues qui conviendraient aux sirènes ou joue la petite fille perdue en forêt) et son bourreau (fourbe qui se donne des airs d'exorciste) n'a d'autre choix que de l'exciter encore un peu plus. Les cris qui en sortent sont jubilatoires pour l'un et définitifs pour l'autre. Pour nous, ils sont définitifs et jubilatoires tout à la fois !" Pierre Cécile – Le son du grisli – 25/12/2011
http://grisli.canalblog.com/archives/2011/12/25/23017016.html

"Talweg est le point de rupture entre rythme et cri primal, intelligibilité et abstraction, roche rugueuse et sol boueux. Prenant la forme d'un duo batterie/voix, ce groupe singulier propose une musique proche d'un genre de black metal paien, de jazz radical et de noise. Sous les tambours de l'apocalypse, un hurlement se dessine par dessous, laissant transparaître un semblant de paysage, bien que la brume et les cendres en empêchent de distinguer les contours..." Montévidéo, extrait du programme Nuits d'Hiver 2012

Chronique du festival des musiques innovatrices de Saint Etienne 2011 :
"Talweg, un duo assénant un doom metal des plus dépouillés et bordant sur le psychédélisme cathartique. Porté uniquement par les vociférations possédées de Joëlle Vinciarelli -qui évoque simultanément Lydia Lunch, Junko et Stefania Pedretti- et la frappe lourde d'Eric Lombaert qui ne ménage pas ses fûts, le set est intense. Les hauts murs de béton et les carcasses de machines de forage servent de caisse de résonance aux martèlements des blast beats et à la furie des grondements ténébreux. Une belle énergie très bien servie par son environnement." jcg – Scala Tympani – 21/05/2011
http://scalatympani.blogspot.com/2011/05/festival-des-musiques-innovatrices-2011.html

"Talweg ? It's really good ! It reminds me a little of Striborg, an Australian weirdo from Tasmania who does low-fi black metal records which I also like." Will Guthrie

"Sounds great ! Those sometimes resonate massive, more than two of you, and other times minimal. I like that dynamics." Aki Onda

"Un duo voix et batterie. Hurlements en faveur du malin et épileptie des tambours, un hommage sombre au metal et à la messe noire enregistré en mono. Dark et brut." metamkine.com

"Le registre est large, du médiéval au metal, du cérémonial au ténébreux." Jérôme Noetinger

"Du black metal sans guitare, une configuration inédite et le type de découverte qu'on aimerait ne garder que pour soi." Festival des Musiques Innovatrices, St Etienne

"En la matière, « Monoliths & Dimensions » pourrait bien représenter un aboutissement. Voici, grosso modo, où en est le metal, aujourd'hui, en 2011. Les diverses incarnations des deux seuls membres permanents de Sunn O))) (Thorr's Hammer, Khanate, KTL, Ginnungapap, Lotus Eaters, Aethenor, The Burial Chamber Trio, le label Southern Lord, etc.) ont démontré que le milieu du metal extrême a tout d'une communauté underground, comme ceux du noise et du free jazz avec lesquels il se trouve parfois associé. Citons : l'intégration de Julian Priester, tromboniste entendu chez les jazzmen Herbie Hancock et Sun Ra, aux côtés de Sunn O))) ; le duo Stephen O'Malley / Maja Ratkje ; la présence d'Andrew WK sur « Aleph At The Hallucinatory Mountain » de Current 93 ; la réédition d'un album de Servile Sect par le label Ecstatic Peace! ; l'inspiration clairement « metal » d'Hair Police sur « Certainty Of Swarms » ; l'édition conjointe de disques de noise et de metal par Public Guilt ; la collaboration d'Andrew Liles avec Maniac. Ou encore tous ces groupes, dont certains signés par Aurora Borealis, s'inspirant parfois d'Univers Zéro ou Art Zoyd, comme Wolfmangler ou L'Acephale, des formations démontrant, à l'instar d'un Talweg en France, un duo voix / batterie, que l'on peut faire du metal, même sans guitare, en intégrant un violoncelle, ou, seul au piano !" Revue & Corrigée

"Du black metal sans guitare, c'est assez unique en son genre. Ici, tout est harmonieusement occulte et maléfique. La dualité voix "angélique" / voix gutturale, à force de contrastes, évoque çà et là Xasthur ou Leviathan. La batterie, quant à elle, confère à l'ensemble un aspect primitif, dans le sens "art premier". On a l'impression d'une musique tribale ancienne et paganiste, exhumée des forêts d'Europe. Une certaine forme de retour aux sources rappelle également certain afro-jazz barbare, mais dans une version occulte liée à la contemplation de la nature, et dans le même esprit que Wolves In The Throne Room ou Fauna. L'on songe parfois à Pentemple, chez qui l'on trouve aussi des alliances chant / batterie, voire à Painkiller lorsque Mick Harris éructe, comme sur l'enregistrement public à Nagoya." Pierre Delange

"Votre musique en forme d'engueulades adressées au public c'est vraiment super." Barre Phillips

"Singulier... Du free metal dense." Improjazz

"Listened to Talweg. I like it!" Paal Nilssen-Love

"Du free metal sombre et sans concessions. (...) En live l'expérience doit être assez unique." Metal News

"Excellent." Antoine Chessex

"Le trop méconnu Talweg" (entre Pentemple et Aethenor) http://denebtala.wordpress.com/2011/03/26/pentemple-o-presents/

"Entre Burzum et Nico." Christian Malfray (Nappe)

"C'est un groupe (un des rares) que j'écoute souvent sur Myspace. Cette voix, cette forme, cette avalanche..." Yves Botz (Mesa Of The Lost Women)


---

BIOS:

Ce qui intéresse Joëlle V., avec pour ombres tutélaires Runhild Gammelsaeter, Demetrio Stratos, Annette Peacock, Patty Waters, John Jacob Niles ou Josephine Foster, consisterait en une sorte de "la" d'une démesure émerveillée planant comme un astre venu d'on en sait où, et dont les feux éblouissants éclaireraient jusqu'au plus profond de la nuit la plus dense. Longtemps membre de Not To Be, une formation située entre pop naïve (à la manière d'un Toupidek Limonade) et Rock In Opposition (genre Stormy Six ou Slapp Happy plutôt), avant de basculer dans l'impro-rock d'obédience surréaliste, sous forte influence Nurse With Wound / Faust, avec Magic Band Of Gypsys (notamment en première partie de Soft Machine, Enzo Rocco, Carlo Actis Dato ou Lol Coxhill). S'est aussi exprimée en compagnie de Barre Phillips (en duo), Jean-Marc Montera (dans le cadre de "Magic Band Of Gypsys & Jean-Marc Montera supposent que Le Jazz Non"), et, surtout, en solo (Podkayne, fille de Mars) et avec Animal Vacarme.

Eric L., quant à lui, vient du death metal et d'Aletheïa (un groupe tirant entre autre son patronyme, rappelons-le, d'un album culte de Heldon), après quoi il s'est frotté au jazz avec Pouaz"rlk (en compagnie d'un saxophoniste soprano marqué par Steve Lacy), puis au post-rock, au sein de Mueros, quatuor inspiré par Nick Cave et Godspeed You! Black Emporor. Chez lui, la discordance des temps se conjugue à la souplesse rythmique des émotions, avec une puissance évoquant tout aussi bien Dave Lombardo (chez Slayer) que les poids lourds de l'impro évoluant dans le sillage de Ronald "Shannon" Jackson (dans Last Exit).

Talweg a joué à la même affiche que :
Sugar Pill, Tsuru, Michel Doneda, Barre Phillips, Jean-Marc Montera, Jérôme Poret, Tomoko Sauvage, Strotter Inst., Trans/Human, Vaz, Nappe, Sun Stabbed, Aki Onda, A Qui Avec Gabriel, Staer, Child Abuse, K. Mical (No-Neck Blues Band), Chris Pitsiokos, Weasel Walter.


---

RELEASES:

Talweg - nos doubles errent dans la nuit duelle
(LP 2012)
Label : up against the wall, motherfuckers! (UATWM 004)
Distribution : Metamkine, Bimbo Tower, Le Souffle Continu
http://metamkine.com

"À l'écoute frénétique du disque se dévoile sa structure en COQUILLE d'escargot de l'éternel retour : l'envie que la face B commence près du label central pour se déplier ensuite en direction du bord (précipice ?) du disque, là où reprendra à nouveau sa face A." Yves Botz

" Un objet brut, innommé, et fragile dans sa démesure. " Kasper T. Toeplitz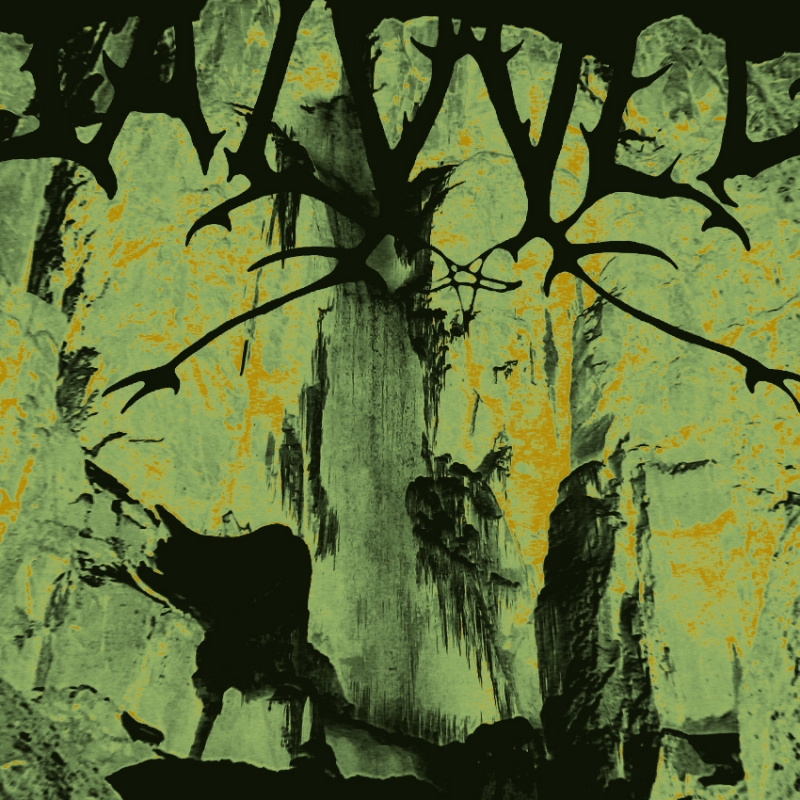 Talweg - HATE SUPREME
(CDR 2011)
Label : up against the wall, motherfuckers! (UATWM 003)
Distribution : Metamkine, Bimbo Tower, Le Souffle Continu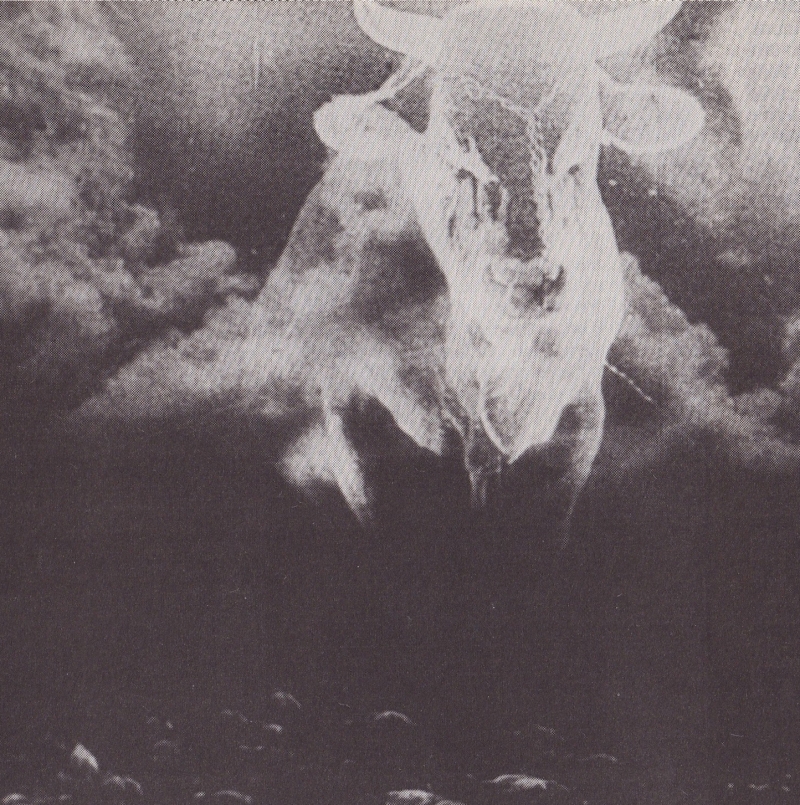 Talweg - substance mort
(CDR 2010)
Label : up against the wall, motherfuckers! (UATWM 002)
Distribution : Metamkine, Bimbo Tower, Le Souffle Continu
http://metamkine.com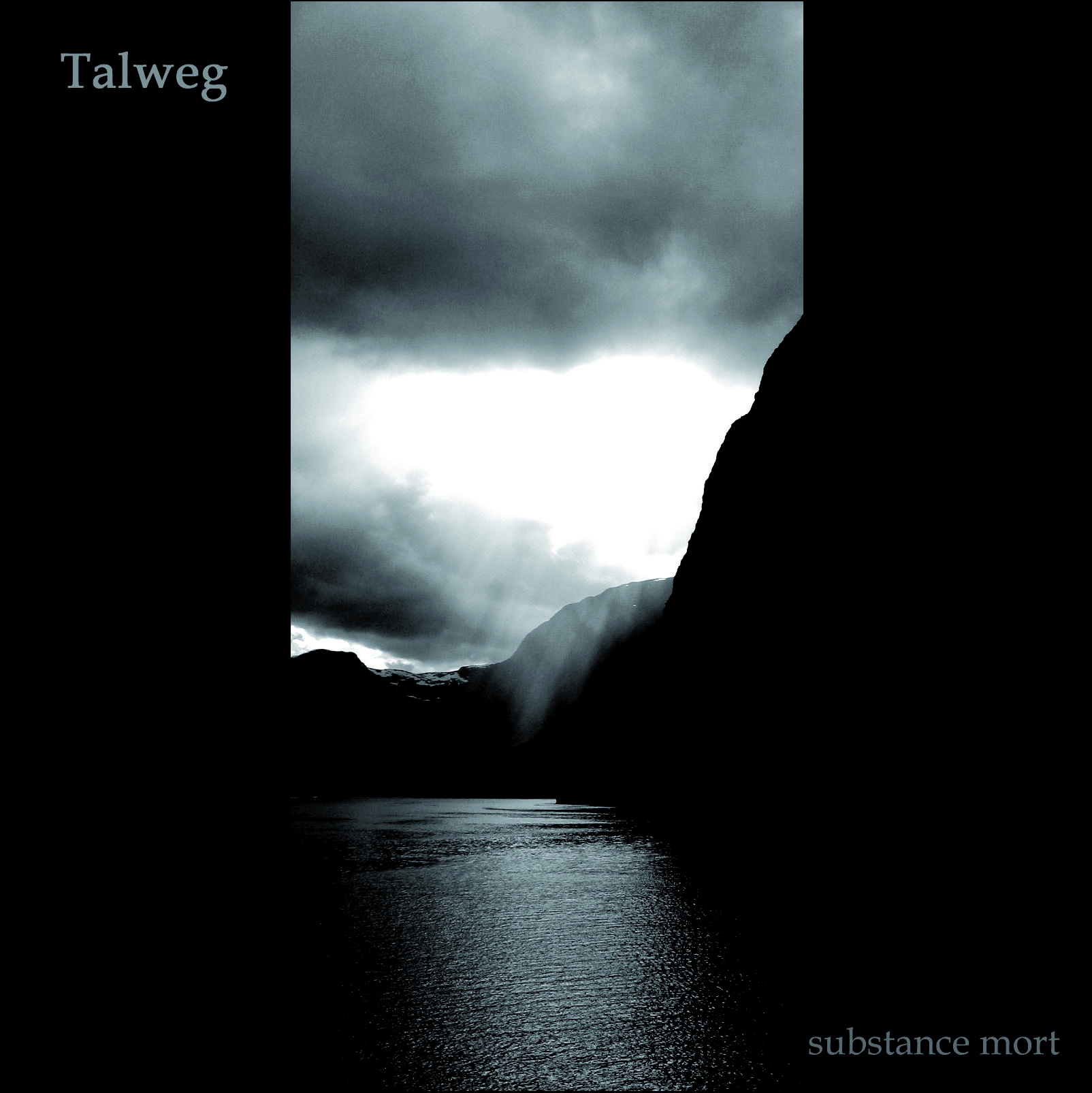 http://rateyourmusic.com/artist/talweg
http://www.lastfm.fr/music/talweg
Talweg aussi, parfois, sur : http://merzbow-derek.tumblr.com/


---

TALWEG EN QUESTION :

On cerne assez bien vos influences, mais que cherchez-vous exactement à faire avec Talweg ?

J.V.: "En tant que genre musical, l'idée du métal, je pense, s'est déplacée. C'est même flagrant depuis l'avènement du drone doom, grosso modo, et de toutes les formations qui, quelque part, se réclament de Sunn O))). Aujourd'hui le metal infiltre beaucoup de musiques traversées par le fait d'expérimenter. Dans le noise, Hair Police (pour No Fun Productions principalement, le label de Carlos Giffoni) ou encore Lasse Marhaug sont allés piocher des idées dans la puissance du metal, qu'il s'agisse du grindcore ou du black metal pour faire bref. J'ai beaucoup écouté de black metal ces dernières années, cela m'a profondément marquée ; quant à Eric, il a dû s'en imprégner bien plus que moi - musicalement, il vient de là. Pour revenir au noise, nous aimerions associer le son crade du "true norwegian black métal" à la puissance dévastatrice d'un combo noise tel que Borbetomagus, ces derniers représentant selon nous un condensé des paroxysmes les plus violents du free jazz.

J'avais surtout travaillé la voix jusqu'à Talweg, parfois dans des contextes liés à l'improvisation totale, non idiomatique comme on dit. L'idée d'improvisation peut être transférée dans le champ du metal en s'inspirant du free jazz et d'un groupe comme Tight Meat Duo (un saxophone, une batterie) - nous, avec Eric, on a juste remplacé le saxophone par la voix (la voix gutturale, c'est d'ailleurs moi, je dis ça parce que certains, sur disque, ont cru qu'Eric et moi chantions à tour de rôle : mais je chante, seule). Je m'accroche à l'eau et je plonge dans les rochers : c'est précisément de là dont vient le chant de Talweg.

Nous adorons Jon Mueller, ce batteur ayant travaillé avec James Plotkin, de Khanate, sur l'extraordinaire "Physical Changes". Il a dit être influencé par le metal. Vouloir faire un album de metal uniquement joué sur une batterie. Quelle idée géniale ! L'adrénaline du metal, comme chez Jon Mueller, nous intéresse, sa physicalité aussi. Et puis surtout le jeu comme dépense, primitive, mais associée à l'idée d'écoute comme expérience, immersion. Une expérience que l'on peut aussi tenter avec des musiques violemment physiques, comme les murs du son de Romain Perrot, alias Vomir.

En définitive, notre approche à nous s'avère plutôt minimale, en ce sens que dès le départ, nous cherchions à soustraire des choses. Au point qu'il ne reste que la batterie et la voix, sans guitare par exemple, pourtant traditionnellement attachée à ce genre de musique. Pas d'overdubs ni d'effets non plus : juste notre son, brut de décoffrage. Voilà où nous en sommes pour l'instant. Soustraire encore plus ? Pourquoi pas… Ou bien, à l'inverse, nous ajouterons peut-être d'autres choses par la suite. Un basson, un violoncelle : qui sait ?"

Quels sont vos groupes français actuels préférés ?

J.V., E.L.: Neige Morte, France, Vomir, Opéra Mort, Sun Stabbed, Aluk Todolo, Blut Aus Nord, Deathspell Omega, Tonton Macoute, Mesa Of The Lost Women, Monarch! et Alcest.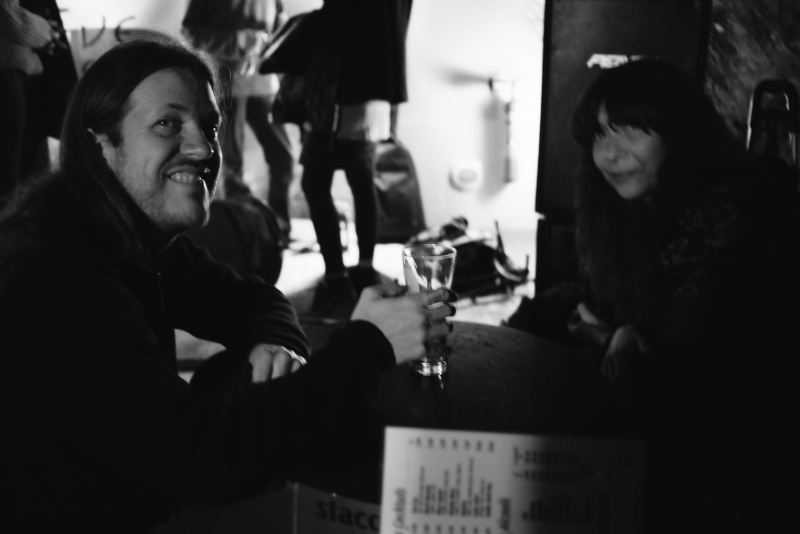 "Être libre signifie n'être pas fonction." Georges Bataille

"Start your own band / Paint your own picture / Write your own book" Mike Watt

"Si la parole de Dieu (créatrice) descend comme une pluie de lumière, le chant est la parole qui remonte (le plus souvent implorante), de l'intérieur vers l'extérieur, de l'inconscient vers le conscient, de la créature vers le créateur, en quête d'illumination (de réponse)." Jean-Pierre Turmel

"As a poet, I hold the most archaic values on earth. They go back to the late Paleolithic; the fertility of terrifying initiation and rebirth; the love and ecstasy of the dance, the common work of the tribe." Gary Snyder

"Et l'homme parut, interrogeant le sol d'où il sort et qui l'attire, il se fraya la voie vers de sombres clartés." Odilon Redon

"On n'invente pas les vestiges, ils sont là, sous la terre, et soudain, ils surgissent à la surface. Il faut faire confiance au silence." Al Cisneros (Sleep, Om)

LE RÊVE EST L'AQUARIUM DE LA NUIT...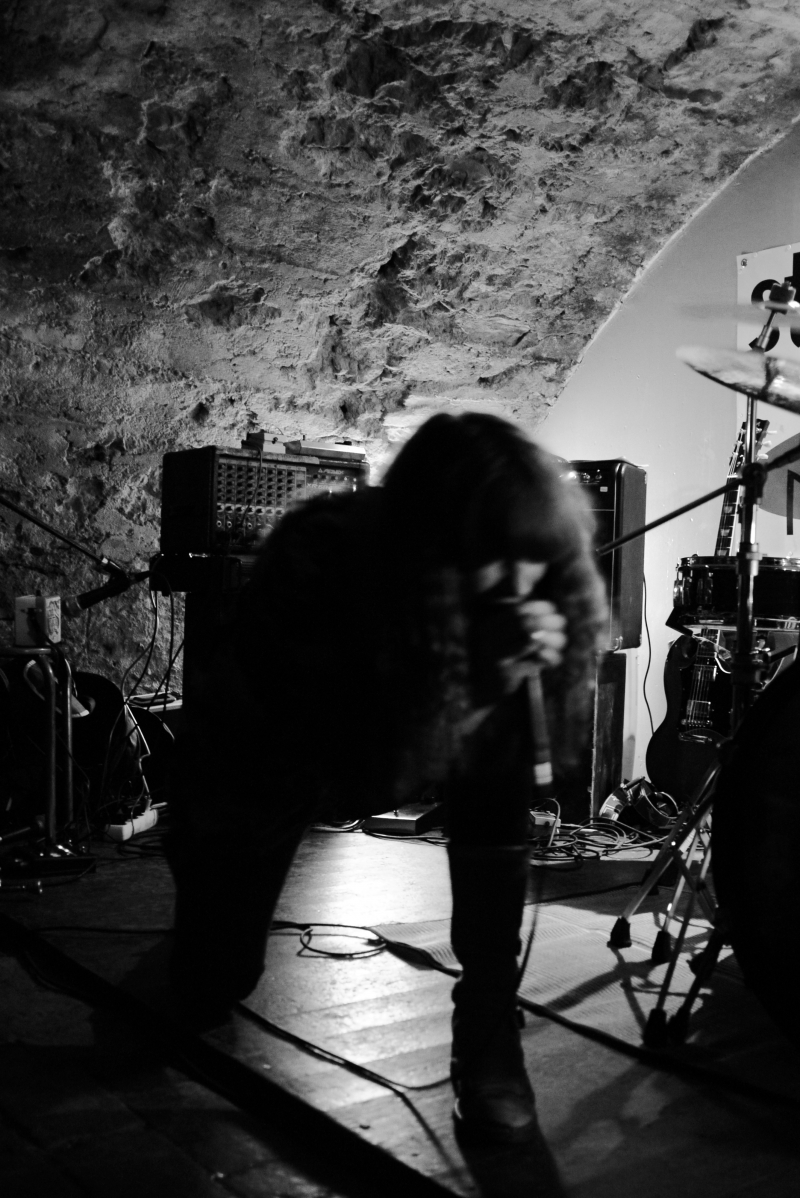 Other Videos:

Concert - Le Volume - Nice - 03/12/2011 :
http://www.youtube.com/watch?v=TFPq4pA11e8&feature=related
http://www.youtube.com/watch?v=s05qMG4049o&feature=related
http://www.youtube.com/watch?v=wcapGFayNvA&feature=related

Concert - Musée de la Mine - Festival des Musiques innovatrices - St-Etienne - 28/05/2011 :
http://vimeo.com/26203060
http://vimeo.com/26209335


---
PAST SHOWS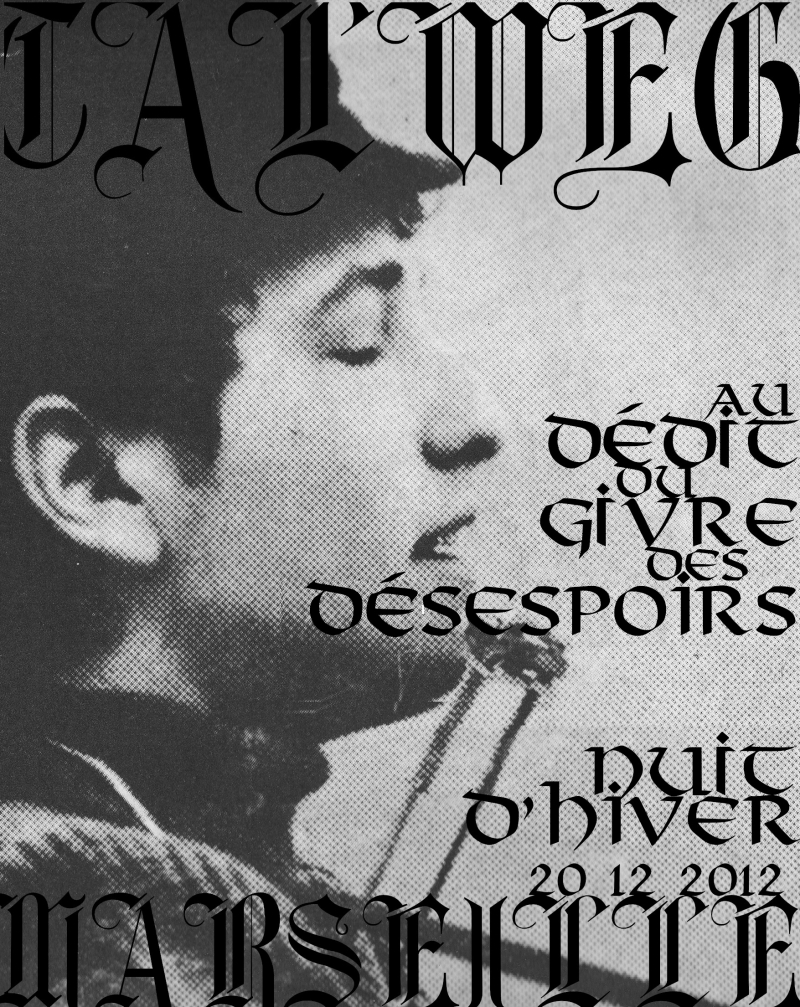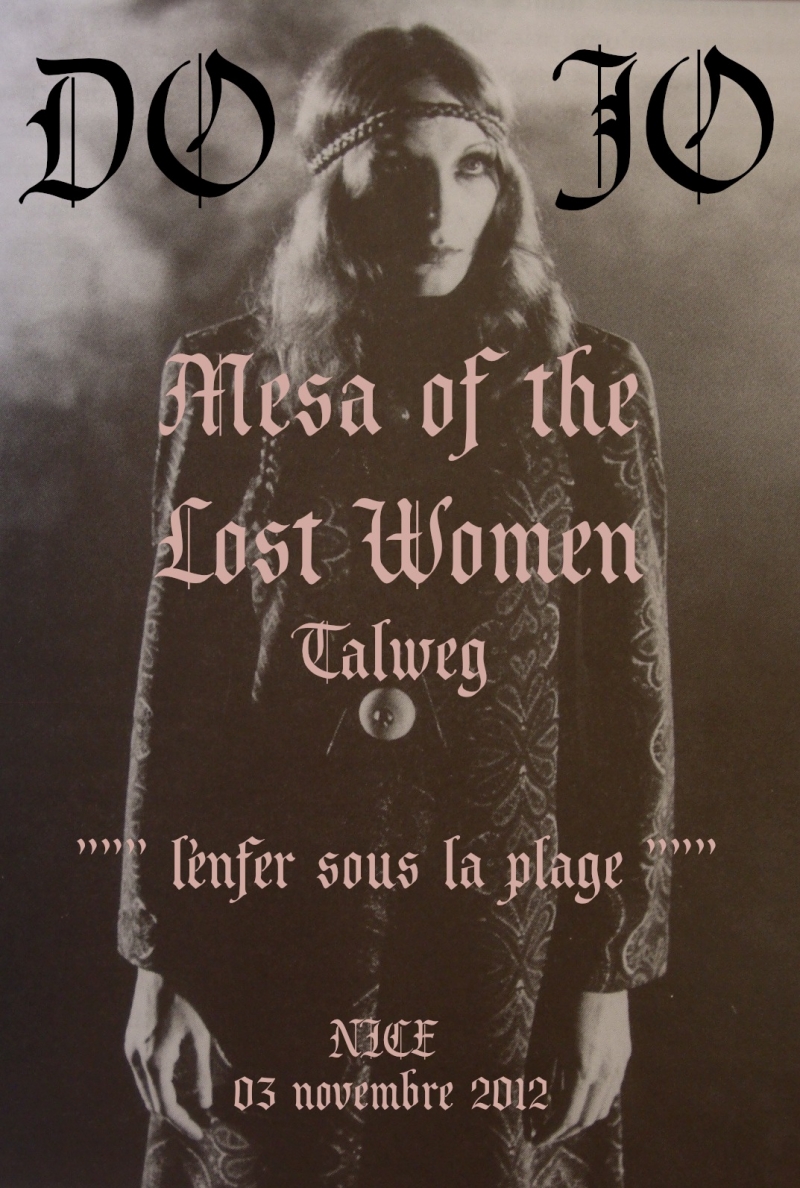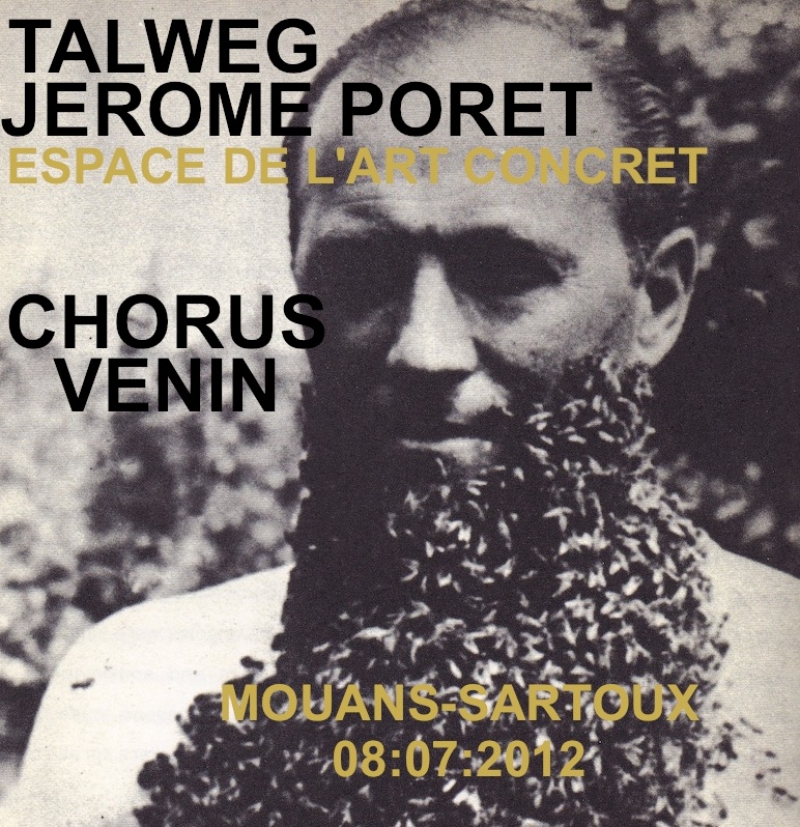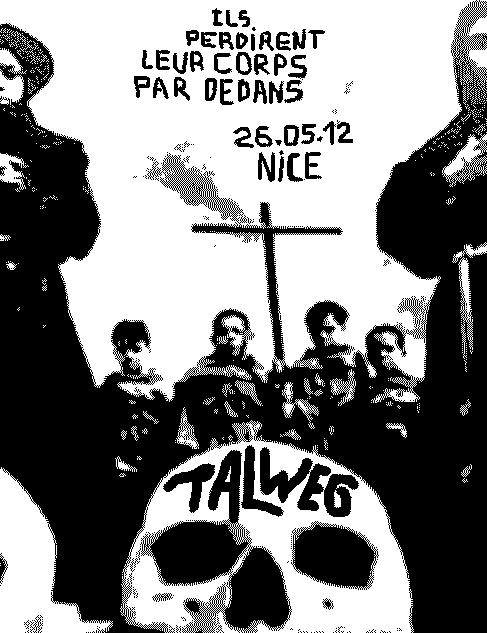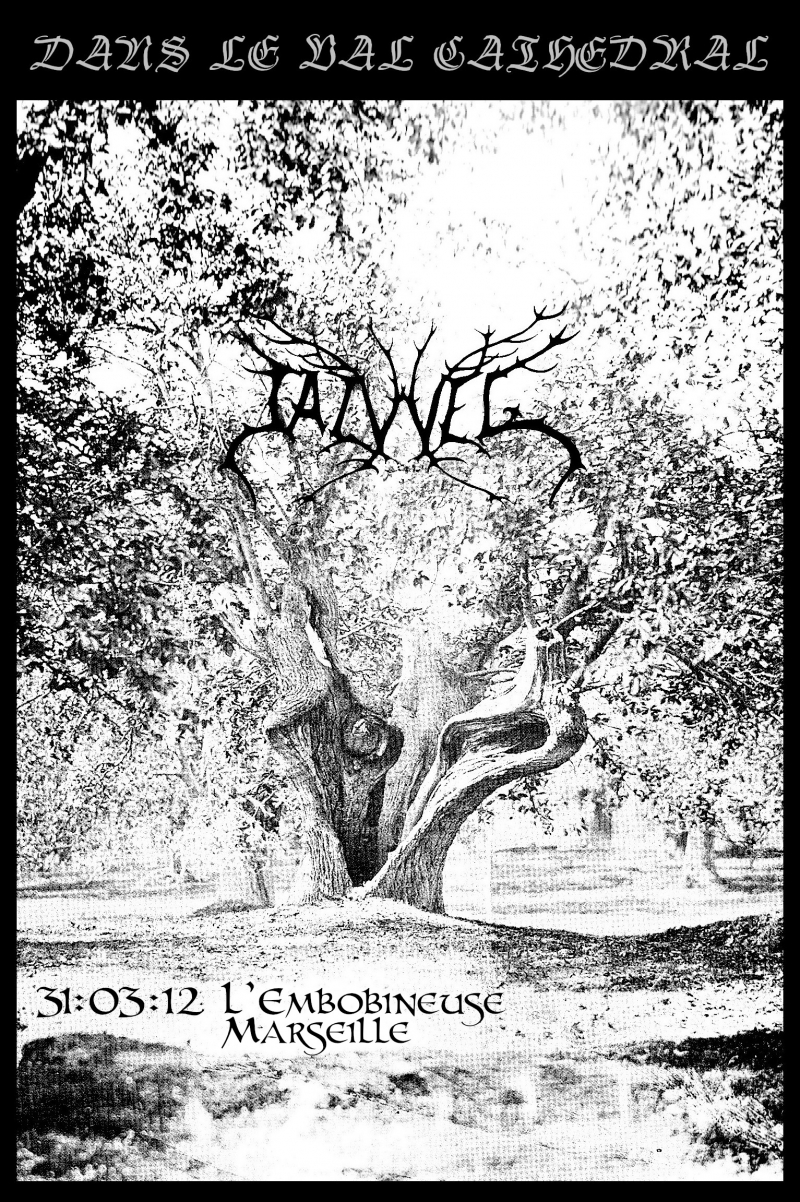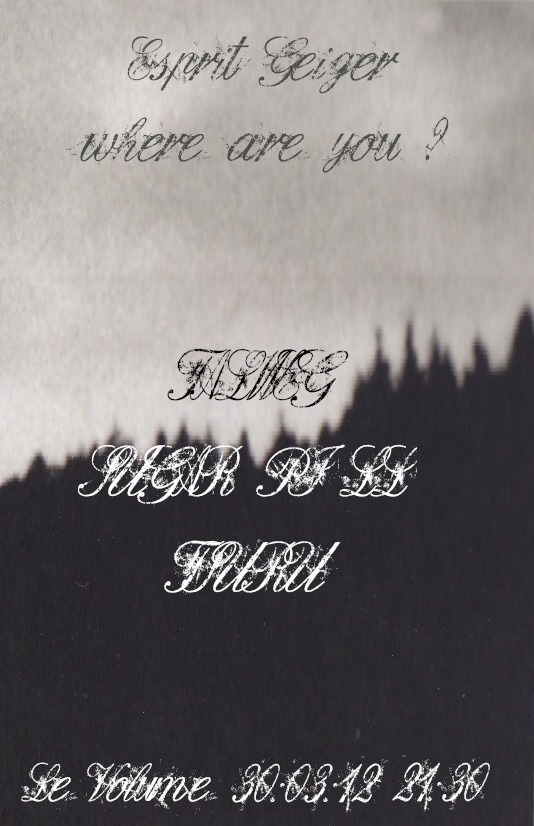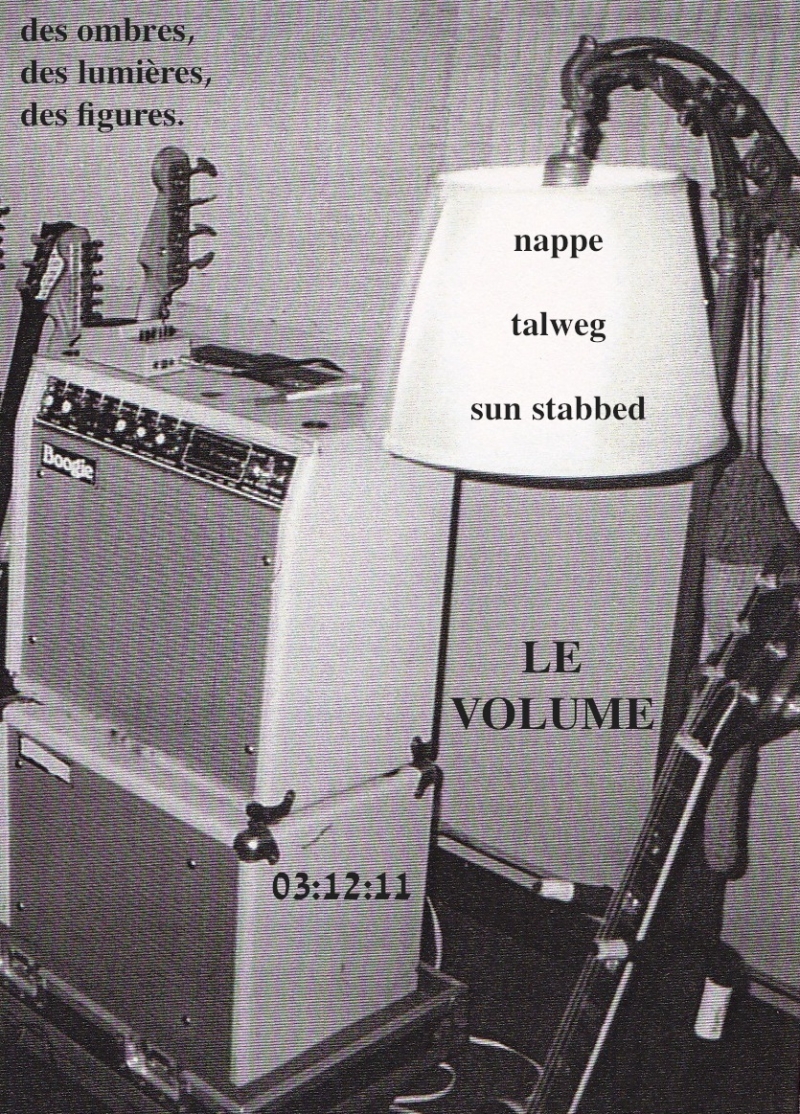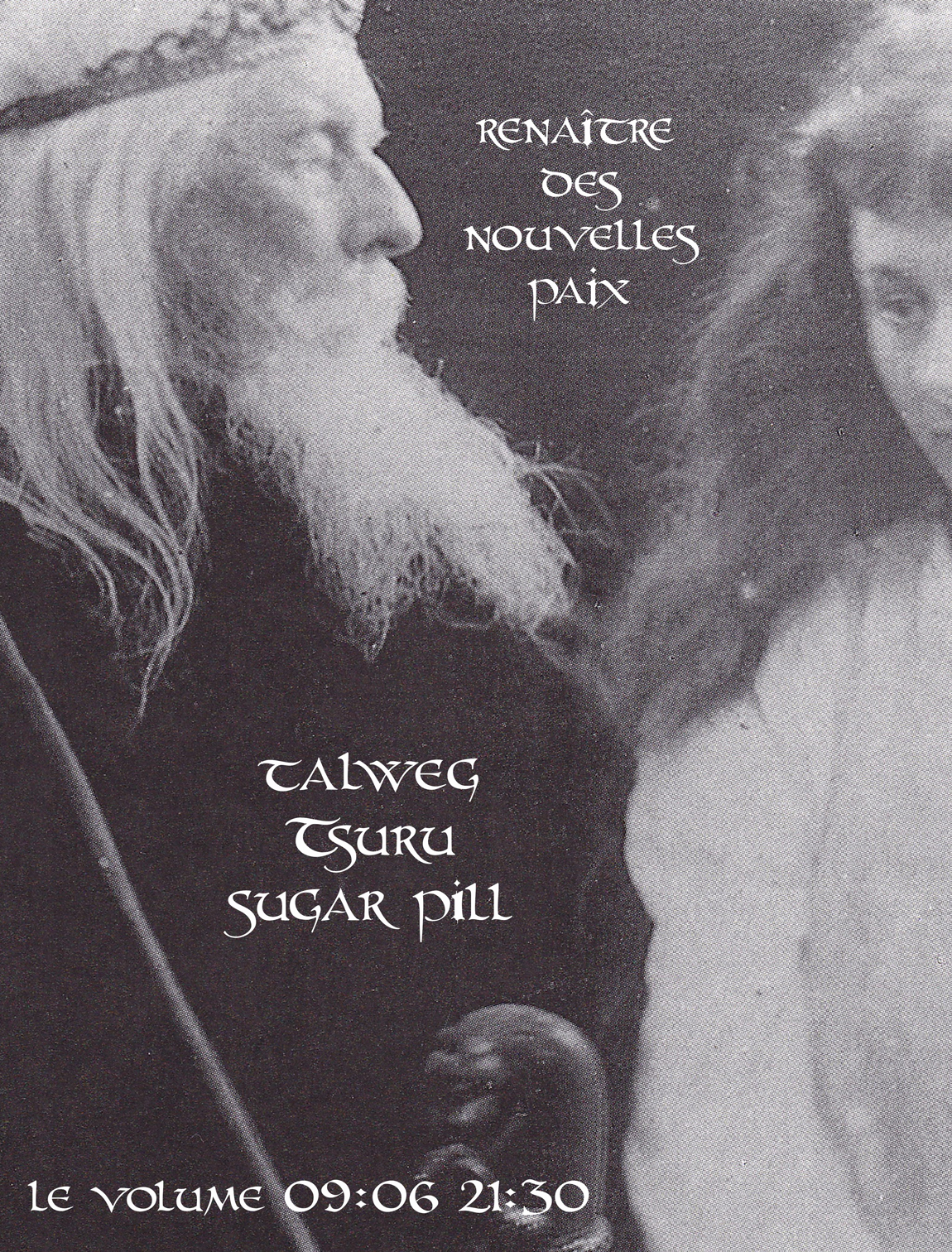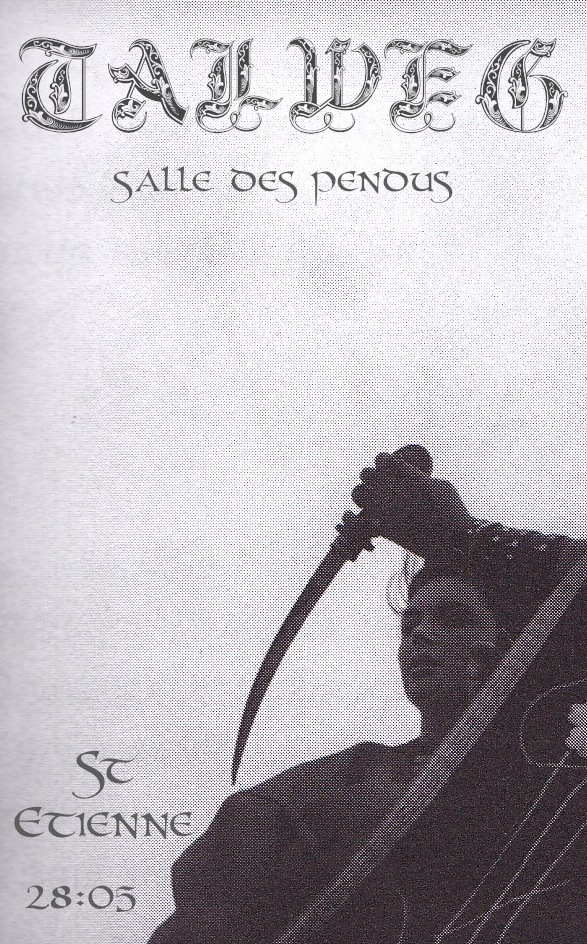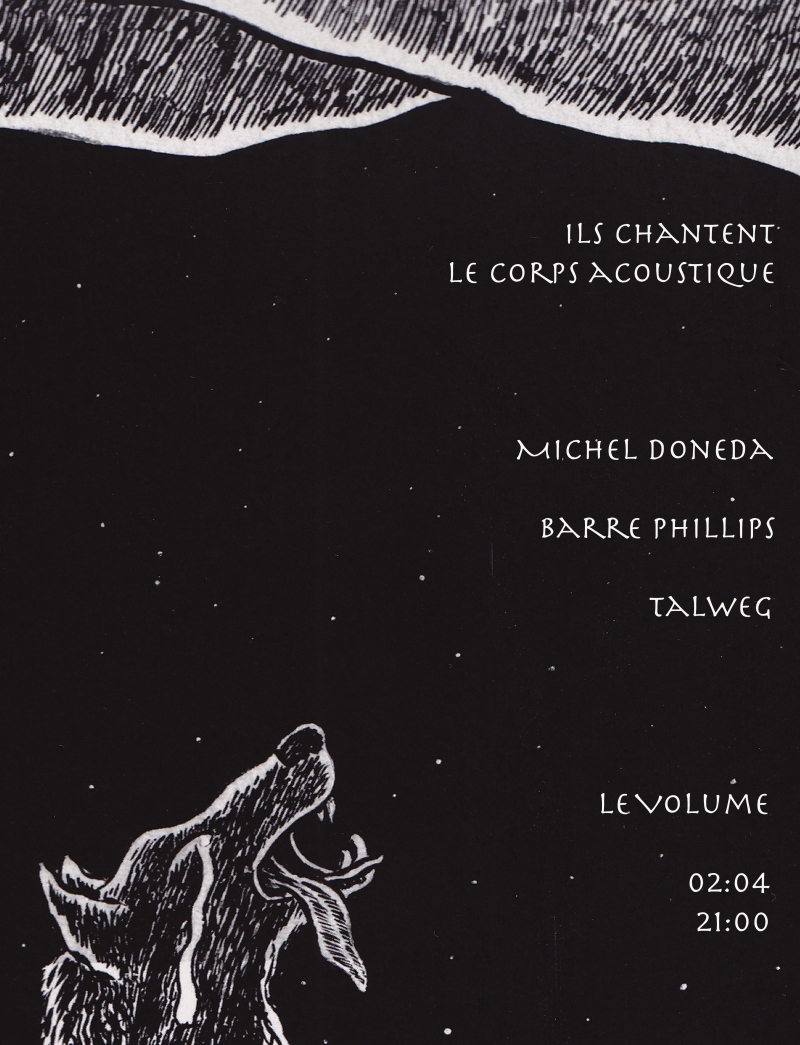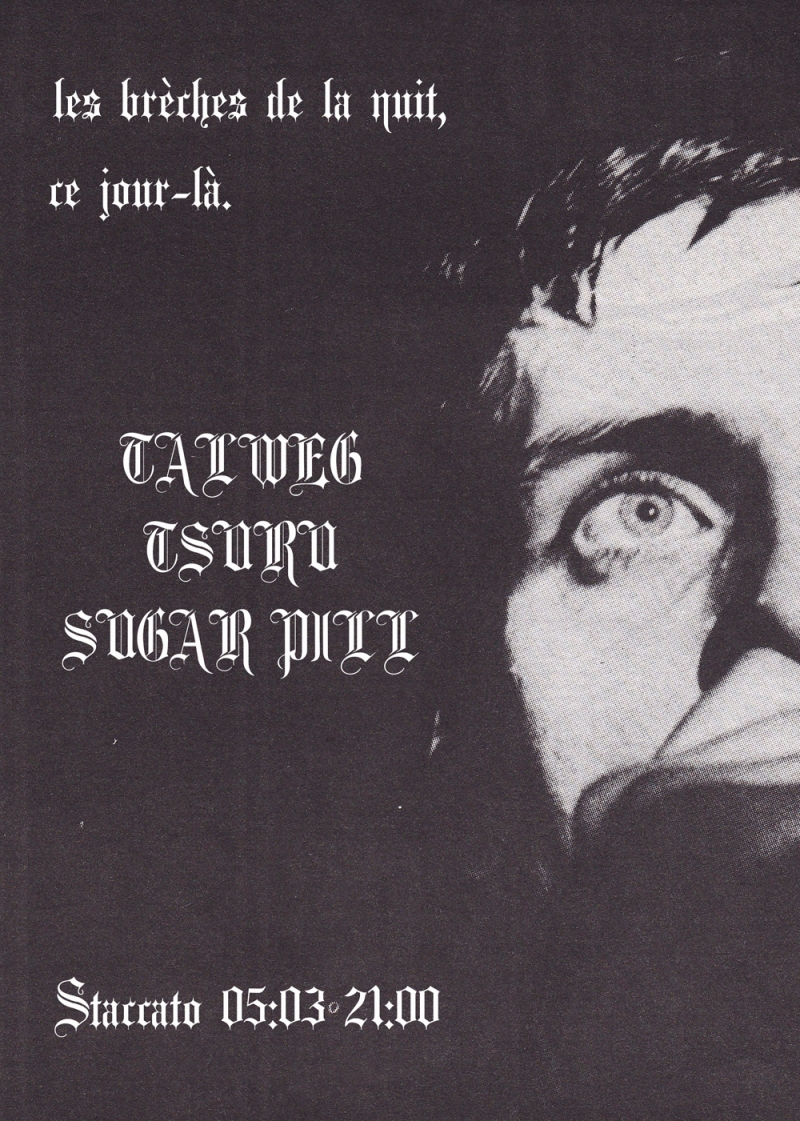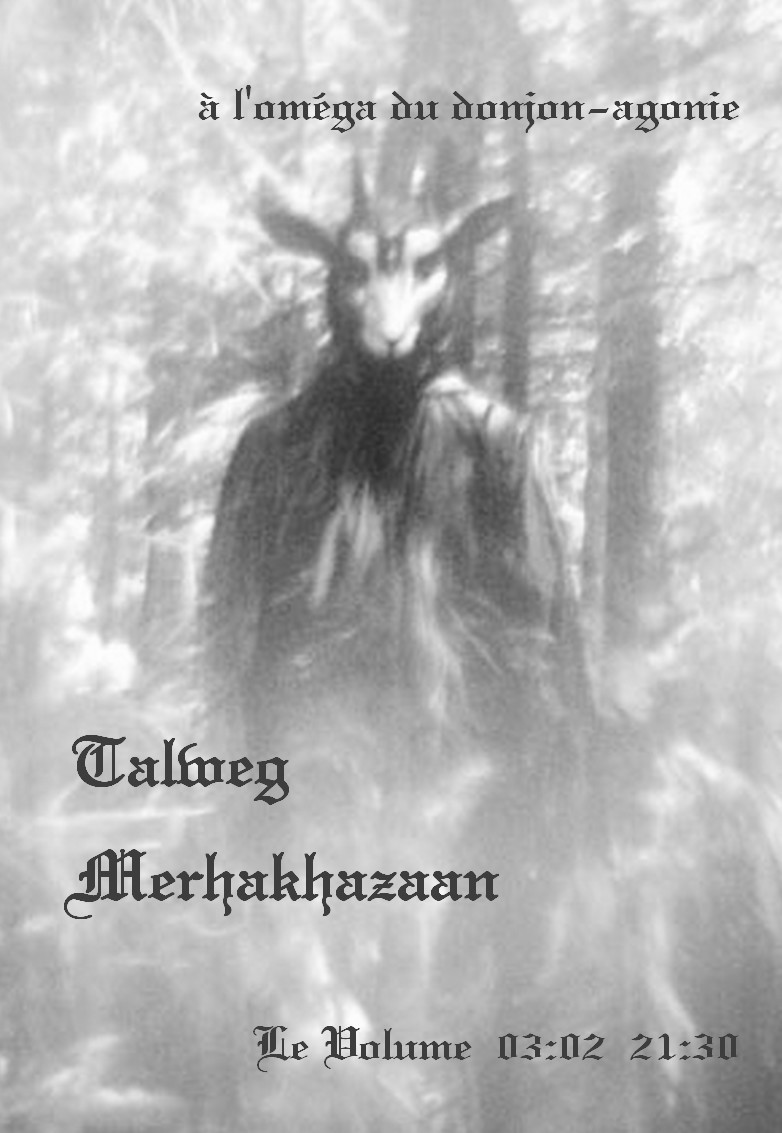 Genre: Experimental / Metal / Minimalist

Location Pandemonium, Fr

Profile Views: 34091

Last Login: 5/4/2013

Member Since 9/21/2010

Record Label up against the wall, motherfuckers!

Type of Label Indie

Bio

Voice and drums. Talweg is a duet that seeks to explore the darkest side of sound and music. The path to the deepest valley.

Members

Joëlle Vinciarelli (voices), Eric Lombaert (drums)

Influences

Khlyst, les quarante premières secondes de "Sun Is Tangging" sur le premier album de Ghost, "Conflict" by The Mike Westbrook Concert Band, Khanate, Sunn O))), 77 Boa Drum, Ulver, Asva, Aethenor, Carcass, Set Fire To Flames, Esoteric, Earth, Wolves In The Throne Room, Nadja, Blut Aus Nord, Thorr's Hammer, Xasthur, Goatsnake, Eyehategod, Striborg, I Shalt Become, Wold, Menace Ruine, Sleep, Leviathan, Death, Hypocrisy, Napalm Death, Ghédalia Tazartès, Opéra Mort, Neige Morte, Ornette Coleman Prime Time, Sun Ra, Godflesh, Jesu, Kayo Dot, Hey Colossus, Shit And Shine, Bill Orcutt, Cecil Taylor, Sand, Labradford, My Bloody Valentine, Godspeed You! Black Emperor, Alcest, Peste Noire, Chris Corsano, Richard Youngs, Josephine Foster, Ed Askew, Michael Yonkers, Peter Ivers & Yoland Bavan, Bobb Trimble, Bill Fay, Current 93, Linda Perhacs, Peter Grudzien, Jandek, Biff Rose, Tiny Tim, Baby Dee, My Cat Is An Alien, Sunburned Hand Of The Man, The Dead C, Sandoz Lab Technicians, Yellow Swans, Wolf Eyes, Emeralds, Oneohtrix Point Never, Nurse With Wound, Merzbow, Sissy Spacek, Maurizio Bianchi, Mandy More, Ramleh, Skullflower, Double Leopards, Sunroof!, Hototogisu, Harry Pussy, No-Neck Blues Band, Dendoshi 2, Sabbath Assembly, White Out, Vibracathedral Orchestra, MV & EE, AMM, Whitehouse, The Mystick Krewe Of Clearlight, Throbbing Gristle, Saint Vitus, Scott "Wino" Weinrich, Death Unit, Dream/Aktion Unit, Paul Flaherty, Wally Shoup, Albert Ayler, Ray Russell, Running Man, Milford Graves, Andrew Cyrille, William Hooker, David Lee Jr., Sonny & Linda Sharrock, Annette Peacock, Patty Waters, Tight Meat Duo, Masonna, Tyrannosaurus Rex, Om, Monarch!, Third Ear Band, Servile Sect, Nico, Bloody Panda, Decoding Society, Demetrio Stratos, Comus, Alexander "Skip" Spence, Daniel Higgs, Henri Chopin, Henry Cow, Art Bears, Slapp Happy, Soft Machine, Keiji Haino, Fushitsusha, Vajra, Kan Mikami, Borbetomagus, Lhasa Cement Plant, Mars, Circle X, Ludus, Joshua Burkett, John Jacob Niles, Dredd Foole, The Trees Community, Sandy Bull, Robbie Basho, John Fahey, Angus McLise, Henry Flynt, La Monte Young, Yoshi Wada, Charlemagne Palestine, Eliane Radigue, Bobby Beausoleil, Tom Rapp, Pearls Before Swine, The Fugs, The New Blockaders, Mimir, Christoph Heeman, 16 Bitch Pile-Up, Jon Mueller, Jodis, Burial Hex, Wolfmangler, Dead Raven Choir, L'Acéphale, Silvester Anfgang, Religious Knives, Mouthus, Demons, Magma, Art Zoyd, Univers Zéro, King Crimson, Van Der Graaf Generator, Swans, Jarboe, Diamanda Galas, France, Aluk Todolo, Sutcliffe Jügend, Prurient, Hair Police, Excepter, F/i, Vocokesh, Pharaoh Overlord, Tivol, Pumice, Birchville Cat Motel, Eyes Like Saucers, Mudboy, Thee Majesty, Coil, Ramon Sender, Area C, The Los Angeles Free Music Society, Hermann Nitsch, Taj Mahal Travellers, Holy Modal Rounders, Onna, Michio Kurihara, Ghost, Galaxie 500, Damon & Naomi, Zdrastvootie, Steven Wray Lodbell, Davis Redford Triad, East Bionic Symphonia, Les Rallizes Denudés, Flower Travellin' Band, White Heaven, A Band, Nihilist Spasm Band, Plastic Ono Band, Incredible String Band, Roberto Opalio, Igor Wakewitch, "Être Dieu", Ariel Kalma, Ghedalia Tazartès, Opéra Mort, Valerio Cosi, Gore, Grief, Deathspell Omega, Monarch!, Brown Jenkins, Les Légions Noires, Jackie O-Motherfucker, Inca Ore, Raymond Dijtskra, Scott Walker, International Harvester, Hapshash & The Coloured Coat, Julian Cope, Kommissar Hjuler & Mama Baar, Mahogany Brain, Jacques Thollot, Fille Qui Mousse, Edward Larry Gordon, Pärson Sound, Ilk, Yes, Sun Araw, Expo '70, Six Organs Of Admittance, Pelt, The Godz, Cromagnon, Siloah, Horde Catalytique Pour La Fin, Théâtre du Chêne Noir, Full Moon Ensemble; labels : Holy Mountain, Table of the Elements, Blossoming Noise, No Fun Productions, Ecstatic Yod, Qbico, Vinyl-On-Demand, Last Visible Dog, Corpus Hermeticum, Celebrate Psi Phenomenom, Fractal Records, VHF, A Silent Place, Dirter, PSF, Ultra Eczema, Aurora Borealis, Public Guilt; fanzines: Atem, Opprobrium, Ecstatic Peace Poetry Journal, Sonic Death, Bananafish, Bixobal, As Loud As Possible ; some movies too : "Valerie and her Week of Wonders", "Incubus", "The Wicker Man", "Céline et Julie vont en bateau" + "Noroit" + "Duelle", "Rabbit's Moon", "Flaming Creatures", "Quand l'embryon part braconner", "Hallelujah the Hills", "Traité de bave et d'éternité", "La Comtesse noire", "Le Lit de la Vierge", "Le Manuscrit trouvé à Saragosse", "Le Viol du Vampire", "Invasion of the Thunderbolt Pagoda", "La Renarde", "Le Renne blanc"; and Byron Coley ; and William Blake, John Muir, Emily Dickinson ; Father Yod R.I.P. & long life to Ya Ho Wha, Poto & Cabengo !

Sounds Like

Don't care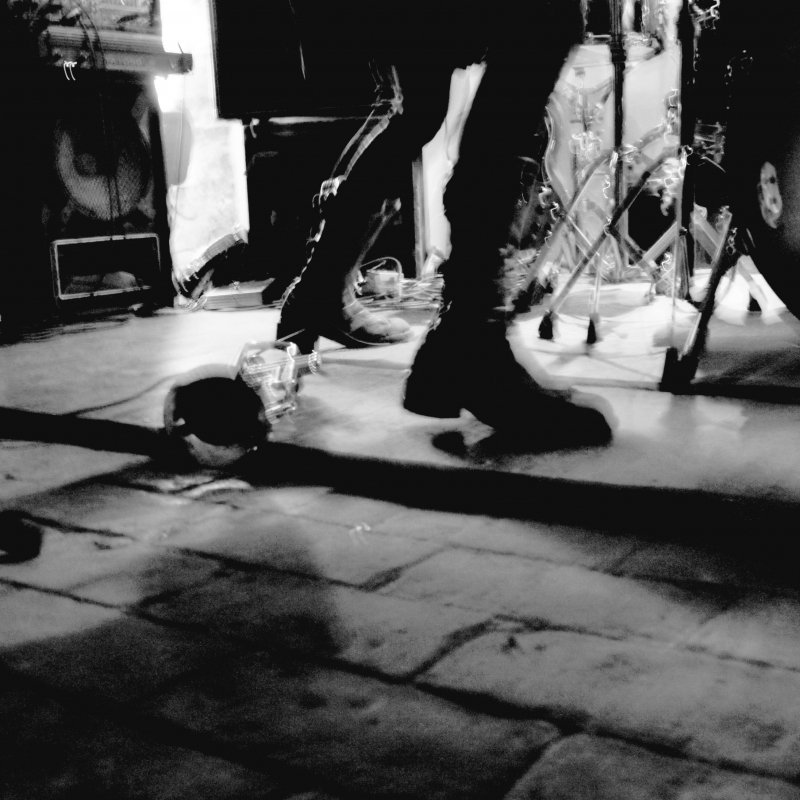 INFLUENCES:
Khlyst, Striborg, les quarante premières secondes de "Sun Is Tangging" sur le premier album de Ghost, "Conflict" by The Mike Westbrook Concert Band, Khanate, Sunn O))), 77 Boa Drum, Ulver, Asva, Aethenor, Carcass, Set Fire To Flames, Esoteric, Earth, Wolves In The Throne Room, Nadja, Blut Aus Nord, Thorr's Hammer, Xasthur, Goatsnake, Eyehategod, I Shalt Become, Wold, Menace Ruine, Sleep, Leviathan, Death, Hypocrisy, Napalm Death, Neige Morte, Ornette Coleman Prime Time, Sun Ra, Godflesh, Jesu, Kayo Dot, Hey Colossus, Shit And Shine, Bill Orcutt, Cecil Taylor, Sand, Labradford, My Bloody Valentine, Godspeed You! Black Emperor, Pentemple, Alcest, Peste Noire, Jac Berrocal, Dust Breeders, Mesa Of The Lost Women, Chris Corsano, Richard Youngs, Josephine Foster, Ed Askew, Michael Yonkers, Peter Ivers & Yoland Bavan, Bobb Trimble, Bill Fay, Current 93, Linda Perhacs, Peter Grudzien, Jandek, Biff Rose, Tiny Tim, Baby Dee, My Cat Is An Alien, Sunburned Hand Of The Man, The Dead C, Sandoz Lab Technicians, Yellow Swans, Wolf Eyes, Emeralds, Oneohtrix Point Never, Barn Owl, K11, Nurse With Wound, Merzbow, Sissy Spacek, Maurizio Bianchi, Mandy More, Ramleh, Skullflower, Double Leopards, Sunroof!, Hototogisu, Harry Pussy, No-Neck Blues Band, Dendoshi 2, Sabbath Assembly, White Out, Vibracathedral Orchestra, MV & EE, AMM, Whitehouse, Liturgy, The Mystick Krewe Of Clearlight, Throbbing Gristle, Saint Vitus, Scott "Wino" Weinrich, Death Unit, Dream/Aktion Unit, Paul Flaherty, Wally Shoup, Albert Ayler, Ray Russell, Running Man, Milford Graves, Andrew Cyrille, William Hooker, David Lee Jr., Sonny & Linda Sharrock, Annette Peacock, Patty Waters, Tight Meat Duo, Masonna, Tyrannosaurus Rex, Om, Monarch!, Third Ear Band, Servile Sect, Nico, Bloody Panda, Decoding Society, Demetrio Stratos, Comus, Alexander "Skip" Spence, Daniel Higgs, Henri Chopin, Henry Cow, Art Bears, Slapp Happy, Soft Machine, Keiji Haino, Fushitsusha, Vajra, Kan Mikami, Borbetomagus, Lhasa Cement Plant, Mars, Circle X, Ludus, Joshua Burkett, John Jacob Niles, Dredd Foole, The Trees Community, Sandy Bull, Robbie Basho, John Fahey, Angus McLise, Henry Flynt, La Monte Young, Yoshi Wada, Charlemagne Palestine, Eliane Radigue, Bobby Beausoleil, Tom Rapp, Pearls Before Swine, The Fugs, The New Blockaders, Mimir, Christoph Heeman, 16 Bitch Pile-Up, Jon Mueller, Jodis, Burial Hex, Wolfmangler, Dead Raven Choir, L'Acéphale, Silvester Anfgang, Religious Knives, Mouthus, Demons, Magma, Art Zoyd, Univers Zéro, King Crimson, Van Der Graaf Generator, Swans, Jarboe, Diamanda Galas, France, Aluk Todolo, Sutcliffe Jügend, Prurient, Hair Police, Excepter, F/i, Vocokesh, Pharaoh Overlord, Tivol, Pumice, Birchville Cat Motel, Eyes Like Saucers, Mudboy, Thee Majesty, Coil, Ramon Sender, Area C, The Los Angeles Free Music Society, Hermann Nitsch, Taj Mahal Travellers, Holy Modal Rounders, Onna, Michio Kurihara, Ghost, Galaxie 500, Damon & Naomi, Zdrastvootie, Steven Wray Lodbell, Davis Redford Triad, East Bionic Symphonia, Les Rallizes Denudés, Flower Travellin' Band, White Heaven, A Band, Nihilist Spasm Band, Plastic Ono Band, Incredible String Band, Roberto Opalio, Igor Wakewitch, "Être Dieu", Ariel Kalma, Ghedalia Tazartès, Opéra Mort, Valerio Cosi, Gore, Grief, Deathspell Omega, Monarch!, Brown Jenkins, Les Légions Noires, Jackie O-Motherfucker, Inca Ore, Raymond Dijtskra, Scott Walker, International Harvester, Hapshash & The Coloured Coat, Julian Cope, Kommissar Hjuler & Mama Baar, Mahogany Brain, Jacques Thollot, Fille Qui Mousse, Edward Larry Gordon, Pärson Sound, Ilk, Yes, Sun Araw, Expo '70, Six Organs Of Admittance, Pelt, The Godz, Cromagnon, Siloah, Horde Catalytique Pour La Fin, Théâtre du Chêne Noir, Full Moon Ensemble; labels : Holy Mountain, Table of the Elements, Blossoming Noise, No Fun Productions, Ecstatic Yod, Qbico, Vinyl-On-Demand, Last Visible Dog, Corpus Hermeticum, Celebrate Psi Phenomenom, Fractal Records, VHF, A Silent Place, Dirter, PSF, Ultra Eczema, Aurora Borealis, Public Guilt; fanzines: Atem, Opprobrium, Ecstatic Peace Poetry Journal, Sonic Death, Bananafish, Bixobal, As Loud As Possible ; some movies too : "Valerie and her Week of Wonders", "Incubus", "The Wicker Man", "Céline et Julie vont en bateau" + "Noroit" + "Duelle", "Rabbit's Moon", "Flaming Creatures", "Quand l'embryon part braconner", "Hallelujah the Hills", "Traité de bave et d'éternité", "La Comtesse noire", "Le Lit de la Vierge", "Le Manuscrit trouvé à Saragosse", "Le Viol du Vampire", "Invasion of the Thunderbolt Pagoda", "La Renarde", "Le Renne blanc", "Achik Kerib", "Sayat Nova", "Eika Katappa", "La Mort de Maria Malibran", "Kiss Me Deadly", "Détruire dit-elle" ; and Byron Coley ; and William Blake, John Muir, Emily Dickinson ; Father Yod R.I.P. & long life to Ya Ho Wha, Poto & Cabengo ! C'est l'hiver sur les continents cernés.

Talweg's playlist - Wire #325, February 2011: