Play

Play Next

Add to queue
Play

Play Next

Add to queue

1,041 plays

Play

Play Next

Add to queue

1,001 plays

Play

Play Next

Add to queue

258 plays

Play

Play Next

Add to queue

172 plays

Play

Play Next

Add to queue

465 plays
Genre: Alternative / Comedy / Pop Punk

Location OTTAWA, Kansas, Un

Profile Views: 16208

Last Login: 1/4/2013

Member Since 8/21/2009

Website the8thhorcrux.bandcamp.com

Record Label Fueled by Pumpkin Juice

Type of Label Indie

Bio

The 8th Horcrux is a wizard rock band from Ottawa, Kansas. The group specializes in parodies of hit pop/rock/rap songs, adding a Harry Potter twist to the lyrics! In October of '09, the band released their debut album, Potterwatch! The initial pressing was limited to 100 copies, and within three weeks, all copies were sold. Their 2nd album entitled "Accio Awesome" is now available for pre-order for $8 and will be released in November, just in time for the first part of the Deathly Hallows! The band is hard at working in pre-production for several music videos. So check out the YouTube page! http://www.youtube.com/user/imthe8thhorcrux Videos coming soon. ;)

Members

Trina S : Lead Guitar, Lead and Back-up Vocals, Lyrics Paul T : Lead and Back-up Vocals, Rhythm Guitar, Synthesizer Programming, Lyrics

Influences

J.K. Rowling, The Harry Potter novels, Harry and the Potters, and any band we have attempted to parody.

Sounds Like

The Lonely Island, Flobots, Meredith Brooks, My Chemical Romance, The Beatles, Bowling for Soup, Alien Ant Farm, The Who, Nirvana, Asher Roth, Weezer, Backseat Goodbye, LMFAO, Blur, blink-182, Live, Green Day, Owl City, Oasis, Beck, Alanis Morissette: with a dash of our selves thrown in for originality.
"In the Pensieve" + "Witch"

In which Paul from The 8th Horcrux sings "In the Pensieve" a parody of "Fireflies" by Owl City In which Hermione/Trina declares she's a "witch born from Muggles" - enjoy!
Our new album, "Noize From the Cupboard", is now available for sale via PayPal: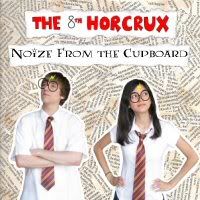 8 Dollars + 2 Dollars Shipping .. .. .. ..
..
All of our music is also availible via Bandcamp, and it's REALLY CHEAP!!!!! In addition, you can name your own price! Wow!
Buy digital
HERE!
You can also get our music on Big Cartel! Neato!
Click
HERE!