No recent updates in this category.
Why not...
The Black Purls© hasn't earned any badges yet... have you?
General

Knitting.
Crochet.
Yarn.
Pirates.
Needles.
Ravelry.
Gollllllllllld
Coffee.
Mimosas.
Stitching & Bitching.
Lace.
Free Patterns.
& Grandmas!


Music

"Yo Ho

,

Yo Ho

, the Knitter's Life for Me!"


Music Matters.



Movies

Television

Books

Heroes
About me: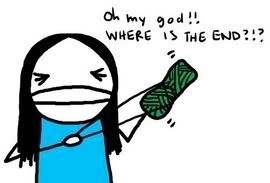 The Black Purls is a
Knitting & Crochet

"Stitch 'N Bitch"


in St Augustine, Florida.
We had our first meeting on Saturday, April 7th 2007.
And we will continue to meet
Every Saturday @ 1pm until whenever!
At the Mystic Bean Coffee House. (SR 207)


But ye be warned we are a group of 20-somethings that don't believe in TMI. And sometimes our conversations scare people away. haha. We currently consist of 5+ members, but hope to expand in time!


♥ Come be part of our crew!

..
Status:

Swinger

Here for:

Networking, Friends

Hometown:

St Augustine

Zodiac Sign:

Aries

Smoke / Drink:

No / Yes

Occupation:

Sweater Maker