Play

Play Next

Add to queue
Genre: Acoustic / Rock / Surf

Location Bridgend, Wales, Un

Profile Views: 148640

Last Login: 10/21/2011

Member Since 12/11/2005

Website www.theblims.co.uk

Record Label Unsigned

Type of Label Unsigned

Bio

.. .. THE BLIMS NEW ALBUM 'WORKING CLASS POETRY' AND DEBUT ALBUM 'TELL EVERYBODY' ARE BOTH NOW ON SALE AT : .. www.theblims.com.. .. .. .. 'WORKING CLASS POETRY' AND 'TELL EVERYBODY' ARE ALSO AT .. Napster.. AND .. .... .. .. .. .. YOU CAN NOW GET YOUR BLIMS T-SHIRT AT .. www.theblims.com.. TOO. .. .. .. .. Reviews: .. .. 'Wicked…I was listening to it all weekend' .. Letitia SD – Radio 1 .. .. 'These boys are going to be something else… cracking, catchy, riffy tunes. Watch this space!' .. Carling.com .. .. 'Poignant and irreverent' .. alt.cardiff.com .. .. 'a Welsh Arctic Monkeys' .. Pit Pilot magazine .. .. 'in a music genre of their own…chilled classics' .. Glamorgan Gazette .. .. .. .. The Blims are a 4 piece band from south wales, they are a highly charged and explosive whenever they play. They sound like no other band and draw there influences from such varied artists that they are very hard to categorize. Extremely fun and very unique. A must-see band. .. .. Photos courtesy of .. www.willbaileymedia.com.. .. .. .. .. .. .. .. .. .. .. .. .. .. .. .. ...... .. Mark Jenkins, Andrew West, Martin Dann, Kevin Trickey .. .. .. .. .. This is a video by the guys from Whitespace featuring our song 'What I Really Want'. It was on a Snowboard UK magazine DVD covermount. Check out the others too. There's some funny shit in there... .. .. .. .. .. .. .. .. .. .. .. .. .. Check out the video, tricky runs like a girl... .. .. .. .. .. .. .. .. .. This the making of the above. Very funny. Don't miss the end bit... .. .. .. .. .. .. .. .. .. ...... .. .. .. .. .. .. .. .. .... .. .... .. .. .. ........ .. ........ .. ........ .. .... .. .. .. ........ .. .. ..

Members

For gigs contact us here or facebook.

Influences

Sounds Like
No recent updates in this category.
Why not...
02:47 | 344 plays | Mar 7 2009
Bio:
THE BLIMS NEW ALBUM 'WORKING CLASS POETRY' AND DEBUT ALBUM 'TELL EVERYBODY' ARE BOTH NOW ON SALE AT :
www.theblims.com
'WORKING CLASS POETRY' AND 'TELL EVERYBODY' ARE ALSO AT
Napster
AND
..
YOU CAN NOW GET YOUR BLIMS T-SHIRT AT
www.theblims.com
TOO.
Reviews:
'Wicked…I was listening to it all weekend'
Letitia SD – Radio 1
'These boys are going to be something else… cracking, catchy, riffy tunes. Watch this space!'
Carling.com
'Poignant and irreverent'
alt.cardiff.com
'a Welsh Arctic Monkeys'
Pit Pilot magazine
'in a music genre of their own…chilled classics'
Glamorgan Gazette
The Blims are a 4 piece band from south wales, they are a highly charged and explosive whenever they play. They sound like no other band and draw there influences from such varied artists that they are very hard to categorize. Extremely fun and very unique. A must-see band.
Photos courtesy of
www.willbaileymedia.com
.. ..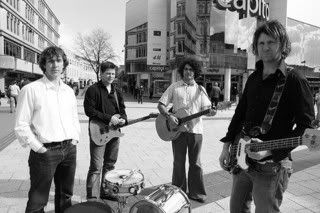 Mark Jenkins, Andrew West, Martin Dann, Kevin Trickey
This is a video by the guys from Whitespace featuring our song 'What I Really Want'. It was on a Snowboard UK magazine DVD covermount. Check out the others too. There's some funny shit in there...
Check out the video, tricky runs like a girl...
This the making of the above. Very funny. Don't miss the end bit...
Member Since:
December 11, 2005
Members:
For gigs contact:Hurricanejoetheband@googlemail.com
Record Label:
Unsigned