Play

Play Next

Add to queue
Play

Play Next

Add to queue

539 plays

Play

Play Next

Add to queue

766 plays

Play

Play Next

Add to queue

1,755 plays

Play

Play Next

Add to queue

313 plays

Play

Play Next

Add to queue

332 plays
Genre: Alternative / Experimental / Rock

Location Melbourne, Victoria, AU

Profile Views: 29979

Last Login: 12/6/2011

Member Since 10/6/2006

Website www.theboats.net

Record Label Independent

Type of Label Indie

Bio

.. ...... .. ...... .. The boats are an atmospheric, dynamic and a beautifully improvised instrumental experience, creating sonic sketches of looped guitars, piano, bass and drums... conjuring up moments of Mogwai, Explosions in the Sky, The Necks, Godspeed You! Black Emperor, Ennio Morricone, Set Fire to Flames, Dirty Three...while at the same time remaining truly unique in their delivery. Often being described as surf-rock, post-rock and even 'the new jazz'. The boats have released two independent EPs, and delivered their debut album 'Los Musicos Perdidos' in 2007. Currently the band prepare to release a concept EP inspired by the pioneers of space exploration, the new song 'The Astronaut' is also included in volume 15 of The Silent Ballet Compilation Series available for download. The second and long awaited full length record 'Segundo' will be out late this year or early 2011. .. ....Review From Silent Ballet.... ....The boats – Los Musicos Perdidos - 2007 .... ..........I often believe that there is an accompanying geography to any given piece of music, whether apparent on the surface or buried deep in the psyche of the work. On The Boats' Los Musicos Perdidos, the geography is striking. .. Reverb and tremolo heavy, yet crisp guitars and soft-brushed snares illuminate sagebrush covered flatlands and jutting plateaus defined by drenching, unrelenting sun. The curiosity here is that the geography of Los Musicos Perdidos is most readily identifiable as American, at least the West and Southwest. However, The Boats hail from Australia, Melbourne. Having never been to Australia, I can only imagine that there are similar landscapes with which to relate their sound to. .. On "The Sea is in The Boat," guitars softly duel as a pair of gunslingers reluctant to draw first. Instead, they dance awhile, awaiting the other's move with light cymbal work as spurs underfoot. There is hope in their tone, tinged only by the pragmatic knowledge that an end must come. The slow, rising horns of "Little Black Rays Of Hope" immediately call to mind Ennio Morricone and the undying butt of a cigarillo cornered in the thin lips of a lone drifter. Then there are the slow clacking castanets and shakers of "Strawberry," a song that is undeniably the soundtrack to a tracker hunting down a fugitive. Cello slinks along the ground like a rattler idly passing the hooves of the tracker's horse, and when he spots his target, the tempo surges as the chase is on. All the while, coursing through the eight songs, which average out at nine minutes a piece, there is an arid heat that boils all about. .. It is anticipation, alertness, hyper awareness in a vast emptiness filled by the sounds of despair. Part of what is amazing about this continuity of mood in sound is the evident freedom by which it was produced. According to what little is written about this band, they loosely compose pieces and fill in the rest with improvisation. It works quite well, because there are only a couple little minutes of meandering. Most noticeably in "Warmth From A Window," when they shift between motifs on a chord change and the piano seems to be struggling to find its place. However, it does and the song remains relatively unharmed, as does their particular sound. A sound that is unafraid to point to its influences like friends in the crowd. There are certainly touches of Red Sparowes, Godspeed You! Black Emperor, and the most recent manifestation of Do Make Say Think contained in Los Musicos Perdidos. While The Boats are certainly unabashed at playing to their influences, they do not become engulfed by them. Nor are they swallowed by the unforgiving geography of their sound. - Gabriel Bogart.. Now available at Missing Link Records, Polyester Records, Greville Records, Collectors Corner, Second Spin, Red Eye Records (Syd), 78 Records (Perth) and other good indie record stores in Melbourne, or to order via CD Baby ..

Members

Jona Byron - guitar, bass, keys .. Nick Conolly - guitar, bass, piano, .. Paul Guseli - drums and percussion .. .. .... .. ..Order a copy of the boats debut album 'Los Musicos Perdidos' from Missing Link Records online. ..www.missinglink.net.au.. or through .. CD Baby.. .. .. .. .. ...... .. .. ..Visit the boats facebook fan page!.. .. .. .. .. ..

Influences

> The Grails > > Godspeed You! Black Emperor > > Dirty Three > > Ennio Morricone > > The Necks > > Set Fire to Flames > > The Shadows > > Esmerine > > Fly Pan Am > > The Beatles > > Do Make Say Think > > Exhaust > > Calexico > > The Evpatoria Project > > many more and all great melbourne Instrumental artists! Some of the best music lives here! >

Sounds Like

"...the band who should have written the soundtrack to Surf Nazis Must Die" .. The boys blowing out a few cobwebs at their recent rehearsal - June 19 '09 .. .. .. .. .. .. .. .. .. The boats - Improving live at The Northcote Social Club on the 17th July 2008 .. .. .. .. .. .. .. .. .. A birds eye view of the boats recording in a warehouse - March 2008 .. .. .. .. .. .. .. .. .. A very short piece of footage of the boats rocking it out at their recent Forepaw show, Dec 14, '07 .. .. .. .. .. .. .. .. .. These videos were made by Paul Skelton back in 2004. Paul filmed the band for about 2 years, and stocked up an impressive amount of footage from live shows and during the recording of the album sessions in Olinda. Paul's idea was to create video diaries of the band and eventually compile a feature length DVD. However he moved to Europe and The boats hope to eventually put together a DVD of old and recent footage. .. .. To view the videos at You Tube click ..here.. .. .. ...... .. .. .. .. .. .. .. The boats - Short Doco filmed in 2004 by Paul Skelton .. ...... .. .. .. .. .. .. .. The boats performing 'Los Musicos Perdidos' live at The Rob Roy .. .. .. .. .. .. .. .. .. .. .. The boats improvising on the finale of a song, live performance at Museum
No recent updates in this category.
Why not...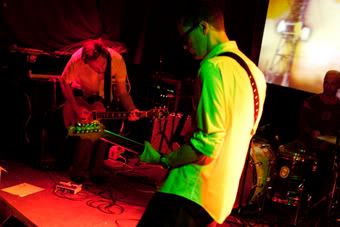 The boats are an atmospheric, dynamic and a beautifully improvised instrumental experience, creating sonic sketches of looped guitars, piano, bass and drums… conjuring up moments of Mogwai, Explosions in the Sky, The Necks, Godspeed You! Black Emperor, Ennio Morricone, Set Fire to Flames, Dirty Three…while at the same time remaining truly unique in their delivery. Often being described as surf-rock, post-rock and even 'the new jazz'. The boats have released two independent EPs, and delivered their classic debut album 'Los Musicos Perdidos' in 2007, which has gone on to become a cult classic around the world. In 2010 the band released a new song 'The Astronaut' on volume 15 of The Silent Ballet Compilation Series available for download. The second and long awaited full length record 'Segundo' will finally be released in early 2012, after a 5 year wait between albums! Since recording the second album the band have recorded a further 3 possible releases, all awaiting to be mixed and released. Currently Nick Conolly and Paul Guseli are living in Melbourne, Australia and Jona Byron lives in Berlin. The band are planning a European tour for 2012.
Review From Silent Ballet
The boats – Los Musicos Perdidos - 2007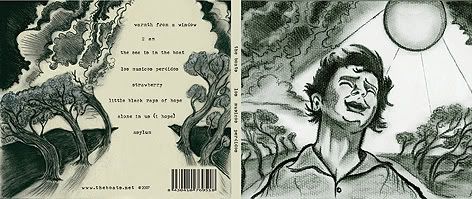 I often believe that there is an accompanying geography to any given piece of music, whether apparent on the surface or buried deep in the psyche of the work. On The Boats' Los Musicos Perdidos, the geography is striking.

Reverb and tremolo heavy, yet crisp guitars and soft-brushed snares illuminate sagebrush covered flatlands and jutting plateaus defined by drenching, unrelenting sun. The curiosity here is that the geography of Los Musicos Perdidos is most readily identifiable as American, at least the West and Southwest. However, The Boats hail from Australia, Melbourne. Having never been to Australia, I can only imagine that there are similar landscapes with which to relate their sound to.

On "The Sea is in The Boat," guitars softly duel as a pair of gunslingers reluctant to draw first. Instead, they dance awhile, awaiting the other's move with light cymbal work as spurs underfoot. There is hope in their tone, tinged only by the pragmatic knowledge that an end must come. The slow, rising horns of "Little Black Rays Of Hope" immediately call to mind Ennio Morricone and the undying butt of a cigarillo cornered in the thin lips of a lone drifter. Then there are the slow clacking castanets and shakers of "Strawberry," a song that is undeniably the soundtrack to a tracker hunting down a fugitive. Cello slinks along the ground like a rattler idly passing the hooves of the tracker's horse, and when he spots his target, the tempo surges as the chase is on. All the while, coursing through the eight songs, which average out at nine minutes a piece, there is an arid heat that boils all about.

It is anticipation, alertness, hyper awareness in a vast emptiness filled by the sounds of despair. Part of what is amazing about this continuity of mood in sound is the evident freedom by which it was produced. According to what little is written about this band, they loosely compose pieces and fill in the rest with improvisation. It works quite well, because there are only a couple little minutes of meandering. Most noticeably in "Warmth From A Window," when they shift between motifs on a chord change and the piano seems to be struggling to find its place. However, it does and the song remains relatively unharmed, as does their particular sound. A sound that is unafraid to point to its influences like friends in the crowd. There are certainly touches of Red Sparowes, Godspeed You! Black Emperor, and the most recent manifestation of Do Make Say Think contained in Los Musicos Perdidos. While The Boats are certainly unabashed at playing to their influences, they do not become engulfed by them. Nor are they swallowed by the unforgiving geography of their sound. - Gabriel Bogart

Now available at Missing Link Records, Polyester Records, Greville Records, Collectors Corner, Second Spin, Red Eye Records (Syd), 78 Records (Perth) and other good indie record stores in Melbourne, or to order via CD Baby

....
Member Since:
October 06, 2006
Members:
Jona Byron - guitar, bass, keys
Nick Conolly - guitar, bass, piano,
Paul Guseli - drums and percussion
..
Order a copy of the boats debut album 'Los Musicos Perdidos' from Missing Link Records online. www.missinglink.net.au or through CD Baby
..
.. Visit the boats facebook fan page! ..
..  
Influences:
> The Grails > > Godspeed You! Black Emperor > > Dirty Three > > Ennio Morricone > > The Necks > > Set Fire to Flames > > The Shadows > > Esmerine > > Fly Pan Am > > The Beatles > > Do Make Say Think > > Exhaust > > Calexico > > The Evpatoria Project > > many more and all great melbourne Instrumental artists! Some of the best music lives here! >
Sounds Like:
"...the band who should have written the soundtrack to Surf Nazis Must Die"
The boys blowing out a few cobwebs at their recent rehearsal - June 19 '09
The boats - Improving live at The Northcote Social Club on the 17th July 2008
A birds eye view of the boats recording in a warehouse - March 2008
A very short piece of footage of the boats rocking it out at their recent Forepaw show, Dec 14, '07
These videos were made by Paul Skelton back in 2004. Paul filmed the band for about 2 years, and stocked up an impressive amount of footage from live shows and during the recording of the album sessions in Olinda. Paul's idea was to create video diaries of the band and eventually compile a feature length DVD. However he moved to Europe and The boats hope to eventually put together a DVD of old and recent footage.
.. To view the videos at You Tube click here ..
..
The boats - Short Doco filmed in 2004 by Paul Skelton
..
The boats performing 'Los Musicos Perdidos' live at The Rob Roy
..
The boats improvising on the finale of a song, live performance at Museum
Record Label:
Independent