Play

Play Next

Add to queue
Play

Play Next

Add to queue

361 plays

Play

Play Next

Add to queue

1,313 plays

Play

Play Next

Add to queue

971 plays
Genre: Garage / Powerpop / Rock

Location Toronto, Ontario, Ca

Profile Views: 51708

Last Login: 1/3/2013

Member Since 10/30/2007

Website twitter.com/cheapspeakers

Type of Label Unsigned

Bio

Why does power pop get left in the dust? Why did Big Star never get their due? Why does Jay Ferguson from Sloan never get the singles? We may never know, but the genre has found its champions in the Cheap Speakers. Oh, don't get 'em wrong, they love all kinds of music -- from dance-y synth-rock to '90s alternative -- but it's pure guitar-pop that stokes their collective furnace. The kind of pop festooned with jangly guitars and warm bass that goes down so deceptively smooth, the finely-tuned clockwork of the songcraft may not register until the fourth or fifth spin (and you will get to four or five spins). But it can't all be sunshine and holding hands, right? Which is why the Speakers love to shake 'em awake with the rockers, with giant blasts of Pete Townshend chords and breakneck bass lines and about two dozen different distortion pedals and, most of all, getting the audience to look at how much damn fun the band's having. For three years, the Cheap Speakers have been winning over Toronto, heart by heart, bar by bar. And finally, they've got samples for people to take home. Their 2010 debut EP features six selections from their catalog of songs about girls, about rocking, about rockin' girls, and, perhaps most importantly, about being true to yourself.

Members

Natalia Manzocco, Brennan Gault, Tim Dafoe, David Kochberg

Influences

The Beatles, Big Star, Sloan, Of Montreal, T Rex, The Who, Spoon, Thrush Hermit, The Flashing Lights, The Rolling Stones, Sam And Dave, Blur, The Pipettes, The Breeders, The Shins, Joel Plaskett, Bob Dylan, Mott The Hoople, David Bowie, The Talking Heads, The Band, The Kinks, Neil Young

Sounds Like

Rockin' out.
No recent updates in this category.
Why not...

"The Cheap Speakers" EP available online now!

Visit us on iTunes!

CD EP in stock at Soundscapes (572 College St., Toronto ON), Backstreet Records (124 Germain St., Saint John NB), Taz Records (1593 Market St., Halifax NS), or:

Order online!
Amazon.ca!
"... a strong debut -- and one that other bands of this ilk should look to as an example of how it should be done." - i(heart)music

"... 'Alibi' sets the Speakers apart from their local bar-band peers ..." - EYE WEEKLY

"... this EP certainly hints at some real promise for The Cheap Speakers." - Herohill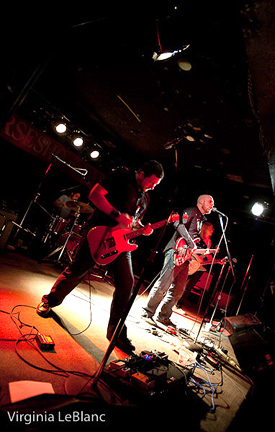 Natalia Manzocco: Guitar, Vocals, Hand Claps
Brennan Gault: Vocals, Bass, Lead Yelps
Tim Dafoe: Guitar, Hand Percussion, Backing Vocals
David Kochberg: Drums, Backing Vocals