Play

Play Next

Add to queue
Play

Play Next

Add to queue

1,741 plays

Play

Play Next

Add to queue

10,622 plays

Play

Play Next

Add to queue

2,530 plays

Play

Play Next

Add to queue

6,086 plays

Play

Play Next

Add to queue

883 plays
Genre: Indie / New Wave / Post punk

Location Nordrhein-Westfalen, Ge

Profile Views: 94616

Last Login: 2/18/2011

Member Since 7/19/2006

Website feedingfingers.com

Record Label Tephramedia

Type of Label Indie

Bio

<div><h4>Bio:</h4> <br /> Feeding Fingers is a dark indie/post-punk trio founded in 2006 in Atlanta, Georgia by international award-winning animator/multi-media artist, Justin Curfman (vocals/keys/guitars). Along with Todd Caras (bass) and Danny Hunt (drums), Feeding Fingers recorded their first 10-track demo, which found its way to Gavin Frederick of Stickfigure Records, who immediately became interested in signing the band.<br /> <br /> Feeding Fingers' first full-length debut album <em>Wound In Wall</em> was released in 2007 through Stickfigure Records and Curfman's media company, Tephramedia. The album found an audience in European and Asian countries, receiving rave reviews and comparisons to bands like Echo & The Bunnymen, The Cure and Bauhaus.<br /> <br /> In 2009, the band released their follow-up album, <em>Baby Teeth</em>. This album was met with great response from fans and helped the band find an audience in their homeland through U.S. college radio stations. The album also received numerous chart recognitions, including Top 100 Alternative in Portugal. Shortly after the recording of <em>Baby Teeth</em>, Todd Caras left the band and was replaced with Kris Anderson.<br /> <br /> Feeding Fingers have just returned from their first European tour, sharing the stage in Rome with EBM legends, Nitzer Ebb. Feeding Fingers announced the release of two albums in 2010: <em>Anything But Water</em>, the band's first live album, which is set to be released digitally on May 11 and the band's third studio album, <em>Detach Me From My Head</em>, which will be released on September 28.<br /> <br /> <br /> <div style="text-align:center;"><br /> ORDER NOW! Shipping September 28, 2010! Get the title track MP3 FREE! <br /> <br /> Feeding Fingers: "Detach Me From My Head" <br /> $7.99 (plus $1.99 s/h Worldwide) <br /> <br /> <img src="http://i201.photobucket.com/albums/aa257/Dascurf/detach_cover_web_small_220.jpg" /> <br /> <br /> <a href="http://www.msplinks.com/MDFodHRwOi8vd3d3Lmp1c3RpbmN1cmZtYW4uY29tL29yZGVycy5odG0=" target="_blank">Pre-Order Here</a> <br /> <br /> 1. Detach Me From My Head <br /> 2. I Am A Brutal Little Boy <br /> 3. My Imagined House <br /> 4. Asleep on Softened Fists <br /> 5. Vestigial Life <br /> 6. One Year <br /> 7. This World Starves for Lonely Girls <br /> 8. I Promise to Build You a Machine <br /> 9. All of My Prisons <br /> 10. Unfinished Stories <br /> 11. The Stupid Things We Did <br /> <br /> <div style="text-align:center;"><br /> Feeding Fingers: "Anything but Water" (Live Album - Digital Release) - $8.99 <br /> <br /> <img src="http://i201.photobucket.com/albums/aa257/Dascurf/anything_but_water_web_image_sma-1.jpg" /> <br /> <br /> <a href="http://www.msplinks.com/MDFodHRwOi8vd3d3LmFtYXpvbi5jb20vQW55dGhpbmctQnV0LVdhdGVyL2RwL0IwMDNOTlpEQlcvcmVmPXNyXzFfMz9pZT1VVEY4JnM9ZG11c2ljJnFpZD0xMjc1MzUxODkyJnNyPTgtMw==" target="_blank">Amazon.com</a> <br /> <br /> <a href="http://www.msplinks.com/MDFodHRwOi8vaXR1bmVzLmFwcGxlLmNvbS91cy9hcnRpc3QvZmVlZGluZy1maW5nZXJzL2lkMjU5MjcwMjE5" target="_blank">iTunes</a> <br /> <br /> <div style="text-align:center;"><br /> Feeding Fingers: "Baby Teeth" <br /> <br /> <img src="http://ecx.images-amazon.com/images/I/51Hfd%2BlKuVL._SL500_SS110_.jpg" /> <br /> <br /> <a href="http://www.msplinks.com/MDFodHRwOi8vaXR1bmVzLmFwcGxlLmNvbS91cy9hcnRpc3QvZmVlZGluZy1maW5nZXJzL2lkMjU5MjcwMjE5" target="_blank">iTunes</a> <br /> <br /> Feeding Fingers: "Wound in Wall" <br /> <br /> <img src="http://ecx.images-amazon.com/images/I/51zXC8YmXpL._SL500_SS110_.jpg" /> <br /> <br /> <a href="http://www.msplinks.com/MDFodHRwOi8vaXR1bmVzLmFwcGxlLmNvbS91cy9hcnRpc3QvZmVlZGluZy1maW5nZXJzL2lkMjU5MjcwMjE5" target="_blank">iTunes</a> <br /> <br /> <input type="hidden" name="encrypted" value="-----BEGIN PKCS7-----MIIHkAYJKoZIhvcNAQcEoIIHgTCCB30CAQExggEwMIIBLAIBADCBlDCBjjELMAkGA1UEBhMCVVMxCzAJBgNVBAgTAkNBMRYwFAYDVQQHEw1Nb3VudGFpbiBWaWV3MRQwEgYDVQQKEwtQYXlQYWwgSW5jLjETMBEGA1UECxQKbGl2ZV9jZXJ0czERMA8GA1UEAxQIbGl2ZV9hcGkxHDAaBgkqhkiG9w0BCQEWDXJlQHBheXBhbC5jb20CAQAwDQYJKoZIhvcNAQEBBQAEgYAMSem15CZJKy6/0hD4qVfAUCHx6OTx3rvOzaybCnKKgrGVFp1ycSgJuIFi8UEmagnWLv7HcojgBaAIvXgkGx5p1KbjqtREgF2MNGFECaq5qkYMpgJFr+wXjQ1b9q4gX0PrnQxfrPY0PGqq5EjsjpgL8qFyaBVDdCFRuSo4xxNjjDELMAkGBSsOAwIaBQAwggEMBgkqhkiG9w0BBwEwFAYIKoZIhvcNAwcECJ0ltS/pCZ4EgIHoEnVs5/imH0LquaB84CeWiq4LUYmLzhFAExHQaeneVGOAcv69nd22zJ9gdM6NCcQydH+sOB8TOSfVwDBTIX7Lp1VykV0QqOHhWEmdIY++eJZeszhui4nz885GhPlRCqFYiLPlYh7wWTTOvKKUOpo9veJckAPb9XzQuKZ4ILZuqbTBkOl5FPPdKq9sdNHBpCEVl8/yGd6BlBoI7K+7FXwSJThntvUgFF1eAZmKc8VF1/59HBWAxuH0VxQb+5UHR9uURAUCUYiLO/nMoTp1wseDefATS8SAI2IiLBtLC5Ji0QLuR1xehmpBDqCCA4cwggODMIIC7KADAgECAgEAMA0GCSqGSIb3DQEBBQUAMIGOMQswCQYDVQQGEwJVUzELMAkGA1UECBMCQ0ExFjAUBgNVBAcTDU1vdW50YWluIFZpZXcxFDASBgNVBAoTC1BheVBhbCBJbmMuMRMwEQYDVQQLFApsaXZlX2NlcnRzMREwDwYDVQQDFAhsaXZlX2FwaTEcMBoGCSqGSIb3DQEJARYNcmVAcGF5cGFsLmNvbTAeFw0wNDAyMTMxMDEzMTVaFw0zNTAyMTMxMDEzMTVaMIGOMQswCQYDVQQGEwJVUzELMAkGA1UECBMCQ0ExFjAUBgNVBAcTDU1vdW50YWluIFZpZXcxFDASBgNVBAoTC1BheVBhbCBJbmMuMRMwEQYDVQQLFApsaXZlX2NlcnRzMREwDwYDVQQDFAhsaXZlX2FwaTEcMBoGCSqGSIb3DQEJARYNcmVAcGF5cGFsLmNvbTCBnzANBgkqhkiG9w0BAQEFAAOBjQAwgYkCgYEAwUdO3fxEzEtcnI7ZKZL412XvZPugoni7i7D7prCe0AtaHTc97CYgm7NsAtJyxNLixmhLV8pyIEaiHXWAh8fPKW+R017+EmXrr9EaquPmsVvTywAAE1PMNOKqo2kl4Gxiz9zZqIajOm1fZGWcGS0f5JQ2kBqNbvbg2/Za+GJ/qwUCAwEAAaOB7jCB6zAdBgNVHQ4EFgQUlp98u8ZvF71ZP1LXChvsENZklGswgbsGA1UdIwSBszCBsIAUlp98u8ZvF71ZP1LXChvsENZklGuhgZSkgZEwgY4xCzAJBgNVBAYTAlVTMQswCQYDVQQIEwJDQTEWMBQGA1UEBxMNTW91bnRhaW4gVmlldzEUMBIGA1UEChMLUGF5UGFsIEluYy4xEzARBgNVBAsUCmxpdmVfY2VydHMxETAPBgNVBAMUCGxpdmVfYXBpMRwwGgYJKoZIhvcNAQkBFg1yZUBwYXlwYWwuY29tggEAMAwGA1UdEwQFMAMBAf8wDQYJKoZIhvcNAQEFBQADgYEAgV86VpqAWuXvX6Oro4qJ1tYVIT5DgWpE692Ag422H7yRIr/9j/iKG4Thia/Oflx4TdL+IFJBAyPK9v6zZNZtBgPBynXb048hsP16l2vi0k5Q2JKiPDsEfBhGI+HnxLXEaUWAcVfCsQFvd2A1sxRr67ip5y2wwBelUecP3AjJ+YcxggGaMIIBlgIBATCBlDCBjjELMAkGA1UEBhMCVVMxCzAJBgNVBAgTAkNBMRYwFAYDVQQHEw1Nb3VudGFpbiBWaWV3MRQwEgYDVQQKEwtQYXlQYWwgSW5jLjETMBEGA1UECxQKbGl2ZV9jZXJ0czERMA8GA1UEAxQIbGl2ZV9hcGkxHDAaBgkqhkiG9w0BCQEWDXJlQHBheXBhbC5jb20CAQAwCQYFKw4DAhoFAKBdMBgGCSqGSIb3DQEJAzELBgkqhkiG9w0BBwEwHAYJKoZIhvcNAQkFMQ8XDTA3MDUxMzIyNTMyOVowIwYJKoZIhvcNAQkEMRYEFBBGUKdhSeftct7m1/njkKX/AAy5MA0GCSqGSIb3DQEBAQUABIGAT9LMSg0BV1uyzsdNKTuHh8rN6bJqYMJK8Qr0PdFwlXGS4tvynJWq29jCW3m0d3sTciBw51HtGRE4GS2aOa8p5JotCRXbVdI+WK4X/BrmggAMbErLghZ2ALP6HTr/SbBFwbUMy4nuOLLMB5Mr1NvC8m+pFRdPzTiTnuIZHu7bFCU=-----END PKCS7----- " /> .. </div> <br /> <br /> <div style="text-align:center;"> <strong>BOOKING & MANAGEMENT:</strong><br /> <br /> <strong>David Israel Nunez</strong><br /> davidinunez@justincurfman.com<br /> 786.262.7666<br /> <br /> <strong>Justin Curfman</strong><br /> justin@justincurfman.com<br /><br /> </div> <br /> <br /> <br />

Members

Justin Curfman, Bradley Claborn, Danny Hunt

Influences

The Cure,Bauhaus,The Smiths,Siouxsie and the Banshees,The Chameleons

Sounds Like

The Cure,Bauhaus,The Smiths,Siouxsie and the Banshees,The Chameleons
No recent updates in this category.
Why not...
Bio:
Feeding Fingers is a dark indie/post-punk trio founded in 2006 in Atlanta, Georgia by international award-winning animator/multi-media artist, Justin Curfman begin_of_the_skype_highlighting     end_of_the_skype_highlighting (vocals/keys/guitars). Along with Todd Caras (bass) and Danny Hunt (drums), Feeding Fingers recorded their first 10-track demo, which found its way to Gavin Frederick of Stickfigure Records, who immediately became interested in signing the band.
Feeding Fingers' first full-length debut album
Wound In Wall
was released in 2007 through Stickfigure Records and Curfman's media company, Tephramedia. The album found an audience in European and Asian countries, receiving rave reviews and comparisons to bands like Echo & The Bunnymen, The Cure and Bauhaus.
In 2009, the band released their follow-up album,
Baby Teeth
. This album was met with great response from fans and helped the band find an audience in their homeland through U.S. college radio stations. The album also received numerous chart recognitions, including Top 100 Alternative in Portugal. Shortly after the recording of
Baby Teeth
, Todd Caras left the band and was replaced with Kris Anderson.
Feeding Fingers have just returned from their first European tour, sharing the stage in Rome with EBM legends, Nitzer Ebb. Feeding Fingers announced the release of two albums in 2010:
Anything But Water
, the band's first live album, which is set to be released digitally on May 11 and the band's third studio album,
Detach Me From My Head
, which will be released on September 28.
PRE-ORDER NOW! Shipping September 28, 2010! Get the title track MP3 FREE!
Feeding Fingers: "Detach Me From My Head"
$11.99 (plus $2.99 s/h Worldwide)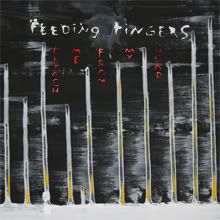 Pre-Order Here
1. Detach Me From My Head
2. I Am A Brutal Little Boy
3. My Imagined House
4. Asleep on Softened Fists
5. Vestigial Life
6. One Year
7. This World Starves for Lonely Girls
8. I Promise to Build You a Machine
9. All of My Prisons
10. Unfinished Stories
11. The Stupid Things We Did
Feeding Fingers: "Anything but Water" (Live Album - Digital Release) - $8.99

Amazon.com
iTunes
Feeding Fingers: "Baby Teeth" - $11.99 (plus $2.00 s/h)
iTunes
Feeding Fingers: "Wound in Wall" - $9.99 (plus $2.00 s/h)
iTunes
.. ..
..BOOKING & MANAGEMENT:..

David Israel Nunez
davidinunez@yahoo.com
786.262.7666

Justin Curfman
justin@justincurfman.com
phone: 770-317-5439 begin_of_the_skype_highlighting              770-317-5439      end_of_the_skype_highlighting


..DISTRIBUTION:..

Gavin Frederick
info@stickfiguredistro.com

.. .. ..
Member Since:
July 19, 2006
Members:
Justin Curfman
Vocals/Guitar/Bass/Keys

Kris Anderson
Bass/Keys

Danny Hunt
Percussion

Influences:
Feeding Fingers t-shirts are professionally silk-screened by Def-Star and available in all sizes.
.. .. ..
.. ..
..
Order a Feeding Fingers t-shirt and you will get two FREE Feeding Fingers buttons, designed by Steven Lapcevic of
Anomalyville.com
.
Sounds Like:
"... I suspect that 99% of you will adore this album ("Baby Teeth")..."
- MICK MERCER (UK)
"... otherworldly, angst-ridden, haunting..."
- Coyote J. (legendary host of "The Edge Radio" WRZZ 99.5FM - USA)
"... this band is an interesting discovery... (Feeding Fingers) excels in the composition of quiet, melancholic new-wave tracks... A deep, melancholic mood hangs over the songs... This is the kind of music you had better avoid when having a bad day..."
-Side-Line Music Magazine (Brussels)
"...a true revelation to the ears of the undersigned... (Feeding Fingers) is at the top of the new post-punk from the States that combines tribal Batcave old-school, synthetic minimalism and'80s new wave pop... this band combines the DNA of Blood & Roses, Einsturzende Neubatuen and The Killers ..."
- Erba della Strega (Italy)
"... What counts is the ability to stir the senses and Feeding Fingers does that in a somber way... in the simplicity lies much of the beauty..."
- Gothtronic (Netherlands)
"... this album firmly places Feeding Fingers in a multi-talented niche of their own... evokes, like none other, the authentic and classic sounds that smacks of post-punk greatness..."
- Fiend Magazine (Australia)
"...Baby Teeth is an honorable effort to appease those of us who like to have a great time feeling miserable..."
-Evil Sponge (USA)
"... Once you've inserted 'Baby Teeth' in your player you can say goodbye to the normal world for a little while. The feeling I had when listening through this record was that the music of FEEDING FINGERS in some way is disconnected from reality. It evokes own, at times surreal environments... It really is music that puts a spell on you."
- Sebastian Huhn - Reflections of Darkness (Germany)
"... darkly romantic... full of throbbing, single-note bass, alternately soaring and screeching guitar lines, icy-cold drum lines and vocals which are a mourning wail... I like this a whole hell of a lot."
-Gordon Lamb (Flagpole Magazine - USA)
"... (Feeding Fingers) sound like the contemporary masters of their genre... "
- Dark Entries (Germany)
"Here lies a noble attempt at traditional gothic beauty... Curfman's mournful cries echo in the distance, veiled in a gauze of reverb... standout track "Fireflies Make Us Sick" might as well have been written by Depeche Mode themselves... unusual versatility... Curfman proves he can wallow with the best of them or move you to the dance floor."
-Michelle Gilzenrat (Performer Magazine - USA)
"... distant and shadowy, yet not necessarily pop-averse... makes for perfect listening during post-midnight hours...
- Stomp & Stammer Music Magazine (USA)
"... finally a band that has achieved the unachievable: bringing us back to the sound of the early 80's... I literally had goosebumps when I heard his voice... Justin Curfman gives everything he's got and it's so beautiful I almost have to cry..."
- Linda Schenkel & Michiel Klompen (MusicMeter - Netherlands)
"... Wound In Wall is a very addictive album..."
- Bat-Cave (Poland)
"...gives us that dim, melancholy feeling our inner '80s teenagers desire." -
- Babble & Beat Magazine (USA)
"If you fancy turning The Cure's "Seventeen Seconds", "Pornography" and "Faith" into a quartet, look no further than Feeding Fingers' "Wound In Wall".
- EvilSponge (USA)
"... resonates with a tragic and ethereal beauty, painting complex pictures of desolation..."
- Don't Panic (Singapore)
"... the suffering and charismatic voice of Justin Curfman, who has a unique way of phrasing songs, gives the band its emotional, characteristic and individual touch..."
- PromoFabrik (Germany)
"... a decadent marriage of pessimism united with depressed and loveable melancholy... with a romantic sense of emotional abandonment and of beauty..."
- Darkroom Magazine (Italy)
Stickfigure Records
info@stickfigurerecordings.com
PO Box 55462
Atlanta, GA 30308
USA
http://www.stickfigurerecordings.com
http://www.stickfiguredistro.com
Record Label:
Tephramedia & Stickfigure Distribution