Play

Play Next

Add to queue
Play

Play Next

Add to queue

94 plays

Play

Play Next

Add to queue

2,458 plays

Play

Play Next

Add to queue

151 plays

Play

Play Next

Add to queue

84 plays

Play

Play Next

Add to queue

183 plays
Genre: Electro / Pop / Rock

Location Layton/Provo, Utah, US

Profile Views: 37998

Last Login: 3/30/2013

Member Since 5/4/2009

Website theglassgentlemen.bandcamp.com

Type of Label Unsigned

Bio

...... .. .. .. .. .. .. .. ...... ...... ...... .. - - - - - - - - - - - - - - - - - - - - - - - - - .. .. We have been around barely a year, but already played with the following great and amazing artists: Youth Group, Innerpartysystem, Company Of Thieves, Neon Trees. .. .. What people are saying about The Glass Gentlemen: .. .. "A very ambitious, big rock sound with cool breaks of beauty surrounding" .. .. "The Glass Gentlemen's 'Ocean Stars' is another example of this indie band's talent and ability. Brad and Brad continue to crank out viable, relevant music, even if most of the world has no idea who they are." .. .. "Jubuliant" .. .. "Very powerful and emotional live band" .. .. "The first question I have is... Are you guys signed? If not, why?" .. .. "Excellent, thougtful lyrics. Every song has a great pop hook and the music is both detailed, and interesting" .. .. "Emotional, powerful music, alongside a powerful voice and great words" .. .. This isn't just sound to us... This is life. All the frustration, anger, beauty, sadness and happiness, all poured into chords, drums, basslines, keyboards and vocal chords. This is art, this has life, this is real. We have both been playing music for over 10 years of our young lifes and together, we're just getting started. WE NEED YOU! Not just as listeners, but as participants and partners. We don't just want your ears... We want your art, your ideas, your clothing, your words, your co-operation, your excitedness, and your PARTICIPATION! Our shows aren't just shows... They are a chance for us to release and you to release, for us to party, to meet new people and share all of our ideas. We encourage you to bring anything you have made that you want to show us and others, and we encourage free spirits who aren't afraid to dance and sing and move and be themselves. That's what this is all about and nothing else. .. .. Review of us live by Never Before: One word for this group. Amazing. Sheer talent. Their Vocalist is the most emotional singer I have ever clapped ears on. Their live show was so full of emotion. The guitar lines held a melodic tune that kept you wanting more. Technically, a pop/techno group, I would call it an Indie sound. Sounds like Aha! gone Indie. .. .. .. .. ........ .. .. .. .. .. .... ...... .. ...... .. ...... .. ...... .. .. .. ........Copy this code to your website to display this banner!.... ........Copy this code to your website to display this banner!.... .. .. Enjoy a live vid, won't you? .. .. ......Lights Out...... .. .. .. .. .. ......The Glass Gentlemen.. | ..MySpace Music Videos....

Members

Blue: .. .. .. .. .. Brad: .. .. .. ..

Influences

Jimmy Eat World, Michael Jackson, Far, Mineral, Sunny Day Real Estate, The Postal Service, Blink 182, The Gloria Record, Sigur Ros, Coldplay, Kanye West, Wu Tang Clan, Weezer, Timbaland, The Get Up Kids, Daft Punk, Moby, Damien Rice, Quicksand.

Sounds Like
No recent updates in this category.
Why not...
01:02 | 54 plays | Jul 7 2010
Bio:
..
- - - - - - - - - - - - - - - - - - - - - - - - -
We have been around barely a year, but already played with the following great and amazing artists: Youth Group, Innerpartysystem, Company Of Thieves, Neon Trees.
What people are saying about The Glass Gentlemen:
"A very ambitious, big rock sound with cool breaks of beauty surrounding"
"The Glass Gentlemen's 'Ocean Stars' is another example of this indie band's talent and ability. Brad and Brad continue to crank out viable, relevant music, even if most of the world has no idea who they are."
"Jubuliant"
"Very powerful and emotional live band"
"The first question I have is... Are you guys signed? If not, why?"
"Excellent, thougtful lyrics. Every song has a great pop hook and the music is both detailed, and interesting"
"Emotional, powerful music, alongside a powerful voice and great words"
This isn't just sound to us... This is life. All the frustration, anger, beauty, sadness and happiness, all poured into chords, drums, basslines, keyboards and vocal chords. This is art, this has life, this is real. We have both been playing music for over 10 years of our young lifes and together, we're just getting started. WE NEED YOU! Not just as listeners, but as participants and partners. We don't just want your ears... We want your art, your ideas, your clothing, your words, your co-operation, your excitedness, and your PARTICIPATION! Our shows aren't just shows... They are a chance for us to release and you to release, for us to party, to meet new people and share all of our ideas. We encourage you to bring anything you have made that you want to show us and others, and we encourage free spirits who aren't afraid to dance and sing and move and be themselves. That's what this is all about and nothing else.
Review of us live by Never Before: One word for this group. Amazing. Sheer talent. Their Vocalist is the most emotional singer I have ever clapped ears on. Their live show was so full of emotion. The guitar lines held a melodic tune that kept you wanting more. Technically, a pop/techno group, I would call it an Indie sound. Sounds like Aha! gone Indie.
..
Member Since:
May 04, 2009
Members:
Blue: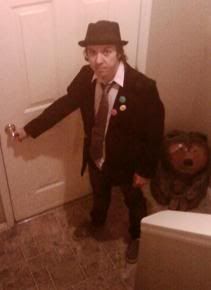 Brad: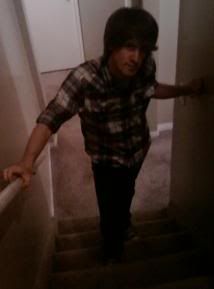 Influences:
Jimmy Eat World, Michael Jackson, Far, Mineral, Sunny Day Real Estate, The Postal Service, Blink 182, The Gloria Record, Sigur Ros, Coldplay, Kanye West, Wu Tang Clan, Weezer, Timbaland, The Get Up Kids, Daft Punk, Moby, Damien Rice, Quicksand.