Hardy Show hasn't earned any badges yet... have you?
General

Music

....

LIST OF FAQ'S



..THE HARDY SHOW FAQ..

Do I have to pay to view the Hardy Show episodes?
A: Yes you must pay to be able to view all our episodes...

How do I join The Hardy Show to view the episodes?
A: To join and become a paying member to view all our episodes all you have to do is click where is says "not a member yet? join today" on the right hand side of the main website. Fill out all the information, make your payment through PayPal and you are ready to go. (This membership should also give you access to our lounge/message board)

How much does it cost to be a member?
A: It costs $4.99 for our Platnium, $9.99 for our Ultimate. It is recurring payments and will come out once a month on your PayPal account. You can cancel at any time. We also have a PPV section that is $3.99 for 24 hours.

What is the difference between Platnium, Ultimate and the Pay Per View memberships?
A: Platnium membership is the last 3 current seasons (meaning the current season we are on plus the 2 before that). Ultimate membership is access to all b-rolls and all seasons we have available. Pay Per View is a 24 hour membership to the special episodes we put in that section.
Is PayPal the only form of payment to view the show?
A: Yes. PayPal is the only payment system we accept.

How do I log in to view the show?
A: The fastest and easiest way to log in and view the area you have purchased is to click on the button on the right hand side of the main site that you have purchased. For example if you have the Ultimate package click on Ultimate. It will then take you to a log in area, put in your log in information and click log in. The videos will then show up for you..

When can we expect to see new episodes of the the Hardy Show available on the site?
A:New episodes of the Hardy Show are usually made available on the site every two weeks.

When do PPV episodes come out to view?
A:At the moment we have no set time as to when these come out. They will vary and we will post about them when they are available.
I am a free member and want to upgrade to paying membership or once had a paying membership and would like to view the show again. How do I handle that?
A: Go to the main site and click on "Members" on the left hand side of the main site. You then have to log in. Once you log in you will see your information. Go to the drop down box and choose to order the Hardy Show. Then click on the "order" button. You will then be redirected to the PayPal page to log in and make payment.

I'm signed up, I've paid but it will not let me log in. What do I do?
A: We always suggest that your browser is update to date. Be sure to clear out all your cookies and your history on your browser. Close it out and then open it again. Then try to log in again. This should help for all problems like this.

I'm logged in and an episode won't play. What can be done?
A: If this happens please let us know about this. Email Tamran and tell her which episode is not working properly. Also be sure that your flash player is update.

How do I cancel my membership?
A: If you decide to cancel go to the main website and on the left hand side click on "Members". You will then be asked to log in. Once you are logged in you will be taken to your information page. You will see where your payments have been made and the dates. Under the most recent payment you will see the word "CANCEL", click on that and it will redirect you to log into PayPal to finish the cancellation process.

If you still need further help contact Tamran on this matter.

What is the free (Gold) membership?
A: The free membership or Gold Membership is so that you can access our message board. Just click on "not a member yet? join today" on the right hand side of the site and choose "Gold Membership" on the form and fill in your information. You should get an email to confirm signing up. Be sure to check your junk/bulk folder for this email. Sometimes the mail server will send it there.

I'm a free member but I can't log in. What do I do?
A: In order to log into the message board you CANNOT log in at the top of the page. That area is for our paying members only. To log into the board click on "lounge" scroll to the bottom of the page and log in. (Please make sure that your browser is up to date and that you clear out all your cookies and history)

Who do I contact if I have any problems or questions?
A: Please contact Tamran at tam.ths@hotmail.com


Movies

....

..THE HARDY SHOW SHOP FAQ

..

Who can order the Hardy Show DVD's A:

Anyone, from anywhere can place an order for our DVD's.

I do not live in the USA. Will the DVD's play on my player? A:

Yes. Our DVD's are region free.

Is PayPal the only form of payment you accept? A:

Yes. However you do not have to have a PayPal account to place an order. After you fill out all your information you will have to choose PayPal as the payment method. Click on "place order" that will then ask if you want to continue and click on "continue". That will then take you to the PayPal page. You will then be able to log in to your PayPal account if you have one OR on the left hand side of the screen you can fill out all your credit card information and then click "review order and continue".

Will you have any of my credit card information? A:

No. We will not have any of your credit card information. If you have a PayPal account we cannot acces that information since it's your personal account. If you use just your credit card,

we still do not have that information. The only informtaion that we have is your name

, address and email address.

I've ordered before. Do I have to make a whole new account? A:

No you do not have to sign up again. Just log in using the information you signed up with the last time you place an order.

I placed the items I want in my cart, signed in to pay and went to the PayPal page but changed my mind. Can I log back in and submit the order again? A:

No. Once you have gone to the PayPal page you can no longer log in and edit your cart. You will have to make a new order. You will only be charged when you've placed your billing information in (or logged into your paypal account) and gotten a confirmtion email saying payment was made.

How do I change some information on my account? A:

Log into your account and at the top you will see "My Account", click on that and from there you will see all the items there to click on to change certain information.

How long does it take to get my order? A:

It all depends on when the order was placed. If an order is placed late Friday or over the weekend it will not be sent to our shipping company until Monday. During the week orders are normally sent in daily. From there you should receive it within a week. Please remember we need time to get the orders sent in to our shipment company and them to process the order to be sent out.

What if I have a problem with a DVD? A:

We surely hope that this never happens. However if you do run into a problem please contact Tamran at

tam.ths@hotmail.com

with your name,

shipping address

, order number and what the problem is. She will do the best she can to get the problem resolved.

Television

Books

....

THE HARDY SHOW VIDEOS:



..

Highlight and copy the above code to grab our YouTube Video Player

Heroes

....

Click banners or links below to visit site








































THE HARDY SHOW has 46174 friends.
About me:
CURRENT ITEMS FOR SALE:




Ladies and Gentlemen The Hardy Show proudly presents to you the latest addition to THS DVD family, Season 7! Watch all your favorite characters- Matt, Jeff, Shannon, Kimo, Itchweeed, Beth and many more in the most entertaining DVD release from The Hardy Show yet. Join the crew from BCR as the good times continue to roll on!

Get BONES, Vintage Matches and The Best Of The Hardy Show all for one great price!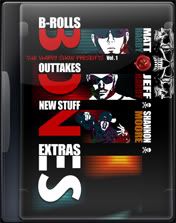 The BONES DVD contains all your favorite episodes that haven't been released yet, as well as an hour long "can't stop laughing" outtake reel,and also 6 special extra episodes, including "Thursday Night"and 4 season one LOST episodes! This is a must have for any Hardy fan-especially at this incredible price!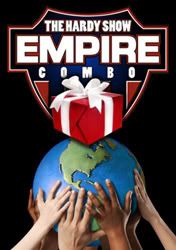 Get the first 6 seasons, BONES, Vintage Matches & The Best Of The Hardy Show DVD in one affordable purchase.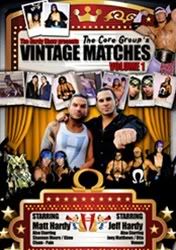 Watch Matt, Jeff, and Shannon, as well as their alter-egos of Surge, Wolverine, Willow, and Kid Dynamo, compete in matches that have never been released publicly. An absolutely MUST-HAVE for a true Hardy fan!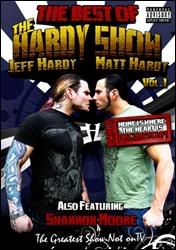 Relive all the greatest moments and episodes of The Hardy Show, all jam-packed into one amazing DVD! The Best Of The Hardy Show DVD is also the ONLY place you'll find the soul-touching, tear-jerking, 30 minute documentary about Jeff and Beth's tragedy, "Home Is Where The Heart Is."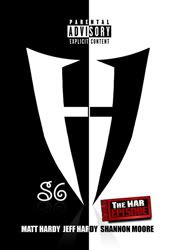 Join The Core Group on the wild roller-coaster known as Season 6, it's a non-stop ride full of thrills and enjoyment. Tune into The Greatest Show NOT on TV, but available right now on DVD!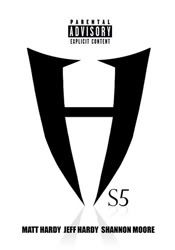 You'll see it all on 'The Greatest Show NOT on TV'-from Mustard to Memories, Fires to Fish, Lakes to Legends, Y?Light Zones, Itchweeed, and more!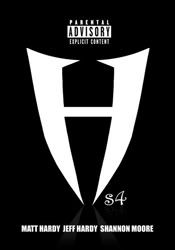 The Core Group of Matt, Jeff and Shannon is building an empire one season at a time, and the fourth installment of 'The Greatest Show NOT on TV' will leave you hungry for more…as always!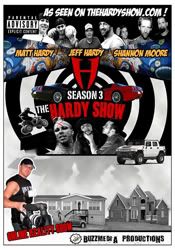 Diving into its third season, 'The Greatest Show NOT on TV' holds nothing back as Matt & Jeff Hardy, along with Shannon Moore, take no prisoners down in Cameron, NC, and present a full scale riot of humor and imagination!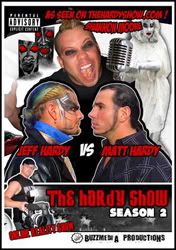 Matt and Jeff Hardy, along with longtime friend Shannon Moore join producer Andrew Wright once again and take viewers on a ride through their everyday lives in North Carolina.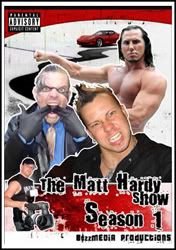 The Matt Hardy Show (the one that started it all) will take viewers deep into Cameron, NC, where the only things more amazing than the cast of characters are the hilarious(and dangerous) situations they get themselves into!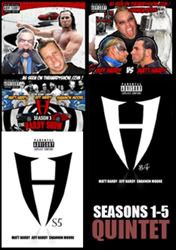 Become a proud owner of all 5 seasons of THS in this amazing QUINTET package!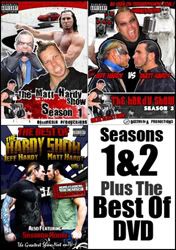 Get the Season1 & 2 along with the Best of The Hardy Show in one great package. A great starter item!
Who I'd like to meet:

BASIC INFORMATION:


Welcome to the myspace for The Hardy Show! Here you can find graphic banners to place on your own page or anywhere on the net to help support the show. You also can take any of the videos that we post and place them on your page. We have a nice player here on the page with videos we have on the official Hardy Show youtube account. After all this is the greatest show not on tv...yet! This is the myspace page for the official website
TheHardyShow.com
. You can join the site and watch episodes from all seasons as well any future seasons. The website is also where you purchase all the dvd's that are available. To view the website and join or to purchase the dvd's [
CLICK HERE
] You will not be disappointed! Matt and Jeff along with their friends always entertain! Regulars on the show include Shannon Moore, Beth Hardy (Jeff's wife),"The Legend" Claude G (Matt and Jeff's father), Lucas and all of their long time friends, such as Shane Helms and Marty Garner.
You are more than welcome to send a message to ask us about the show, the dvd's or the forum that can be found on the main site. We can't get you an autograph or a phone call from Matt or Jeff, so please don't email us and ask us to do those things. If you want Matt and Jeff for signings or things like that we cannot help you with those matters. We are here to answer question about the show and for the show or anything that pertains to the show! Matt and Jeff
..do not
.. read any messages here. Tamran will be the main person answering emails on this account. Tamran or Zombie will post most of the bulletins and blogs here. Matt will and does from time to time post a bulletin or blog.
You are more than welcome to contact Tamran at her Customer Service email address
tam.ths@hotmail.com
for ALL things Hardy Show!
Here is a list to a few official myspace pages. Jeff Hardy
..

does not
.. have an official myspace page! The only one he is remotely related to is Itchweeed, which is based on a character he plays on the Hardy Show!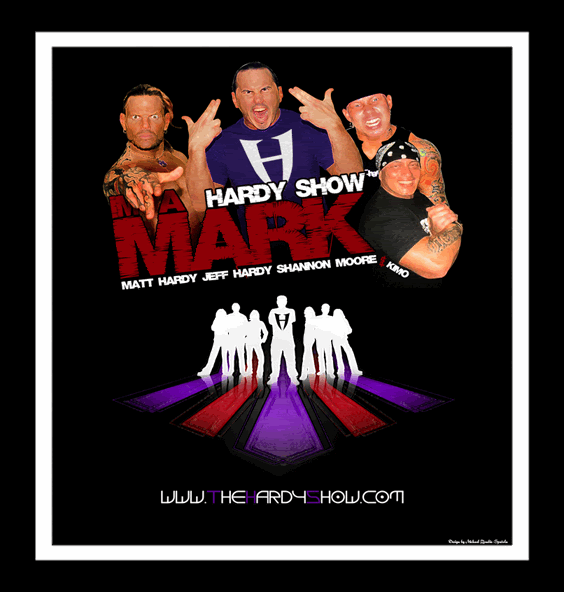 ..
Highlight and copy the above code & paste on your page
Status:

Single

Zodiac Sign:

Capricorn