Play

Play Next

Add to queue
Play

Play Next

Add to queue

1,030 plays

Play

Play Next

Add to queue

568 plays

Play

Play Next

Add to queue

696 plays

Play

Play Next

Add to queue

5,749 plays
Genre: Breakbeat / Hip Hop / Turntablism

Location Saskatoon, CA

Profile Views: 42270

Last Login: 10/1/2010

Member Since 5/26/2005

Record Label the Intelligentlemen

Type of Label Unsigned

Bio

..The Intelligentlemen have returned with a follow up to their sophomore, self-titled album; a 7" Picture-Vinyl/Digital Download EP titled "Face Value". This hard-hitting EP boasts production from Factor and Beatsme, as well as original artwork from their former Producer/DJ, Matthew Feyld. This Picture 7 inch features the two singles "Wasted Years" and "Fake" and comes with a digital download card featuring 3 additional tracks. Now available in stores; this prelude to the Gentlemen's upcoming fourth full length album is limited to 500 copies, and was made possible by the Saskatchewan Arts Board. .. ..Since the Release of their second album, the Gentlemen have been busy in the studio and on the stage; both working on new material, as well as their live show. Over the past 2 years since their last release, the Gentlemen have shared the stage with a number of Canadians artists like: Josh Martinez, Noah 23, D-Sisive & Sweatshop Union; as well as American artists like: Techn9ne, Gift of Gab, Pigeon John, LA Symphony, and more. The Gentlemen have begun hitting the road in promotion of this new EP, and are currently planning another westcoast tour for late Summer. Expect their fourth full-length album to drop in early 2011, with an impressive guest feature from Epic, and production from Muneshine, Factor, Dirty Sample, Maki and more. .. ..Albums:.. ..The Intelligentlemen - At Last LP (Out of Print).. ...... ..Released September 2005, NEKIND Entertainment.. ..-------.. ..The Intelligentlemen.. ...... ..Released October 2007, NEKIND Entertainment.. ..-------.. ..The Intelligentlemen - Face Value EP.. ...... ..Released May 2010 on 7" Picture Vinyl / Digital Download.. ..-------.. ..Features:.. .. .. ..Nolto - Red All Over (2006 Sideroad Records) Track: "Forum".... .. .. ..Kay The Aquanaut - Nickelodeon Ethics (2010 Sideroad Records) Track: "Paris of the Prairies" .. ..-------.. ..Album's available online at www.phonographique.com .. ..or at any of the following retailers:.. ..Saskatoon:.. ..-Ninetimes.. ..-Vinyl Exchange.. ..-Vinyl Diner.. ..-Undergrind.. ..Calgary:.. ..-Megatunes.. ..Vancouver:.. ..-Beatstreet.. .. ..........Myspace Layouts.. - ..Myspace Editor....

Members

..Rewind/Polty/Gescha/DJ Known..

Influences

Sounds Like
No recent updates in this category.
Why not...
Bio:
..The Intelligentlemen have returned with a follow up to their sophomore, self-titled album; a 7" Picture-Vinyl/Digital Download EP titled "Face Value". This hard-hitting EP boasts production from Factor and Beatsme, as well as original artwork from their former Producer/DJ, Matthew Feyld. This Picture 7 inch features the two singles "Wasted Years" and "Fake" and comes with a digital download card featuring 3 additional tracks. Now available in stores; this prelude to the Gentlemen's upcoming fourth full length album is limited to 500 copies, and was made possible by the Saskatchewan Arts Board. .. ..Since the Release of their second album, the Gentlemen have been busy in the studio and on the stage; both working on new material, as well as their live show. Over the past 2 years since their last release, the Gentlemen have shared the stage with a number of Canadians artists like: Josh Martinez, Noah 23, D-Sisive & Sweatshop Union; as well as American artists like: Techn9ne, Gift of Gab, Pigeon John, LA Symphony, and more. The Gentlemen have begun hitting the road in promotion of this new EP, and are currently planning another westcoast tour for late Summer. Expect their fourth full-length album to drop in early 2011, with an impressive guest feature from Epic, and production from Muneshine, Factor, Dirty Sample, Maki and more. .. ..Albums:..
The Intelligentlemen - At Last LP (Out of Print)
..Released September 2005, NEKIND Entertainment.. ..-------.. ..The Intelligentlemen..
..Released October 2007, NEKIND Entertainment.. ..-------.. ..The Intelligentlemen - Face Value EP..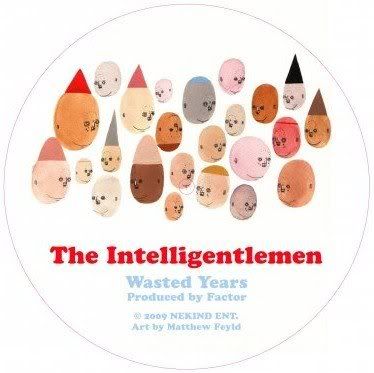 ..Released May 2010 on 7" Picture Vinyl / Digital Download.. ..-------.. ..Features:.. .. .. ..Nolto - Red All Over (2006 Sideroad Records) Track: "Forum".... .. .. ..Kay The Aquanaut - Nickelodeon Ethics (2010 Sideroad Records) Track: "Paris of the Prairies" .. ..-------..
Album's available online at www.phonographique.com
..or at any of the following retailers:..
Saskatoon:
-Ninetimes
-Vinyl Exchange
-Vinyl Diner
-Undergrind
..Calgary:.. ..-Megatunes.. ..Vancouver:.. ..-Beatstreet.. ..
Member Since:
May 26, 2005
Members:
..Rewind/Polty/Gescha/DJ Known..
Record Label:
the Intelligentlemen