Play

Play Next

Add to queue
Genre: Rock

Location Lower Allston, Massachusetts, US

Profile Views: 44277

Last Login: 11/17/2010

Member Since 6/21/2007

Type of Label Unsigned

Bio

.. .. .. .. .. .. .. .... .......... .............. The beer-drenched fetus of The L.A. Mob was conceived inside the walls of 20 Alcott Street, the most notorious party house within the boundaries of (Lower) Allston, Massachusetts. Between the endless supply of loose women and cheap drugs, Alcott took away a whole lot more then it offered to give..... Roommates Mike "Fitzy" Fitzmaurice and James Bustamante began constructing songs in the Alcott Street basement. A dark, dingy hell-hole that makes a Ukrainian prison seem like a weekend on Cape Cod. In the summer of 2007, they spent time writing rock songs surrounded by filth, mold and the stale remains of whatever the house cat ingested the day before. The songs that survived this atmosphere fully embody the grotesque underbelly of the Boston music scene..... With songs in tow, Fitzy and James eventually moved from Alcott Street and set out to find like-minded heathens who shared their need to rock and party (not necessarily in that order). The search for a voice to front the band was the first order of business and thus began a failure parade of no-talent hacks who filed in and out of their new jam spot. Disgruntled, they stayed diligent in their search when finally, they were contacted by a loud mouth, arrogant prick of a singer named James Cipollini who called himself Sippo....he was exactly what they were in search of and they liked him immediately..... The L.A. Mob is a band for anybody who has sold their soul for rock and roll. When you're given the ability to express your life experiences through music, things like careers and anything representing a normal existence goes right out the beer stained window. This band was created from the ashes of a town that hasn't yet burned down, but should most certainly be condemned. They're in the business of living and conveying the perils of rock and roll decadence and intend on carrying the flag for all it represents and everything it consumes. There's an attitude to their brand of rock, a swagger...riot-inducing choruses built around raucous guitar riffs that will pierce through your body like a swig of Jack Daniels at eight in the morning..... Do not be the one who has to hear about this band second-hand. They'll be coming to blow the doors off your local rock establishment very soon, and if your girl is extremely excited to come to the show, chances are your relationship just wasn't meant to be anyway....... .. ............ ...... ...... ...... .... ...... ................The L.A. Mob proudly uses:.... ..........Follow The L.A. Mob on Twitter and Facebook:...... ...... ...... .. ..

Members

....Sippo.. - Vocals.. .... ....Fitzy.. - Guitar.. .... ....James.. - Drums.. ...... ......Email: ....thelamobbooking@gmail.com.. ....

Influences

Sounds Like
No recent updates in this category.
Why not...
Bio:




The beer-drenched fetus of The L.A. Mob was conceived inside the walls of 20 Alcott Street, the most notorious party house within the boundaries of (Lower) Allston, Massachusetts. Between the endless supply of loose women and cheap drugs, Alcott took away a whole lot more then it offered to give.

Roommates Mike "Fitzy" Fitzmaurice and James Bustamante began constructing songs in the Alcott Street basement. A dark, dingy hell-hole that makes a Ukrainian prison seem like a weekend on Cape Cod. In the summer of 2007, they spent time writing rock songs surrounded by filth, mold and the stale remains of whatever the house cat ingested the day before. The songs that survived this atmosphere fully embody the grotesque underbelly of the Boston music scene.

With songs in tow, Fitzy and James eventually moved from Alcott Street and set out to find like-minded heathens who shared their need to rock and party (not necessarily in that order). The search for a voice to front the band was the first order of business and thus began a failure parade of no-talent hacks who filed in and out of their new jam spot. Disgruntled, they stayed diligent in their search when finally, they were contacted by a loud mouth, arrogant prick of a singer named James Cipollini who called himself Sippo....he was exactly what they were in search of and they liked him immediately.

The L.A. Mob is a band for anybody who has sold their soul for rock and roll. When you're given the ability to express your life experiences through music, things like careers and anything representing a normal existence goes right out the beer stained window. This band was created from the ashes of a town that hasn't yet burned down, but should most certainly be condemned. They're in the business of living and conveying the perils of rock and roll decadence and intend on carrying the flag for all it represents and everything it consumes. There's an attitude to their brand of rock, a swagger...riot-inducing choruses built around raucous guitar riffs that will pierce through your body like a swig of Jack Daniels at eight in the morning.

Do not be the one who has to hear about this band second-hand. They'll be coming to blow the doors off your local rock establishment very soon, and if your girl is extremely excited to come to the show, chances are your relationship just wasn't meant to be anyway.
Member Since:
June 21, 2007
Members:
Sippo
- Vocals
Fitzy
- Guitar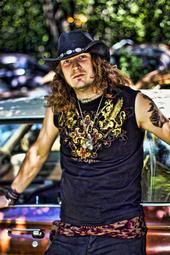 James
- Drums
Email:
thelamobbooking@gmail.com