Play

Play Next

Add to queue
Play

Play Next

Add to queue

265 plays

Play

Play Next

Add to queue

2,634 plays

Play

Play Next

Add to queue

394 plays
Genre: Blues / Folk / Hip Hop

Location LOS ANGELES, California, US

Profile Views: 14398

Last Login: 11/28/2009

Member Since 9/25/2006

Record Label Worker B/VJC Recordings

Type of Label Indie

Bio

.. .. ....Add to friends.... ....Send Message.... .. .. .. .. .. .. .. ......The Lone Wolf (Album Trailer).. from ..Sum Patten.. on ..Vimeo.......The long-awaited collaboration album "Sum and Belief are.....The Lone Wolf" is HERE! Worker B Records / TheGoodLook.Net present a bluesy, dusty, personal and testimonial music journal......Now vailable at all major online retailers and ....www.myspace.com/thelonewolfmusic.. .. ..THE LONE WOLF.. ..2009, The Year of The Wolf. ..LINK.. - ..LINK.. - ..LINK.. .. ..A Video Trailer for The Album.. ..And here we are..... .. It's been a long road.....through all the blood, sweat and tears you can think up. This album we've released is way more than just two dudes who were cool and decided to collab on some music. It's a testament to willpower. We busted our asses and ran over this project with a fine-toothed comb for many years to try and create the most honest work of art we could and it sounds like it. We can only hope you have as much fun listening to it as we did making it. You can buy the album here directly from our MySpace page or by clicking the iTunes logo below. And if you already have it, please help us spread the word. Thanks for your support!.... .. ...... .. .. .. ...... ...... Imagine a creature built from the fabric of the blues, and inspired by immortal storytellers like Johnny Cash, Willie Nelson or Howlin' Wolf. Picture that creature being equal parts Southern MC and West Coast producer… then throw in a hodge-podge of folktales, raw yarns, lush beats, harmonica, whistles, scat, humming, shakes, snaps and anything that can be mustered to tell the story. That creature is The Lone Wolf, an alliance between seasoned beat-smith Belief and rising creative powerhouse Sum (formerly known as SumKid or SumKid Majere), both of whom have built solid reputations for shaking up their respective crafts. Belief's 2006 debut LP "Dedication" launched him into the arena of sought-after producers after rave reviews and over a decade of crafting his impressive resume of production credits and collaborations. Jean Grae, El-P, and A.G. list among the indie-rap elite that have been laced by the L.A.-raised, NY-based beat craftsman. His sound became an unmistakable stew of soul, electro and New York grit, giving him standout status on any project he touched. He followed with 2008's release of his free "mix-album", Let it Breathe, a non-stop ride through his revolving cast of beats, remixes, vocal chops and original songs. Meanwhile, Sum built a ravenously loyal cult following with mega-creative releases like the BatMilk EP in 2005, his critically-acclaimed 2006 debut LP The Lil Folk, and 2008's Halloween opera, The Nobody Hole all of which have cemented him as not only a mammoth lyricist, but an inventive writer with endless potential. The Lone Wolf's chemistry goes beyond the two Aquarians having a birthday only a day apart, and was cemented when they recorded the hallmark song "September". The Lone Wolf began immediate work on a project which took every bit of four years to simmer to perfection. Now, with a project breaking rules on the directions an MC and producer collaboration can take, The Lone Wolf's self-titled first project is finally ready to take flight. From the eerie tales of slavery and love lost on "Breakfast on the Moon", to the soon-to-be-classic zen haiku of "Sweet Potato Pie", Sum and Belief explore dusty corners of the hip-hop psyche with a relentless soul-baring ethic. The project invites the listener to pull up a chair on the porch, pour a tall glass of lemonade and watch real-life roll out in front of them like a walk on the countryside. Personable, earthy and imaginative beyond compare, The Lone Wolf offers the simple promise of no-frills storytelling over a backdrop of colorful music. To shake up words from the great Muddy Waters, the blues and hip-hop had a baby, and named it The Lone Wolf. For Press Inquiries Contact James at Dunn Deal PR: (310)666.5336 / james@dunndealpr.com / www.dunndealpr.com

Members

Sum Majere (VJC) and Belief. ...... ......

Influences

Sounds Like
No recent updates in this category.
Why not...
Bio:
Add to friends
Send Message
THE LONE WOLF
2009, The Year of The Wolf. ..LINK - ..LINK - ..LINK
A Video Trailer for The Album
And here we are...
It's been a long road.....through all the blood, sweat and tears you can think up. This album we've released is way more than just two dudes who were cool and decided to collab on some music. It's a testament to willpower. We busted our asses and ran over this project with a fine-toothed comb for many years to try and create the most honest work of art we could and it sounds like it. We can only hope you have as much fun listening to it as we did making it. You can buy the album here directly from our MySpace page or by clicking the iTunes logo below. And if you already have it, please help us spread the word. Thanks for your support!


.. ..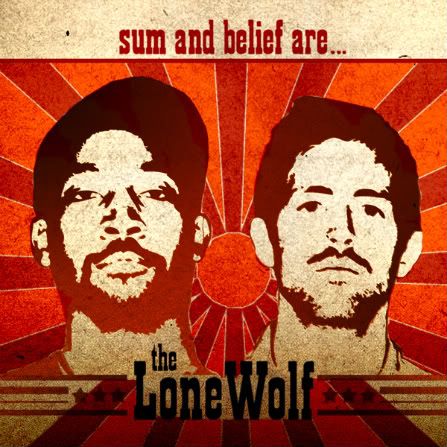 Imagine a creature built from the fabric of the blues, and inspired by immortal storytellers like Johnny Cash, Willie Nelson or Howlin' Wolf. Picture that creature being equal parts Southern MC and West Coast producer… then throw in a hodge-podge of folktales, raw yarns, lush beats, harmonica, whistles, scat, humming, shakes, snaps and anything that can be mustered to tell the story. That creature is The Lone Wolf, an alliance between seasoned beat-smith Belief and rising creative powerhouse Sum (formerly known as SumKid or SumKid Majere), both of whom have built solid reputations for shaking up their respective crafts. Belief's 2006 debut LP "Dedication" launched him into the arena of sought-after producers after rave reviews and over a decade of crafting his impressive resume of production credits and collaborations. Jean Grae, El-P, and A.G. list among the indie-rap elite that have been laced by the L.A.-raised, NY-based beat craftsman. His sound became an unmistakable stew of soul, electro and New York grit, giving him standout status on any project he touched. He followed with 2008's release of his free "mix-album", Let it Breathe, a non-stop ride through his revolving cast of beats, remixes, vocal chops and original songs. Meanwhile, Sum built a ravenously loyal cult following with mega-creative releases like the BatMilk EP in 2005, his critically-acclaimed 2006 debut LP The Lil Folk, and 2008's Halloween opera, The Nobody Hole all of which have cemented him as not only a mammoth lyricist, but an inventive writer with endless potential. The Lone Wolf's chemistry goes beyond the two Aquarians having a birthday only a day apart, and was cemented when they recorded the hallmark song "September". The Lone Wolf began immediate work on a project which took every bit of four years to simmer to perfection. Now, with a project breaking rules on the directions an MC and producer collaboration can take, The Lone Wolf's self-titled first project is finally ready to take flight. From the eerie tales of slavery and love lost on "Breakfast on the Moon", to the soon-to-be-classic zen haiku of "Sweet Potato Pie", Sum and Belief explore dusty corners of the hip-hop psyche with a relentless soul-baring ethic. The project invites the listener to pull up a chair on the porch, pour a tall glass of lemonade and watch real-life roll out in front of them like a walk on the countryside. Personable, earthy and imaginative beyond compare, The Lone Wolf offers the simple promise of no-frills storytelling over a backdrop of colorful music. To shake up words from the great Muddy Waters, the blues and hip-hop had a baby, and named it The Lone Wolf. For Press Inquiries Contact James at Dunn Deal PR: (310)666.5336 / james@dunndealpr.com /
www.dunndealpr.com
Member Since:
September 25, 2006
Record Label:
Worker B/VJC Recordings