Play

Play Next

Add to queue
Play

Play Next

Add to queue

1,319 plays

Play

Play Next

Add to queue

599 plays

Play

Play Next

Add to queue

245 plays
Genre: Gothic / Pop / Rock

Location HONOLULU, Hawaii, US

Profile Views: 53920

Last Login: 8/29/2009

Member Since 2/10/2006

Website www.malcognitas.net

Type of Label Major

Bio

.. .. Photography by Adam Funari .. .... Malcognita literally means your bad thoughts, your darkest side transformed anew. With a penchant for dark melodic songs that ride the fringes of disco and rock, the Malcognitas are raising the bar in the mostly punk dominated music scene in Hawaii. An experienced rhythm section led by drummer Jack Tawil and the overdriving bass lines by Lorenzo Trinidad provide a strong foundation for lead guitarist Yvonne Harada's rock and noise influenced riffs and lead singer Ara Laylo's somber landscaped melodies. Together these group of friends form a unique chemistry of rock that is inspired from the likes of Blondie, Joy Division, Glass Candy, and Bauhaus. .. .. .. What's your malcognita? .. .. .. .. Watch us on ......TRXTV!.......... .. .. .. .. .. .. .. .. ..

Members

.. .. ........ .... .. YVONNE HARADA - guitar.. ARA LAYLO - vocals.. JACK TAWIL - drums.. LORENZO TRINIDAD - bass.. ...... .. ...... ...... Photography by Adam Funari ...... ...... ...... ...... ...... ...... .... .... .... .... .... .... .. .. .. The Malcognitas: Chemistry & Camaraderie By Gary Chun.. Starbulletin Weekend July_06.. .. .. .. .... ...... .. The Malcognitas Hot Pick June_06.. .. .. .... .. .. .. .. Star Bulletin's John Berger Review .. .. .. .. KA LAMAKUA Interview .. .. .. Request The Malcognitas on .. KTUH 90.3 FM! ...... Call 808.956.7261.. .. .. .. .. .. ..

Influences

Sounds Like
No recent updates in this category.
Why not...
Bio:
Photography by Adam Funari
Malcognita literally means your bad thoughts, your darkest side transformed anew. With a penchant for dark melodic songs that ride the fringes of disco and rock, the Malcognitas are raising the bar in the mostly punk dominated music scene in Hawaii. An experienced rhythm section led by drummer Jack Tawil and the overdriving bass lines by Lorenzo Trinidad provide a strong foundation for lead guitarist Yvonne Harada's rock and noise influenced riffs and lead singer Ara Laylo's somber landscaped melodies. Together these group of friends form a unique chemistry of rock that is inspired from the likes of Blondie, Joy Division, Glass Candy, and Bauhaus.
What's your malcognita?
Watch us on
TRXTV!
Member Since:
February 10, 2006
Members:
.. ..


.. YVONNE HARADA - guitar
ARA LAYLO - vocals
JACK TAWIL - drums
LORENZO TRINIDAD - bass




..
Photography by Adam Funari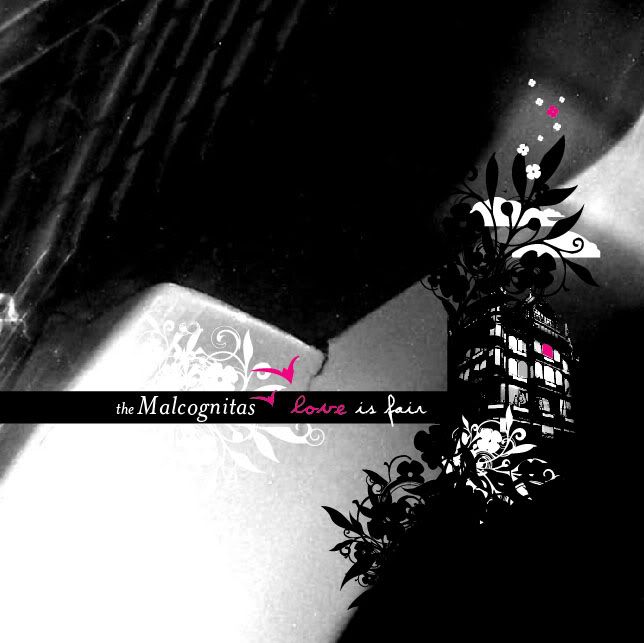 ..


..


..



The Malcognitas: Chemistry & Camaraderie By Gary Chun
Starbulletin Weekend July_06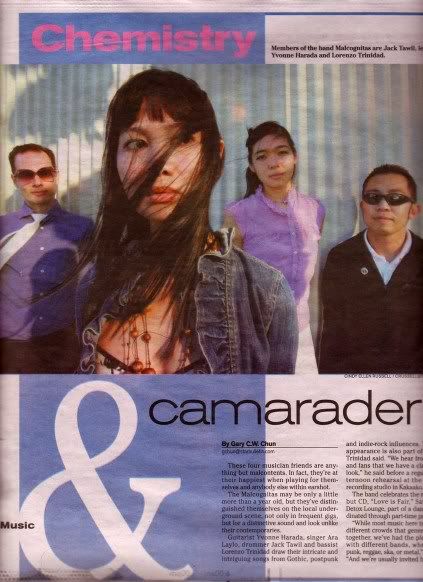 The Malcognitas Hot Pick June_06





Star Bulletin's John Berger Review

KA LAMAKUA Interview

Request The Malcognitas on KTUH 90.3 FM!
.. Call 808.956.7261






..