Play

Play Next

Add to queue
Play

Play Next

Add to queue

4,607 plays

Play

Play Next

Add to queue

10,428 plays

Play

Play Next

Add to queue

6,052 plays

Play

Play Next

Add to queue

55 plays

Play

Play Next

Add to queue

1,426 plays
Genre: Alternative / Garage / Powerpop

Location NORFOLK, Virginia, US

Profile Views: 116661

Last Login: 4/16/2011

Member Since 8/3/2004

Website www.themockers.net

Record Label Zebra/One Eye Open

Type of Label Indie

Bio

..CLICK HERE TO JOIN THE MOCKERS MAILING LIST!.... .. ..CLICK HERE TO BE OUR FRIEND ON FACEBOOK!.... .... .. ..Get our latest album THE LONESOME DEATH OF ELECTRIC CAMPFIRE!.. .......... .... .. .. .. .. .. .......... .. .. ..ALSO AVAILABLE ON iTUNES!.. .. ..CLICK HERE:.. .. .. .. .. .. ..JUST RELEASED! The Japanese only 2 CD EDITION which includes a bonus cd of demos, live tracks, alternate mixes, videos and our newest recording--The Mockers' version of The Beach Boys' GOD ONLY KNOWS--lead vocals by Nelson! For more details and track listings check out our blog... .. .. .. CLICK HERE TO ORDER($18.95):.. .. .. .... .. ..Or to order the single disc version (Released in Spain only, with Spanish lyrics and expanded booklet):.. .. .. CLICK HERE TO ORDER($16.00):.. .. .. .. .. .. .. ..SPANISH TOUR MARCH 2007!!!.. .. .... .. .. .. .. .. .. .. .. .. .. .. .. .. Smartass powerpopsters, basically, that's who we are. We've been together longer than we want to admit, but for the last few years or so, the band is made up of ..SETH GORDON.. on guitar and vocals, ..TONY LEVENTHAL.. on bass and vocals, ..ROBBIE RIST.. (who you may remember because he played ..COUSIN OLIVER.. on ..THE BRADY BUNCH..) on lead guitar and vocals and ..NELSON BRAGG.. (who is also the newest member of ..BEACH BOY BRIAN WILSON'S.. band) on drums and vocals. Our last album was produced by ..MITCH EASTER.., who has produced ..REM.., ..PAVEMENT.., ..MARSHALL CRENSHAW.. and a ton of others. .. .. There are rumors we have a room reserved in Guantanamo after Bush and his cronies at the NSA saw the video for our last single ..THE EMPEROR STRIKES OUT... One reviewer described it as ..THE RAMONES.. directing ..FAHRENHEIT 9/11!.. .. See it here before we're declared "enemy combatants! ...... .. .. .. .. .. .. Check out the video for our new single in Spain, ..MOLA, GUAY, OK.. (for you non-Spanish speakers, mola and guay basically mean "cool"). ...... .. .. .. .. .. .. Oh, and we're "big" in Spain, hehehe...and speaking of Spain, here's the video we did for our cover of the Spanish classic, ..DEJAME.., originally recorded by ..LOS SECRETOS... The song was the theme song in the Spanish hit film, ..LA FIESTA.. and some scenes from the movie are featured in the video. .. ...... .. .. .. ....> .. .. Our favorite review is from the Phoenix New Times: "As thrilling as seeing Keith Moon kick over his kit or Ray Davies punch his brother Dave in the mouth. Yeah, it's that good." .. You can see more Mockers photos here: .. THE MOCKERS' FOTOLOG!.. .. .. .. .... ..www.themockers.net..

Members

SETH GORDON--vocals, guitars, keyboards/ TONY LEVENTHAL--vocals, bass/ ROBBIE RIST--vocals, lead guitars, keyboards, anything and everything/ NELSON BRAGG--vocals, drums

Influences

Kinks, Clash, Zombies, Beatles, Who, Elvis Costello, Squeeze, Teenage Fanclub, Beach Boys, XTC, Bob Dylan, Link Wray, surf, Cheap Trick, Buddy Holly, 60's garage, MC5, Mad Magazine

Sounds Like

Beatles, Fountains of Wayne, Cheap Trick, Elvis Costello, Kinks, New Pornographers, Matthew Sweet, The Who, Teenage Fanclub
No recent updates in this category.
Why not...
05:10 | 563 plays | Apr 16 2006
ALSO AVAILABLE ON iTUNES!
CLICK HERE:
JUST RELEASED! The Japanese only 2 CD EDITION which includes a bonus cd of demos, live tracks, alternate mixes, videos and our newest recording--The Mockers' version of The Beach Boys' GOD ONLY KNOWS--lead vocals by Nelson! For more details and track listings check out our blog.
CLICK HERE TO ORDER($18.95):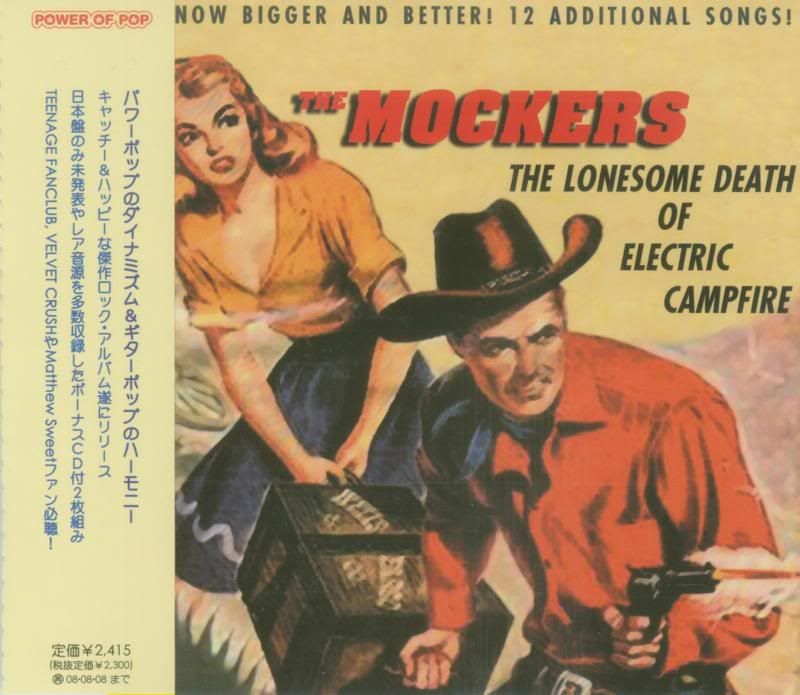 Or to order the single disc version (Released in Spain only, with Spanish lyrics and expanded booklet):
CLICK HERE TO ORDER($16.00):
SPANISH TOUR MARCH 2007!!!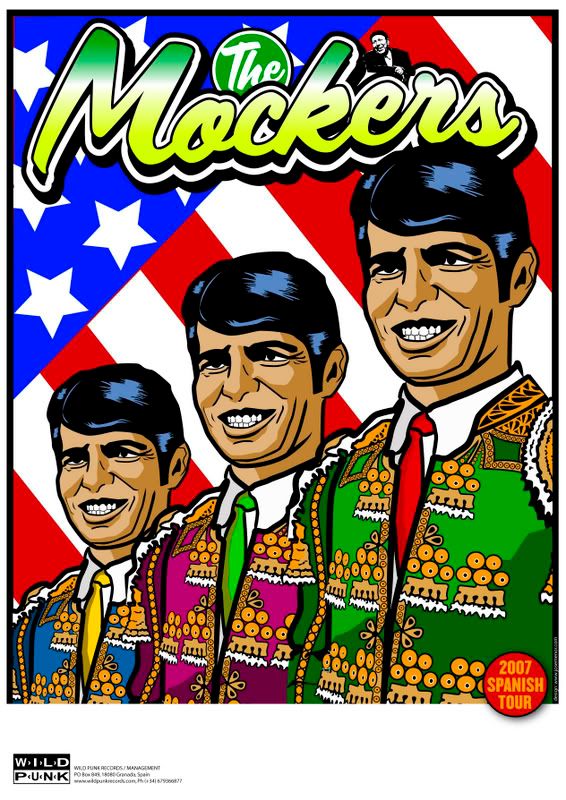 Smartass powerpopsters, basically, that's who we are. We've been together longer than we want to admit, but for the last few years or so, the band is made up of SETH GORDON on guitar and vocals, TONY LEVENTHAL on bass and vocals, ROBBIE RIST (who you may remember because he played COUSIN OLIVER on THE BRADY BUNCH) on lead guitar and vocals and NELSON BRAGG (who is also the newest member of BEACH BOY BRIAN WILSON'S band) on drums and vocals. Our last album was produced by MITCH EASTER, who has produced REM, PAVEMENT, MARSHALL CRENSHAW and a ton of others.

There are rumors we have a room reserved in Guantanamo after Bush and his cronies at the NSA saw the video for our last single THE EMPEROR STRIKES OUT. One reviewer described it as THE RAMONES directing FAHRENHEIT 9/11!
See it here before we're declared "enemy combatants! ..

Check out the video for our new single in Spain, MOLA, GUAY, OK (for you non-Spanish speakers, mola and guay basically mean "cool"). ..

Oh, and we're "big" in Spain, hehehe...and speaking of Spain, here's the video we did for our cover of the Spanish classic, DEJAME, originally recorded by LOS SECRETOS. The song was the theme song in the Spanish hit film, LA FIESTA and some scenes from the movie are featured in the video.
....>

Our favorite review is from the Phoenix New Times: "As thrilling as seeing Keith Moon kick over his kit or Ray Davies punch his brother Dave in the mouth. Yeah, it's that good."
You can see more Mockers photos here: THE MOCKERS' FOTOLOG!

www.themockers.net
Member Since:
August 03, 2004
Members:
SETH GORDON--vocals, guitars, keyboards/ TONY LEVENTHAL--vocals, bass/ ROBBIE RIST--vocals, lead guitars, keyboards, anything and everything/ NELSON BRAGG--vocals, drums
Influences:
Kinks, Clash, Zombies, Beatles, Who, Elvis Costello, Squeeze, Teenage Fanclub, Beach Boys, XTC, Bob Dylan, Link Wray, surf, Cheap Trick, Buddy Holly, 60's garage, MC5, Mad Magazine
Sounds Like:
Beatles, Fountains of Wayne, Cheap Trick, Elvis Costello, Kinks, New Pornographers, Matthew Sweet, The Who, Teenage Fanclub
Record Label:
Zebra/One Eye Open
Label Type:
Indie
The Mockers has 9869 friends.