Play

Play Next

Add to queue
Genre: Disco House / Indie / Rock

Location JOHNSON CITY, Tennessee, Un

Profile Views: 32827

Last Login: 12/27/2012

Member Since 3/23/2005

Website www.theneverwills.com

Record Label Not that we know of

Type of Label Unsigned

Bio

...... .. .. "Talk Talk Fast LP NOW AVAILABLE ON iTUNES!!!" .. .. The Neverwills released their debut EP, "One Day You'll Know," in 2005 with former Superdrag drummer Don Coffey Jr at the production helm. With four electric songs and one acoustic, the EP suprised listeners with songs about love, hate, war, and survival. "Storm Before the Calm" received air time on WRZK (Johnson City, TN), ZROCK (Kingsport, TN), and WUTK (Knoxville, TN). Our heroes then immediately set out on a mission to grab life by the short and curlies and to be taken seriously, respectively. After a little time on the road and a few EPs sold, The Neverwills, now fully equipped with a shiny new lead guitar player, reinvented themselves with an equally shiny new sound. They revisited the studio with good friend and engineer Jeremiah Nave. The result is "Talk Talk Fast," a 13 track can't stop listening must start dancing drug. The songs are smart, confident, and aggressive with a refreshingly smooth aftertaste. The LP features the song 'Metro' heard as www.goTricities.com's 1 song on the 'Tunes on the Go' Top Ten for June 2006 to February 2007. .. "TALK TALK FAST" IS NOW AVAILABLE IN PERSON OR ONLINE AT CDBABY.COM .. Reviews: .. "Extraordinary Originality and Fresh Punch" -GoTricities (TN and VA) .. .. "The fellow from The Neverwills had a lot of charisma going on. The Neverwills did a cover of that Smashing Pumpkins song that goes "Despite all my rage, I am still just a rat in a cage." Good stage presence from these guys." -Randall Brown (Knoxville News Sentinel) .. .. "The area's best new rock band is teaming up with one of Knoxville's most popular acts to play The Casbah on W. Walnut St. in Johnson City on Saturday night, September 10. Armed with a new guitarist, a slew of radio-friendly tunes, and an unforgettable live show, The Neverwills promise a successful future. The story is told with the release of their contagious EP entitled "One Day You'll Know."....the 5 song record sounds as though it were recorded by musicians that had been in the business for years—not young energetic, rock newcomers." -Johnson City Press (2005) .. .. "Local heroes The Neverwills will be putting their own spin on versions of tunes by icons such as The Doors, The Beatles, Elvis and The Clash. Not only do they have a sense of rock and roll history, but they are getting ready to make their own mark in a big way: Jerry, Vegas, Tucker and Fenway are finishing up a full-length CD, hopefully completing mastering in Nashville before the end of October." -David Cate (The Kingsport-Times News, 10-19-06) .. .. To hear us on local radio 99.3 ZRock of the Tri-Cities, call 866-770-ROCK and request "Boomerang" for their Friday and Saturday night local spot. "Boomerang" was recently voted Best Mood Song in all of rock on garageband.com's active contest. See it at www.garageband.com/artist/theneverwills .. .. .. You can also listen in now at www.isound.com/neverwills .. .. .. Or check us out on Purevolume www.purevolume.com/neverwills .. .. .. .. .. .. Make your own Banner here! .. .. .... Copy this code into your profile to display this banner!.. .. .. .. .. .. .. .. .. Make your own Banner here! .. .. .... Copy this code into your profile to display this banner!.. .. .. .. .. .. .... .. .. .. .. .. .. .. .. .......... ..........

Members

Jerry Shoemaker - Vocals / Guitar .. Vegas - Bass / Vocals .. Wrigley - Guitar / Vocals .. Colonel Tukk - Drums / Vocals

Influences

1950's church social Buddy Holly music, Hot Hot Heat, Head Automatica, Incubus, Weezer, Jimmy Eat World, The Darkness, The Beatles, Superdrag, Muse, fat asses, green grasses, and Randy Koruschak.

Sounds Like

.............. .. .. .. A sleazy New York City dance hall... For Booking: Contact us at jeremybarnett70@yahoo.com .. Photos by: 2B Photography / Chris from Knoxville / Jennifer Barnett / Jessica Barnett
Bio:
"Talk Talk Fast LP NOW AVAILABLE ON iTUNES!!!"
The Neverwills released their debut EP, "One Day You'll Know," in 2005 with former Superdrag drummer Don Coffey Jr at the production helm. With four electric songs and one acoustic, the EP suprised listeners with songs about love, hate, war, and survival. "Storm Before the Calm" received air time on WRZK (Johnson City, TN), ZROCK (Kingsport, TN), and WUTK (Knoxville, TN). Our heroes then immediately set out on a mission to grab life by the short and curlies and to be taken seriously, respectively. After a little time on the road and a few EPs sold, The Neverwills, now fully equipped with a shiny new lead guitar player, reinvented themselves with an equally shiny new sound. They revisited the studio with good friend and engineer Jeremiah Nave. The result is "Talk Talk Fast," a 13 track can't stop listening must start dancing drug. The songs are smart, confident, and aggressive with a refreshingly smooth aftertaste. The LP features the song 'Metro' heard as
www.goTricities.com
's 1 song on the 'Tunes on the Go' Top Ten for June 2006 to February 2007.
"TALK TALK FAST" IS NOW AVAILABLE IN PERSON OR ONLINE AT
CDBABY.COM
.. Reviews:
"Extraordinary Originality and Fresh Punch" -GoTricities (TN and VA)
"The fellow from The Neverwills had a lot of charisma going on. The Neverwills did a cover of that Smashing Pumpkins song that goes "Despite all my rage, I am still just a rat in a cage." Good stage presence from these guys." -Randall Brown (Knoxville News Sentinel)
"The area's best new rock band is teaming up with one of Knoxville's most popular acts to play The Casbah on W. Walnut St. in Johnson City on Saturday night, September 10. Armed with a new guitarist, a slew of radio-friendly tunes, and an unforgettable live show, The Neverwills promise a successful future. The story is told with the release of their contagious EP entitled "One Day You'll Know."....the 5 song record sounds as though it were recorded by musicians that had been in the business for years—not young energetic, rock newcomers." -Johnson City Press (2005)
"Local heroes The Neverwills will be putting their own spin on versions of tunes by icons such as The Doors, The Beatles, Elvis and The Clash. Not only do they have a sense of rock and roll history, but they are getting ready to make their own mark in a big way: Jerry, Vegas, Tucker and Fenway are finishing up a full-length CD, hopefully completing mastering in Nashville before the end of October." -David Cate (The Kingsport-Times News, 10-19-06)
To hear us on local radio 99.3 ZRock of the Tri-Cities, call 866-770-ROCK and request "Boomerang" for their Friday and Saturday night local spot. "Boomerang" was recently voted Best Mood Song in all of rock on
garageband.com
's active contest. See it at
www.garageband.com/artist/theneverwills
You can also listen in now at
www.isound.com/neverwills
Or check us out on Purevolume
www.purevolume.com/neverwills

Make your own Banner here!

Copy this code into your profile to display this banner!

Make your own Banner here!

Copy this code into your profile to display this banner!
Member Since:
March 23, 2005
Members:
Jerry Shoemaker - Lead Vocals / Guitar
Vegas McGuillicutti - Bass / Vocals
Brain Wakefield - Guitar / Vocals
Colonel Tukk - Drums / Vocals
Influences:
1950's church social Buddy Holly music, The Beatles, The Eagles, Head Automatica, Incubus, Weezer, Jimmy Eat World, The Darkness, Ryan Adams, Superdrag, Muse, our previous bands, and Randy Koruschak
Sounds Like: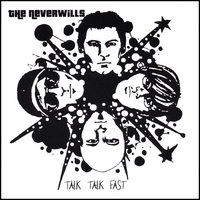 A sleazy New York City dance hall...
www.theneverwills.com
For Booking: Contact us at neverwillsvox@yahoo.com
Photos by: 2B Photography / Chris from Knoxville / Jennifer Barnett / Jessica Barnett
Record Label:
Looking.