No recent updates in this category.
Why not...
Timothy J Dorsey hasn't earned any badges yet... have you?
Heroes

Mom, Kathleen, Lauren Oakes, Patricia Oakes, Junko Tamiya, Stanley Donwood, Echo, Omar Afra, Hieronymus Bosch, Koji Kondo, Akita Nakatsuka, George Lucas, HR Giger, Mike Patton, L Frank Baum, Steven Hawking, Salvador Dalí, Shigeru Miyamoto, The Brothers Quay, Walt Disney, CS Lewis, JRR Tolkien, Georges Méliès, Jonny Greenwood, Raqib Shaw, Victor Brauner, Arthur Rackham, Ernst May, Robert Ellis, Frida Kahlo, Keiji Inafune, Alberto Giacometti, Evan and Derek Dunivan, Giorgio de Chirico, Jack Handey, Leonora Carrington, Jan Svankmeyer, Richard Oelze, Felix Labisse, Albert Hofmann, Clovis Troville, Valentine Hugo, Hans Bellmer, Roland Penrose, Reuben Mednikoff, Desmond Morris, Conroy Maddox, Ithell Colquhoun, Shuggie Otis, John Banting, Lewis Carroll, Paul Nash, Marie Cermínová, Richard Alpert, Yves Tanguy, Leonor Fini, Kurt Seligmann, Wifredo Lam, Hunter Thompson, Tomek Karelus, Jacques Herold, Roberto Matta, King Khan, Joan Miro, Henry Darger, George Orwell, Kurt Vonnegut, Roberto Kusterle, Kevin Dorsey, Greg Preston, and those who do regardless of what the world says
Play

Play Next

Add to queue

Play

Play Next

Add to queue

Play

Play Next

Add to queue

Play

Play Next

Add to queue

Play

Play Next

Add to queue
About me:
My name is
Timothy
and I like drawing.
For five years, I've illustrated for the Free Press Houston, our city's largest monthly publication, covering art, music, and current events. I have been drawing and creating since childhood and my paintings and other works decorate walls all over Houston and the surrounding area. In 1998, I began developing ideas into what would eventually become in introduction to my fictional world. I called it "The Telson."
Since then, I've surrounded the first fable with a past and future in the form of eleven other full-length stories, making "The Telson" number five in a series I call The Ocular. I have built the series into twelve ages, an entire history of a place where anything is possible and which boasts over three hundred prominent characters. These individuals, like us, are all making their way through a perplexing existence filled with breathtaking, exotic locations and journeys into love, struggle, and self-realization.
"The Telson" is a story that gained much of its true meaning with the death of my father in 2003 and a story which has grown with me for more than eleven years…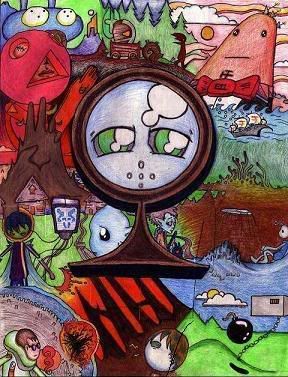 Who I'd like to meet:
Status:

Single

Here for:

Networking, Friends

Hometown:

Houston

Orientation:

Straight

Zodiac Sign:

Pisces

Children:

Someday

Education:

High school

Occupation:

Illustrator / Production Assistant / Epileptic
Emerge Production Studios

Houston, Tx US

Production Assistant

Free Press Houston

Houston, Tx US

Illustrator