Play

Play Next

Add to queue
Play

Play Next

Add to queue

7,542 plays
Genre: Electronica / Hip Hop / Rock

Location Mansfield, Midlands, UK

Profile Views: 26523

Last Login: 10/11/2010

Member Since 12/17/2007

Type of Label Unsigned

Bio

..The Old Library.... .... .. The Old library Venue & Media Centre is a multi-media centre located in the centre of Mansfield, Nottinghamshire. It houses a state of the art recording studio along with a 100 seat Studio Theatre, Cafe/Bar and other working spaces. .... ..Old Library Studios.. is the recording facility situated in the Old Library. The business has been successful for the past twenty years working with Artists from across the UK. .. 2006 saw the Studios relocate from it's home of over twenty years, The Westfield Folkhouse, to a custom designed and built complex including Studio theatre, workshop spaces and Cafe. .. Our Audient ASP8024-32 analogue console is teamed with a Pro Tools HD system to give the desired marriage between the analogue and digital worlds. Monitoring is through the highly acclaimed HIQ system, along with Yamaha NS10s. .. Our Engineers are vastly experienced, relaxed and professional, and we are totally committed to the realization of your project's full potential; creating a bright and engaging place to work. The recording studios and theatre are at ground level and are fully air conditioned. .. .. ..Studio 1 prices:.. .... £200 per 8 hour day .. £160 per 8 hour day (subsidised). .. £110 per 8 day (subsidised). .. £30 per hour .. £25 per hour (subsidised). .. ..All prices include an engineer plus our top of the range backline.. .. .. .. ..The Old Library venue & media centre.. is also home to ..The Old Library Theatre.., a 100 seater licensed studio theatre equiped with a Sirius Zero 88 programmable lighting desk and a full compliment of Minuette fresnels, profiles and parcans. .. The Old Library Cafe is open to the public serving lunches and snacks from 10am daily. Catering is also available on request. .... .... ..County Youth Arts.... .. .. County Youth Arts is Nottinghamshire's Youth Service Arts Team. Working with Young People around the County, It aims to support individuals and groups using many different art forms including: Dance, Drama, Digital Photography, Film Making, Visual Arts, Music tech, Music production and song-writing etc. Weekly sessions include: .... The Old library Youth Theatre, .. Visualize, .. TOL Breakdance group: The Diplomats .. Access 2 Dance .. TOL Youth Dance .. Music academy .... County Youth Arts work across the county providing workshops, courses and many opportunities to perform at live events such as 'Showcase' at The Palace Theatre, Mansfield. If you would like to know how you can get involved in the activities here, or about the workshops, courses and events across the county, call us on 01623 644377. .... .. .... ..PLUG Promotions.... .. .. PLUG Promotions are a group of young people who meet regularly here at The Old Library to organise their own events and gigs, as well as help out at major County Youth Arts events such as Showcase. This is a good opportunity to practice your creative and organisational skills and take responsibility for your own events. PLUG are looking for new members to:.... ..Be creative ..Meet regularly and make new friends ..Organise, promote and perform at events, gigs, projects and shows. ..Work on the next PLUG flier and magazine ..Consult with us and inform our future work with young people. .. .... For more information, please email: jen.saint@nottscc.gov.uk.. .... .... ......SHOWCASE.. .. .. .. County Youth Arts brings together a spectacular collection of dance, music, drama and film performed by talented Young People from across Nottinghamshire. Everything from hip hop to rock, break dance, street and comtemporary. Emotive drama and comedy all weave together to show just what young people are able to achieve by working with the youth services and it's arts team based at the Old Library in Mansfield. .. The Show at The Palace Theatre will take place in February 2011 .... .... Contacting The Old Library.. .... ....Bookings: 01623 422962 .... General enquiries: 01623 644377 .... Email: mark.allsop@nottscc.gov.uk .... .. .. .... .. ..

Members

.. .. ..STUDIO 1 SPECIFICATION.. .. .. ..DAW.. .. Prol Tools HD.. Rosetta 800 192k/24bit A-D/D-A .. .. ..Console.. .. Audient ASP8024-32.. .. ..Monitoring.... HiQ .. Yamaha NS10.. Avantone Mono Reference.. .. ..Mics.. .. Neumann U87.. AKG C414.. AKG C3000.. AKG D112.. AKG C535.. Rode NT2.. Rode NT1.. Sennheisser MD421.. Shure SM58.. Shure SM57.. Shure Beta57.. Shure Beta52a.. Audio-Technica ATM25.. Audio-Technica ATM33.. Audix D6.. NS10 Subkick .. .. ..Pre-amps.... Neve 1073DPA.. Focusrite RED1.. Drawmer 1960.. TL Audio Ivory 5001.... ..Signal Processors.... Lexicon PCM81.. Lexicon MPX-1.. Yamaha SPX990.. .. ..Software Plugins.... Eventide.. Focusrite.. Fairchild.. Bombfactory.. Joe Meek.. Melodyne.. Drumagog.. TL Labs.. .. ..2 Track/Mastering.... Tascam CD-RW 700.. Tascam DA-20 DAT Recorder.. TC Electronic Finalizer 96K.. .. ..Backline...... ..Drums:.. Pearl Reference, Sabian HH, AA, Ziljian K .. ..Bass:.. Ampeg SVT Classic, Fender .. ..Guitar:.. Marshall Super Clean, Marshall JCM 2000, Messa boogie Dual Rectifier, Randall RM 100, Gibson, Fender .. ..Piano:.. Hyudai U832 ...... ..THEATRE SPECIFICATION.. .. .. Siruis Zero 88 programmable desk .. Minutte Fresnels, Profiles, Parcans. .. 5k Logic PA .. Projection .. Sprung floor

Influences

Sounds Like
No recent updates in this category.
Why not...
Bio:
The Old Library
The Old library Venue & Media Centre is a multi-media centre located in the centre of Mansfield, Nottinghamshire. It houses a state of the art recording studio along with a 100 seat Studio Theatre, Cafe/Bar and other working spaces.

Old Library Studios is the recording facility situated in the Old Library. The business has been successful for the past twenty years working with Artists from across the UK.
2006 saw the Studios relocate from it's home of over twenty years, The Westfield Folkhouse, to a custom designed and built complex including Studio theatre, workshop spaces and Cafe.
Our Audient ASP8024-32 analogue console is teamed with a Pro Tools HD system to give the desired marriage between the analogue and digital worlds. Monitoring is through the highly acclaimed HIQ system, along with Yamaha NS10s.
Our Engineers are vastly experienced, relaxed and professional, and we are totally committed to the realization of your project's full potential; creating a bright and engaging place to work. The recording studios and theatre are at ground level and are fully air conditioned.
Should you have your own favourite live space to record in, the Old Library Studios mobile facility is an option.

Studio 1 prices:

£200 per 8 hour day
£160 per 8 hour day (subsidised).
£110 per 8 day (subsidised).
£30 per hour
£25 per hour (subsidised).
All prices include an engineer plus our top of the range backline

Our Producers & Engineers also bring in their own clients to record. In this case we will charge the producer/engineer for studio time, directly. As His/Her client you should in turn negotiate and pay His/Her fee directly to them.

The Old Library venue & media centre is also home to The Old Library Theatre, a 100 seater licensed studio theatre equiped with a Sirius Zero 88 programmable lighting desk and a full compliment of Minuette fresnels, profiles and parcans. Studio 4 is the video edit/post production suite, while Studio 3 provides a spacious naturally lit rehearsal/workshop space.
The Old Library Cafe is open to the public serving lunches and snacks from 10am daily. Catering is also available on request.


County Youth Arts
County Youth Arts is Nottinghamshire's Youth Service Arts Team. Working with Young People around the County, It aims to support individuals and groups using many different art forms including: Dance, Drama, Digital Photography, Film Making, Visual Arts, Music tech, Music production and song-writing etc. Weekly sessions include:

The Old library Youth Theatre, mondays 4:30pm
Visualize, Tuesdays 5pm
TOL Breakdance group: The Diplomats: Tuesdays 5pm
Access Dance: Wednesdays 4pm
TOL Youth Dance: 6:30pm
Musicademy: Saturdays 2pm

County Youth Arts work across the county providing workshops, courses and many opportunities to perform at live events such as 'Showcase' at The Palace Theatre, Mansfield. If you would like to know how you can get involved in the activities here, or about the workshops, courses and events across the county, call us on 01623 644377.


PLUG Promotions
PLUG Promotions are a group of young people who meet regularly here at The Old Library to organise their own events and gigs, as well as help out at major County Youth Arts events such as Showcase. The young people currently involved are Mark, Sam, Emily, Alex, and Leah, and they have just finished organizing the 'Summer Rocks' gig. The first one, back in February 2009, was a love themed night to celebrate Valentines day and was a sell out. They came up with the idea for the gigs as they said there wasn't anything like this elsewhere specifically run by and for young people. This is a good opportunity to practice your creative and organisational skills and take responsibility for your own events. With the support of County Youth Arts PLUG will secure funding, design the posters, book the bands and will be staffing the event. PLUG are also currently working on a magazine and logo and will be orgainising various events in the future including promoting a Music Academy gig at Stealth in Nottingham, as well as a Halloween themed gig at The Old Library in October 2009.

PLUG are looking for new members to:

Be creative
Meet regularly and make new friends
Organise, promote and perform at events, gigs, projects and shows.
Work on the next PLUG flier and magazine
Consult with us and inform our future work with young people.

For more information, please email Jen Saint at: jen.saint@nottscc.gov.uk


Sound & Vision
The Sound and Vision training programme can help you gain the skills and experience you need to progress into employment or further education. You will learn in an industry standard media centre using professional equipment at The Old Library. We work in small groups of up to 8 students so the speed of the course is dictated by you, there will be no struggling to keep up with work or EXAMS! This full-time 22 week course will give you the opportunity to achieve OCN Level 1 and Key Skills qualifications. You will be able to apply for Educational Maintenance Allowance (up to £30 a week) and any travel expenses will be refunded. For further information on the Sound and Vision course, call: 01623 649065 or 07757 951401


Festivals
SHOWCASE


County Youth Arts brings together a spectacular collection of dance, music, drama and film performed by talented Young People from across Nottinghamshire. Everything from hip hop to rock, break dance, street and comtemporary. Emotive drama and comedy all weave together to show just what young people are able to achieve by working with the youth services and it's arts team based at the Old Library in Mansfield.

This year sees a re-scheduling to the Showcase program.
The dates are:
7/11/09 The Old Library, Mansfield
8/11/09 The Old Library, Mansfield
14/11/08 Venue tbc
15/11/08 Venue tbc
The Show at The Palace Theatre will take place in February 2010 - Date tbc



Contacting The Old Library

Bookings: 01623 422962

General enquiries: 01623 644377

Email: mark.allsop@nottscc.gov.uk





.. ..
Member Since:
December 17, 2007
Members:
STUDIO 1 SPECIFICATION

DAW
Prol Tools HD
Rosetta 800 192k/24bit A-D/D-A

Console
Audient ASP8024-32

Monitoring
HiQ
Yamaha NS10
Avantone Mono Reference

Mics
Neumann U87
AKG C414
AKG C3000
AKG D112
AKG C535
Rode NT2
Rode NT1
Sennheisser MD421
Shure SM58
Shure SM57
Shure Beta57
Shure Beta52a
Audio-Technica ATM25
Audio-Technica ATM33
Audix D6
NS10 Subkick

Pre-amps
Neve 1073DPA
Focusrite RED1
Drawmer 1960
TL Audio Ivory 5001

Signal Processors
Lexicon PCM81
Lexicon MPX-1
Yamaha SPX990

Software Plugins
Eventide
Focusrite
Fairchild
Bombfactory
Joe Meek
Melodyne
Drumagog
TL Labs

2 Track/Mastering
Tascam CD-RW 700
Tascam DA-20 DAT Recorder
TC Electronic Finalizer 96K

Backline

Drums: Pearl Reference, Sabian HH, AA, Ziljian K
Bass: Ampeg SVT Classic, Fender
Guitar: Marshall Super Clean, Marshall JCM 2000, Messa boogie Dual Rectifier, Randall RM 100, Gibson, Fender
Piano: Hyudai U832


THEATRE SPECIFICATION

Siruis Zero 88 programmable desk
Minutte Fresnels, Profiles, Parcans.
5k Logic PA
Projection
Sprung floor





WHAT'S ON AT

THE OLD LIBRARY
_________________________

Acoustical Cafe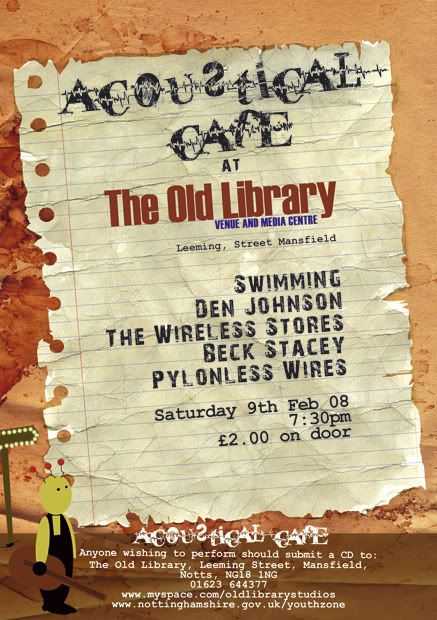 The Acoustical Cafe is to return this year (dates tbc). The first show is likely to be near the end of March - watch this space for more details!



FROM SEPTEMBER 08: _________________________
Access Dance
A new dance project working on Street and Hip-Hop to Contemporary. Aimed at newcomers to dance who fancy a challenge.
Every Wednesday 4:30 - 6:30pm
£1.50 per session
The Old Library Theatre


_________________________
Old Library Youth Dance
Workshops looking at a wide range of dance styles and working towards performances at various events across the County
Every Wednesday 6:30 - 8:30pm
£1.50 per session
The Old Library Theatre


_________________________
T.O.L. Breakdance group 'The Diplomats'
Discover the world of break dance, hip-hop and contemporary moves. Just for the boys, come and join an exciting new project.
Every Tuesday 4:30 - 6:30pm
£1.50 per session
The Old Library Theatre


_________________________
Visualize
An opportunity to experience a whole range of art forms from mosaic to banner making to photo art and everything in between. No previous arts experience needed, just be prepared to get your hands dirty.
Every Wednesday 5-7pm
£1.50 per session
The Old Library Studio 3


_________________________
Musicademy
Rockschool plus!
Songwriting, rehearsal, live sound, recording and a look inside the Rock and Roll industry is on offer in these weekly sessions.
Every Saturday 2:30 - 4:30pm
£1.50 per session
The Old Library


_________________________
Other groups at The Old Library
Arts Support Service Youth Theatre
Every Sunday morning 9-2pm

NLC Music Tech
Thursdays 10-4pm

Random Line Performance Company
Tuesdays 10-4pm
_________________________
Record Label:
Unsigned