Play

Play Next

Add to queue
Label
: Brandon Ebel Company (BEC)
Play

Play Next

Add to queue

11,494 plays

Play

Play Next

Add to queue

17,118 plays

Play

Play Next

Add to queue

64,957 plays

Play

Play Next

Add to queue

10,396 plays
Genre: Reggae / Rock / Ska

Location Orange County, California, US

Profile Views: 28516

Last Login: 7/13/2009

Member Since 12/22/2007

Website This Is It

Record Label Unsigned

Bio

The Orange County Supertones (a.k.a. The O.C. Supertones a.k.a. The Supertones) were a Christian ska band hailing from Orange County, California. The band was signed to Tooth & Nail Records before becoming an independent band for its final tour... The band began in the early 1990s as Saved. Originally formed by Matt Morginsky, Jason Carson and Tony Terusa while in Junior High School, the band played a mix of many styles including punk, rap, metal, disco, and funk. In 1995 they formed as The Orange County Supertones and settled on a ska based sound... In the late 1990s The Supertones achieved wide popularity in the Christian and secular community. Their second album, 1997's release Supertones Strike Back, was a surprise smash hit, peaking on both Billboard's Heatseekers and Top Christian Albums charts at 3 and 2 respectively. Beginning with a more traditional ska sound, The Supertones moved next to a harder rock sound, which eventually changed again with more of a pop-rock influence. Their next two albums, 1999's Chase the Sun and 2000's Loud and Clear, each charted on the Billboard 200 chart. They continued to release albums until 2005, when they announced plans to break up. The band released Unite, a greatest hits compilation, and played their last show at Biola University in La Mirada, California on October 7, 2005. Former members Jason Carson, Darren Mettler and Tony Terusa re-joined the band on stage for three songs. Kevin "Slim" Chen was on hand but did not play with the band. The Supertones played for 2 1/2 hours at their final show, playing close to 30 songs. .. ...... .. .. .. .. I edited my profile with Thomas Myspace Editor V4.4 (www.strikefile.com/myspace)

Members

-Final Lineup-.. ..Matt Morginsky.. - Vocals.. ..Dan Spencer.. - Trombone.. ..Ethan Luck.. - Guitar.. ..Chris Beaty.. - Bass.. ..John Wilson.. - Drums.. ..Bret Barker.. - Trumpet.. .. -Former Members-.. ..Jason Carson.. - Drums.. ..Tony Terusa.. - Bass.. ..Darren Mettler.. - Trumpet.. ..Kevin "Slim" Chen.. - Guitar.. ..Brian Johnson.. - Guitar.. ..Dave Chevalier.. - Sax.. ..Adam Ferry.. - Drums..

Influences

Sounds Like
No recent updates in this category.
Why not...
Bio:
The Orange County Supertones (a.k.a. The O.C. Supertones a.k.a. The Supertones) were a Christian ska band hailing from Orange County, California. The band was signed to Tooth & Nail Records before becoming an independent band for its final tour.
The band began in the early 1990s as Saved. Originally formed by Matt Morginsky, Jason Carson and Tony Terusa while in Junior High School, the band played a mix of many styles including punk, rap, metal, disco, and funk. In 1995 they formed as The Orange County Supertones and settled on a ska based sound.
In the late 1990s The Supertones achieved wide popularity in the Christian and secular community. Their second album, 1997's release Supertones Strike Back, was a surprise smash hit, peaking on both Billboard's Heatseekers and Top Christian Albums charts at 3 and 2 respectively. Beginning with a more traditional ska sound, The Supertones moved next to a harder rock sound, which eventually changed again with more of a pop-rock influence. Their next two albums, 1999's Chase the Sun and 2000's Loud and Clear, each charted on the Billboard 200 chart. They continued to release albums until 2005, when they announced plans to break up. The band released Unite, a greatest hits compilation, and played their last show at Biola University in La Mirada, California on October 7, 2005. Former members Jason Carson, Darren Mettler and Tony Terusa re-joined the band on stage for three songs. Kevin "Slim" Chen was on hand but did not play with the band. The Supertones played for 2 1/2 hours at their final show, playing close to 30 songs.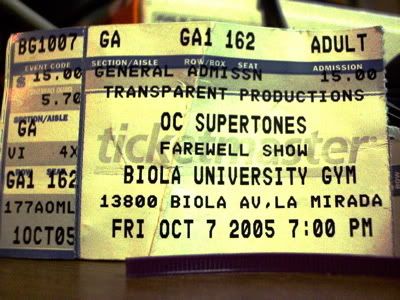 ..
I edited my profile with Thomas Myspace Editor V4.4 (
www.strikefile.com/myspace
)
Member Since:
December 22, 2007
Members:
-Final Lineup-
Matt Morginsky - Vocals
Dan Spencer - Trombone
Ethan Luck - Guitar
Chris Beaty - Bass
John Wilson - Drums
Bret Barker - Trumpet

-Former Members-
Jason Carson - Drums
Tony Terusa - Bass
Darren Mettler - Trumpet
Kevin "Slim" Chen - Guitar
Brian Johnson - Guitar
Dave Chevalier - Sax
Adam Ferry - Drums

Record Label:
Unsigned