Play

Play Next

Add to queue
Play

Play Next

Add to queue

2,895 plays

Play

Play Next

Add to queue

2,411 plays

Play

Play Next

Add to queue

2,349 plays

Play

Play Next

Add to queue

2,129 plays
Genre: Punk / Rock

Location CHICAGO, ILLINOIS, US

Profile Views: 30435

Last Login: 3/26/2011

Member Since 10/11/2004

Website www.thephenoms.com

Record Label www.beercanrecords.com

Type of Label Indie

Bio

...... .. Released in March 2002. Tracks are 1.) Come Around 2.) I Like It 3.) I'm Alone Pretty Baby 4.) Sympathy Stomp 5.) Beat Down 6.) I Remember 7.) Go 8.) Ignore You Too 9.) Doubletime 10.) In No Time 11.) Up and Die 12.) Cinderella.. ..You may possibly find this here - ..www.thephenoms.com.... ...... ..Pretty cool comp put together by a bunch of zinesters. The Phenoms offered up an early version of "Cross Section" on this one. Other bands included The Mascots, the Manhandlers, Reagan National Crash Diet and He Who Corrupts to name a few... .. You may have even less luck finding this release at ..Loop Distro..... ...... ..Some kids from downstate Illinois put this together and we never heard from them again. .. You'll never find this muthuh... ...... ..Sampler comp that the fellas over at Criminal IQ put together. The Phenoms track is an early version of "Part of the Deal". Other bands include the Krunchies, VeeDee, the Manhandlers, M.O.T.O., Functional Blackouts and the New Black... ..This one is probably no longer as well, but check out ..Criminal IQ Records.. anyway... ...... ..Release #1 on Criminal IQ Records. The Phenoms side is original versions of "Mutual Mystification" and "Cross Section". The Mushuganas side is "Way Up North" and "Angel of Death". Last release for the Mushuganas also... ..Pick this up at ..Criminal IQ Records.. or ..The Phenoms site..... ...... ..Another comp from 2003 or so. Phenoms tunes are "Mutual Mystification" and an original version of "Please, Please, Please, Don't". Other bands include 9 Pound Hammer, Bump'n Uglies, the Mashers, the Daggers, Brassknuckle Boys, and 2 great songs by some band called Thee Almighty Hangovers that we never heard from again... ..Pick this up at ..Haunted Town Records..... ...... .."This is a Non-Smoking Flight" comp. The Phenoms track is "The Laugh With Too Many Faces". Tons of great songs by bands like The Drapes, Catfish Haven, The Last Vegas, Bible of the Devil, Gaza Strippers, Functional Blackouts, the Tyrades, Loraxx, etc... ..This may be available at ..Cherry Bomb Records..... ...... ..2004 Throw Up Records Compilation featuring The Adversaries, Streetbrats, Lesserevents and IAttack. Phenoms tracks are "Please, Please, Please Don't", "Little Reaction" and "Laugh With Too Many Faces"... ..Still available at ..Throw Up Records..... ...... ..Our version of "They're Not Around" for this loving tribute to the Devil Dogs. Other bands on this one include The Safes, New Bomb Turks, Boris the Sprinkler, Hudson Falcons & Leg Hounds to name a very few... ..Get you some at ..Head Dip Records..... ...... ..Second Full-Length released in February 2005. Tracks are 1.) Mutual Mystification 2.) Lies, Lies, Lies 3.) Cross Section 4.) Please, Please, Please Don't 5.) Home Brain Surgery Kit 6.) Unfettered and Bettered 7.) The Fringe Benefits of Being on the Fringes of a Fringe Society 8.) Heard It On the X 9.) Part of the Deal 10.) Erik's New Blues 11.) Sure to Come.. ..Get this on CD or Vinyl at ..Beercan Records..... ...... ..We were damn proud to be on this comp honoring possibly the greatest dive bar on this here globe, Cal's Liquors. We regurgitated "Sure to Come" and bands like Tijuana Hercules, Big Buildings, Velcro Lewis, Siderunners, the Dials, the Returnables, and Sybris kicked in too... ..Do yourself a favor and stop by Cal's, have a beer and pick this one up. ..Here's.. where to find it... ...... ..Release #2 on Beercan Records with It Burns who hailed from Carbondale, IL. We do "S.E.P.U." and their side has "Rock and Roll Destruction Machine" and "Henry Fisher"... ..Meander over to ..Beercan Records.. to pick this one up... ...... ..The Phenoms last released track, "Mr. Pink", on a tribute album dedicated to Pegboy. Tons of good bands on this one too. Vic Bondi, Rollo Tomasi, Haymarket Riot, the Matics, Matt Skiba, the Dutchmen, etc... ..Help pay their bills at ..Underground Communique Records.....

Members

Todd Osborne - Boom Boom, Dave Pawlowski - Thoom Thoom, John O'Halloran - Bleargh, Erik Brandenburger - Skreeee, Pat Keenan - Skruuuuaau

Influences

the Action Swingers and Buddy Miles and Pegboy and the Squares and Teengenerate and Ric Flair and The 'oo and the Mushuganas and the Peelers and Apocalypse Hoboken and the Tyrades and Vio-Lence and Big Daddy Kane and It Burns and Ric Flair and the Dials and the Matics and the Safes and the Rocket from the Crypt and das Neu Bomb Turks and Rupert Pupkin and the Motards and Eric B. AND Rakim (but not just Rakim by himself) and the Pogues the Damned and the Safes and the Last Vegas and Pink Lincolns and the Devil Dogs and some others even...

Sounds Like
No recent updates in this category.
Why not...
Bio:
Released in March 2002. Tracks are 1.) Come Around 2.) I Like It 3.) I'm Alone Pretty Baby 4.) Sympathy Stomp 5.) Beat Down 6.) I Remember 7.) Go 8.) Ignore You Too 9.) Doubletime 10.) In No Time 11.) Up and Die 12.) Cinderella
You may possibly find this here - www.thephenoms.com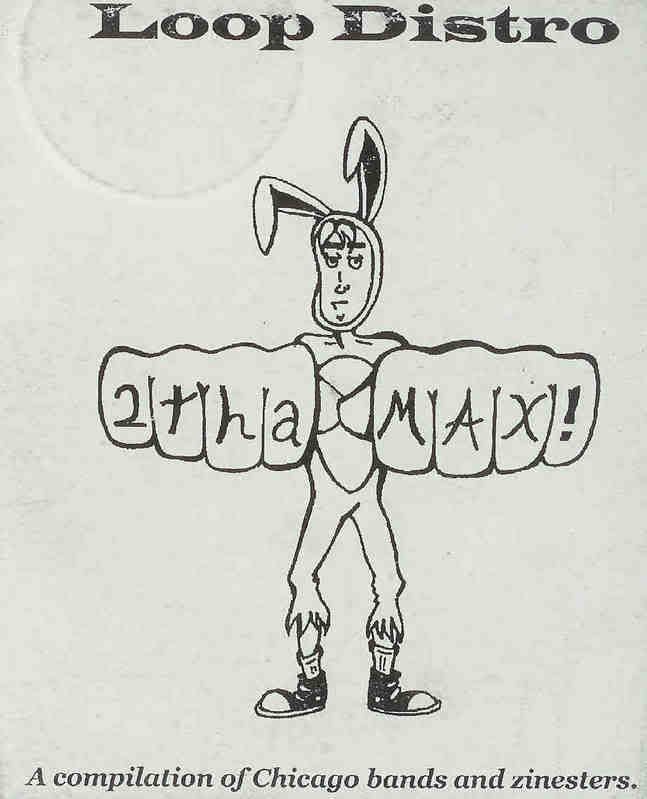 Pretty cool comp put together by a bunch of zinesters. The Phenoms offered up an early version of "Cross Section" on this one. Other bands included The Mascots, the Manhandlers, Reagan National Crash Diet and He Who Corrupts to name a few.
You may have even less luck finding this release at Loop Distro.
Some kids from downstate Illinois put this together and we never heard from them again.
You'll never find this muthuh.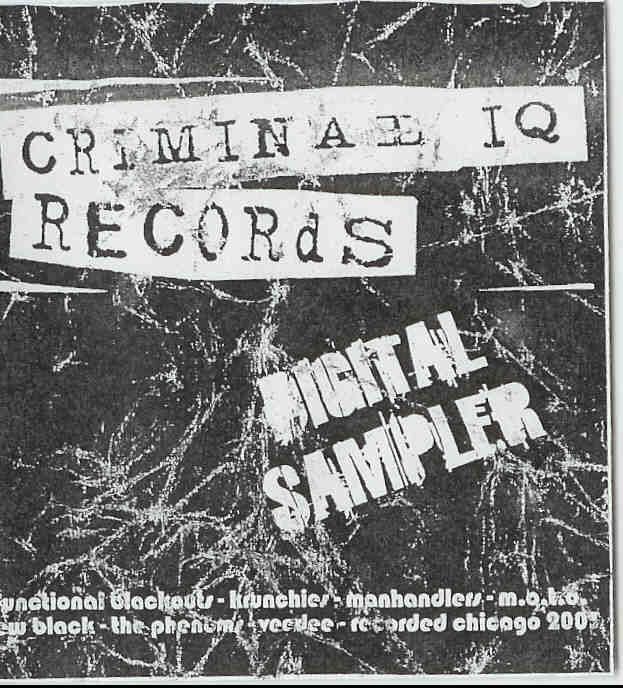 Sampler comp that the fellas over at Criminal IQ put together. The Phenoms track is an early version of "Part of the Deal". Other bands include the Krunchies, VeeDee, the Manhandlers, M.O.T.O., Functional Blackouts and the New Black.
This one is probably no longer as well, but check out Criminal IQ Records anyway.
Release #1 on Criminal IQ Records. The Phenoms side is original versions of "Mutual Mystification" and "Cross Section". The Mushuganas side is "Way Up North" and "Angel of Death". Last release for the Mushuganas also.
Pick this up at Criminal IQ Records or The Phenoms site.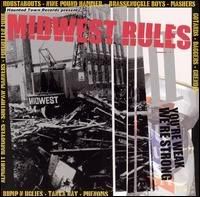 Another comp from 2003 or so. Phenoms tunes are "Mutual Mystification" and an original version of "Please, Please, Please, Don't". Other bands include 9 Pound Hammer, Bump'n Uglies, the Mashers, the Daggers, Brassknuckle Boys, and 2 great songs by some band called Thee Almighty Hangovers that we never heard from again.
Pick this up at Haunted Town Records.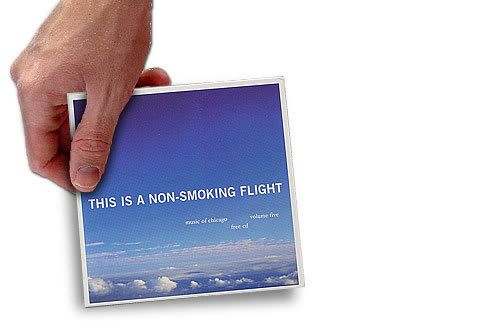 "This is a Non-Smoking Flight" comp. The Phenoms track is "The Laugh With Too Many Faces". Tons of great songs by bands like The Drapes, Catfish Haven, The Last Vegas, Bible of the Devil, Gaza Strippers, Functional Blackouts, the Tyrades, Loraxx, etc.
This may be available at Cherry Bomb Records.
2004 Throw Up Records Compilation featuring The Adversaries, Streetbrats, Lesserevents and IAttack. Phenoms tracks are "Please, Please, Please Don't", "Little Reaction" and "Laugh With Too Many Faces".
Still available at Throw Up Records.
Our version of "They're Not Around" for this loving tribute to the Devil Dogs. Other bands on this one include The Safes, New Bomb Turks, Boris the Sprinkler, Hudson Falcons & Leg Hounds to name a very few.
Get you some at Head Dip Records.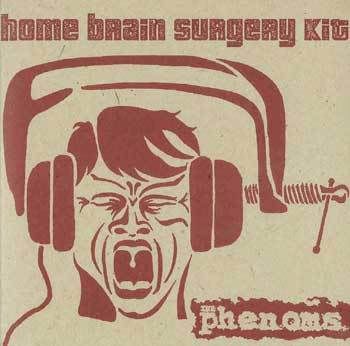 Second Full-Length released in February 2005. Tracks are 1.) Mutual Mystification 2.) Lies, Lies, Lies 3.) Cross Section 4.) Please, Please, Please Don't 5.) Home Brain Surgery Kit 6.) Unfettered and Bettered 7.) The Fringe Benefits of Being on the Fringes of a Fringe Society 8.) Heard It On the X 9.) Part of the Deal 10.) Erik's New Blues 11.) Sure to Come
Get this on CD or Vinyl at Beercan Records.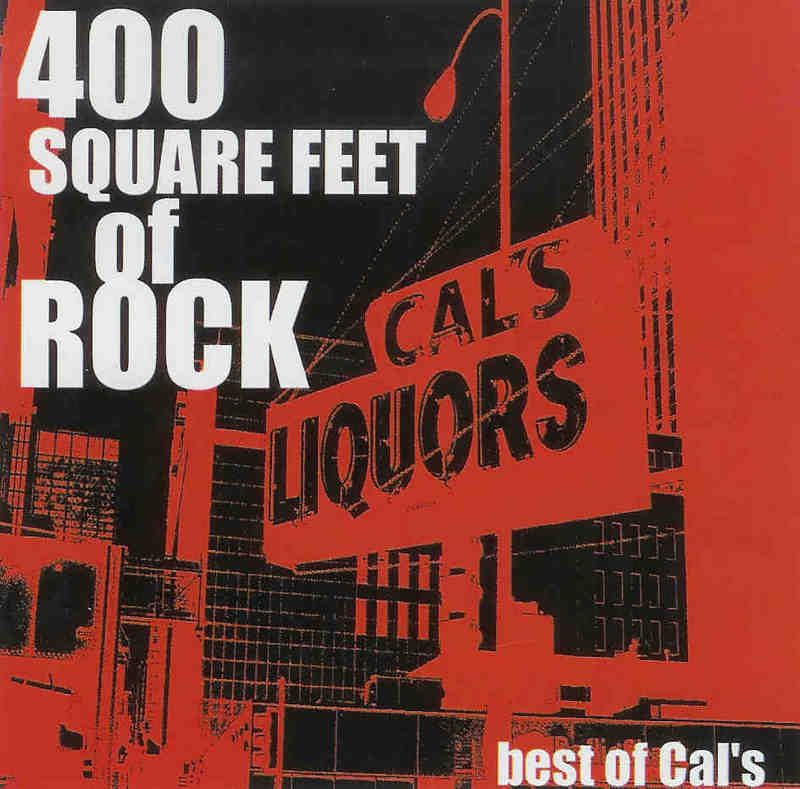 We were damn proud to be on this comp honoring possibly the greatest dive bar on this here globe, Cal's Liquors. We regurgitated "Sure to Come" and bands like Tijuana Hercules, Big Buildings, Velcro Lewis, Siderunners, the Dials, the Returnables, and Sybris kicked in too.
Do yourself a favor and stop by Cal's, have a beer and pick this one up. Here's where to find it.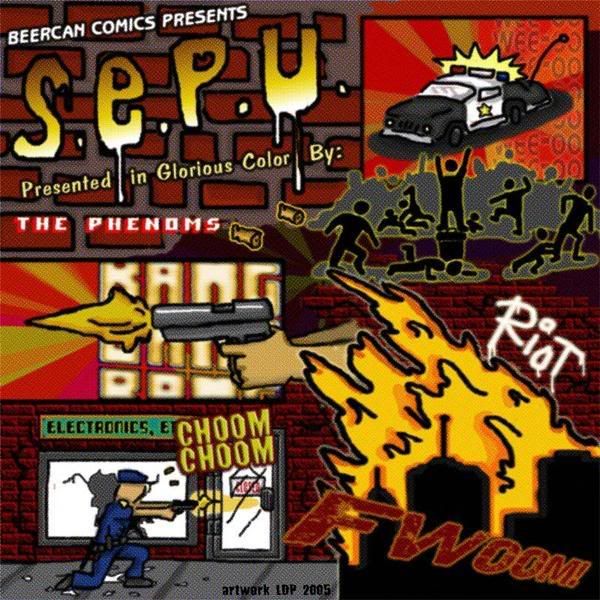 Release #2 on Beercan Records with It Burns who hailed from Carbondale, IL. We do "S.E.P.U." and their side has "Rock and Roll Destruction Machine" and "Henry Fisher".
Meander over to Beercan Records to pick this one up.
The Phenoms last released track, "Mr. Pink", on a tribute album dedicated to Pegboy. Tons of good bands on this one too. Vic Bondi, Rollo Tomasi, Haymarket Riot, the Matics, Matt Skiba, the Dutchmen, etc.
Help pay their bills at Underground Communique Records.
Member Since:
October 11, 2004
Members:
Todd Osborne - Boom Boom, Dave Pawlowski - Thoom Thoom, John O'Halloran - Bleargh, Erik Brandenburger - Skreeee, Pat Keenan - Skruuuuaau
Influences:
the Action Swingers and Buddy Miles and Pegboy and the Squares and Teengenerate and Ric Flair and The 'oo and the Mushuganas and the Peelers and Apocalypse Hoboken and the Tyrades and Vio-Lence and Big Daddy Kane and It Burns and Ric Flair and the Dials and the Matics and the Safes and the Rocket from the Crypt and das Neu Bomb Turks and Rupert Pupkin and the Motards and Eric B. AND Rakim (but not just Rakim by himself) and the Pogues the Damned and the Safes and the Last Vegas and Pink Lincolns and the Devil Dogs and some others even...
Label Type:
Indie