Play

Play Next

Add to queue
Play

Play Next

Add to queue

11,722 plays

Play

Play Next

Add to queue

34,148 plays

Play

Play Next

Add to queue

8,288 plays

Play

Play Next

Add to queue

9,397 plays

Play

Play Next

Add to queue

12,162 plays
Genre: Alternative / Indie / Powerpop

Location Mentor, Ohio, Un

Profile Views: 180293

Last Login: 2/10/2011

Member Since 8/25/2005

Website www.myspace.com/thethrifters

Record Label Unsigned

Type of Label Unsigned

Bio

Emerging from Cleveland, Ohio, Pop/Rock sensation, the "Thrifters" have been aspiring to create and develop their own unique brand. While exploring uncharted musical territory since 2004, these five friends have been captivating audiences all around the Midwest & East Coast. In August 2007 the band parted ways with front man/vocalist, Brendan Lieske, due to personal & business reasons. It didn't take long before good friend Sergio McCollam stepped into the role of vocalist and the band soon was off and running developing their new sound and image... In the summer of 2008, with Sergio at the helm, the band finished recording it's second Full Length LP entitled "It's Going Down". Filled with driving rhythms and intricate guitar melodies that are topped with catchy hooks and smooth vocals, the result is an album that is packed with songs that are both radio ready with the ability to cross a wide demographic. Released in October 2008, the album is already receiving airplay on local commercial/college and regional/National college stations. Having shared the stage with such Major & Indie recording artists like; 311 (Volcano/Jive), Matisyahu (JDub Records/EPIC), Senses Fail (Vagrant Records), From Autumn to Ashes (Vagrant Records), All Time Low (Hopeless/Subcity Records), Valencia (I Surrender Records), Hit The Lights (Triple Crown Records), Barely Blind (TDR Records), 2*Sweet, Jeffree Star, and The Pink Spiders, the Thrifters have shown their versatility by performing with a wide variety of artists.

Members

Influences

Sounds Like
Bio:
Emerging from Cleveland, Ohio, Pop/Rock sensation, the "Thrifters" have been aspiring to create and develop their own unique brand. While exploring uncharted musical territory since 2004, these five friends have been captivating audiences all around the Midwest & East Coast. In August 2007 the band parted ways with front man/vocalist, Brendan Lieske, due to personal & business reasons. It didn't take long before good friend Sergio McCollam stepped into the role of vocalist and the band soon was off and running developing their new sound and image.
In the summer of 2008, with Sergio at the helm, the band finished recording it's second Full Length LP entitled "It's Going Down". Filled with driving rhythms and intricate guitar melodies that are topped with catchy hooks and smooth vocals, the result is an album that is packed with songs that are both radio ready with the ability to cross a wide demographic. Released in October 2008, the album is already receiving airplay on local commercial/college and regional/National college stations.
Having shared the stage with such Major & Indie recording artists like; 311 (Volcano/Jive), Matisyahu (JDub Records/EPIC), Senses Fail (Vagrant Records), From Autumn to Ashes (Vagrant Records), All Time Low (Hopeless/Subcity Records), Valencia (I Surrender Records), Hit The Lights (Triple Crown Records), Barely Blind (TDR Records), 2*Sweet, Jeffree Star, and The Pink Spiders, the Thrifters have shown their versatility by performing with a wide variety of artists.
Pick up our latest LP,

"It's Goin Down"

available at these locations

@


The Thrifters are Endorsed by: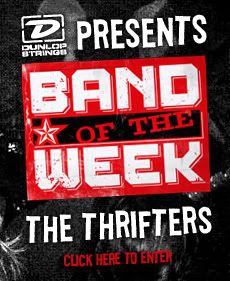 Click here to visit the Silverfox MySpace!
---------------------------------------------
Management:
..

Mike Villegas at

Phone: 216-235-4549..

E-mail:
..area67entertainment@yahoo.com

AIM - Area67Ent..

Booking:
..
Martin Cargill at
Phone: 954-290-6211..
E-mail:
..Secchancebooking@aol.com