Nerd Rage hasn't earned any badges yet... have you?
General

Founder of

www.iheartrobotchicken.com

Photoshop Junkie, motion graphics, Drawing, Painting, Fine Arts, Pop Culture FANATIC! (has been described as a popculture savant), Sewing, my two wonderful kids, computer design.

Music

Everything. Classics like Marvin Gaye

Frank Sinatra

Bobby Darin

Neil Diamond

Tenacious D

=w=eezer

AC|DC

Presidents of the USA

Violent Femmes

They Might Be Giants

No Doubt

The Dead Milkmen

Lemon Demon

White Stripes

Modest Mouse

Franz Ferdinand

The Frattellis

The Specials

Dio

The Beatles

OkGo

White Stripes

Rush

Neutralboy

Ludacris

The Ramones

MC Chris

stuffloads that I can't think of...

Movies

SHAUN OF THE DEAD!!!

Land of the Dead

Dawn of the Dead

Night of the Living Dead

The Shining

Batman Begins

Stewie Griffin the Untold Story

Clockwork Orange

Kung Fu Hustle

Silence of the Lambs

Napoleon Dynamite

The Exorcist

Hitchhikers Guide to the Galaxy

Unbreakable

Kill Bill 1 and 2

Anchorman

Mel Brooks movies

American Werewolf in London (See You Next Wednesday)

Spiderman

Army of Darkness

Donnie Darko

Blade Runner

Dumb and Dumber

Nausicaa of the Valley of the Wind

My Neighbor Totoro

Spirited Away

The Incredibles

Monster's Inc.

Toy Story (I and II)

Finding Nemo

Harry Potter

Indiana Jones

Finding Neverland

One Crazy Summer

Lord of the Rings

The Dark Crystal

signs

Princess Bride

Uh...those Star Wars movies cept only the Fan Edited version of Episode 1...basically just the whole Darth Maul fight scene edited together

Orgazmo

Serenity

40 Year Old Virgin

Eurotrip

Superman Returns

Anyone else looking forward to the new Sam Jackson movie, Snakes on a Plane?...yes, really...Snakes on a Plane. Come join the MySpace group for Snakes on a Plane

Television

..(S.A.D...Save) Arrested Development

Scrubs

The Office (BBC and NBC)

My Name is Earl

[adult swim]

Robot Chicken

Family Guy

The Simpsons

American Dad

Greg the Bunny

Wonder Showzen

CSI

Law & Order

Aqua Teen Hunger Force

Wonder Woman

Golden Girls

Jerry Springer (not really)

Family Ties (really)

The A-Team

Quantum Leap

DVD series of shows gone past

And I haven't thought about this in a while, but I used to totally dig Red Dwarf and I have almost the complete show from Seasons 1-7 & 1/2. Yay cross dressing Rimmer and Mr Flibble!

I LOVE ARRESTED DEVELOPMENT!!!!

Books

..Choke -- Chuck Palahniuk, Photoshop books, Douglas Adams--Hitchhiker's Guide to the Galaxy. Bowling Beatnicks and Bellbottoms: Pop Culture of the 20th Century America (I only own the 1920s-1930s...someone find me the others for my b-day) The Stephen King book, Cell...it's about zombies and there's a comic book artist. Don't want to spoil it for you. I also read comic books, here's what's on my list of current reads:

Marvel Zombies

The Walking Dead

Freshmen

Shaun of the Dead

webcomic coming soon, Dead Till Dawn

(based on me I think.)

New books to be excited about:

Serenity: Better Days hit's shelves in March

Heroes

..Superman, BRANDY PANTS (My best friend who makes number 2 because Superman is a dick and would totally knock me out if he weren't my no. 1) Seth MacFarlane, Scott Kelby...sorry guys Superman comes first. See also: I'd like to meet ..
Play

Play Next

Add to queue

Play

Play Next

Add to queue

Play

Play Next

Add to queue

Play

Play Next

Add to queue

Play

Play Next

Add to queue
About me:
Hi everyone! Wendy Lady here...aka Wonder Wendy aka Nerd Rage #42 Skater for the team Death Rattle Rollers of the Slaughter County Roller Vixens!
DONATE TO THE NERD RAGE ROLLER CON 09 FUND-O-RAMA! DONATE OVER $7 and get the Nerd Rage Collectible Button Set!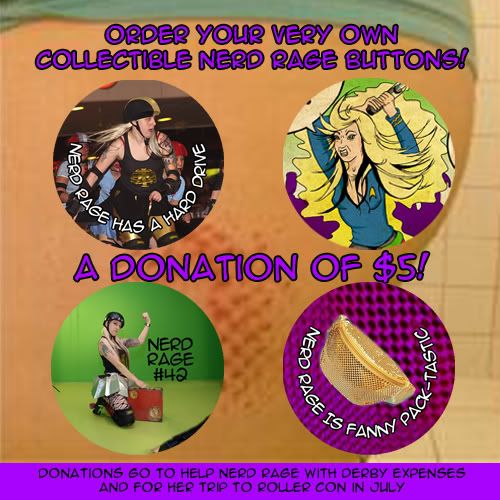 Nobody's Pushing
Nerd Rage in a Locker!
JOIN ROLLER DERBY!!!
Get this video and more at
MySpace.com
IF YOU CAN DRAW THIS TURTLE AND PIRATE, YOU CAN BE MY FRIEND
My amazing kids,
Anakin and Kal-El
PROUD MOTHER OF A CHILD WITH AUTISM!
CUTE!!!
MY NEW YEARS RESOLUTION FROM 2006
Actually started Halloween 2005
It is amazing to think that I was once a fat ass
2 lbs away. New goal, to be 133 which was what I was in highschool when I was doing track, weight training and theatre all at once!
Stats
=5'5" Long blonde/black hair.
=2 wonderful boys
=Graphic design student
=Associates of Technical Arts in Integrated Mutimedia
=Was attending college at Henry Cogswell College in Everett, WA for my BA in Digital Arts...not so sure about that now...stupid not having any money.
=Adult swim type of humor
=Costumer
=Artist...I like drawing/painting unusual Cheesecake Pin Up Fetish Babes with a twist. I may do the cliche Pirate babe on occasion, but I really like to do the unusual ones that most artists don't do. Such as my Where's Waldo babe and the to be posted. PLEASE SEE MY PICS FOR MORE ART!
I am very weird in a way most others don't realize. I have this odd ability to instantly access information about things that have happend in Pop Culture in the past 40 years or so...sometimes even further back. Hence the Pop Culture Savant title. Hence the weird pin up fetish babes. Hence...=wendy lady=
My Best Friend in the whole entire world is Brandy Love!
She kicks ass like no other. Rocks my fuckin socks off. Is there to listen to me bitch. I would totally take a bullet for that bitch! Brandy, I am there for ya when you need me. Just not in the lesbian way so you can stop tryin!
Likes:
Chocolate, Unicorns, Chocolate Unicorns, Birthday Presents (hint hint...it's coming up), when you poop and there's just a solid poop with nothing to wipe...saves on toilet paper, and let's face it folks, how many trees do you think have been cut down to wipe ur ass. People who still believe in Hallmark moments (but not the Hallmark moments with those Red Hat ladies...they creep me out).
Dislikes:
Hippies...wait, correction...Dirty Hippies. And Red Hats.
Favorite Color:
You're asking a graphic designer their favorite color? "ALERT ALERT, SENSORY OVERLOAD, SENSORY OVERLOAD"
.. ....
Who I'd like to meet:
Other creative artists like myself. People in the industry. Ed "Big Daddy" Roth, Alex Ross, Chip Kidd, Olivia, Alberto Vargas, George Petty, cOOp, Larry Welz (met him once...bought one of his sketches...influenced my pervyness.
Status:

Single

Here for:

Networking, Friends

Hometown:

B-town, WA

Orientation:

Straight

Height:

5' 5"

Zodiac Sign:

Sagittarius

Children:

Proud parent

Education:

College graduate

Occupation:

Graphic Designer
Henry Cogswell College

Everett, WASHINGTON

Graduated:

2007

Student status:

Alumni

Major:

Digital Arts/Graphic Design

2004 to 2005

Olympic College

Bremerton, WASHINGTON

Graduated:

2004

Student status:

Alumni

Degree:

Associate's Degree

Major:

Integrated Multimedia

Clubs:

Founder, Associated Students of Photoshop or ASP.

2002 to 2004

Bremerton High School

Bremerton, WASHINGTON

Graduated:

1998

Student status:

Alumni

Degree:

High School Diploma

Major:

Computer Arts

Clubs:

nerd. geek. sat on the floor by the payphone with the other non-jock type.

1996 to 1998
Television
Visual Effects
Digital Effects

Hello, Graphic Designer here...please check out my wacky MySpace page to see more about me and what I am doing. I am currently working on www.iheartrobotchicken.com a website dedicated to the fans of the show Robot Chicken on [adult swim] Thanks and