Play

Play Next

Add to queue

890 plays

Play

Play Next

Add to queue

2,524 plays

Play

Play Next

Add to queue

1,775 plays

Play

Play Next

Add to queue

369 plays

Play

Play Next

Add to queue

435 plays
Genre: Pop / Rock

Location Denver, Colorado, US

Profile Views: 31302

Last Login: 7/8/2011

Member Since 12/5/2006

Website wendywoo.com

Record Label WooMusic Records

Type of Label Indie

Bio

.. ..Upcoming..Shows .. .. .. .. .... .. .. .. .. .. .................... .. .. .. .. This Fall with the Wendy Woo Band! .. .. .. .. ...... .. .. .. .. .. .. .... .. .. .. .. .. .. .. .. .................... .. .. ..Buy..Our Music .. .. .. ..Saving Grace.. is the latest acoustic album featuring Wendy Woo on acoustic guitar and Robin Hoch on viola! .. .. .. .. __ .. ...... .. ___ .. ...... .. .. ..Luxury.. is the latest full band album! .. .. .. .. __ .. ...... .. ___ .. ...... .. ___ .. .. .. ..The..Biography .. .. .. The Wendy Woo Band loves performing catchy, upbeat songs that get everyone of all ages up and dancing!  From the pop rock sound of "Out of My Head Over You" to the acoustic rock feel of "Down and Dirty," a song that demonstrates Wendy's ability to tap on her guitar in a rhythmic way, their shows are not one to miss.  .. The Wendy Woo Band has the versatility to play any show as a five piece or down to a single player, Wendy Woo. A duo is formed with Wendy and Robin Hoch or a trio with Wendy, Chris Maestas and Mitch DeZwarte. These four can come together or another member can be added for a five piece. This is possible because of the musicianship of the band's members. Wendy plays acoustic and electric guitars, Robin plays viola and guitar, Chris plays drums, percussion, bass and guitar, and Mitch plays bass, guitar and keyboards. .. In 2009, The Wendy Woo Band came in second place as part of the Almost Famous Battle of the Bands and made the top 5 of Channel 7's A-List for Best Local Band in Denver. This was all possible by the support of fans. Here is what they have to say: .. "She is a great local singer/songwriter, a local treasure, who has been entertaining music lovers of Colorado for over ten years. Her music is listenable, danceable, and always growing" (Mark O.) .. "Wendy Woo sings our thoughts and feelings with extraordinary depth and talent. She and the band are as phenomenal live as they are recorded!" (Heather H.) .. "Wendy and her band are amazing I've never seen a bad show they just make you feel good deep down to your core! Thanks guys!" (Shannon S.) .. "I've been following Wendy Woo both individually and with her band for several years now. Whether playing acoustically or in full band rock-out mode, the shows are always amazing. Both lyrically and musically speaking, I have yet to find another band in Denver that operates on the same level as the Wendy Woo Band" (Tamra W.) .. What started as a way to keep singing after high school, Wendy Woo picked up the guitar and has been playing music for a number of years now. Wendy's early influences, the folk-rock music of Suzanne Vega and Paul Simon, inspired Wendy to stick with the acoustic guitar, rather than switching primarily to electric, and to take from her roots in Boulder and add her own style to it. .. She produced five of her own recordings before beginning to form a band with members who would help her write lyrics and music. With the addition of Chris Maestas on drums, Wendy put out one more record before bass player Mitch DeZwarte was added, thus forming a trio. When examining music, Chris is mostly concerned with the capability that music has to affect people and why some songs are more popular than others. Mitch is influenced by composers, rock musicians, country singers and folk musicians alike. With these influences coming together, the trio's album ..Luxury.. was released in 2007 and it has much more of a rock sound compared to Wendy's earlier recordings which are jazz and folk based. .. To further the sound of the band, Robin Hoch was added in the fall of 2008. Wendy and Robin released a duo-acoustic album, ..Saving Grace.., in June of 2009, which showcases the pair's vocal and songwriting abilities. The title track, "Saving Grace," has become a crowd favorite. .. Written by Linzy Novotny .. .. Videos .. .. .. .. .. .. .. .. .. .. .. .................... .. .. .. Links .. .. .. .. __ .. ...... .. ___ .. ...... .. __ .. ...... .. __ .. ...... .. .. Extras .. .. .. .. The Wendy Woo Band made the top 5 for Best Local Band on Denver 7's A List! .. .. .. .. .. .. Click ..here.. to check it out! .. .. .... ...... ..

Members

..Wendy Woo.. .. Vocals .. Guitars .. ..Chris Maestas.. .. Guitar .. Vocals .. .. ..Robin Hoch.. .. Vocals .. Viola .. Guitar .. ..Mitch DeZwarte.. .. Bass .. Vocals .. Keys .. ..David "D2" Derby.. .. Drums .. Percussion ..

Influences

Sounds Like
Bio:
..Upcoming..Shows
.. This Fall with the Wendy Woo Band! ..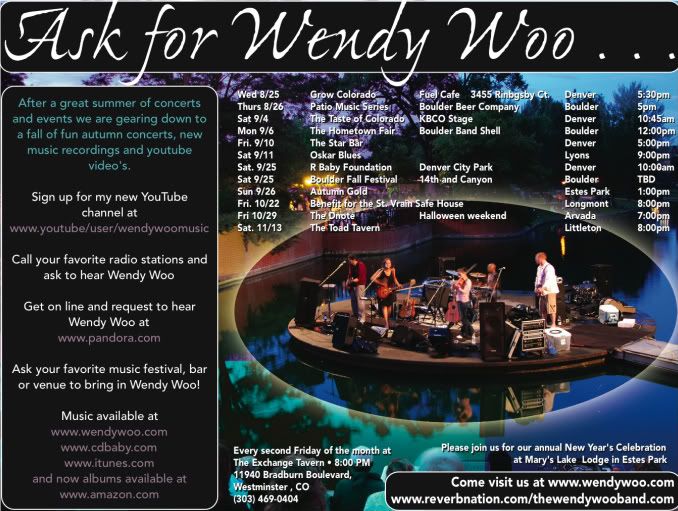 ..

..Buy..Our Music
Saving Grace is the latest acoustic album featuring Wendy Woo on acoustic guitar and Robin Hoch on viola!

Luxury is the latest full band album!

The Wendy Woo Band loves performing catchy, upbeat songs that get everyone of all ages up and dancing!  From the pop rock sound of "Out of My Head Over You" to the acoustic rock feel of "Down and Dirty," a song that demonstrates Wendy's ability to tap on her guitar in a rhythmic way, their shows are not one to miss. 
The Wendy Woo Band has the versatility to play any show as a five piece or down to a single player, Wendy Woo. A duo is formed with Wendy and Robin Hoch or a trio with Wendy, Chris Maestas and Mitch DeZwarte. These four can come together or another member can be added for a five piece. This is possible because of the musicianship of the band's members. Wendy plays acoustic and electric guitars, Robin plays viola and guitar, Chris plays drums, percussion, bass and guitar, and Mitch plays bass, guitar and keyboards.
In 2009, The Wendy Woo Band came in second place as part of the Almost Famous Battle of the Bands and made the top 5 of Channel 7's A-List for Best Local Band in Denver. This was all possible by the support of fans. Here is what they have to say:
"She is a great local singer/songwriter, a local treasure, who has been entertaining music lovers of Colorado for over ten years. Her music is listenable, danceable, and always growing" (Mark O.)
"Wendy Woo sings our thoughts and feelings with extraordinary depth and talent. She and the band are as phenomenal live as they are recorded!" (Heather H.)
"Wendy and her band are amazing I've never seen a bad show they just make you feel good deep down to your core! Thanks guys!" (Shannon S.)
"I've been following Wendy Woo both individually and with her band for several years now. Whether playing acoustically or in full band rock-out mode, the shows are always amazing. Both lyrically and musically speaking, I have yet to find another band in Denver that operates on the same level as the Wendy Woo Band" (Tamra W.)
What started as a way to keep singing after high school, Wendy Woo picked up the guitar and has been playing music for a number of years now. Wendy's early influences, the folk-rock music of Suzanne Vega and Paul Simon, inspired Wendy to stick with the acoustic guitar, rather than switching primarily to electric, and to take from her roots in Boulder and add her own style to it.
She produced five of her own recordings before beginning to form a band with members who would help her write lyrics and music. With the addition of Chris Maestas on drums, Wendy put out one more record before bass player Mitch DeZwarte was added, thus forming a trio. When examining music, Chris is mostly concerned with the capability that music has to affect people and why some songs are more popular than others. Mitch is influenced by composers, rock musicians, country singers and folk musicians alike. With these influences coming together, the trio's album Luxury was released in 2007 and it has much more of a rock sound compared to Wendy's earlier recordings which are jazz and folk based.
To further the sound of the band, Robin Hoch was added in the fall of 2008. Wendy and Robin released a duo-acoustic album, Saving Grace, in June of 2009, which showcases the pair's vocal and songwriting abilities. The title track, "Saving Grace," has become a crowd favorite.
Written by Linzy Novotny
Videos

Links
.. The Wendy Woo Band made the top 5 for Best Local Band on Denver 7's A List! ..


Click here to check it out!
..
Member Since:
December 05, 2006
Members:
..Wendy Woo..
Vocals
Guitars
..Chris Maestas..
Guitar
Vocals

..Robin Hoch..
Vocals
Viola
Guitar
..Mitch DeZwarte..
Bass
Vocals
Keys
..David "D2" Derby..
Drums
Percussion ..
Record Label:
WooMusic Records