No recent updates in this category.
Why not...
Tony Vigorito hasn't earned any badges yet... have you?
General

Beauty, synchronicity, radical self-expression, dancing the wild divine, wordplay, contact improvisation, mindfulness, ultimate Frisbee, eschatology, wilderness, irreverence, social theory, chess, gnosticism, authenticity, gardening, kundalini yoga, sexuality, antagonizing narcissists, lucid dreaming, decontextualization, festivals, radical self-reliance, and music cut on the vocal cords of Dionysus...

Music

..

Movies

..

Television



..

Books

Fyodor Dostoevsky, Anais Nin, Mark Twain, D.H. Lawrence, Herman Hesse, Kurt Vonnegut, Tom Robbins, Alan Watts, James Morrow, Barbara Walker, e.e. cummings, Terence McKenna, Robert Anton Wilson, P.B. Shelley, Mary Daly, Neal Stephenson, Christopher Moore, Hakim Bey, Salman Rushdie, John Myers Myers, Aldous Huxley, Neil Gaiman, Philip K. Dick and on and on.....

Heroes
Play

Play Next

Add to queue

Play

Play Next

Add to queue
About me:
.. I wrote the novels,
Just a Couple of Days
and
Nine Kinds of Naked
. Check out
tonyvigorito.com
or
Amazon.com
for excerpts and the latest updates.
You can also find me on
Facebook
.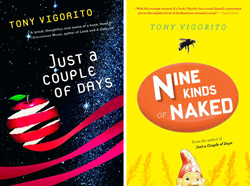 ..REVIEWS OF NINE KINDS OF NAKED..
"Linguistic gymnastics abound... Vigorito demonstrates once again that he's a wild stylist... startlingly original... an entertaining anarchist..."
-
CHICAGO SUN-TIMES
"A neopsychedelic satire... channeling the spirited humor of Douglas Adams'
The Hitchhiker's Guide to the Galaxy
... Vigorito's is a crisp, sardonic voice."
-
TEXAS MONTHLY
"Nine Kinds of Naked
offers ten distinct varieties of literary satisfaction, including metaphysical highjinks, libidinous lowjinks, hermeneutic mind games, Gordian plot twists, cognitive estrangement, linguistic surrealism, stylistic pyrotechnics, laugh-out-loud jokes, scrappy extrapolations, and the synergistic sum of the above."
-
JAMES MORROW
, author of
The Last Witchfinder
and
The Philosopher's Apprentice
"With this strange carnival of a book, Vigorito has scored himself a permanent plot in the neighborhood of the American surrealist novel. The breadth of his imagination and the sheer exuberance of his writing cannot be ignored."
-
NEAL POLLACK
, author of
The Neal Pollack Anthology of American Literature
and
Never Mind the Pollacks
"Tony Vigorito has grown a cult following of thousands for one reason--his stuff is fun to read... Filled with the freshness and the freewheeling independence that made his reputation..., this book is the "work" of one of the least pretentious and most enjoyable to read novelists at play in America today."
-
KRIS SAKNUSSEMM
, author of
Zanesville
"Fans of Vigorito's... 2007 cult hit
Just a Couple of Days
will have a ball with this hyperactive, zany novel."
-
PUBLISHER'S WEEKLY
, author of
Foop!
"[A] whimsical tale of time, space, coincidence, and cause and effect... displays most of the linguistic acrobatics and playful rumination that made his debut a cult classic."
-
KIRKUS REVIEWS
..REVIEWS OF JUST A COUPLE OF DAYS..
"Just a Couple of Days
is a lyrical, thoughtful, viral meme of a book.
Read it!"
-
CHRISTOPHER MOORE
, bestselling author of
Lamb
and
A Dirty Job
"I'd go so far as to say that this novel is
folk heroic
and should be read by anyone who still values their capacity to think for themselves... Real writing speaks for itself--and to us. This does."
-
KRIS SAKNUSSEMM
, author of
Zanesville
"Tony Vigorito's brilliant novel is a
Dr. Strangelove
for the biotech century, a witty and wise end-of-the-world romp that manages to be optimistic--even joyous--yet cynically dystopian at the same time.
Just a Couple of Days
is savvy, wickedly funny, and profoundly disturbing. An absorbing, thought-provoking read."
-
RICHARD HEINBERG
, author of
The Party's Over
and
Powerdown
"Like a technologically-savvy modern-day Rabelais, Vigorito gives humanity a swift, playful, and long overdue slap on the ass."
-
CHRIS GENOA
, author of
Foop!
"Vigorito's...irreverent, whimsical style...has attracted a cult following... The final apocalyptic vision is a twist not seen since Kurt Vonnegut's
Cat's Cradle.
Recommended."
-
LIBRARY JOURNAL
WINNER OF THE INDEPENDENT PUBLISHER BOOK
AWARD FOR BEST VISIONARY FICTION

Click here to read more reviews.
Who I'd like to meet:
I enjoy dissolving the boundary between artist and audience, so if you've read one of my books or might like to, give me a shout...
AND ALSO:
I'm interested in connecting with other writers, artists, poets, singers, musicians, dancers, dreamers, thinkers, screenwriters, film-makers, pranksters, ecstatics, chaos magicians, anyone who does not take themselves seriously, anyone who can discuss Dostoevsky's
Dream of a Ridiculous Man
or Gabriel Garcia Marquez's
Eyes of a Blue Dog
, and anyone who knows that there is so much more happening in life than we give it credit for. ...... ......
Leave me a comment:
.... ..

....
Status:

In a Relationship

Here for:

Networking, Friends

Hometown:

Athens, Ohio

Orientation:

Straight

Body type:

6' 2" / Athletic

Zodiac Sign:

Libra

Children:

Someday

Education:

Grad / professional school

Occupation:

Writer