Current mood:
animated

I just got back from the cardiologist and I feel dirty. Dirty I tell you.

If'n you didn't know, I fall down a lot. A whole lot. I fall down so much that I make most old people with that LifeLine thing look like pansy-ass little whiners. My heart slows to a creeping crawl and I just pass the fuck out. Nice, right? Me and the geriatrics, chilling on the checkered tile.

About a month ago, I had a heart monitor implanted in my chest. It's about the size of a cigarette lighter and looked a little something like this after surgery: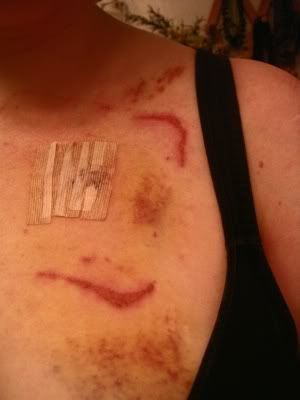 Pretty, right? Just like a sunset!

It also came with a twenty-thousand-dollar garage door opener that I'm supposed to press every time I pass out.




The information is then transmitted to the hospital, where some sort of grotty bsement gnomes write it all down in a little file and stow it away in a big steel cabinet.

This is all very exciting, I'm sure. TranceJen's heart! Wooee!!

Anyway, I have to back to get the fucking thing checked out in order to ensure that it doesn't rot, explode, grow green stuff, or expand, making one boob bigger than the other. Therefore I periodically have to trot over to my friendly neighborhood cardiologist, a nice young Indian guy who calls me Jenny-fahr and Looks At My Boobs.

I think.

Now he's a cardiologist. I fully expect him to be looking at my chesticular area when my shirt is off and I am undergoing an exam. That's all fine and fluffy. However, when my shirt is on and we're all finished exploring what makes me tick I think that he should be talking to my face, don't you? This is not the case.

Maybe he's so used to looking at chests all day that he just never stops.

Or maybe he's a perv.

Or maybe he's searching for some sort of abnormal pounding activity.

Or maybe he's a big pervy perv.

The thing is that I know when men are looking at my boobs, and he most certainly appears to be doing so.

Now, I'm not complaining. If the dude fixes my heart he can look at my boobs, my butt, hell, he can take out a little scope and look right inside my ear into my fucking brain (you thought I was going to say vagina, didn't you - NOPE), but I simply find it to be a little unprofessional that the guy is asking me about dizziness while scoping out the girls.

Maybe it's just me.

Maybe I should just take my slow-assed heart and move on.

What would YOU do?