No recent updates in this category.
Why not...
Kevn Morgan hasn't earned any badges yet... have you?
About me:
NEWS!!!!!!
Join the Kevin Morgan Edition Trans Am on the Pontiac Power Trip June 23, 2010. CALLING ALL PONTIACS! We will be cruising from Tallahassee, Florida to Carlisle, Pennsylvania to the GM NATIONALS! For more information, please go to
Pontiac Power Trip.com
The REAL Kevin Morgan Concept Trans Am was unveiled at the Trans Am Nationals in Dayton Ohio August 29th, 2009!!
IT'S BACK!!!!
To order yours, go to
www.TransAmDepot.com
or
www.KevinMorganDesigns.com
New Kevin Morgan Concept Trans Am Merchandise Available at
www.KevinMorganDesigns.com
!!
Like its mythical namesake that rose from the ashes to a new life, the Trans Am of yesteryear has been born again... the Phoenix T/A. If it is true that good things come to those who wait, then we have surely been rewarded for our patience.
Trans Am Depot is pleased to announce our partnership with designer Kevin Morgan in turning a three-year dream into reality. We, like many of you, have lusted over Kevin's retro interpretation of the '77 - '78 Trans Am based on the 2010 Camaro platform. We began early last year discussing the idea of how we might work together to bring this vision to life.
Currently, we are completing a one-off Kevin Morgan "Trans Am" Concept, which we intend to unveil at the 2009 Trans Am Nationals. The concept will be followed by the first production conversion later this year. It will vary from the concept car but will be an exact version of the conversion kits we will hope to be offering this fall. We are working closely with a Detroit auto design firm to bring this kit to market. We will be offering everything from the body conversion only to the limited Phoenix Edition. The kits will be available as an installed conversion only. Order details, pricing and delivery information will be coming soon. If you are interested in having a conversion performed on your Camaro or purchasing a turn-key conversion from Trans Am Depot, please visit
www.kevinmorgandesigns.com
or
www.transamdepot.com
and fill out the customer form at the bottom of the page.
I personally want to thank each and everyone of you who supported me through this adventure. It has been BEYOND A DREAM and I look forward to working with the Trans Am Depot and BRINGING IT BACK for everyone!
God Bless! Kevin Morgan
www.KevinMorganDesigns.com
For more information on The Bandit Run, please visit
www.thebanditrun.com
For more information on Snowman's Trailer brought to you by The Trailer Team 3, please visit
www.smokeyandthebanditmodels.com
We're bringing back Snowman's Trailer and YOU CAN HELP! We are selling shirts to raise money for the project which is currently underway. The trailer is in Georgia right now getting roadworthy and ready for the huge vinyl wrap of the famous stage coach scene. If you are a Smokey And The Bandit Fan…this is for YOU! You can help us make this a reality. The trailer will go on The Bandit Run yearly, but will also be used to raise money for military families and other charity events.
Snowman T-shirts are available also with a $25 donation per shirt for the real truck. Shipping in the US is $5.45. Outside of the US, please contact me for shipping costs. Sizes are 3X, 2X, X, L, M, S.
Click Here to purchase your shirt today.
For more information about this project please visit
Kevin Morgan –
www.KevinMorganDesigns.com
Tyler Hambrick –
www.www.SmokeyAndTheBanditModels.com
Greg Vassar
Please share this information with every Trans Am Fan you know!
2001 TRANS AM FOR SALE!! WS6 Ram Air Hood, T-tops!
THIS IS A VERY WELL KEPT TRANS AM, OVERALL EXCELLENT CONDITION, GARAGE KEPT. IT HAS 15226 ORIGINAL MILES. IT IS WHITE ON THE EXTERIOR, BLACK LEATHER INTERIOR, THERE IS SLP ACCESSORIES INSIDE, SUCH AS MATS. CLEAR TITLE, MANUAL SIX SPEED TRANSMISSION. 8 CYLINDER 5.7 LITER ENGINE, VERY CLEAN ENGINE - SLP AIR COVER - RAM AIR. THE CAR HAS T-TOP, BORLA EXHAUST, SLP SUBFRAME CONNECTORS, TA REAR END COVER. THE REAR TIRES ARE NEW AND THE CAR COMES WITH A EXTRA BATTERY. MUST SEE!
garage kept
15,226 miles
white exterior
black leather interior
manual transmission
cd player
t-tops
driver
passenger airbag
power locks
a/c
antilock brakes
power windows
power seats
cruize control
PRICE REDUCED TO $18,000
CLICK HERE FOR MORE PICTURES AND INFORMATION.
Thanks For looking!
Kevin Morgan
www.kevinmorgandesigns.com
---
Help Support a Dream:
A REAL Smokey and the Bandit Kenworth and Trailer!
I am currently working on this project with Tyler Hambrick from Georgia (
smokeyandthebanditmodels.com
) and Greg Vasser (AKA The Minnesota Bandit). We have now purchased a trailer just like in the movie. The Trailer is going to be restored to look like Snowman's Trailer in Smokey & The Bandit. It is currently at
Wolfman's Muffler Center
Chris Harmond
2 Bullsboro Dr # D
Newnan, GA
(770) 683-4449
getting some welding work done on it.
Click here
for some current pictures.
You can learn more at
www.smokeyandthebanditmodels.com
Thank You & Please help spread the word about our project!
Thank You!
..:: PLEASE HELP ME BY SIGNING THE PETITION! ::..
I figured the next logical step in my journey in trying to Bring Back The Trans Am is to let GM & Pontiac hear all of the GREAT comments I have heard over the past year & a half on myspace, at the Trans Am Nationals and at the Year One Experience in Georgia. SO I have created a Bring Back The Trans Am Petition to give everyone a chance to help me with my Journey. I have had 25,048 visits to myspace page & have 1504 friends on my list. I am asking for everyones help on this one!!
You can sign the petition
HERE
.
Thank you for your help EVERYONE!!!
Kevin Morgan - Graphic Designer
Canton, PA
www.kevinmorgandesigns.com
designer of the concept trans am.
official designer of the Trans Am Nationals.
Bring It Back Concept Trans Am T-shirt.
Black shirt with gold print.
Only $25.00 plus shipping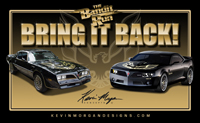 8.5" x 14" Bring It Back Concept Trans Am Poster featuring the 2007 "The Bandit Run"
Supplies are limited.
Only $5.00 plus shipping
Concept Trans Am Decal measuring around 5" wide.
Only $5.00 plus shipping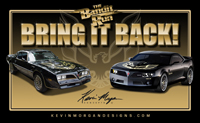 Bring It Back Concept Trans Am Decal measuring around 5" wide featuring the 2007 "The Bandit Run" logo. Supplies are limited.
Only $5.00 plus shipping

Check out my Trans Am Concept Car Video Clip on
YouTube.com
!
http://www.youtube.com/watch?v=TY_hEI9ujwU
Here is a picture of me signing my first autograph at the 2006 Trans Am Nationals in Dayton Ohio.
My name is Kevin Morgan...I am the designer of the Trans Am Concept Car you have been seeing floating around the net and in Hot Rod, High Performance Pontiac, Popular Hot Rodding and POCI Smoke Signals Magazines. Click on my pictures to see all my concepts!! Help me spread the word!! Thanks!! A special Thanks to Mr.B at
transamcountry.com
for all of his help getting the ball rolling with this thing. It was all started with one post on his forum. If your a Trans Am Lover, I would reccomend going to his website.
Here are some of the NATIONAL MAGAZINES & newspapers my concepts have been in. Click on the graphic to view them large.
I currently own a 1981 Trans Am.
I am a member of the following T/A sites...
http://groups.myspace.com/transam
www.transamcountry.com
Here is a link to my personal Trans Am site...
My 1981 Trans Am Website & Concept Drawings
Copyright Kevin Morgan. All rights reserved The marks appearing on this website including, but not limited to: GM and the GM Logo; Chevrolet, Pontiac, and their respective logos, emblems, slogans and vehicle model names and body designs; are trademarks and/or service marks of General Motors Corporation, its subsidiaries, affiliates or licensors.
..
nUCLEArcENTURy.COM
Who I'd like to meet:
Status:

Married

Orientation:

Straight

Zodiac Sign:

Pisces

Children:

Proud parent

Smoke:

No

Education:

College graduate

Occupation:

Graphic Designer