Laser Light Shows & Concert/Event Lighting/Effects hasn't earned any badges yet... have you?
General

So many interests but A warm heart is always what a person like myself love's, because it's what I am..... I'm warm hearted man and I love life.



Tribal Existance Productions and I would love to design and construct your next: event, concert, film project, motion picture, product or brand presentation, corporate event, holiday presentation, award show, convention, trade show, tour, festival, music video effects, Casino display, signage super ultra lounge or night club, high profile wedding, specialized private event and or any project or idea you wish make happen & come true. Tribal Existance Productions is bringing dreams into reality with our amazing special effects.

Music

Movies

Television

Books

Heroes

People who work hard in the many types of Presentation & Entertainment Industries Worldwide. Also Fellow Production Industries & Companies always gain our admiration and respect....... We also want to express our sincere gratitude to all the many: Event Planners, Event Promoters, booking agents, Corporate design management teams, Product & Brand Marketing design firms, Film Directors, Entertainment Managers and special thanks to all the professionals that continue to bring their clients & customers to our Company for their custom lighting, laser, production and special effects needs where ever their projects, events and presentations take them.
Laser Light Shows & Concert/Event Lighting/Effects has 29701 friends.
About me:
Tribal Existance Productions Corp. DBA - Worldwide Specialized Production Services has compiled years of Amazing International and National Tours also: Concerts, Specialized Events, Ultra Lounge and Super night Clubs, Fair Grounds Events, Arena/Stadium, Pavilion, Theatrical, United States/International Governmental Events, International Holiday Events, Corporate Product Brand Marketing Presentation Effects Corporate events, Massive Rave and Electronic Music Events, Non-profit fund raiser productions, Dances, Film Stage, Fashion show Presentations, Media, Film sets designed on location & Television production on Location. We Specialize in Customized Production Services. We Provide Professional Services with Quality Innovation for the Music, Film, Fashion Industries, Corporate and Special Events. If your looking for the best looking quality event with custom Special Effects for ANY Style of music, Live Performance, Special Acts or any Production with mind blowing High Power Laser Light Show Projection/Display or animated event and concert lighting systems including specialized trussing provided in many sizes for any performance area or stage, full roof top truss covered or a specialized circle truss in custom large sizes and can be loaded with any of our many custom Concert or event lighting packages. The following list is a sample of the many lighting systems we provide; animated lighting systems we supply are as follows, HI-End - Studio spot 575 or 1,200 Watt ranges in our X-Spot Arena Fixtures-(Custom Optics), MAC 2000 - 1,200 Watt, MAC 600 Intellabeams 700Hx, Techno beams 250 Watt (adjustable beams for width), Cyberlights-HX in very high output ranges, Studio beam specialized lighting wash effects, L.E.D. Custom lighting systems, L.E.D. Screens Digital media projection systems multi-entry, Color spots 250 Watt or higher, Color changers (many power ranges), Atomic strobes 3,000 Watt (peak at 4,600 Watts) can be adjustable strobe speeds and brightness as well as continues white light on strobe in this mode for special effect, H20 lighting -water effects-, Follow spot towers, Stage backdrops -Video or non-video, par lighting-systems, Source 4 lighting, DMX Stage Wash Packages, DL-2 -NEWEST Digital media animation 20K Lumen lighting and the list Continues. We can supply Custom Laser Systems at Very High Wattage Levels and all in many Color Ranges, as our Laser Systems can be in full color Red, Green, Blue or all colors between with our D.P.S.S. air cooled and KTP water cooled State of the Art Laser Projection/Display Systems. The our lower power Laser Wattage Ranges from 1-5 watts for Ultra Night clubs or smaller Venues and also for larger Venues for Example: Arena/Stadium, Pavilion, Warehouses, Outdoor Aerial Sky Laser Light Show Projection/Display. The High Power Laser Systems are Very Bright and Range from 20 to 50 Watts for Customized Company Logo Image Projection/Display and Animation for Long Distance Projections, Higher Wattage can Range up to 80 watts(Very Powerful) depending on your budget. Aerial Laser shows performed above 300Ft. in the sky Must be Clear of Aircraft, as we submit to the F.A.A. for the United States Regions and International Governmental Regions to Issue the required Clearance Report to AIRMEN in the AREA. WE ALSO PROVIDE ALL LEGAL REQUIREMENTS, PERMITS AND INSURANCE FORMS Needed as Part of our Professional Services. Tribal Existance productions Provides Professional Services in other Departments, Stage lighting (animated or fixed lights at very low or high wattage outputs and features) Also we supply Searchlight Rental 4000 Watt Sky lamps, Motion Picture and Media productions Film Set lighting Very High End products, Film laser effects on background shots of Blue or Green screen's For Special Effects, Film Stage Designs, Grip support, Product or Brand Film Effects Film Set Animation and Many Specialized custom designed productions THANK YOU SO VERY MUCH FOR TAKING AN INTEREST IN OUR CUSTOM SERVICES, VISIT OUR WEB SITE(S)
http://www.tribalexistance.com
http://www.tribalexistance.org
http://www.tribalexistance.net
or call during normal business hours: Mon-Fri 12pm-6pm PST USA -(707)-484-8757 any questions we're here to help.. Company E-MAIL: booking@tribalexistance.com services@tribalexistance.com..
..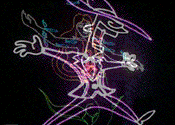 SPECIALIZED HI-POWER LASER GRAPHICS IN FULL MOVING ANIMATION, CUSTOM DESIGNS AND LOGOS BY
WWW.TRIBALEXISTANCE.COM
Who I'd like to meet:
I'm Marcus the CIO / CTO - Project Manager of Tribal Existance Productions Corp. D.B.A. Worldwide Specialized Production Services, just so you know the spectacular magic behind the Stage effects and lights. I'm a 6'1 tall blonde/lite red and blue eyes about 185lbs. I like to Dress up for events but I love to ware South Pole and Phat Farm to relax. I Love to see Thousands of Event Goers smiling and having fun every weekend at the Events we are contracted to design and Build. I'm A very Nice and kind type of guy, I love to make people happy and I could say this Lifestyle is very Rewarding. I live in Northern California, U.S.A. when I'm here but I'm always traveling around at some Arena, Film stage, Pavilion, Stadium, Event Center or Super Night Club working somewhere in the World....I LOVE TO MAKE PEOPLE AND EVENT CROWDS SMILE BIG...........MY PERSONAL E-MAIL marcus@tribalexistance.com or booking@tribalexistance.com for the
http://www.tribalexistance.com
- - (ABOVE) - This Music Video is Hostility, a very High Energy Performance Filmed in 2006 - This is another Quality Production Designed by Tribal Existance Productions, we are always honored to design specialized productions for Great Artists. Quality Innovation for any type of Music, Film, Live Performance and Special Events. ------------------------------- (BELOW) - 2009 Promo Video - Tribal Existance Productions -
Status:

Engaged

Hometown:

Belfast,Ireland

Orientation:

Straight

Body type:

6' 1" / Slim / Slender

Zodiac Sign:

Aries

Children:

Someday

Education:

Grad / professional school

Occupation:

Project Manager - WorldWide Production Services

Income:

$250,000 and Higher
Tribal Existance Productions Corp.

Rohnert Park, CA and New York City, NY Offices, WORLDWIDE (INTERNATIONAL SERVICES) US

CIO/CTO - Project Manager

1998 - present