Play

Play Next

Add to queue
Play

Play Next

Add to queue

1,222 plays

Play

Play Next

Add to queue

1,376 plays

Play

Play Next

Add to queue

1,571 plays

Play

Play Next

Add to queue

1,036 plays

Play

Play Next

Add to queue

4,819 plays
Genre: Americana / Blues / Classic Rock

Location Navasota, Texas, Un

Profile Views: 90128

Last Login: 3/19/2013

Member Since 5/29/2007

Website http://www.msplinks.com/MDFodHRwOi8vd3d3LnR1YmllYW5kdGhldG91Y2h0b25lcy5jb20=

Record Label Tubie inc.

Type of Label Indie

Bio

.. ........ .. ..In November 2008 the song 'Goodbye' from "The Lonestar Blues" CD made it to 26 on the ECMA charts in Italy!! In January of 2010 the song 'My Dream' from the "Blue With Envy" CD was 33 on the ECMA charts in the UK!! .. .. ..Tubie was a nominee for musician of the year and performer at the 2009 and AGAIN nominated for musician of the year at the 2010.... ..    ....Texas Music Awards...... ..Tubie is also nominated for BLUES ARTIST OF THE YEAR in the Upstate Indie Awards in the Syracuse N.Y. music awards!!!AND......A 2 time Gold Artist Award recipient from RadioIndy...... .. ....Blue With Envy REVIEWS!!...... "BLUE WITH ENVY" ©2009 Independently Released Review by Lucky Boyd .. ....BLUE WITH ENVY" ©2009 Independent Tubie is back with another episode of the blues, this time every corner of the genre is explored, from the swampy to the traditional. There's even an 'Island' feel to "Look To Any Corner." The musicianship is excellent on this release as Tubie Pushée has mastered the delivery of blues music. The softer side comes out on "My Dream" which is a more country-feeling track. The guitar work is typical Tubie, accurate, appropriate, and amazing. All of Tubie's albums are great for leaving in the player for extended periods. Great for listening, but also fantastic for providing a mood. A favorite cut is "The NyQuil Blues" which, in addition to a great musical effort, is a lyrical treasure, written by my good friend Herb Steiner. Tubie does a great job on Herb's tune. This is Pushée's third release, and it's one that solidifies him as a blues mainstay in Texas. .. .. author: Diane and the RadioIndy.com Reviewer Team Tubie Pushe'e and his outstanding third release, "Blue With Envy," shines brightly with original and creative Texas-style blues. The first track, "Gimme Back My Car," leads off the disc with a flurry of good ol' blues. The vocals belt out the trials of love gone wrong, while the harmonica blows harmonious riffs and the walking bass line moves the steady and solid beat. Generous helpings of organ hooks and edgy guitar riffs heat up the bluesy tones of "Me and My Woman" which gives this song a deep, country roots feel. A bit of down home country flavor highlights the vocals while the piano complements the sweet guitar solo on "Home." "Skubie's Do 2" is a lush and lyrical guitar solo which is not only blues expression at its best but shows the great talent offered up on this disc. Pushe'e not only displays his love of the blues with engaging style but he also offers some diversity with tempo changes throughout the album. You can't go wrong listening to the well-fashioned songs of "Blue With Envy" by Tubie Pushe'e, as it is packed with terrific vocals, lyrics, and a solid support of instruments....... .. .. ..ALL 3 albums are for sale at:.... ............ .. .......... .. .......... .. .. ....Tubie is a Texas native, Texas blues songwriter and BMI artist from Navasota....the 'Official' Blues capitol of Texas!!!!!!!!!!!!!!!!!!!!!!!!! Tubie and The Touchtones played in the state capitol rotunda April 5th, 2007 for the reading of the resolution in the state legislature to name Navasota the blues capitol!!! They are the signature band for the Navasota Blues Fest Organization!!! AND played for the state of Texas at the Washington on the Brazos State Park for the 4th of July celebration in 2008....... .. .. Tubie & The Touchtones has been primarily a blues and classic rock band ..But................................................................................... NEWS FLASH!!!!!!!!!!!!!!!!!!!!!! .. The third CD 'Blue With Envy' is now out along with our AWARD WINNING second CD 'The Lonestar Blues' and the debut the CD 'Just can't believe it' and for sale!!!!!!! all new music written by Tubie. It is distinctive blues and rock and more with a Texas flavor. 'Blue With Envy' and 'The Lonestar Blues' was recorded with Granger Smith as the producer!!!!!!!!!!!!!!!!!!!!!!!!!!!!!!!!Get yours today and you will be HAPPY!!!!!!!!!!!!!!!!!!!!!!!!!!!!!!!!!!!!!!!!!!!!!!!!!!!!!!!!!!!!!! .... "THE LONE STAR BLUES" ©2008 Independently Released .. Review by Lucky Boyd....MyTexasMusic .. From the opening "Upside Down" Tubie Pushée sets the bar for this album with a real thinker set in an exciting blues feel. Throughout the disc you'll find several blues styles, all of them excellently executed. From rock to swamp to folky blues, Pushée offers a diverse setting for his sophomore project. Penning most of the cuts himself, Pushée swings the pendulum vocally as well. His rough style is perfect for "Talk To Me Blues" (written by Donnis Hammond) and he uses his 'inside' voice for "The H.R. Dept. Blues," which is the kind of song you could only write if you've lived it. Poor sap. You'll hear an array of guitar work, and while the licks aren't wrapped in an L.A. style polish, they are truly Texan, and each one seems to be the perfect choice for it's respective track. I'm impressed with this second release and I think it elevates Pushée to a new level among blues players in Texas. Without question, he can hold his own at any blues festival in the state. Pushée has remained true to his artistic control on this album and has offered fans a diverse release with some real gems on board. I listened to this album three times all the way through before capturing my thoughts on the project. It's comfortable in that respect and it has a decent flow that keeps you listening. True Blues fans will flock to this album. .... Review from RadioIndy: .... ...... .."The Lonestar Blues" is a Texas blues guitar album that features quirky, unique lyrics and jazzy undertones from Tubie Pushe'e. Tubie's voice is a huge part of the sound, delivered with that Texan country twang that shows his personality and forces the listener to lean on every word. The arrangements behind him are skillful and create a relationship between clever lyricist and top-notch musicians you will surely enjoy. The riffs are catchy, and the rhythms are bouncy, with great variance from song to song. The production quality of "The Lonestar Blues" is very good as well, with emphasis placed on truly capturing the rawness of Tubie. Highlights include "Talk to Me Blues," with a driving rhythm, great guitar work, and a lively vocal performance. "Goodbye" touches on the swampy side with a little harmonica, some Tubie twang, and smooth vocals. The title track, "The Lonestar Blues," closes things out nicely with more great guitar work and is as blue as blues can be. With "The Lonestar Blues," Tubie Pushe'e has compiled an album full of unique and enjoyable blues songs. If you enjoy Texas blues with off-the-wall, twangy vocals, give Tubie a listen.....-William and the ..RadioIndy. com.. Reviewer Team....Check out Tubie_Pushe'e..'s music on RadioIndy. com with link to purchase and links to popular sites...... .... .... For itunes users click here to download any or all songs or albums!! .. .......... Tubie is a member of .. .. .... .. They also play rhythm & blues, classic country, NEW original music, and a few reggae, Spanish, and Cajun tunes. This is a high-energy, very danceable band and is comprised of solid professionals with years of crowd-pleasing experience..... ..

Members

Tubie Pushée...Vocals rhythm and lead guitars .. Clay Failla...Drums .. Les Morey...Vocals and bass .... Michael Gaskins...Sax

Influences

Albert King, Hank Williams, The Beatles, Chet Atkins, Muddy Waters, SRV, Louie Armstrong, Towns Van Zandt, Lightnin Hopkins, Bill Monroe, Robben Ford, Johnny Cash, James Taylor, Little Feat, Pete Fountain, Jeferson Airplane, Willie Nelson, Pure Prairie League, Donnis Hammond, Freddie King, Eric Clapton, Robert Johnson, Bob Wills, Hendrix, Bob Dylan, BB KING, Simon and Garfunkel, Merle Haggard, Stevie Wonder, Kardo, Santana, T-bone Walker, Rev. Gibbons, Crosby Stills Nash and Young, The Doors, Robert Cray, The Allman brothers, Jeff Beck, EVH, Skotty rock, Mance Lipscomb......In no particular order

Sounds Like

Tubie
No recent updates in this category.
Why not...
Bio:
..
In November 2008 the song 'Goodbye' from "The Lonestar Blues" CD made it to 26 on the ECMA charts in Italy!! In January of 2010 the song 'My Dream' from the "Blue With Envy" CD was 33 on the ECMA charts in the UK!!

Tubie was a nominee for musician of the year and performer at the 2009 and AGAIN nominated for musician of the year at the 2010

    Texas Music Awards

Tubie is also nominated for BLUES ARTIST OF THE YEAR in the Upstate Indie Awards in the Syracuse N.Y. music awards!!!AND......A 2 time Gold Artist Award recipient from RadioIndy

..



Blue With Envy REVIEWS!!
.... "BLUE WITH ENVY" ©2009 Independently Released Review by Lucky Boyd
..
BLUE WITH ENVY" ©2009 Independent Tubie is back with another episode of the blues, this time every corner of the genre is explored, from the swampy to the traditional. There's even an 'Island' feel to "Look To Any Corner." The musicianship is excellent on this release as Tubie Pushée has mastered the delivery of blues music. The softer side comes out on "My Dream" which is a more country-feeling track. The guitar work is typical Tubie, accurate, appropriate, and amazing. All of Tubie's albums are great for leaving in the player for extended periods. Great for listening, but also fantastic for providing a mood. A favorite cut is "The NyQuil Blues" which, in addition to a great musical effort, is a lyrical treasure, written by my good friend Herb Steiner. Tubie does a great job on Herb's tune. This is Pushée's third release, and it's one that solidifies him as a blues mainstay in Texas.

author: Diane and the RadioIndy.com Reviewer Team Tubie Pushe'e and his outstanding third release, "Blue With Envy," shines brightly with original and creative Texas-style blues. The first track, "Gimme Back My Car," leads off the disc with a flurry of good ol' blues. The vocals belt out the trials of love gone wrong, while the harmonica blows harmonious riffs and the walking bass line moves the steady and solid beat. Generous helpings of organ hooks and edgy guitar riffs heat up the bluesy tones of "Me and My Woman" which gives this song a deep, country roots feel. A bit of down home country flavor highlights the vocals while the piano complements the sweet guitar solo on "Home." "Skubie's Do 2" is a lush and lyrical guitar solo which is not only blues expression at its best but shows the great talent offered up on this disc. Pushe'e not only displays his love of the blues with engaging style but he also offers some diversity with tempo changes throughout the album. You can't go wrong listening to the well-fashioned songs of "Blue With Envy" by Tubie Pushe'e, as it is packed with terrific vocals, lyrics, and a solid support of instruments.
....
ALL 3 albums are for sale at:

..





Tubie is a Texas native, Texas blues songwriter and BMI artist from Navasota....the 'Official' Blues capitol of Texas!!!!!!!!!!!!!!!!!!!!!!!!! Tubie and The Touchtones played in the state capitol rotunda April 5th, 2007 for the reading of the resolution in the state legislature to name Navasota the blues capitol!!! They are the signature band for the Navasota Blues Fest Organization!!! AND played for the state of Texas at the Washington on the Brazos State Park for the 4th of July celebration in 2008.
Tubie & The Touchtones has been primarily a blues and classic rock band
But................................................................................... NEWS FLASH!!!!!!!!!!!!!!!!!!!!!!
The third CD 'Blue With Envy' is now out along with our AWARD WINNING second CD 'The Lonestar Blues' and the debut the CD 'Just can't believe it' and for sale!!!!!!! all new music written by Tubie. It is distinctive blues and rock and more with a Texas flavor. 'Blue With Envy' and 'The Lonestar Blues' was recorded with Granger Smith as the producer!!!!!!!!!!!!!!!!!!!!!!!!!!!!!!!!Get yours today and you will be HAPPY!!!!!!!!!!!!!!!!!!!!!!!!!!!!!!!!!!!!!!!!!!!!!!!!!!!!!!!!!!!!!!

We are now on the playlist at




We are also at this great Texas music site:



"THE LONE STAR BLUES" ©2008 Independently Released
Review by Lucky Boyd....MyTexasMusic
From the opening "Upside Down" Tubie Pushée sets the bar for this album with a real thinker set in an exciting blues feel. Throughout the disc you'll find several blues styles, all of them excellently executed. From rock to swamp to folky blues, Pushée offers a diverse setting for his sophomore project. Penning most of the cuts himself, Pushée swings the pendulum vocally as well. His rough style is perfect for "Talk To Me Blues" (written by Donnis Hammond) and he uses his 'inside' voice for "The H.R. Dept. Blues," which is the kind of song you could only write if you've lived it. Poor sap. You'll hear an array of guitar work, and while the licks aren't wrapped in an L.A. style polish, they are truly Texan, and each one seems to be the perfect choice for it's respective track. I'm impressed with this second release and I think it elevates Pushée to a new level among blues players in Texas. Without question, he can hold his own at any blues festival in the state. Pushée has remained true to his artistic control on this album and has offered fans a diverse release with some real gems on board. I listened to this album three times all the way through before capturing my thoughts on the project. It's comfortable in that respect and it has a decent flow that keeps you listening. True Blues fans will flock to this album.

Review from RadioIndy: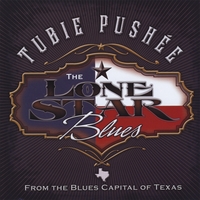 .."The Lonestar Blues" is a Texas blues guitar album that features quirky, unique lyrics and jazzy undertones from Tubie Pushe'e. Tubie's voice is a huge part of the sound, delivered with that Texan country twang that shows his personality and forces the listener to lean on every word. The arrangements behind him are skillful and create a relationship between clever lyricist and top-notch musicians you will surely enjoy. The riffs are catchy, and the rhythms are bouncy, with great variance from song to song. The production quality of "The Lonestar Blues" is very good as well, with emphasis placed on truly capturing the rawness of Tubie. Highlights include "Talk to Me Blues," with a driving rhythm, great guitar work, and a lively vocal performance. "Goodbye" touches on the swampy side with a little harmonica, some Tubie twang, and smooth vocals. The title track, "The Lonestar Blues," closes things out nicely with more great guitar work and is as blue as blues can be. With "The Lonestar Blues," Tubie Pushe'e has compiled an album full of unique and enjoyable blues songs. If you enjoy Texas blues with off-the-wall, twangy vocals, give Tubie a listen. ..-William and the RadioIndy. com Reviewer Team
Check out Tubie_Pushe'e
's music on RadioIndy. com with link to purchase and links to popular sites



For itunes users click here to download any or all songs or albums!!



View Tubie Pushee  Tubie & the Touchtones's EPK

Tubie is a member of
They also play rhythm & blues, classic country, NEW original music, and a few reggae, Spanish, and Cajun tunes. This is a high-energy, very danceable band and is comprised of solid professionals with years of crowd-pleasing experience.....



..

Myspace Layouts at Pimp-My-Profile.com / Fender guitar - Image Hosting
Member Since:
May 29, 2007
Members:
Tubie Pushée...Vocals rhythm and lead guitars
Clay Failla...Drums
Les Morey...Vocals and bass
Kent South...Vocals harmonica, guitars, and lap steel
Michael Gaskins...Sax
Influences:
Albert King, Hank Williams, The Beatles, Chet Atkins, Muddy Waters, SRV, Louie Armstrong, Towns Van Zandt, Lightnin Hopkins, Bill Monroe, Robben Ford, Johnny Cash, James Taylor, Little Feat, Pete Fountain, Jeferson Airplane, Willie Nelson, Pure Prairie League, Donnis Hammond, Freddie King, Eric Clapton, Robert Johnson, Bob Wills, Hendrix, Bob Dylan, BB KING, Simon and Garfunkel, Merle Haggard, Stevie Wonder, Kardo, Santana, T-bone Walker, Rev. Gibbons, Crosby Stills Nash and Young, The Doors, Robert Cray, The Allman brothers, Jeff Beck, EVH, Skotty rock, Mance Lipscomb......In no particular order
Sounds Like:
Tubie
Record Label:
Tubie inc.
Tubie and the Touchtones has 13186 friends.