Play

Play Next

Add to queue
Label
: Versailles Records
Genre: Alternative / Metal / Rock

Location Bronx, New York, US

Profile Views: 117479

Last Login: 7/24/2012

Member Since 12/24/2005

Website www.urbansnake.com

Record Label Ettno Roc Records

Type of Label Indie

Bio

..Masthead Banner Made with MyBannerMaker.com! Click here to make your own!.............. .. Sign up to my mailing list: .. .. .. .. .. .. .. .. .. .. ..Urbansnake "Orphan"...... .. .. .. .. .. .. ......Add to My Profile.. | ..More Videos.. .............. ....Buy merch from urbansnake at www.zazzle.com/urbansnakestore...... .. .. .. .. .. .. ....[..Copy this widget to your profile..] [..Create your own merch booth..].... Clear Channel New band, Urbansnake, is an alternative metal/rock band from The Bronx, NYC. The bands is influenced by a tapestry of creative heavy acts from the 70s through today, and has received worldwide airplay and strong reviews (see press page). Urbansnake aspires to compose music that doesn't draw on trends, but, instead, on the musical tastes of its individual members. The result is heavy and original. Garageband.com reviewers have described Urbansnake as "face-ripping" and "blinding." Lead singer, Vinny Corvino has fronted several New-York based hard rock and metal bands, amongst them Holy Motorpunk and Stabbing Negatives. Holy Motorpunk's single, Meditation 17, received airplay on The Radio Chick show on New York's 102.7 WNEW. Rhythm Guitarist, Kevin Aponte's band Semanon drew serious interest from Metal Blade Records, but disbanded shortly thereafter. Before starting Urbansnake with singer, Corvino, Aponte toured the Florida club scene with Slyce. Corvino and Aponte have been a songwriting team for several years. The two were the major creative forces behind Holy Motorpunk. Aponte later rejoined with Semanon drummer, George Paige to form Stabbing Negatives. Lead Guitarist Andy Romeo was the driving force behind NYC's Requiem. During the '90's, Requiem headlined in clubs throughout the city and opened for major acts including Life of Agony and Biohazard. Requiem received airplay on commercial and college radio and toured clubs along the East Coast. Bassist, Rob Dominguez, formerly of New York favorites, Mercury Bath, lists his major influence as Steve Harris, but brings an admirable and much-needed array of influences to Urbansnake, everything from southern rock to the heaviest of metal. Drummer, Hemi Bordowitz, played in the bands Lost Art and On My Signal. Urbansnake is currently composing new material and performing throughout the NYC Tri-State area. Go to urbansnake.com for more info or e-mail urbansnake@urbansnake.com

Members

............Layout Pimper.com.... Vinny Corvino: Vocals Andy Romeo: Lead Guitar Kevin Aponte: Rhythm Guitar James Papa: Bass Hemi Bardowitz: Drums

Influences

Black Sabbath, Metallica, Soundgarden, 80s thrash metal, priest, maiden, violence, testament, voivod, classic rock, real punk

Sounds Like

Godsmack, Seether, Korn, Matallica, Atreyu, Bullets for my Valentine, Pantera, New Yorh Hardcore, 80's metal, heavy metal, rage against the machine, back sabbath, black label society, audioslave, motorhead, punk, alice in chains, velvet revolver, stone temple pilots, soundgarden
Bio:
Masthead Banner Made with MyBannerMaker.com! Click here to make your own!
.. .. Sign up to my mailing list: .. .. ..
Urbansnake "Orphan"
Add to My Profile
|
More Videos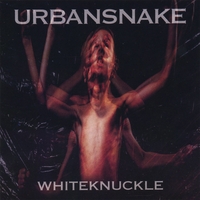 Garageband.com
reviewers have described Urbansnake as "face-ripping" and "blinding." Lead singer, Vinny Corvino has fronted several New-York based hard rock and metal bands, amongst them Holy Motorpunk and Stabbing Negatives. Holy Motorpunk's single, Meditation 17, received airplay on The Radio Chick show on New York's 102.7 WNEW. Rhythm Guitarist, Kevin Aponte's band Semanon drew serious interest from Metal Blade Records, but disbanded shortly thereafter. Before starting Urbansnake with singer, Corvino, Aponte toured the Florida club scene with Slyce. Corvino and Aponte have been a songwriting team for several years. The two were the major creative forces behind Holy Motorpunk. Aponte later rejoined with Semanon drummer, George Paige to form Stabbing Negatives. Lead Guitarist Andy Romeo was the driving force behind NYC's Requiem. During the '90's, Requiem headlined in clubs throughout the city and opened for major acts including Life of Agony and Biohazard. Requiem received airplay on commercial and college radio and toured clubs along the East Coast. Bassist, Rob Dominguez, formerly of New York favorites, Mercury Bath, lists his major influence as Steve Harris, but brings an admirable and much-needed array of influences to Urbansnake, everything from southern rock to the heaviest of metal. Drummer, Hemi Bordowitz, played in the bands Lost Art and On My Signal. Urbansnake is currently composing new material and performing throughout the NYC Tri-State area. Go to
urbansnake.com
for more info or e-mail urbansnake@urbansnake.com
Member Since:
December 24, 2005
Members:
....

Layout Pimper.com
Vinny Corvino: Vocals Andy Romeo: Lead Guitar Kevin Aponte: Rhythm Guitar James Papa: Bass Hemi Bardowitz: Drums
Influences:
Black Sabbath, Metallica, Soundgarden, 80s thrash metal, priest, maiden, violence, testament, voivod, classic rock, real punk
Sounds Like:
Godsmack, Seether, Korn, Matallica, Atreyu, Bullets for my Valentine, Pantera, New Yorh Hardcore, 80's metal, heavy metal, rage against the machine, back sabbath, black label society, audioslave, motorhead, punk, alice in chains, velvet revolver, stone temple pilots, soundgarden
Record Label:
Ettno Roc Records
Urbansnake has 17014 friends.