No recent updates in this category.
Why not...
fernando cerqueira hasn't earned any badges yet... have you?
General

Dividualism, Neoism, Discordianism, Chaos Magick, Modern Pagan Philosophies, Techno-Shamanism, Esoterrorism, Situationist, Immediatist, Culture Jamming, Direct Action, Art Brut, Radical Mediators, Disinformation, Fringe Occulture, Anarquitexts, Artpocalypse Aesthetics ,Critical Mass, Unpop, Bizarro, Plagiarism, Politronics, Archaic Surrealism, Transhumanism, Art-errorism.

Music

"Contemporary human bodies are more-or-less stable products of evolution

, and cases of autoimmunity among human populations can result in tragic suffering or at best annoyance and discomfort. The situation is not as clear for our social body at the beginning of the 21st century, which by many accounts is wildly out of balance with its environment – from the overreach of corporate interests,

to the relentless proliferation of technology

, to the reckless provocation of global climate change – and needs drastic readjustment. If that is true, then art can act as an antibody and still assault its own culture.

If antibodies are the avant-garde of the immune system, they are not subservient to a top-down command and control system."

" Art as Antibody "

Joline Blais and Jon Ippolito

Books
Play

Play Next

Add to queue
About me:
ANTIBOTHIS is a collection of book anthologies featuring texts, interviews showcasing a variety of ideas that are a genuine alternative to the dogma of conformity, the commitment to disconnect the cables of corporhate coolonization, disinverting cultural reality through the dissemination and dispersion of alternatives vortices of information and infinite chaotic propaganda, speculation, simulation, stimulation, to revolutionize the dynamics of life in a total process of cultural transformation, empowered by will, reclaiming our guts and revolt in the name of imagination in opposition to a toxic life of low awareness, herd mentality and programmed though, infecting human minds and alter their behaviour.
Antibothis are the antibodies of corporhate monocooltures.


ANTIBOTHIS - Occultural Anthology 3

Book anthology + cd compilation.
135 PAGES, IN ENGLISH

Featuring articles from:

The anti-civilizationist author JOHN ZERZAN on "Silence".

LIAM SIONNACH from Earth First on " Becoming an Anti-Capitalist Ecological Social Force".

CHAD HENSLEY on " Dead Lays".

EWEN CHARDRONNET on "Molecules of Combat".

IONA MILLER on " Sasha´s Ecstasy & the Agony of CONtrollers".

JOE AMBROSE on " The Darker Side of Me - White Irish".

NIGEL AYERS on "All Killer, No Filler".

WILFRED HOU JE BEK on "In Defense of Primate Poetics".

FRANK RHYNNE on " Brian Jones Joujouka Rolling Stone".

RANDALL PYKE on " Neo-Anarchist Dream State".

ADI NEWTON and JANE RADION NEWTON on "The Denizens of Beyond".

Antibothis cd compilation includes:

The Master Musicians of Joujouka, Lydia Lunch with Philippe Petit, Checkpoint 303, Kal Cahoone, Gintas K, Orbit Service, Anla Courtis, Stpo, Jabe Radion Newton and Adi Newton / T.A.G.C., Zeitkratzer, Pietro Riparbelli/K11, Gjoll.

PRICE : 15.00 euros with postage included,payable through Paypal here:
www.antibothis.com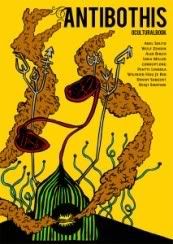 ANTIBOTHIS - Occultural Anthology + cd compilation.
VOLUME 1, IN ENGLISH.
Featuring articles from:
Noise Master GX JUPPITER LARSEN on Permawave
Cyberpunk KENJI SIRATORI on Mind Virus
Nihilistics Zen CORRUPT on Unreal
Radical Ecophilosopher PENTTI LINKOLA on Can We Survive ?
Cultural Engineer IONA MILLER on G-P-Orridge Cut Up Pandrogeny
Daydream Cabalists SOCIALFICTION on Crystalpunk
Dronist JORGE MANTAS on Virulent Music
The Post-Human Tantrik EDGAR FRANCO on Transhumanism and Cyber Art
Iconoclast American Philosopher WULF ZENDIK on Realm
Cultural Terrorist ADEL SOUTO on Tantra and Sects
Mail-Art Devotees SZTUKA FABRYKA on Neoism
Interview with the Ecclectic Ritualist DENNY SARGENT
Interview with ORDO ANTICHRISTIANUS ILLUMINATI
ALEX BIRCH on Big in Japan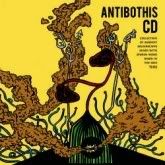 Along with the book a spoken word / oral cut up cd compilation will be available with artists like : Jarboe, Fernando Ribeiro ( Moonspell ), Kenji Siratori, Phil Von ( Von Magnet ), Christophe Demarthe ( Clair Obscur), Rasal.asad, Euthymia, Wildshores, Andrey Kiritchenko, Netherworld, Rapoon, Planetadol, Thermidor, Structura, Martin A. Smith, Alex Tiuniaev.

The cd "Dust of Dreams " by the japnoise master Merzbow will be offered along with the book when purchased directly trough us.
PRICE : 15.00 euros with postage included,payable through Paypal here:
Send money through mail by using this adress :
p.o. box 2274
1107-001 Lisboa
Portugal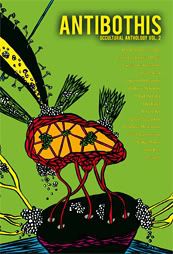 ANTIBOTHIS Book anthology + cd compilation, Volume 2
IN ENGLISH.
Featuring texts/interviews by :
The author of Techgnosis ERIK DAVIS interviews Peter Lamborn Wilson ( also know as Hakim Bey ).
The sonic sorcerer and deviant writer CARL ABRAHAMSSON on Why Another Park Then.
MAGUS COYOTEL LEYBA on Ritual, Rite and Dance.
VADGE MOORE with select excerpts from his forthcoming book .
CHAD HENSLEY interviews Boyd Rice also presents his Pornography of Words.
CENTER for TACTICAL MAGIC on Sigil, Logos and Lucky Charms.
CRITICAL ART ENSEMBLE on Plagiarism.
ANTERO ALLI interviewed about the 8 Circuit Brain.
The satirical and subversive BRIAN DEAN on How to Frigthen a Population.
ANDREW MCKENZIE fro Hafler Trio put some questions and something else.
STEFAN SZCZELKUN on An Occultural Open Archive.
An interview with the prayformer ORRYELLE.
An interview with the cyberpunk body art collective AESTHETIC MEAT FRONT.
VINCENT ALEXZANDER on Avant Terrorism.

Cd compilation includes:
O Yuki Conjugate, Controlled Bleeding, Orryelle, Aesthetic Meat Front, Enkidada (ex : psychik warriors ov gaia/exquisite corpse), Cotton Ferox, Hybrids, Strings of Consciousness, MILF (ex:bourbonese qualk).

Along with the book/cd volume 2, the spokenword/oral cut up cd compilation "Electronic Thisturbance" will be offered, featuring, Jarboe, Francisco Lopez, Terre Thaemlitz, Gx Juppiter Larsen, Von Magnet, Rasalasad+Sci fi Industries, Telepherique, Wild Shores.
_____________________________
Buy ANTIBOTHIS 1 and 2 altogether and pay 25.00 euros with postage included everywhere,payment through paypal:
<
Included in this pack will be offered cds from artists such as Lasse Marhaug, KK Null, Anla Courtis or others, depending of availability.
____________________________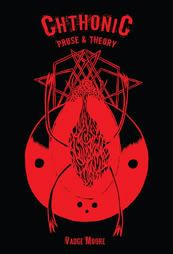 CHTHONIC Prose & Theory by VADGE MOORE
"Vadge Moore is an American author and musician that has spent a lifetime testing the boundaries of good and evil. He toured and recorded with the infamous sleaze-punk institution The Dwarves, apocalyptic rock group Neither-Neither World, and his own nihilist-noise unit Chthonic Force. He has written for the early nineties occult journal Primal Chaos, the esoteric magazine Dagobert's Revenge, and the controversial web 'zine Synthesis. Recently Vadge has taken up an aphoristic-prose style of writing that best expresses his iniquitous and sinister insights into the mind of Man. Chthonic: Prose & Theory is just that; prose wedded to theory that scrutinizes the human, all too human, Monster that is Man."
"Chthonic: Prose & Theory" is a collection of perverse and violent prose wedded to his own brand of occult esoterica. Peer into the mind of one of America's greatest living libertines.
IN ENGLISH, 132 pages.
PRICE : 12.00 euros with postage included everywhere, payable through Paypal here:
ANTIBOTHIS.COM

____________________________

The third Antibothis issue is almost done, this time with writing contributors such as :

John Zerzan, Adi Newton and Jane Radion Newton ( Clock Dva ), Joe Ambrose, Z..ev, Nigel Ayers ( nocturnal emissions ),Ewen Chardronnet, Earth First, Social Fiction, Iona Miller, Chad Hensley among others.

Cd compilation available with the book includes:

Master Musicians of Joujouka,Gjoll,Phillipe Petit Vs Lydia Lunch, Adi Newton and Jane Radion Newton ( Tagc/Clock Dva ), Gintas K, Alan Courtis,Stilluppsteypa,Orbit Service, Kal Cahoone, Checkpoint 303,La Stpo, among others .

Scheduled for upcoming volumes are :

Ray Kurzweill, Stewart Home, Aki Nawaz ( Fun-Da-Mental ) , Terre Thaemlitz, Crimethinc, Lob, Monochron ( vienna art group), B-Eden (pyromania arts, ex:psychic warriors ov gaia ), Aragorn 23, Tactical Art Coalition, FoolishPeople, Randall Pike, Tom McCarthy, Merzbow, ,Roy Ascott, Robin Rimbaud ( Scanner ), Negativeland, Mike Diana, among many others.

Scheduled for upcoming compilations ( included in the books) are :

______________________________

"We highly recommend you order ANTIBOTHIS", V. Vale, Re/Search Books. U.S.A.

"Antibothis offers 112 fat pages of food for thought, a veritable feast of heretical initiations and countercultural discourse, offering both options for personal spiritual development and alternatives to the alienated, atomised, deracinated and homogenised consumer culture of today, which sits poised on the brink of economic and ecological devastation. Mainstream culture is the problem – Antibothis is striving to be part of the solution". Simon Collins, Judaskiss, U.K.

"Beautiful Production" V.Vale, Re/Search Books, U.S.A.

"Great Work", Dedroidify,Belgium

"The next step after re/search and apocalypse culture". yorek.com

"thèmes "borderline", proche d'une certaine contre-culture américaine qui s'incarnait dans les années 80/90 autour de personnages comme John Oswald (Plunderphonics). Entre littérature expérimentale, engagement politique et démarche artistique où le collage et le détournement ont une grande place". Musiques e Cultures Digitales, France

"Your work is reeeaaallly great" Okultura, Poland

"awesome! Truly magical". Center for Tactical Magic, U.S.A.

"great stuff,really one of the best publications,i.. ve ever read, an hybrid platform full of dynamism and a very psychic level emanation." Lashtal, Colombia
______________________________

ANTIBOTHIS.COM


..
Status:

Single

Zodiac Sign:

Capricorn