Play

Play Next

Add to queue
Play

Play Next

Add to queue

140 plays

Play

Play Next

Add to queue

641 plays

Play

Play Next

Add to queue

1,222 plays

Play

Play Next

Add to queue

270 plays

Play

Play Next

Add to queue

269 plays
Genre: House / Techno / Zouk

Location Glasgow, Scotland, UK

Profile Views: 22551

Last Login: 11/17/2011

Member Since 3/22/2007

Record Label skream science, electronic youth, nice and nasty

Type of Label Major

Bio

Conor Dalton, aka Vakama, formerly "Bobkiss the III", is an unknown household name. fresh off the back of his worldwide back alley tour, he has played his impressive 3 tune record collection in some of the world's most notorious and prestigious alleyways, lanes, bus shelters and back alleys including New York's 54th street loading alley, The infamous "shortcut" lane in Rue D'êtres, Paris, and various shop doorways all over Africa. .. It all started when he was just 34. After years of dole collecting, internet browsing and shoplifting, Vakama was exposed to the world of musical adventure through becoming hypnotised by a (Classic) song, which he later found out to be performed by the infamous Rihanna in his local JJB store. The atmospheric and uplifting music convinced this protégé that MUSIC was where his future would inevitably lie. .. After saving up some cash, and learning about the industry, the big man purchased his first ever, now notorious record. it was a 'dance dance' remix of Ne-Yo's club banger "booty pop, don't stop". .. He hasn't looked back since. Pretty soon, gig requests came flying in. He would play to up to 8 people at a time in local bus shelters and various parks with his iphone, having "ripped" ALL THREE mixes of the Ne-Yo tune, including the original mix which many still talk about till this day. These infamous Bobkiss blowouts are now legendary; some satisfied ravers even have videos of the events on their phone. .. Never willing to settle, Vakama aka Shuttle trousers bought ANOTHER TUNE and would often flip between one record and another using a second, slightly cheaper phone. Sometimes he would even play both records simultaneously. It was at this stage that things started going wrong. After a night out with the lads the original iphone was stolen by a jealous advisory, and all the original material was lost. In a fit of rage, Bobkiss, aka dirt mouth killed a man outside a nightclub in Bristol. After serving 14 years in jail, he reformed, reflected on his life, and decided to dedicate himself to music, God, and his new lover; "POP". .. It was at this stage Vakama produced his first ever track, entitled "Da good old dayz", this was recorded on his old phone, one of his last remaining possessions. He sent it to his whole address book and 8 PEOPLE replied, 7 of which had positive feedback. This gave him the boost he needed to conquer the world and preach his musical message. .. After a Few years of body building, to improve his image, Vakama was ready to let loose and show the world why prison exemption should be mandatory for the creative. Armed with his phone charger, a phone and an almighty catalogue of music, he set off on a world tour funded by the inmate rehabilitation scheme. He would walk through towns and confront youths with his music. At first they were sceptical, but they soon would warm to the underground sounds of the beat master. .. Vakama is currently busy in the studio working on new material, including his long awaited "best of" Debut album entitled "Ballbeegs in my hometown aint got skills but I have inherited many skills including the ability to reach people through my talents and i intend to stay in your hearts and minds for ages". Keep an eye out in 2012 for the long awaited unofficial Biography, written by Vakama himself, aptly named "a life in the real world". .. ....Send me your track.. ------------------------------------------------------------------------------------ ........ ........ ........

Members

Conor Dalton and his magical love computer

Influences

dj bone, aphex twin, unkle, modeselektor, dave clarke, slam, aril brikha, kaito, alexander kowalski, trentemoller, sleeparchive, nathan fake, james holden, the prodigy, mogwai, 65 days of static, boards of canada, lamb, rage against the machine, monolake, plastikman, audion, repeat repeat, random noise generation, dr nojoke, barem, marco carola, marco passarani, umek, the orb, orbital, phil kieran, steve bug, alan simms, DJ L'embrouille, dave mech, joey beltram, 808 state, jeff mills, nitzer ebb, FSOL, laurent garnier, Cristian Paduraru, Joris Voorn, Sian, Hystereo, Valentino Kanzyani, Carl Craig, Steve Rachmad, Pette Vaydex, Quince, Quenium, Deetron, Gaetano Parisio. .. . .. . .. . ..

Sounds Like

..Releases:.. .. ........ Vakama - Variance EP.. ..Arrival, Xenon, Banshee.. MP3/WAV (Nice & Nasty).. [Nano 62] : 29/05/2009.. .. ........ Rainey - Every Little Thing.. ..Remix: Vakama Remix.. MP3/WAV (Bonzai records).. [BNZ] : 26/05/2009.. .. ........ The Parallel - Galactix Thing.. ..Remix: Vakama Remix.. MP3/WAV (Static records).. [SR010] : 21/05/2009.. .. ........ Tomi Chair - Lullaby For A Nightmare.. ..Remix: Vakama Redux.. MP3/WAV (Nice & Nasty).. [Nano 52] : 23/02/2009.. .. ........ Vakama - Cyan.. ..Remixes: Mick Chillage, Tomi Chair, Michael Flatline.. MP3/WAV (Nice & Nasty).. [Nano 42] : 30/01/2009.. .. ........ Mark O'Sullivan (DK7) - Grain Of Salt.. ..Remix: Vakama Redux.. MP3/WAV (Nice & Nasty).. [Nano 41] : 29/12/2008.. .. ........ Vakama - The Guest EP.. ..remixes: ..Corrugated Tunnel & Espion.. MP3/WAV (Skream Science).. [SKSC001] : 03/10/2008.. .. ........ Sombre - Featuring various musicians.. ..3 track EP produced by Vakama + Christine Dores.. MP3 free download.. [Ubernoise] : 01/06/2008.. .. ........ Electronic Youth Compilation 15.. ..Vakama - The Disgruntled Groundskeeper.. MP3 free download.. [FOEM] : 01/07/2007.. .. .... .. .. .. .. .. .. ....Vakama - live in Itaewon, South Korea, Full Set 320kbps.. by ..vakama...... .... .. .. .. .. .. .. ....Vakama - april 09 mix.. by ..vakama...... .... .. .. .. .. .. .. ....Vakama - live at Circa, Toronto, June 2008 .. by ..vakama...... .... .. .. .. .. .. .. ....Vakama - CAVE, Budda, Belfast aug08.. by ..vakama...... .... .. .. .. .. .. .. ....vakama - minimal set 14th nov 08.. by ..vakama...... .... .. .. .. .. .. .. ....Vakama - Afterthought mix 11may 08.. by ..vakama...... .. .. .. .. .. .. .. .. Music Video for Sombre - Mother
6 Songs | Sep 21, 2008

33 Songs | Dec 13, 2011
Bio:
Conor Dalton, aka Vakama, formerly "Bobkiss the III", is an unknown household name. fresh off the back of his worldwide back alley tour, he has played his impressive 3 tune record collection in some of the world's most notorious and prestigious alleyways, lanes, bus shelters and back alleys including New York's 54th street loading alley, The infamous "shortcut" lane in Rue D'êtres, Paris, and various shop doorways all over Africa.
It all started when he was just 34. After years of dole collecting, internet browsing and shoplifting, Vakama was exposed to the world of musical adventure through becoming hypnotised by a (Classic) song, which he later found out to be performed by the infamous Rihanna in his local JJB store. The atmospheric and uplifting music convinced this protégé that MUSIC was where his future would inevitably lie.
After saving up some cash, and learning about the industry, the big man purchased his first ever, now notorious record. it was a 'dance dance' remix of Ne-Yo's club banger "booty pop, don't stop".
He hasn't looked back since. Pretty soon, gig requests came flying in. He would play to up to 8 people at a time in local bus shelters and various parks with his iphone, having "ripped" ALL THREE mixes of the Ne-Yo tune, including the original mix which many still talk about till this day. These infamous Bobkiss blowouts are now legendary; some satisfied ravers even have videos of the events on their phone.
Never willing to settle, Vakama aka Shuttle trousers bought ANOTHER TUNE and would often flip between one record and another using a second, slightly cheaper phone. Sometimes he would even play both records simultaneously. It was at this stage that things started going wrong. After a night out with the lads the original iphone was stolen by a jealous advisory, and all the original material was lost. In a fit of rage, Bobkiss, aka dirt mouth killed a man outside a nightclub in Bristol. After serving 14 years in jail, he reformed, reflected on his life, and decided to dedicate himself to music, God, and his new lover; "POP".
It was at this stage Vakama produced his first ever track, entitled "Da good old dayz", this was recorded on his old phone, one of his last remaining possessions. He sent it to his whole address book and 8 PEOPLE replied, 7 of which had positive feedback. This gave him the boost he needed to conquer the world and preach his musical message.
After a Few years of body building, to improve his image, Vakama was ready to let loose and show the world why prison exemption should be mandatory for the creative. Armed with his phone charger, a phone and an almighty catalogue of music, he set off on a world tour funded by the inmate rehabilitation scheme. He would walk through towns and confront youths with his music. At first they were sceptical, but they soon would warm to the underground sounds of the beat master.
Vakama is currently busy in the studio working on new material, including his long awaited "best of" Debut album entitled "Ballbeegs in my hometown aint got skills but I have inherited many skills including the ability to reach people through my talents and i intend to stay in your hearts and minds for ages". Keep an eye out in 2012 for the long awaited unofficial Biography, written by Vakama himself, aptly named "a life in the real world".
..Send me your track ------------------------------------------------------------------------------------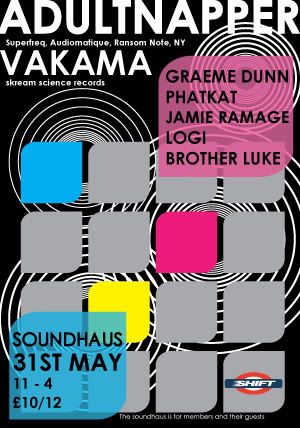 Member Since:
March 22, 2007
Members:
Conor Dalton and his magical love computer
Influences:
dj bone, aphex twin, unkle, modeselektor, dave clarke, slam, aril brikha, kaito, alexander kowalski, trentemoller, sleeparchive, nathan fake, james holden, the prodigy, mogwai, 65 days of static, boards of canada, lamb, rage against the machine, monolake, plastikman, audion, repeat repeat, random noise generation, dr nojoke, barem, marco carola, marco passarani, umek, the orb, orbital, phil kieran, steve bug, alan simms, DJ L'embrouille, dave mech, joey beltram, 808 state, jeff mills, nitzer ebb, FSOL, laurent garnier, Cristian Paduraru, Joris Voorn, Sian, Hystereo, Valentino Kanzyani, Carl Craig, Steve Rachmad, Pette Vaydex, Quince, Quenium, Deetron, Gaetano Parisio.
.
.
. ..
Sounds Like:
Releases:
Vakama - Variance EP
Arrival, Xenon, Banshee
MP3/WAV (Nice & Nasty)
[Nano 62] : 29/05/2009



Rainey - Every Little Thing
Remix: Vakama Remix
MP3/WAV (Bonzai records)
[BNZ] : 26/05/2009



The Parallel - Galactix Thing
Remix: Vakama Remix
MP3/WAV (Static records)
[SR010] : 21/05/2009



Tomi Chair - Lullaby For A Nightmare
Remix: Vakama Redux
MP3/WAV (Nice & Nasty)
[Nano 52] : 23/02/2009



Vakama - Cyan
Remixes: Mick Chillage, Tomi Chair, Michael Flatline
MP3/WAV (Nice & Nasty)
[Nano 42] : 30/01/2009



Mark O'Sullivan (DK7) - Grain Of Salt
Remix: Vakama Redux
MP3/WAV (Nice & Nasty)
[Nano 41] : 29/12/2008



Vakama - The Guest EP
remixes: Corrugated Tunnel & Espion
MP3/WAV (Skream Science)
[SKSC001] : 03/10/2008

..

Sombre - Featuring various musicians
3 track EP produced by Vakama + Christine Dores
MP3 free download
[Ubernoise] : 01/06/2008



Electronic Youth Compilation 15
Vakama - The Disgruntled Groundskeeper
MP3 free download
[FOEM] : 01/07/2007



Music Video for Sombre - Mother
Record Label:
skream science, electronic youth, nice and nasty